in StuMost battle royale games are about being killing other players and shooting them to win the match. Thus, another form of battle royale game includes racing against multiple players where you need to get to the finish line. It's not only a challenging match, but a very competitive multiplayer racing game, so you will be jumping, sliding, and skipping through platforms like it's not a problem. The goal and twist of the game is to be careful because  you might fall off! If you haven't heard it yet, it's called Stumble Guys. A game by Kitka Games that's full of an action-packed obstacles, which you will love!
Stumble Guys is an exciting multiplayer royale race game where you get to race against 32 other players. The objective is to get to the finish line first, and at first, you need to get to be at least one of the first 16 players. Then, over the next few rounds, the players will decrease even further. Finally, you only have to reach the finish line as soon as you can to become the last one standing! So if you want to always win in Stumble Guys, here are some tips you can follow to help you out in this exciting battle royal game.

Learn How to Control the Camera
If you have played any platformer game before, then the controls in Stumble Guys won't surprise you anymore. There's a joystick on the left side of the screen and a jump button with a speech bubble emote button on the right side of the screen. But did you know that you can also control the camera? All you need to do is swipe your thumb or finger on the screen, which can be especially useful in specific maps, such as Stumble Soccer.
Watch Those Ads
Did you know that you can get free skin every day if you watch five advertisements? Aside from a free skin, the game also gives out gems after every match, no matter how poorly you did. You only need to watch an ad to get the gem. The skins you get from watching an ad are permanent, which means you get to keep it forever. Still, it's only limited to 50 videos total. It would be best if you watched the post-game ads instead, as they give more gems.
Save Those Gems in Stumble Guys
Getting many gems will make you want to spend them all on different items, such as skins. What you should do is to save them so you can get a Stumble Pass. It will allow you to unlock the Punching emote, which is more than just an emote because it enables you to punch your opponents, which knocks them back. Instead of paying for this emote using real money, save your gems and use them to buy it instead. Even though it will be a long process before you can keep enough gems, at least you get free skin every day. But since there are only a total of 50 ads where you can receive free gems, you can still ask for the half from giveaways or win tournaments.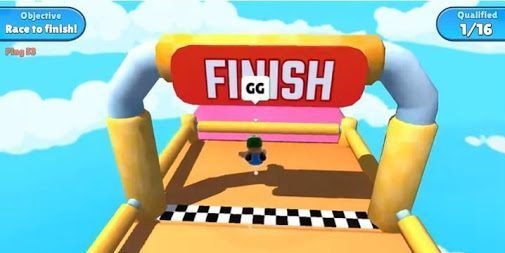 Watch Out for Players with Special Emotes
If you don't have the Punching emote yet in Stumble Guys, you need to be wary of players who already have it. For example, you will notice that there are players with a punching glove on top of their heads,. That means they already purchased the Stumble Pass with the Punching emote. Aside from the Punching gloves emote, there are also players with a heart emote, which lets another player hug and carry another player often off a cliff. So it would be best if you watched out for these players, who are usually veterans. They are especially dangerous in maps like Tile Fall, Laser Tracer, and Bombardment. These are complex maps with little room that can knock you over to the edge.
Air Dashing without Killing Yourself
Air Dash is a skill you hone, which is when you attempt to jump in midair. It lets you move faster in midair, where you will be stuck sliding in your belly for a second when you land. It's beneficial to bypass traps, gain speed, or cut off in front of a crowd. But be careful because if you don't correctly do an air dash, it could kill you instantly.
Jump to Belly Slide in Stumble Guys
If you want to do a belly slide, all you need to do is jump. But if you're going to gain speed during a belly slide, you should remember to jump in a sufficiently angled slope. It will help you gain momentum, which enables you to gain traction against other players. But it would be best if you remembered that you could trigger the belly slide no matter where you jump. These are just some of the tips and tricks that can help you become a master at Stumble Guys. Follow them, and it will help you win the game!