One of the best gacha RPGs you can play is Summoners War. And a major reason for that is the different monsters that you can summon in the game. As a summoner, your goal is to assemble a team of powerful monsters and use them in various battles. You won't have trouble doing that since there are many different monsters available for you to summon. What is difficult is deciding which monsters to use since you can only use 4 to 6 monsters at a time, depending on the battle.
With this Summoners War tier list, we can help you with choosing the monsters to use in the game. We will list down the best monsters currently available to help you in building your team. Just take note that team composition is more than just putting together all the powerful monsters. You will also need synergy there. But knowing who the strong monsters in Summoners War is the right step toward building a strong team.
Summoners War Tier List
Knowing who the strong monsters are is important in Summoners War. It doesn't just tell you the monsters to use, but it also lets you know who you should prioritize developing. In this section, we'll list down the strongest monsters currently in the game.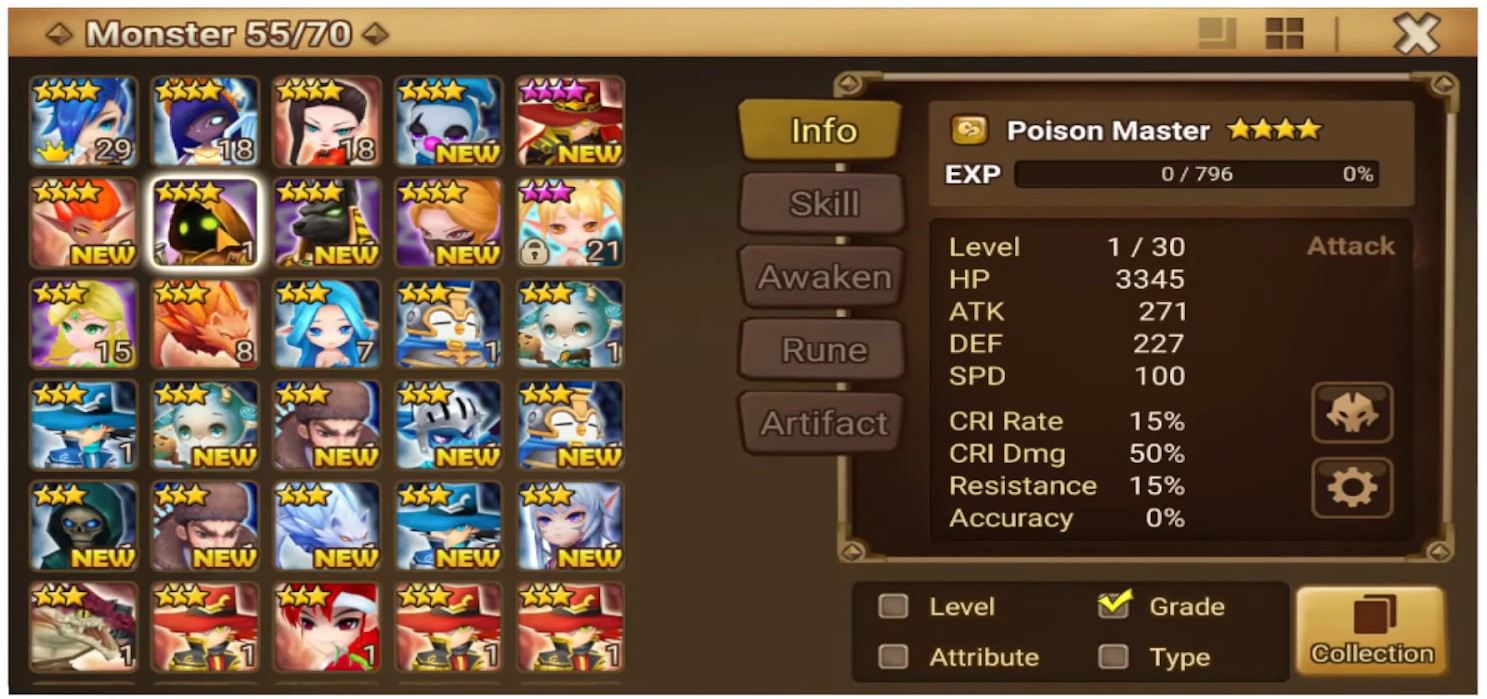 S-Tiers – The OP
Let's start the list with the S-tier monsters. These are what you will call the overpowered (OP) monsters in Summoners War. What makes the monsters in this list so overpowered is that they are not only strong but they also possess abilities that will benefit your team greatly. They can single-handedly dominate a battle with the skills and abilities they possess. The current S-tier monsters in the game are;
Antares (Fire Lich)
Artamiel (Light Archangel)
Yeonhong (Light Sky Dancer)
Vivachel (Dark Harp Magician)
Fran (Light Fairy Queen)
Verdehile (Fire Vampire)
Ganymede (Wind Fairy King), and;
Vanessa (Fire Valkyrja).
The list of S-tier monsters would include;
Giana (Dark Oracle)
Tiana (Wind Polar Queen)
Hathor (Wind Desert Queen)
Shi Hou (Water Monkey King)
Josephine (Water Paladin)
Ragdoll (Dark Dragon Knight), and;
Peter (Dark Druid).
These are the monsters you need to prioritize when it comes to development.
A-Tiers – The Strong
A good alternative to the S-tier characters is the A-tier monsters. They are not overpowered like the S-tiers but they are still powerful in their own right. They can still dominate battles and possess skills and abilities that can benefit the team. They're just not as effective as the S-tiers. But they're great alternatives in team compositions. The A-tier monsters are;
Aegir (Water Barbaric King)
Woosa (Water Pioneer)
Akroma (Light Valkyrja)
Velajuel (Fire Archangel)
Amelia (Water Unicorn)
Triana (Wind Harp Magician).
Bastet (Water Desert Queen), and;
Tian Lang (Light Panda Warrior).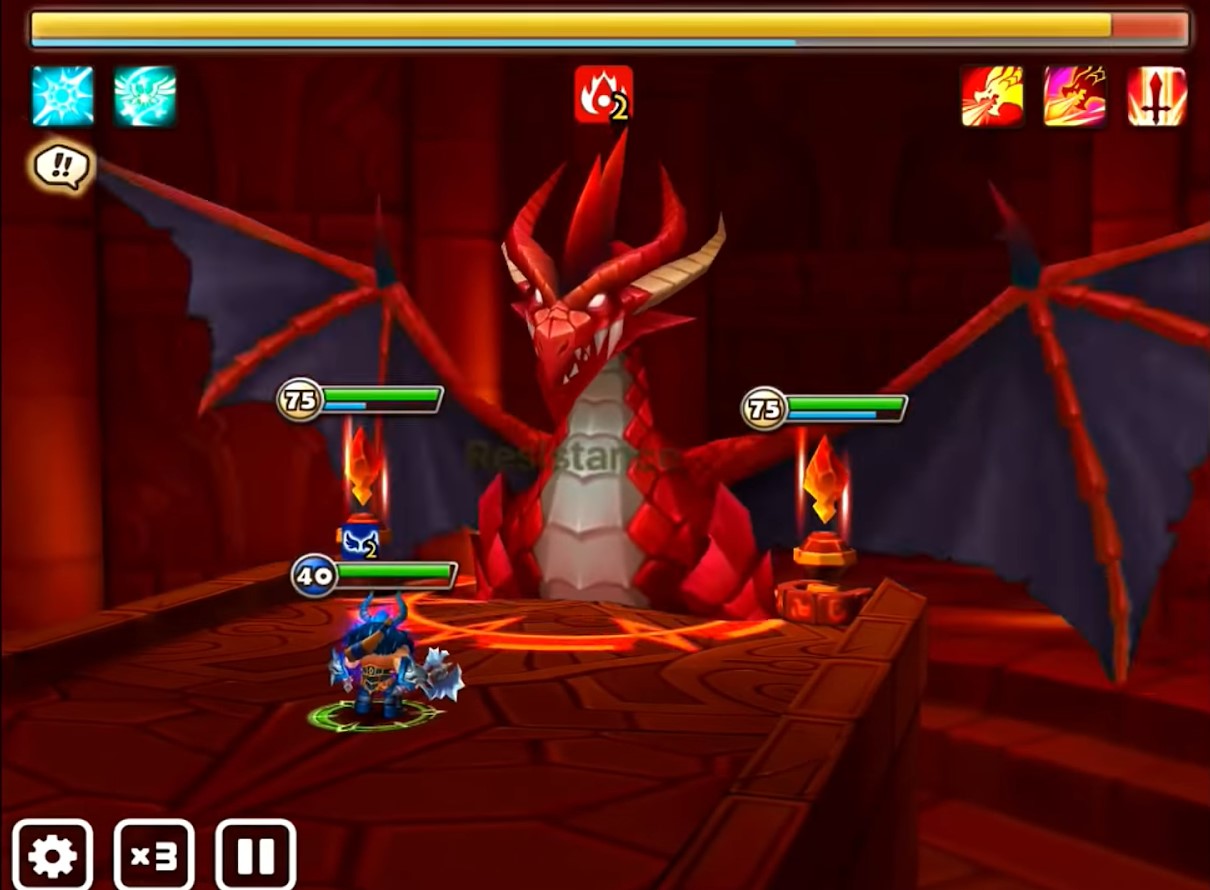 Other A-tiers you can use are;
Bolverk (Water Lightning Emperor)
Taranys (Wind Druid)
Celia (Light Harp Magician)
Seara (Wind Oracle)
Daphnis (Fire Fairy King)
Perna (Fire Phoenix)
Diana (Wind Unicorn)
Okeanos (Fire Sea Emperor)
Eleona (Light Polar Queen)
Odin (Wind Lightning Emperor)
Ethna (Wind Hell Lady)
Oberon (Light Fairy King)
Garo (Fire Ninja)
Nicki (Dark Occult Girl)
Icares (Dark Sylphid)
Nephthys (Dark Desert Queen)
Isis (Light Desert Queen)
Mo Long (Water Panda Warrior)
Jamire (Wind Dragon)
Leo (Wind Dragon Knight)
Julianne (Light Vampire), and;
Juno Fire Oracle.
B-Tiers – The Good
The B-tier monsters are not as powerful as the S-tiers or A-tiers. But they're still good monsters that can help you win many battles. You just have to put them in the right team composition for them to shine. Since there are better monsters available, they take a backseat in terms of development. But if you don't have better alternatives, it's okay to develop them as needed. For the B-tier monsters, you have;
Amduat (Dark Horus)
Zeratu (Dark Chimera)
Betta (Dark Mermaid)
Xing Zhe (Wind Monkey King)
Chilling (Water Jack-o-Lantern)
Wedjat (Light Horus)
Chiwu (Fire Pioneer), and;
Verad (Water Dragon).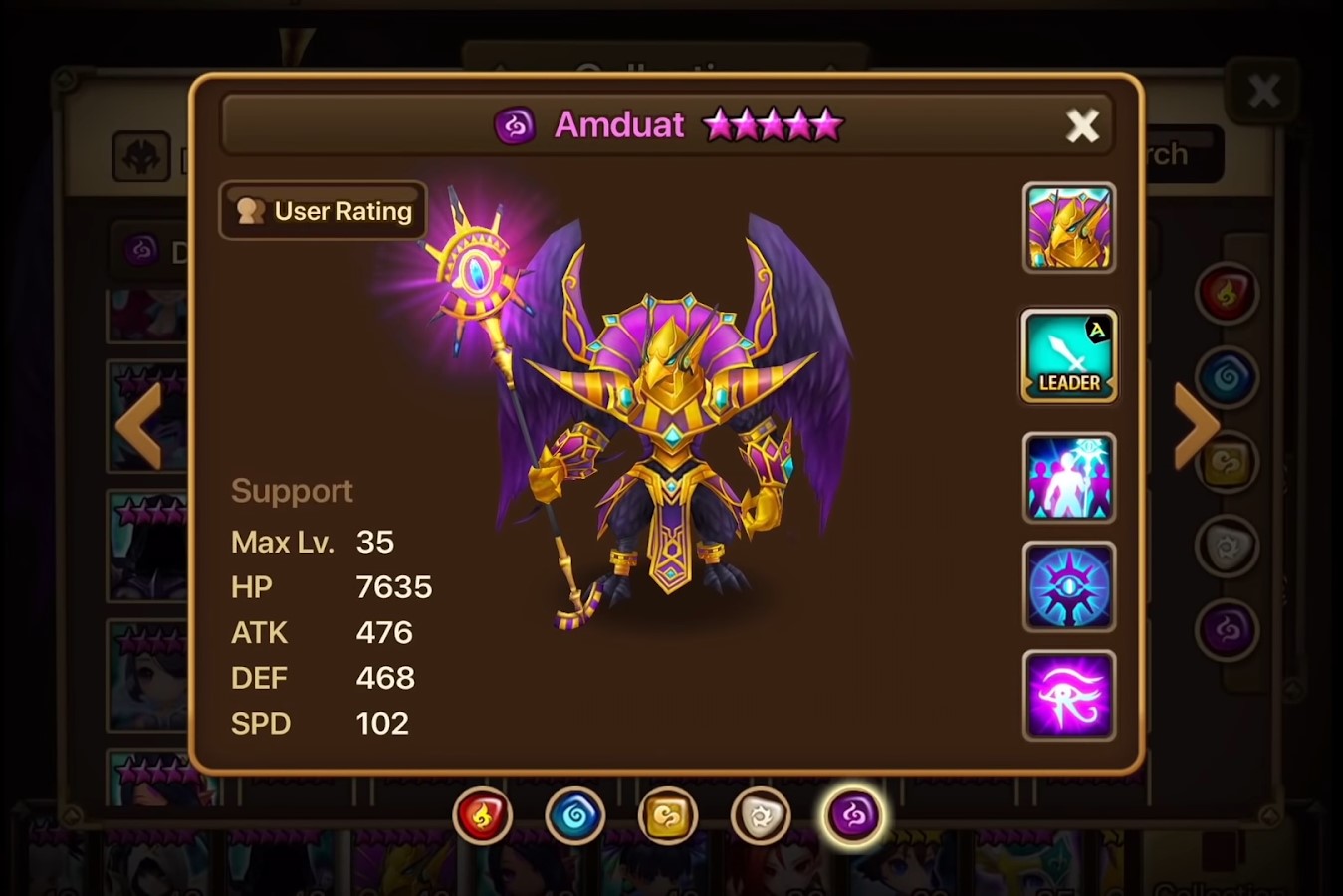 More B-tiers monsters that you can use are;
Craka (Dark Hell Lady)
Valantis (Light Druid)
Eleanor (Light Unicorn)
Triton (Wind Sea Emperor)
Feng Yan (Wind Panda Warrior)
Tetra (Water Mermaid)
Frigate (Dark Pirate Captain)
Tesarion (Fire Ifrit)
Gemini (Light Brownie Magician)
Tablo (Light Dice Magician)
Helena (Fire Unicorn)
Sekhmet (Fire Desert Queen)
Jeanne (Light Paladin)
Rica (Fire Occult Girl)
Lydia (Dark Polar Queen)
Raki (Fire Hell Lady)
Pasamathe (Water Fairy King)
Rahul (Dark Beast Monk)
Qitiang Dasheng (Light Monkey King), and;
Racuni (Fire Harg).
C-Tiers – The Decent
The decent monsters you can use fall under the C-tier category. They're the monsters that you can use in case you don't have a better alternative. They're still usable in certain battle situations. But you have to build them right and put them in the proper team composition. The C-tier monsters you can use are;
Amarna (Light Anubis)
Wolyung (Dark Sky Dancer)
Anavel (Water Occult Girl)
Trinity (Dark Valkyrja)
Avaris (Water Anubis)
Rakan (Fire Chimera)
Bernard (Wind Griffin)
Orion (Water Brownie Magician)
Bulldozer (Fire Frankenstein)
Ophilia (Fire Paladin), and;
Chow (Water Dragon Knight).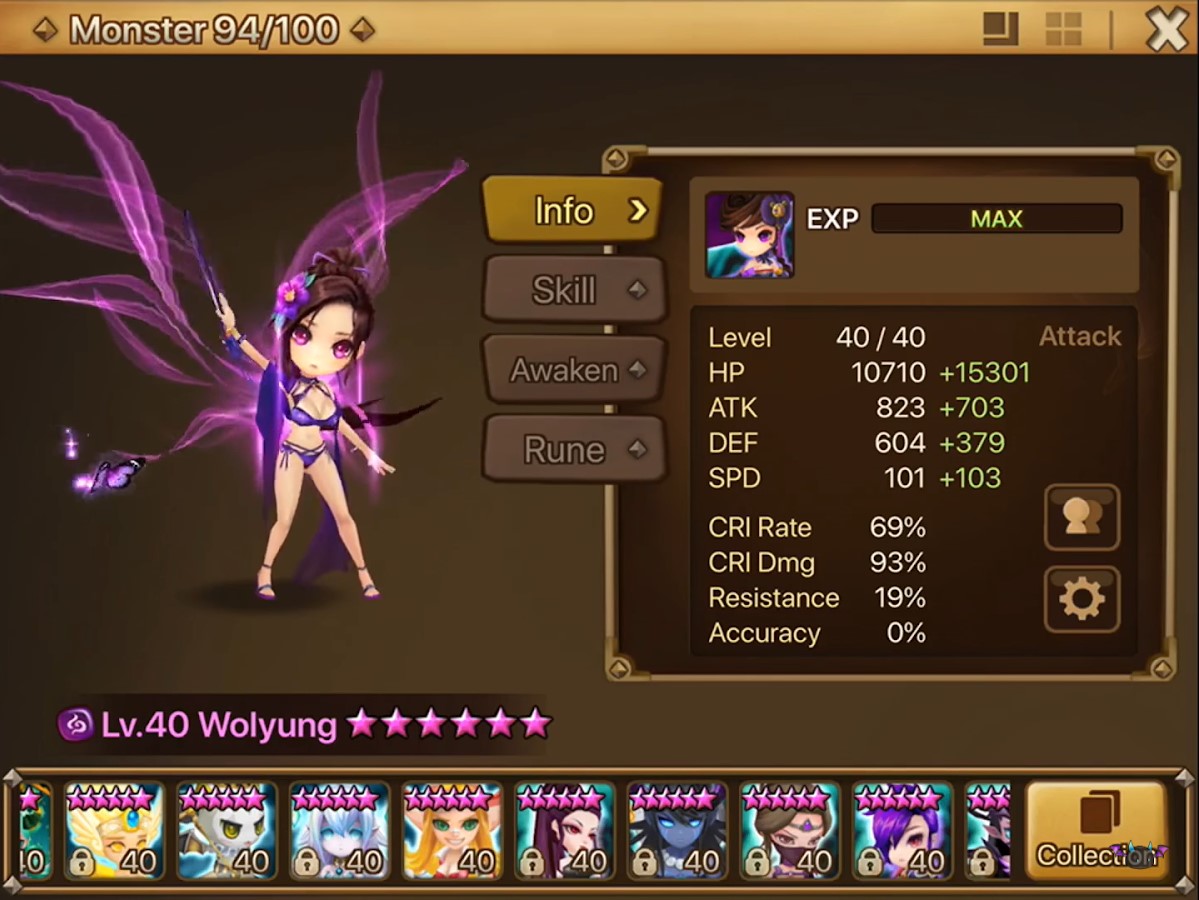 Other C-tier monsters available are;
Mihyang (Water Sky Dancer)
Copper (Wind Living Armor)
Mi Ying (Dark Panda Warrior)
Fermion (Dark Archangel)
Mei Hou Wang (Fire Monkey King)
Harmonia (Fire Harp Magician)
Lushen (Wind Joker)
Hwadam (Light Taoist)
Leona (Dark Paladin)
Imesety (Wind Horus)
Laima (Light Oracle)
Iris (Light Magic Knight)
Lagmaron (Wind Chimera)
Izaria (Water Succubus), and;
Jager (Light Dragon Knight).
Final Thoughts
There are many more monsters available for you to use and acquire in Summoners War. Though they can also be usable in certain situations, the ones listed above are the best and strongest currently available. Of course, the list can change again when new monsters are introduced, along with buffs and nerfs for the existing ones. Keep following our Games.lol blogs for more updates.