Ever wonder what it is like to live in paradise? Are you dreaming of traveling to a tropical island on your boat to go fishing for whatever bites? Then, Tides: A Fishing Game might just be right for you.
Various fishing game titles have flooded the market recently. Most fall into the trap of being uninspiring and some even boring. New titles are hard-pressed to find a unique feel to the game that can engage anglers and gamers alike.
Tides: A Fishing Game is a simple and fun fishing game title developed by Shallot Games, LLC. Developers have made this game as relaxing and satisfying as it could be, which is exactly what a fishing game should be. Unlike most fishing simulation games, this game gives players a genuine fishing adventure that anglers only dream about.
Tides: A Fishing Game – The Ultimate Adventure for Anglers
Tides: A Fishing Game sets you on a tropical island where you will begin your adventure. The island serves as your base where you can build your fishing community. However, the real adventure lies on the surrounding tropical islands where you can travel to and fish for various species. From there, you can cruise on your vessel as you hunt for a variety of fish. Jump off-board and wade through waters as you get close to your target. You can even cast your rod off a rock on the island and reel in your line from land. Catch all the fish you can from each island and fill your compendium of fish species.
Soon after, you can go back to your home island and sell your catch for gold. You can then use the gold to build various infrastructures that can open up even more adventures within the game. Unlock all game features and discover the adventures that await you in Tides: A Fishing Game.

Guides, Tips, & Tricks to Gather Gold Faster
Although Tides: A Fishing Game was developed to be a fun and relaxing game, you can also play competitively if you want to. If you feel the need to strive further within the game, you can read through the following tips and tricks below.
1. Goals – A Beginners Guide with a Bonus
Remember that Tides: A Fishing Game has a lot of features that you can unlock. However, it will be quite overwhelming if all these game features were unpacked to you all at once. But, you don't have to worry about that since the game introduces features to you one at a time.
Firstly, the goals are the tasks you need to fulfill as it guides you through the game levels. You can think of it as a walkthrough. Your goals are systematically arranged in a way that one goal leads to another. As a bonus, the goals also reward you with pearls each time you accomplish a task. This is the premium in-game currency that you can use to purchase bonus chests. You can access your goals by clicking on the tiki mask icon on the upper-left corner of your screen.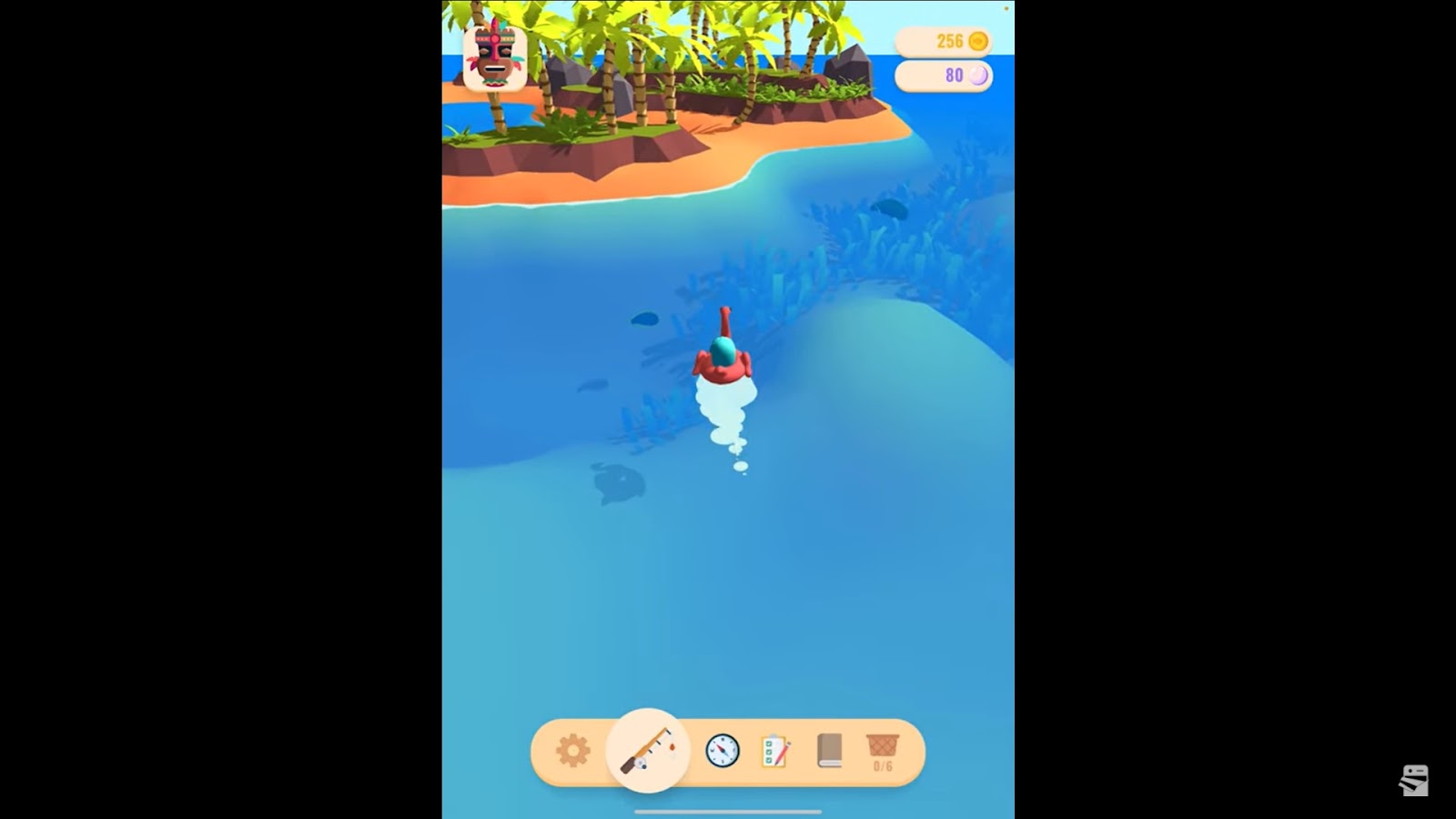 2. Bag the Best & Release the Rest
As mentioned before, Tides: A Fishing Game has simple fishing mechanics. This makes it easier for you to reel in a great number of fish each time. Because of this, it is very tempting to continue fishing and never stop. However, you should also note that your boat has limited inventory space. This means that you can only bring a certain amount of fish depending on the size of your vessel. This problem is very evident at the start of the game because your first fishing vessel, a small raft, can only hold four fish at a time.
The good thing is that the game has a feature that compensates for your boat's limited inventory space. It allows you to choose whether to keep your catch or release them. You can choose to release fish that have lower value to give space for more expensive ones. If you have already reached your inventory limit, you can keep your catch that has higher value at the expense of another fish in your inventory.
Given this feature, you can opt to stay longer on a fishing island and catch all the best fish in the area. Just choose to catch the best fish so you can sell them for higher profits.
3. Build Piers For Your Fishing Assistants & Max Them Out
Fishing Assistants are anglers that automatically catch fish for you. To get them, you will have to build a pier. It is a platform that Fishing Assistants need to stand on as they cast their lines. Moreover, you can build three piers and have three fishing assistants to help you catch fish. This feature is one of the best investments that you can get within the game. This is because Fishing Assistants can give you a continuous flow of gold even if you are offline.
It is also important that you upgrade all of them as soon as you can. If possible, max them out to the highest level possible before you log out of the game. The higher their level is, the more profits you can earn passively each time.
4. Get a Bigger Boat & Upgrade Them
This tip is relative to solving your inventory space problem mentioned above. Even though you are given a raft with an inventory space of just four, you do not necessarily have to stick with this vessel. You can always buy a newer boat and upgrade it. To do this, you will need to build the Shipwright. It is a building where you can buy new boats and upgrade them. Also, you must collect boat cards to unlock a newer boat. Bigger boats with higher levels have more inventory space and are much easier to control.
However, this also does not mean that you should buy only the biggest boat and avoid buying middle-tier boats. Higher-tier boats require cards that are sometimes difficult to collect. This makes it harder to upgrade high-tier boats compared to mid-tier ones. So, it is wise to build and upgrade an above-average boat first with decent inventory space. This allows you to haul more fish even at the mid-game.
5. Job Boards – The Fastest Way to Earn Gold & Pearls
Job Boards provide unique tasks that reward you lavishly with gold and pearls. These tasks are all related to fishing. For example, the Job Board may require you to catch three lionfish. Haul the required catch and it will handsomely reward you. The tasks may not be easy, but it sure is worth it. This is one of the fastest ways to build your stash of gold.
Certainly, Tides: A Fishing Game is a fun game to play. It offers you a fishing adventure that most fishermen only dream about. Where else can you buy a boat and fish on a tropical island?
So, if you are keen on playing a fishing game for fun, then Tides: A Fishing Game certainly fits the bill. If you ever feel the need to be competitive in this game, then feel free to review the tips above.
You may also want to check out more game guides here on Games.lol.