Many people love watching WWE, enjoying the wrestling action, as well as the entertaining storylines. This is why there are also many games available for people to play. One such game is WWE Mayhem, an action game that's published by Reliance Big Entertainment. Here, you get to play some wrestling action using your favorite WWE superstars. Get ready to smell what the Rock is cooking or cower before the Phenom through a series of cool wrestling matches.
Both new and veteran wrestling superstars are available for you to play. But is this really a great wrestling game to play? Let's discuss all of these things in this WWE Mayhem gameplay review. We'll see if this is really a good game to play or not.
Pure Wrestling Action in WWE Mayhem
To properly see if the game is great, let's first discuss the gameplay of WWE Mayhem. It's an action fighting game where you battle against other wrestlers inside the ring. The controls are simple and easy to learn. And it will be taught right at the beginning, as part of the tutorial, so you're covered there. The goal for each match is to pin your opponent or make them submit.
To do that, you need to weaken their health a bit. If you completely deplete it, it will be easier to make them submit or pin them down. But if there is still some health left, you still have to take certain actions to secure the win. A big part of WWE Mayhem is collecting superstar wrestlers. You acquire a briefcase that will contain several superstar wrestlers. However, you'll acquire them randomly.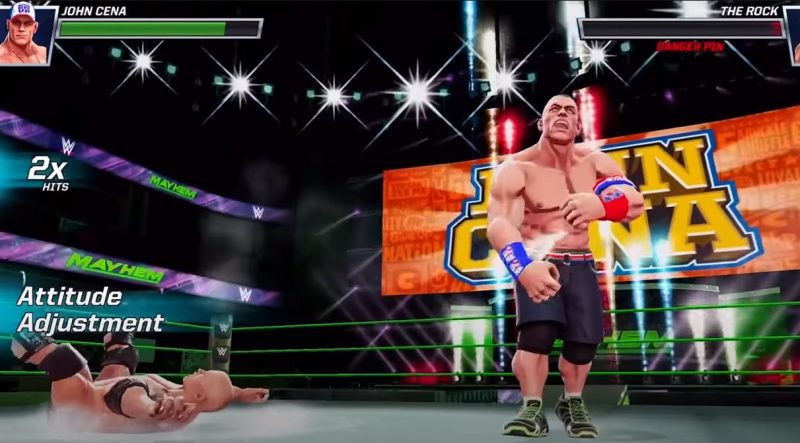 You then form a team of wrestlers that you will use in matches. You can get matches in the story mode, where you take your team to compete against AI opponents. Then take on other player-created wrestling teams. You can upgrade and level up your wrestlers to make them stronger. Then join alliances to earn more rewards and compete against others. This is pretty much the gameplay of WWE Mayhem. Let's now discuss what makes this a good game.
A Roster of Classic & Veteran WWE Superstars
Probably the best thing about WWE Mayhem is that it will allow you to collect both old and new WWE superstars. You can acquire legends like Hulk Hogan, Andre the Giant, the Ultimate Warrior, and many more. Even the recently retired ones like the Undertaker, Triple H, Stone Cold Steve Austin, etc. are available. And then there's also the new blood like Daniel Bryan, Roman Reigns, and more. You can acquire all of them and then form a dream team of wrestlers to use in a match. It's an awesome feature and it's really huge, especially for wrestling fans.
Another great thing about WWE Mayhem is its amazing and exciting gameplay. Though it is mostly a side-scrolling-type game, it doesn't diminish the fact that it's fun to play. You can perform a variety of moves and combinations on your opponent. You will also have to do some action sequence if you're pinning an opponent with a life bar left.
The narration of the matches also adds to a fun and entertaining gameplay. It's a game that you definitely won't regret downloading and playing. You can choose to play the story mode or compete against other players. Now that's out of the way, let's talk about the cons of the game.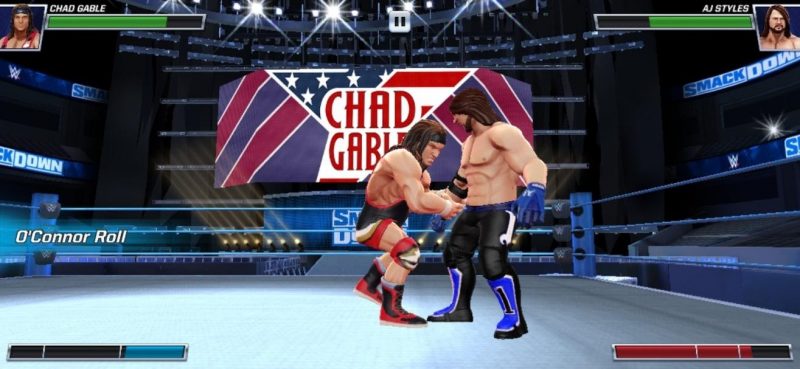 Low Acquire Rate For Higher Tier Wrestlers
Of course, not everything about WWE Mayhem is good, as some things can be improved upon. One of those will be improving the chances of being able to acquire a higher-starred wrestler. Wrestlers are given a particular star, which determines their rarity and their power. Wrestlers with higher stars are more powerful and better than the lowered star ones. Sadly, acquiring them is not that easy. Yes, things are done randomly. But it would be great if the percentage of getting higher-starred wrestlers are higher.
No Option To Create A Wrestler
It would also be great if there's an option to create your wrestler. This is one of the things that many players enjoyed in the old WWE games. It would be awesome if this feature is added. It allows players to put their imprint on the game. Ultimately becoming WWE superstars on their own.
Looking at what WWE Mayhem has to offer, it's easy to see that you'll enjoy playing this game. Though there are some things that can be improved upon, it's very insignificant and pales in comparison to the good things this action game offers. So we'll definitely recommend trying it out, especially on PC. Our Games.lol launcher will let you play WWE Mayhem seamlessly on PC. It also includes a customizable keymap so you can get comfier with the controls. Try it out for free!