If you are someone who enjoys cooking and eating, you will surely enjoy playing cooking games. When it comes to cooking games, these games involve food, where you are tasked to explore a variety of dishes or make something from your mind. In addition to that, playing these types of games doesn't require players to be real food experts or a chef. Most of the time, all you have to do is to step into an awesome virtual kitchen and use different cooking equipment and ingredients to create mouthwatering meals.
Usually, cooking games take you in the role of a chef or head of the kitchen. You can either cook the meals or run the entire restaurant and make it profitable while satisfying your customer's needs. As of now, there are loads of available cooking games playable on PC, but which ones are the best? Well, it's your lucky day as we've compiled a list of the best cooking games you must not miss playing. Are you ready to play these cooking games? Check them out below!
The List of Best Cooking Games Worth Playing on PC
Here are the top 5 cooking games you should not miss playing.
1. Cooking Adventure™
Starting the lineup of best cooking games is GRAMPUS' Cooking Adventure. If you dream of being a chef someday, you better test out your cooking skills with this simulation game. here, you will get a chance to cook various dishes and desserts from different cuisines worldwide. Once you start playing, you will be tasked to take the role of Norma, and your objective is to manage your own kitchen and serve the most delicious dishes to your customers fast in order to earn coins.
As you progress in the game, you need to unlock new ingredients and recipes to cook more mouthwatering dishes. It is an exciting cooking adventure because you get to explore more than 1000 levels and get an opportunity to see various types of restaurants such as Steak House, Grill Houses, Sushi Houses, and more!
2. Burger Shop 2 – Crazy Cooking Game with Robots
Joining the roster of best cooking games is GoBit Games' Burger Shop 2. If you're searching for some unique cooking gameplay that will test your skills big time, you must check this game! As the game's title suggests, you will play along with aliens or robots. Additionally, you will get a chance to dive into a massive collection of appetizing levels, and each level depicts its own challenge. If you are familiar with its previous installment, you will surely know how this cooking game works.
This game offers five game modes; story, challenge, relax, expert, and career. Each mode provides different objectives and mechanics. Also, you will get a chance to experience additional food machines and challenges, which are significant to the satisfaction of your customers.
3. Cooking Madness – A Chef's Restaurant Games
Another cooking game that will test your cooking prowess is the Cooking Madness of ZenLife Games. What's great about this game is that you will start out by serving steaks and beers. As you progress, you need to upgrade these menu items and be able to expand your restaurant and boost your cooking tools. If it is your first time playing cooking games, the game itself will give you a tutorial to learn the basics of the game. Your main objective is to fulfill your customer's orders as fast as you can, make them happy and satisfied as well. Once you complete a certain level, you will receive gold as a reward.
As you progress in Cooking Madness, the objectives will become tougher, and to overcome these difficult levels, you need to upgrade your equipment, such as adding stoves, and grills, and the cooking time frame will be faster.
4. Cooking Fever
Do you have what it takes to be the best chef? Well, let's see what you've got by playing Cooking Fever by Nordcurrent devs. Like the usual cooking games, you're a chef, and you will have the chance to cook a variety of dishes. Apart from that, you need to be keen on managing your time efficiently while satisfying your customers' tummies. Here, you will experience various kitchen equipment and ingredients in cooking different dishes accessible on the menu.
As usual, as you progress in Cooking Fever, you need to upgrade your machines and expertise as well. It would be best to meet their waiting time or until their patience runs out. Aside from your customers, you also need to look after your food and avoid them from being burnt, or else it will go to waste.
5. Diner Dash
Last but definitely not least is Glu's Diner Dash. In this cooking game, you will not play as a chef but as a waitress in a restaurant. Your task is to satisfy your customers by efficiently handling your customers' orders on time or even faster. So, you will be set in a fast-paced restaurant, and you need to ensure that everything is in its rightful place, from getting orders up to serving the meals to the customers. Your speed is at stake as you will deal with everything, meaning you will be alone here!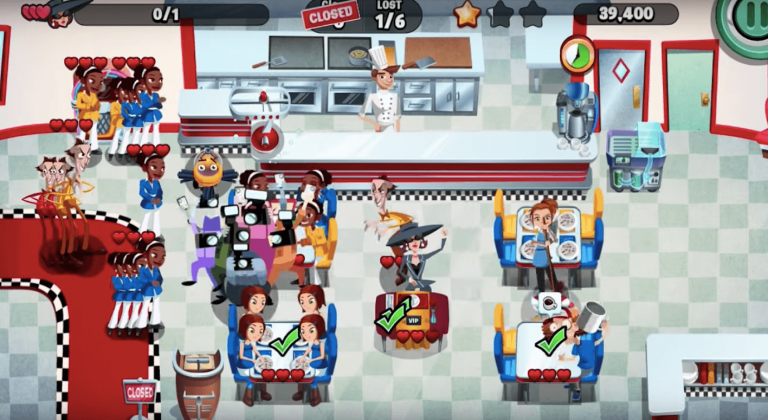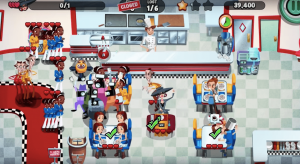 To ensure that your customers are happy and satisfied, you must receive tips. The restaurant runs the whole day, so you better be ready at your fingertips as you need to deal with various meals from breakfast up to dinner!
So, there you have it! We hope that this list helps you choose your cooking game. For more fun and exciting cooking simulation games, check out more here at Games.lol.