Are you an Angry Birds fanatic? Well, this is definitely GOOD NEWS for you! The largest casual game by Rovio Entertainment Corporation has already got its sequel – Angry Birds 2 on PC. If you enjoyed the earlier version, you will be surely amazed by the gameplay as well as the enhanced graphics of the second game.
Be ready to witness the challenging multiple-stage levels, boss pics, and destruction. Release your strategies and spells to vent huge devastation on the pork kind. So, what are you waiting for? Download Angry Birds 2 on PC.
Angry Birds 2 Gameplay
If you already played the first version, you have a huge advantage in understanding this new sequel. The mechanics and the gameplay are still similar. Generally, you need to deal with the jeering green pigs hiding across various assemblies of stones, woods, and ice. As for the birds, you will get to play with your regular flock from the first game. Get ready to fight with Red, the blue trio, Jake, Jay and Jim, the yellow guy, Chuck, Matilda, Bomb, and Terrence. Moreover, there is a new addition to the regular group of birds named Silver – it does a 270-degree dive bomb attack.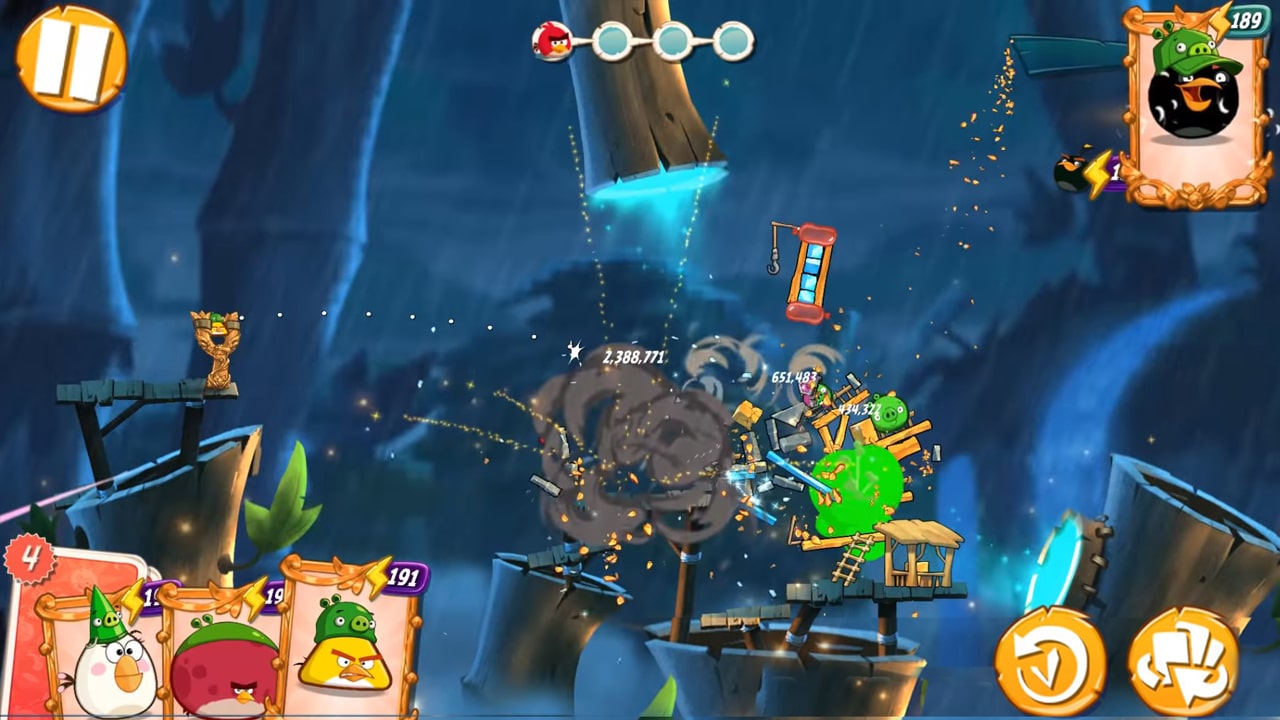 In Angry Birds 2, your goal is to take back the eggs stolen by Chef Pig aboard an airship. Red, the leader of the flock, will gather all the flock to pursue and fight against the taunting hogs. To do so, you need to travel and trample all pig structures until you reach the Chef Pig, Foreman Pig, and King Pig, the final boss.
As easy as the goal and gameplay sounds, you need to make sure first that your birds are ready for the tasks. That is because your score will depend on the performance of your chosen bird and its destruction. The amount of destruction will determine the number of stars you will receive – with a maximum of three. Failing to earn at least one star is a failed level. However, there are a couple of new ways how you can beat the harder levels. A destruction meter called "Destruct-O-Meter" will record and accumulate your destruction points. These points will help you earn extra birds and unlock spells to beat some of the most challenging stages.
Angry Birds 2 on PC has 240 stages, meaning, you have a lot of time to have fun playing! You can also enter The Nest or Bird Arena where you can challenge other players online in a destruction battle. Winning a streak of victories will let you earn stars, get promoted in the Arena's League, feathers, chests, and more. You can play with game-generated players and challenge them to see who will be the champ of this game.
The Angry Birds
Furthermore, like with the original game, each bird in Angry Birds 2 presents particular abilities and characteristics.
Red
Red, the red angry bird can produce soundwaves that can blow the pig structures ahead before it reaches the frame.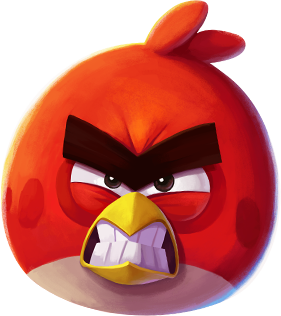 Jay, Jake & Jim
Unlike Red, who seems always angry, these one-split-to-three birds are sometimes cool and level-headed. However, wait until you see them in full action. This bluebird trio is best in not chilling while toppling ice structures at all.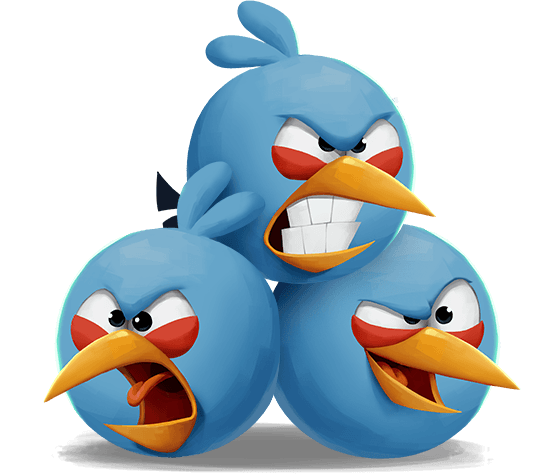 Matilda
Matilda may have strong maternal instincts yet she will have no second thoughts to drop her precious eggs to help you annihilate the pigs. The white bird can drop an egg bomb vertically while propelling herself upward. These are best whenever you encounter tricky levels with structures from both the base and elevated platforms.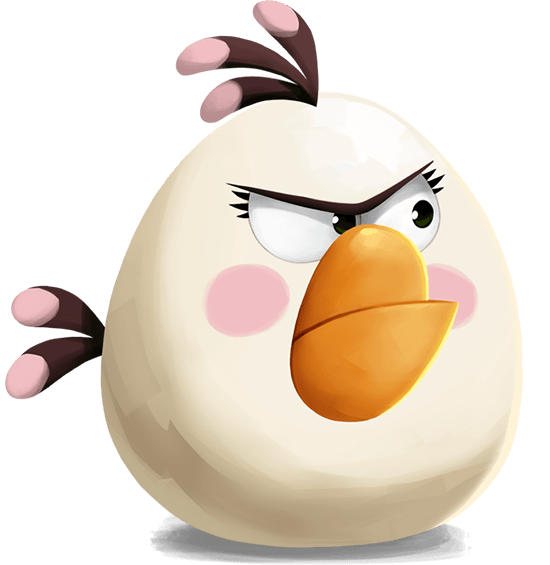 Chuck
Chuck, the yellow triangular bird, is surely one of the most important (and perhaps the most loved) birds in the game. He can move or fly faster when propelled and is most capable of toppling down wooden structures.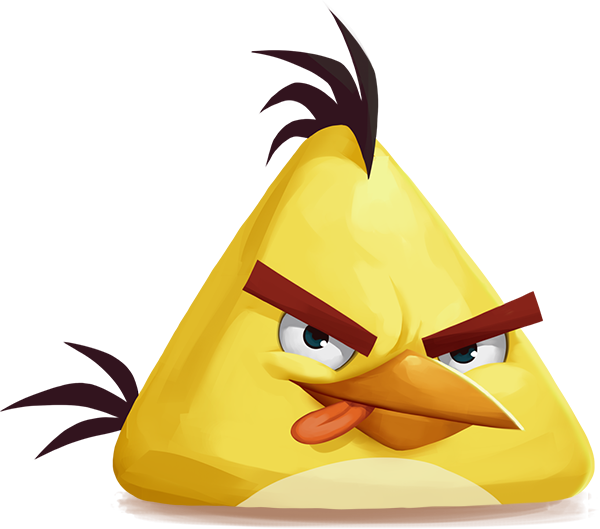 Bomb
If you think Red has a temper, wait till you see Bomb in action. Derived from the name itself, this blackbird has an explosive temper that will blow up all types of structure. Just make sure to place them correctly (at the base structure) before it detonates. Then, watch all the pigs and their structure flying in all directions.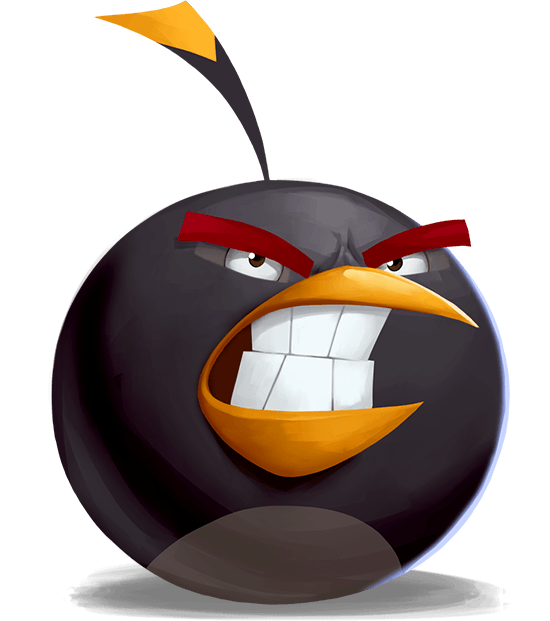 Terence
Terence, the biggest of the flock, may have a milder temper mainly because he knows what he is capable of. Judging from its size, this red bird isn't calm at all when it comes to toppling even the most elaborate structures. However, better reserve him for boss battles. Coz who do you think can fight the boss but another boss himself!
Silver
Lastly, the new bird of the flock, Silver, may look insignificant at first but it can easily smash opponents by flying drop straight down.
The silver bird can also fly in any direction, like diving horizontally around the structure to smash the opponent's base. Just make sure to maneuver it correctly so it won't miss the structure at all. Don't miss the chance to get to know this bird's extraordinary skill.
Spells
The same as with most Angry Birds installments, Angry Birds 2 also has the famous "Mighty Eagle" spell. The strongest bird can be purchased with gems and utilized when everything is going tough.
In this version, you can cast spells to inflate pigs, convert pigs into firebombs, transform blocks into ice, summon a rain of yellow ducks, and of course, the famous Mighty Eagle. In the beginning, the new spells are not very powerful but you can rank them up by upgrading your birds. The higher their rank, the higher the spells' ranks as well. These spells are your additional advantage in dealing with challenging levels.
Bosses
Like most games, each stage has a boss. You would first encounter the Chef Pig, who was responsible for stealing the eggs in the birds' nest. Then, there's the Foreman Pig, the second boss in the game is the strategist who devised the plan in stealing the eggs. Lastly, the King Pig, evident from its crown, is the final boss and the bossiest of them all.
In Angry Birds 2 and even in the previous sequel, larger pigs are harder to beat. A single hit is not enough, you need to come up with a creative mind on how to beat them for good. To strike some damage, you can throw boulders, drop bombs and propel them forward. However, the most damaging of them all is to let them fall from the platform so they won't recover anymore.
Play PVP Mode in Angry Birds 2
Another good news! This sequel is available in multiplayer mode. Rovio added an arena making it more friendly and social. However, to reach the Arena, you need to surpass 25 stages first or a star rank of 8.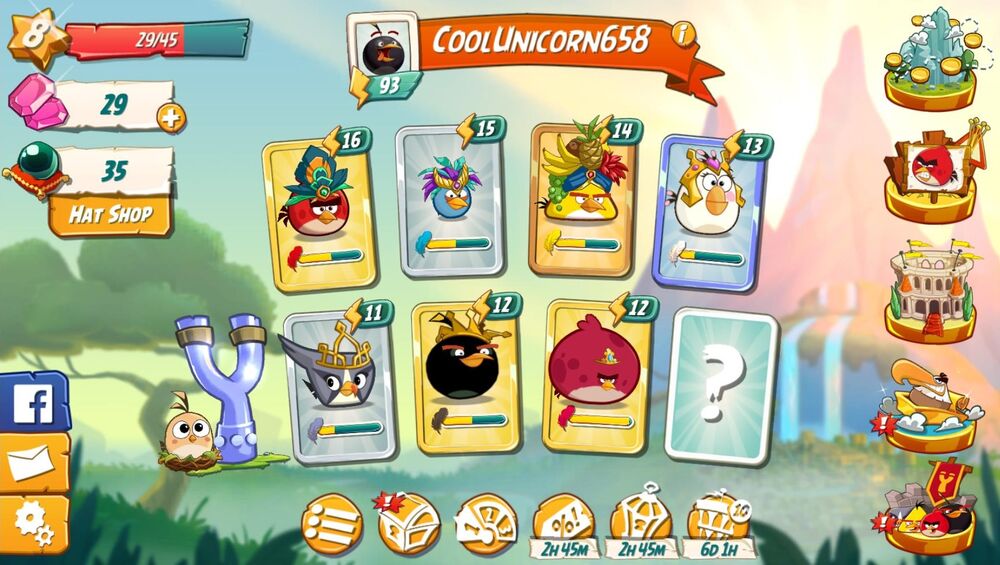 The Bird Arena is a continuous mode and you can play the winning streak for free once a day. Or repeat the level for every 3 hours using the Arena levels. You can play the stage a second time by watching advertisements or commercials or as long as you have Arena tickets. This stage aims to compare each player's ability to acquire the biggest number of Arena points using a limited number of birds of their choice. The player who wins will go up in the rankings while the loser will go down.
Free Gems or Pay With Real Money?
Angry Birds 2 enables players to pay using real money to smoothly finish stages. For example, you can buy gems to pay for the Mighty Eagle spell.
However, if you want to play without paying, you can also make use of the Angry Birds 2's gems without spending real money. Gems can be used to play the Tower of Fortune and shop in Daily Deals to upgrade your birds and get free spells and power-ups, and many more. Doing this will also help you go forward in your campaign.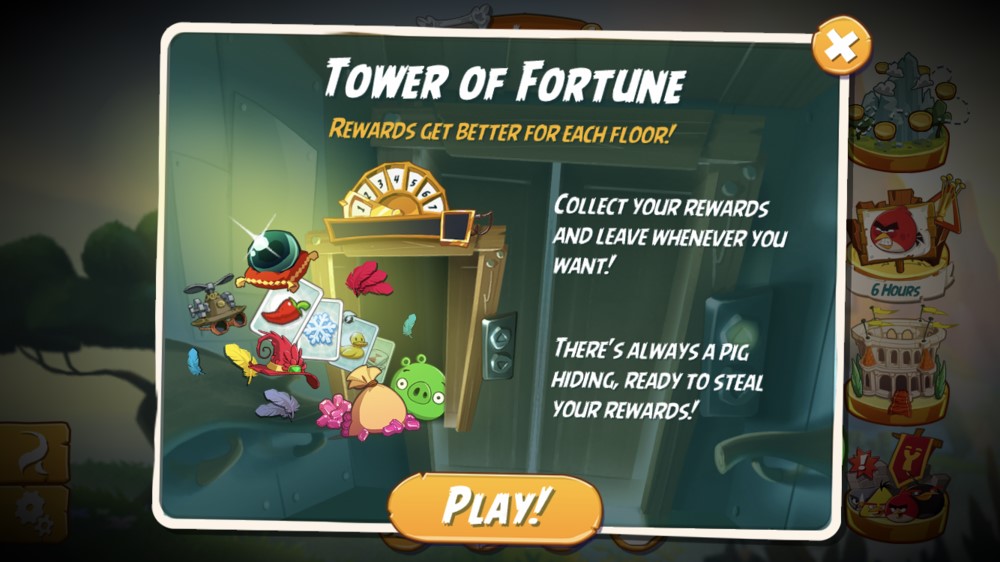 Getting gems is also important once you reach the difficult stages. To survive those stages, you need gems to get more lives instantly or to repeat the game. Otherwise, you can wait for about 30 minutes to continue the game again.
There are many ways to get gems free but don't use them too often because the flow of free gems slows down as you progress in the game. You can get free gems by watching ads, completing objectives, and by participating in daily quests. But, if you want to get them without any sweat then pay using real money.
Download Angry Birds 2 on PC
Overall, this casual game is really fun to play. With its improved graphics and upgraded gameplay, there will be no boring moments of any kind. If you know how to take advantage of your birds' strengths, you will surely not find any difficulties in conquering the stages. You can even download it on PC for FREE! Go ahead and experience how exciting Angry Birds 2 is. Play now!