With over 50 million downloads, Archero is quickly becoming one of the most in-demand action game titles on the market. It comes with no surprise as this game is very engaging and highly addictive, like so many other action games in 2021 and 2022. Moreover, casual and competitive players alike have come to love it, and its fan base is growing larger by the day. Archero features a plethora of heroes, weapons, armor sets, pets, and abilities that you can choose from. Furthermore, each one grants you stats, skills, and special abilities that can help you progress in the game. For this reason, we have ranked each of them here on our Archero Tier List based on our experience of the game.
Choose wisely as they are not created equal. If your goal is to be competitive, make sure to never settle for less and look for the best in the game. Read along and find out which heroes, equipment, pets, and abilities are the best. And maybe, you might easily finish the whole gameplay of Archero in one sitting.
Best Hero Tier List
Archero offers you a plethora of heroes that you can choose from. Of course, they have special skills and attributes that are unique from one another. Some of them are free-to-play, while others are pay-to-play. However, the good thing is that you are given a free trial for you to test the hero before buying them. Fortunately, we have ranked them in six tiers, with S-tier as the best and C-tier as the worst.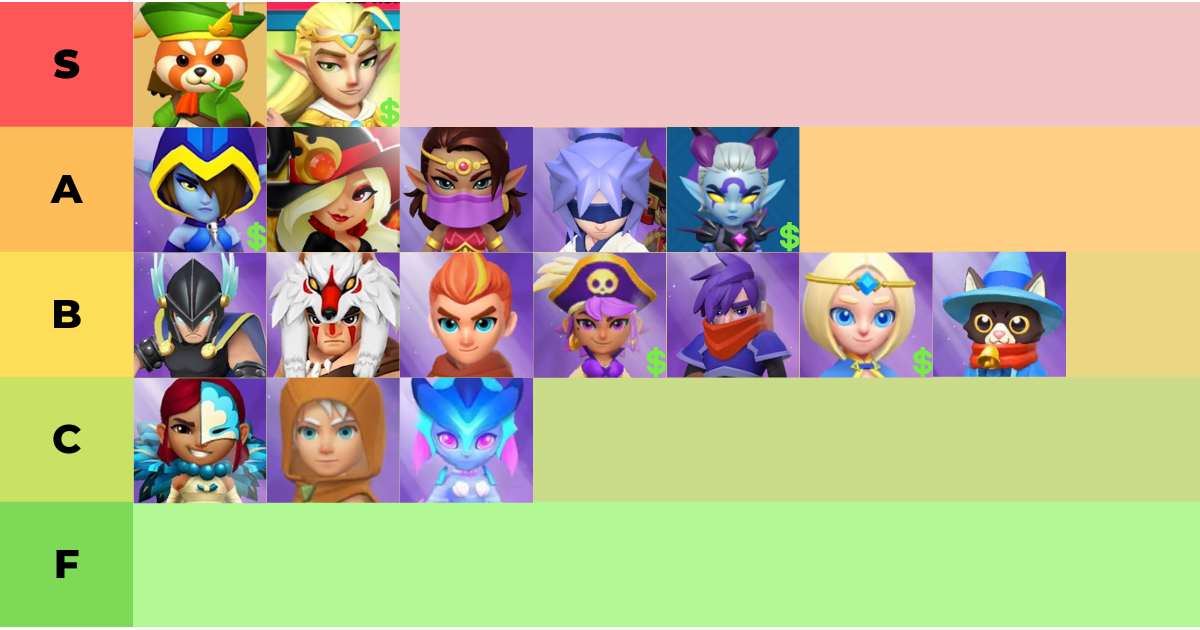 S – Tier Heroes
A – Tier Heroes
Shade

Ayana

Lina

Shingen

Ophelia
B – Tier Heroes
Taranis

Helix

Phoren

Bonnie

Urasil

Rolla

Meowgwik
C – Tier Heroes
Best Weapon Tier List
Choosing the right weapon is also imperative if you want to always win in the game. Since weapons have their unique stats aside from their base attack, it can also become confusing to choose which one's best. But there's no need to worry. We have ranked the weapons in three tiers, with the S-tier being the best and B-tier being the worst. Take a peek at our rundown of the weapons tier list.


S-Tier Weapons
A-Tier Weapons
Brightspear

Death Scythe

Stalker Staff
B-Tier Weapons
Brave Bow

Saw Blade

Tornado
Best Armor Tier List
Another important piece of equipment that players should take note of is the armor. Archero has six armor sets that you can collect. These will help you during your adventure. That's why we have ranked them from S – tier to B – tier, with S being the best and B being the worst.


S-Tier Armor
A-Tier Armor
Vest of Dexterity

Phantom Cloak
B-Tier Armor
Golden Chestplate

Void Robe
Best Bracelets, Lockets, & Rings
Aside from your weapons and armor, you can also equip bracelets, lockets, and rings. Although these items seem unimportant when compared to the other two, they do play a vital role in improving your hero. In addition, these items grant you special abilities that can be a game-changer. So if you want to elevate your hero, here's our tier list of each equipment category, from best to worst.
Bracelets

S-Tier
Frozen Bracelet

Invincible Bracelet

Quickshot Bracelet
A-Tier
Thunder Bracelet

Blazing Bracelet
B-Tier
Lockets

S-Tier
Angel Locket

Agile Locket
A-Tier
Piercer Locket

Bloodthirsty Locket
B-Tier
Iron Locket

Bulletproof Locket
Rings

S-Tier
A-Tier
B-Tier
Best Spellbook Tier List
Spellbooks are also helpful items that you can use to inflict more damage. Moreover, it grants you special abilities that can help you breeze through each stage. So if you want to become more powerful, make sure to opt for the S-Tier spellbooks. With that said, below are the best spellbooks in Archero.


S-Tier Spellbook
Giant's Contract

Spectre Book

Art of Combat
A-Tier Spellbook
Enlightenment

Arcane Archer
B-Tier Spellbook
So, there you have it. Our complete Archero Tier List gives you the rundown of the best heroes, equipment, pets, and abilities. Now you are ready to conquer more levels in Archero, and become better than most newbies. Make sure to stay tuned for more game guides, walkthroughs, and tier lists here at Games.lol.