Big Farm Mobile Harvest is undeniably one of the worthy successors of the Farmville franchise. Like most virtual farming games, Big Farm is a game that's big on features and activities. Goodgame Studios did well in infusing modern elements into the classic virtual farming structure making the title successful. If you are new to the game, then, you are on the right page as we compiled useful tips for new Big Farm players. However, before we jump into the tips, let's do a quick overview of Big Farm Mobile Harvest.
Playing Big Farm: Mobile Harvest on PC
Big Farm Mobile Harvest hails from the studios of iconic free-to-play video game developer Goodgame. Published in 2017, Big Farm is an online farming simulator that lets players create the farm of their dreams. The game did not make that much impact on the gaming community during its launch. After all, virtual farming is already saturated with multiple titles that, for the most part, come with the same theme.
For a farming game to succeed, it should come with properties that will make it stand out. Interestingly enough, Goodgame studios managed to incorporate all the most sought-out elements virtual farmers are looking for. This brilliant move combined with updates and events led to the boom of Big Farm Mobile Harvest after two years. If you are planning to jump into the farming bandwagon, Big Farm should be at the top of your list. With that out of the way, let's plow our way to our main topic which is the tips you can use in Big Farm Mobile Harvest.

Complete Missions For Faster Progression
Big Farm Big Harvest follows the same basic structure seen in other virtual farming or farm simulation games. It bombards the player with near-endless missions/activities. Although the game comes with a free-roaming design. It is highly recommended that players follow or complete the list of activities provided by the game for faster progression. These missions also come with sweet rewards that you will need to develop your farm. In addition, the list of activities or missions will eventually point you in the right direction.
Keep Your Workers Happy At All Times
One unique feature that makes Big Farm Mobile Harvest stand out from other farming simulators is the Happiness Meter. The aforementioned meter pertains to the status of the workers employed in your virtual farm. The happiness of your worker is essential in keeping your production cost manageable. Unless you have a wad of cash lying around, then you can just ignore this tip. However, for those who do not want to spend a dime, then, you must prioritize your workers' happiness.
To make your workers happy, you need to build multiple production facilities to make harvesting more efficient. You can also purchase decorations both regular and seasonal to keep the spirits of your workers up.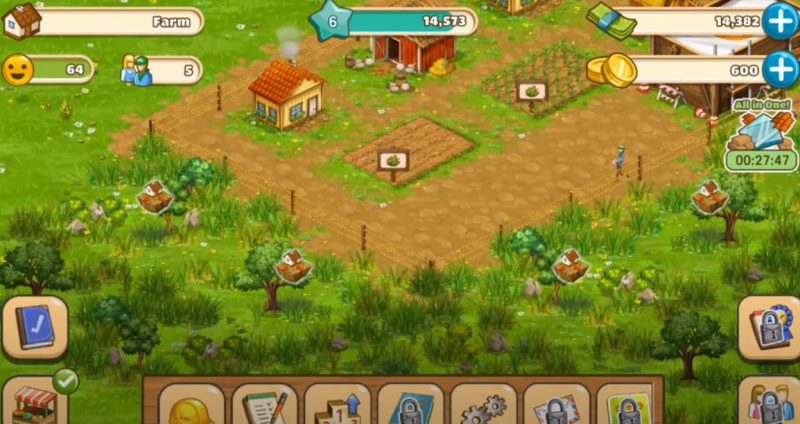 Upgrade Your Buildings Regularly
Like most freemium games, Big Farm employs the use of time-based elements in terms of harvesting and upgrades. Speaking of upgrades, you must religiously keep track of the status of your buildings. This means that you need to make sure that all of your structures are up-to-date with the latest upgrade. Do not make multiple upgrades at once; instead, you should prioritize the upgrades based on the importance of the structure. Your first upgrade priority should be the structure that takes a chunk of time to upgrade. Doing this will reward you in the future.
Use The Cooperative & Market Orders
Aside from completing the missions in the game, there are other ways that you can follow to improve your farm. One of which is by joining a Cooperative or Guild. Doing this will allow you to collect Loyalty Points used to exchange items in the loyalty shop. Another is completing Market Orders, which will earn you a decent number of rewards.
Completing a Market Order will allow you to access market materials, in-game currency, experience points, and market experience points. The only downside to completing Market Orders is that it comes with a lot of requirements. Nevertheless, the returns are going to be worth it.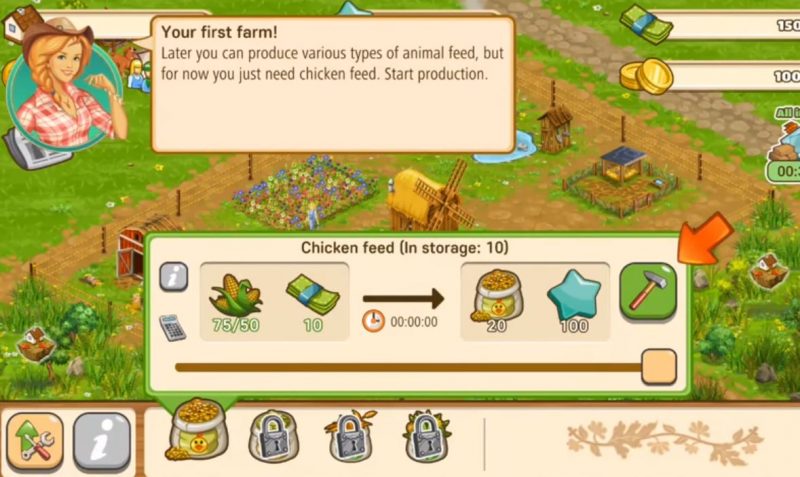 Be Mindful Of The Hot Air Balloon
As you farm your way to greatness, you will notice a hot air balloon making an appearance on your farm. Do not ignore this contraption since it comes with goodies that can help in the improvement of your farm. Clicking on the Hot Air Balloon will present you with a list of items that you can purchase using gold. However, your focus will be on the free items that you can acquire by watching short ads. Although free items are not that frequent, clicking the Hot Air Balloon will only take a second of your time.
Employ these tips out when you play Big Farm: Mobile Harvest on PC. Use our Games.lol launcher too for a more optimized and seamless PC gaming experience. Get access to full-screen gameplay and customizable keymaps. Play now!