If you are part of the massive Boom Beach community or someone who just recently joined who somehow needs a simple guide on how to improve or upgrade your base, then, you have landed on the right page. Below is our definitive upgrade guide for the game. The best part is that this strategy game guide comes in an easy-to-read chart. This means that whether you are a veteran or a newbie, upgrading will be a piece of cake if you will just follow our chart. So, without further ado, feel free to check out our Boom Beach upgrades chart for 2022 below.
Boom Beach Upgrades Chart for 2022
Before we jump into the Boom beach Upgrades guide illustrations below, take note that the order presented in the illustration is the order that you should consider following when doing upgrades. This will ensure that you will have a decent balance between offense and defense. This is why you will notice that each of the charts below has its own labels or titles. Simply follow the order and you should be good.
Make Your Headquarters Upgrade a Priority
There are many reasons why you should prioritize your headquarters when it comes to upgrades. One of which is that your headquarters will open or unlock new upgrade options when maxed out. Of course, as you progress through the game, upgrading your main structure will require upgrades of other primary structures. But just remember that when an upgrade for your headquarters becomes available, always upgrade it first.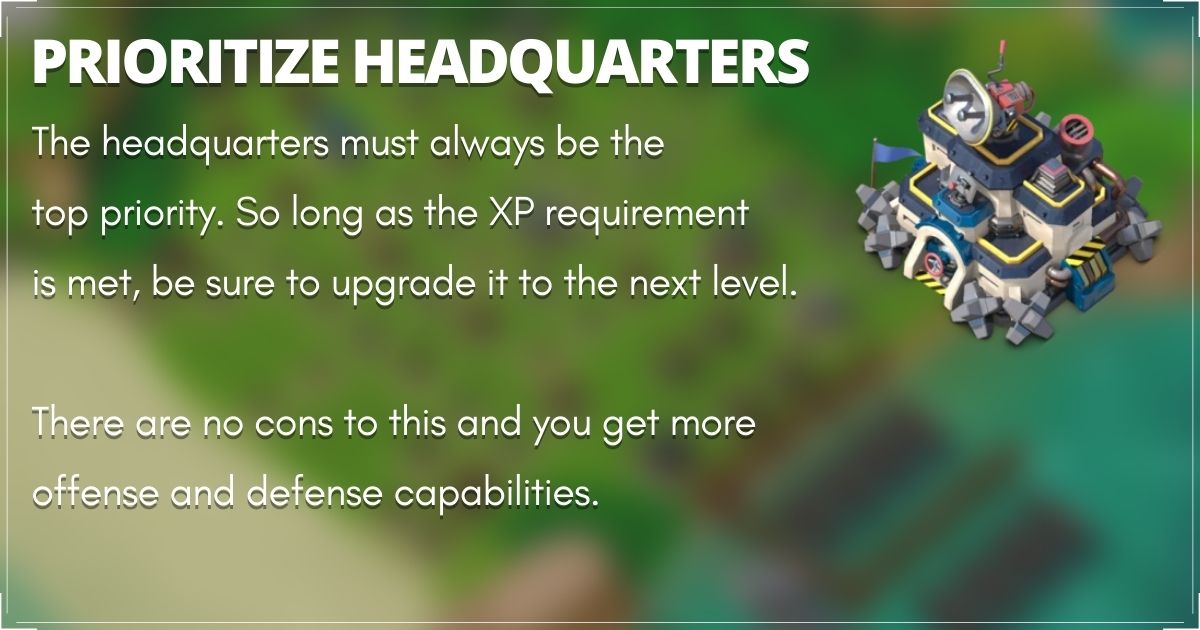 Warriors and Hooka Offense
If you have been playing the game for quite some time, you will notice that most of your activities will be offensive. This means that you need to have a strong offensive force to attack other bases or fulfill missions. Thus, your second priority is to upgrade your offensive troops like the warriors and hooka.  Upon upgrading your warriors, you need to upgrade your gunboat followed by your landing craft then your warriors then your gunboat weaponry, before upgrading your armory. Once your armory is upgraded, the first thing that you need to do is upgrade your landing craft followed by the heavy offense. After that, the gunboat along with its weaponry, and then back to the armory.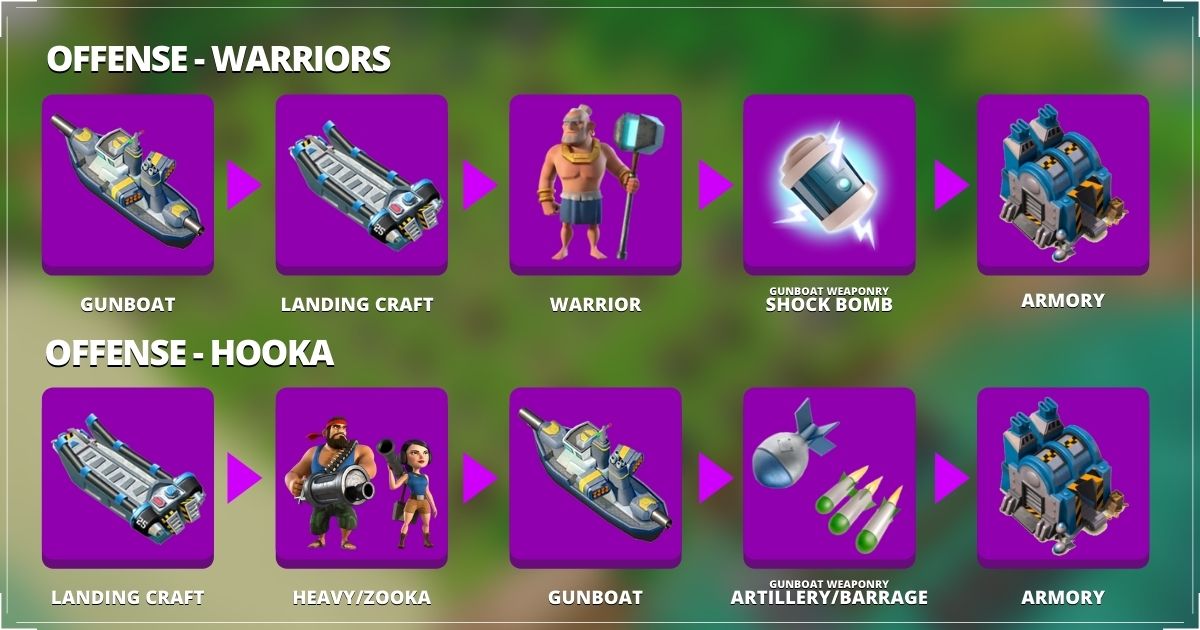 RZM, Scorchers, & Tanks Offense
Once you have a decent armory, the next thing that you need to do is to make your offense more powerful. By powerful, we mean a powerful gunboat along with some scorchers and tanks. With that said, you need to first take care of your RZM or riflemen, zookas, and medics. To make the RZM effective, you need to upgrade your gunboat weaponry to unlock medkits, shock bombs, and smokescreens. After that, you need to upgrade your gunboat followed by your landing craft, medic, and armory. Once you're done upgrading your armory, you need to upgrade your gunboat, then upgrade your scorchers and tank. Finally, you need to go back to your gunboat weaponry and perform some upgrades before you go ahead and upgrade your landing craft and armory once again.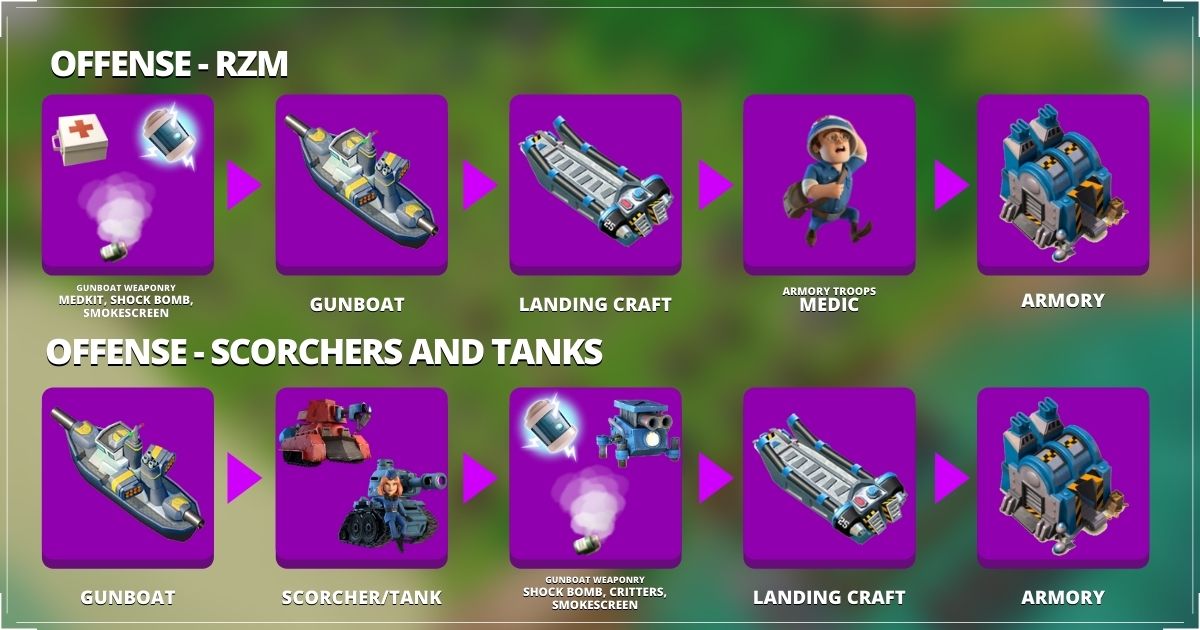 T-Med Offense
If you want to invade without losing any troops, you need to use the T-Med offense. This offense requires you to upgrade your gunboat weaponry, then your gunboat, tank, medic, back to gunboat weaponry, then your landing craft, and lastly your armory. This method will ensure that you have a decent force that you can use without losing any of your precious warriors.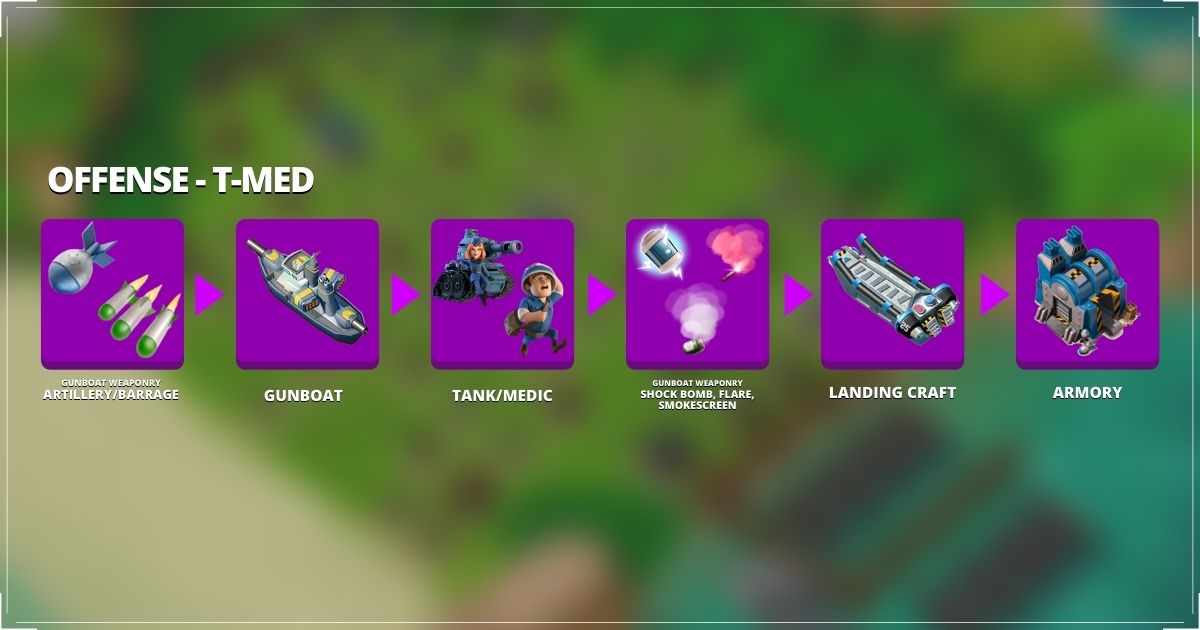 Defensive Upgrades
To balance out your base, you also need to improve your defense. Improving your defense requires you to upgrade the various defensive structures and contraptions that will become available as you progress throughout the game. You need to have a strategic approach when upgrading your defenses. With that said, just make sure that you put your structures and defensive contraptions on strategic locations and upgrade each one based on the image above. This way, invaders will have a hard time attacking your base and taking your resources.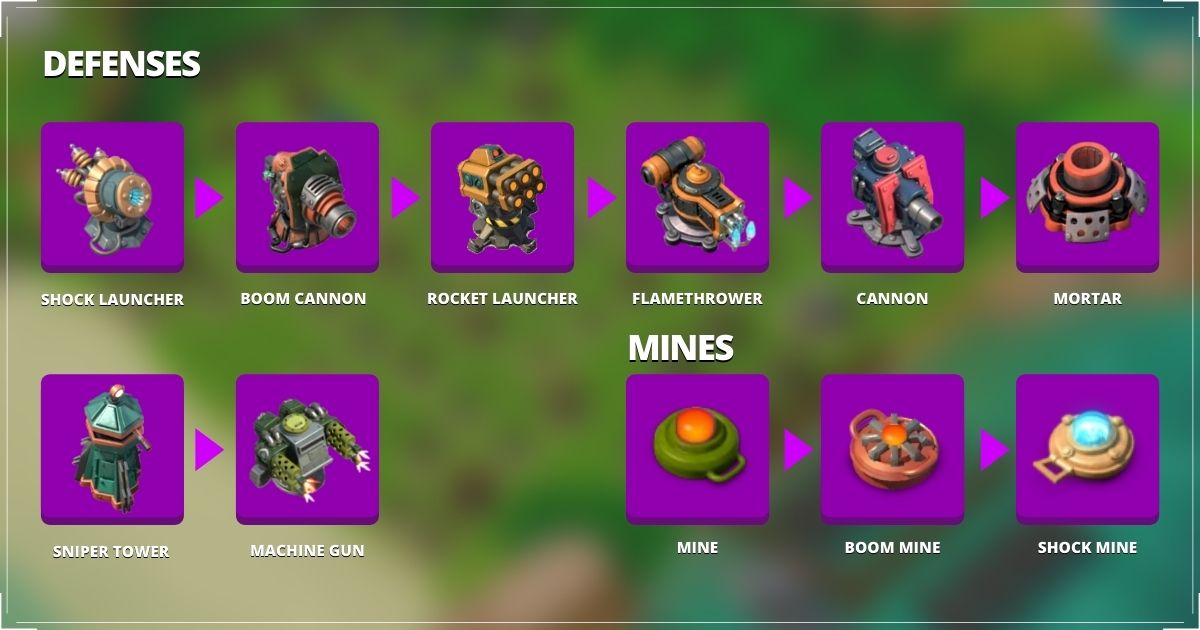 Play Boom Beach on PC
Boom Beach is a fun and exciting strategy game that you can play with your friends or other players across the globe. The defensive and offensive elements of the game are well-refined making it more immersive compared to other titles out there. With that said, what better way to experience this highly acclaimed game than on your PC? Download here in Games.lol to get the game for free!