If you're someone who wants to experience what it's like to own your café shop, then you should try playing this game. It's titled Cafeland – World Kitchen, a casual simulation game that's published by GAMEGOS. In this game, you play the role of a would-be café owner looking to make a name in the industry. You'll start the game with a small café, able to serve only a few customers and offer only a few foods and drinks.
Your goal is to grow your café and become very popular and profitable. The great thing about Cafeland is that you'll have the creative freedom for the growth and expansion of your cafe. You get to decide how you want your café to look or what its decorations will be. It's a game where you basically write your own café story, showcasing your creativity, as well as management skills.
But like with many restaurant games, your ability to expand and grow your café will depend on your available resources. Growth and expansion will cost you, and in this case, the cost is in coins. Though you earn coins whenever customers visit your café, it's only a small amount. This means that it might take a while for you to save up enough coins for your expansion.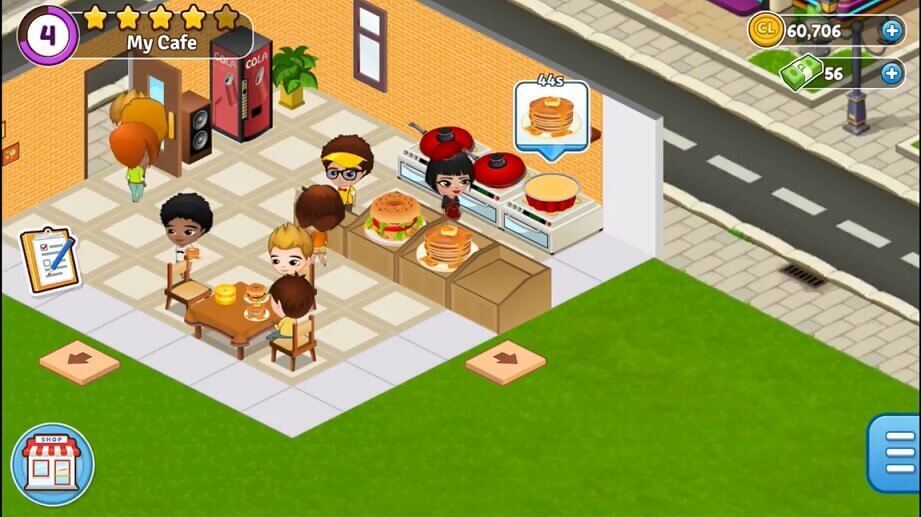 This won't be a problem in the beginning since you'll start with a lot of coins and the costs for new items, furniture, and expanding your space are minimal. But as you progress further, your big stash starts to dwindle and the costs of expansion begin to rise. To help you with that, this blog post will provide tips and tricks to getting coins quickly in Cafeland.
How Do You Earn Coins in Cafeland
Coins are used to buy furniture, kitchen equipment, and to expand your café. They're usually earned from the customers that come in. When customers purchase the foods you make or from your vending machine, they pay you in coins. If they're happy with your service, they also leave behind tips. One of the fastest ways to earn coins in this game is by serving only the dish that costs more.
This will result in the customers paying you with more coins since you're only serving expensive dishes or drinks. So that's one of the best ways to earn coins. Of course, this method will still require time, so you still can't expect to earn millions of coins quickly. Another way to earn coins is by completing achievements. Cafeland offers plenty of achievements for you to complete and they usually reward you with plenty of coins.
Leveling up is another way for you to earn coins quickly. You usually get a huge amount of coins whenever you level up in the game. But these things take time. If you don't feel like waiting, probably the best way to get more coins is by spending real money. Cafeland has several packages and deals available for you to take advantage of.
They're usually affordable and can quickly get you 100,000 to 1 million coins, depending on the package that you'll get. Of course, this method of getting coins is not ideal since you're spending real money. This can be a big problem if you don't prefer to spend real money at all on this game.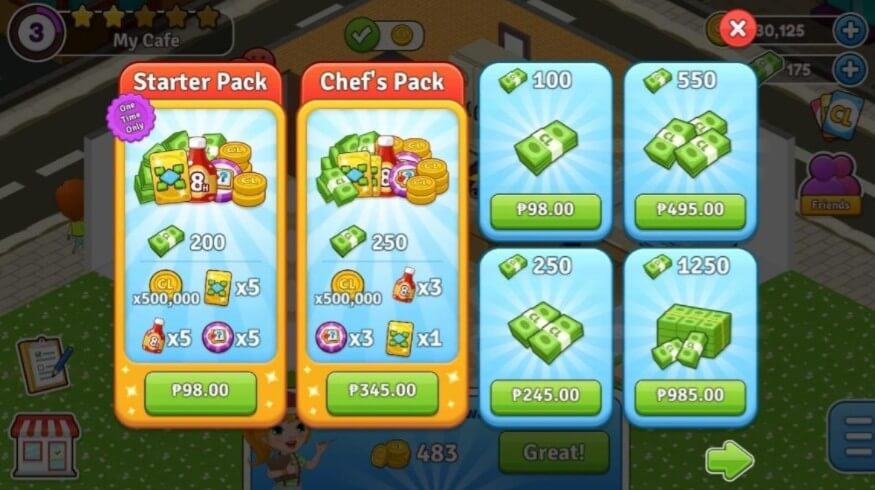 Other Ways To Earn Coins in Cafeland
There is also another way for you to earn lots of coins in Cafeland and that is with the help of a third-party provider. There are many different websites out there that offer Cafeland hacks, which can help you earn tons of coins. With these hacks, coins won't even be a problem anymore in this simulation game. Of course, the challenge here is to make sure that the hacks you are using are legitimate and safe.
There are many hacks out there that are not safe to use or are mostly worthless. One such hack that you can try is Free Stuff Tutorials. It's a rewards site where you just have to complete certain tasks or activities and then earn some points. An example of an activity that you can complete will be answering surveys. The surveys are usually simple and quick to answer so you won't spend a lot of time on them.
Once you complete a survey, you earn points. When you have enough points already, you can then redeem them for various rewards. One such reward that you can get would be Cafeland coins or cash. The site will basically allow you to have instant access to coins and cash, thus effectively making them unlimited. It's a great way to earn free coins quickly without spending any real money.
Final Thoughts
Cafeland – World Kitchen is a fun and entertaining game where your goal is to grow and expand your café. But to do that, you will need to have tons of coins since upgrades and new equipment costs coins. The game offers many ways for you to earn them freely, but it will take time. If you prefer to earn them quickly, then spending money is an option. But if you don't want to spend money, then you can try a third-party provider like Free Stuff Tutorials.