If you're a cat lover, then you will likely enjoy playing Cat Spa. It's a casual game published by HyperBeard. In this game, you get to play as a massage parlor owner. Your therapists are cat fairies, and they'll be the ones massaging the various animals coming in for a session. Moreover, each animal will have a preference for the type of massage they'd like to get.
You'll have different massages to offer, but you'll need to train your cat fairies first. It's also important to note that you're still dealing with cats here. So, you can't just make them work and work. Surely, they'll likely ask for breaks. Furthermore, the gameplay of Cat Spa is simple and easy to learn. But some things can get a bit confusing and overwhelming, especially for beginners.
To help with that, this blog post is going to be a Cat Spa guide. Here, we will provide you with tips that can help you play this casual game better.
1. Maximize Your Assistant at the Beginning
Like with many games, an assistant will help you at the beginning of the game. They will be the ones to tutor you about the basics of Cat Spa's gameplay. But after you've completed the basics, the assistant will remain there. You can find them on the left side of the screen and they will usually provide some tasks or objectives for you to finish.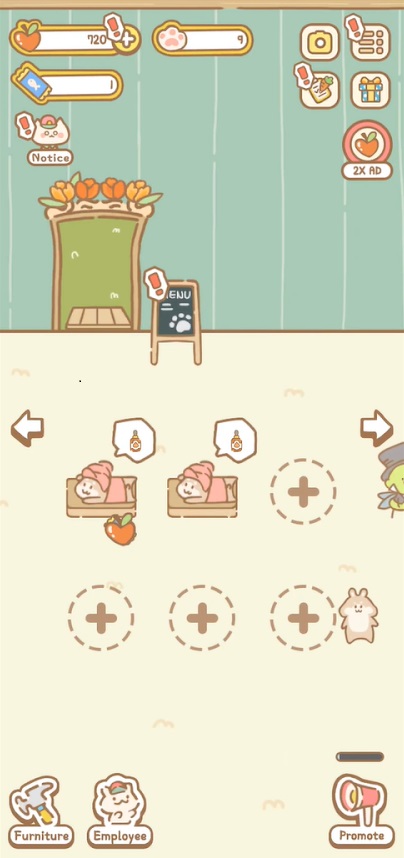 Having an assistant is an excellent way to know what you need to do next whenever you find yourself stuck or not knowing what to do in Cat Spa. Just tap on the assistant icon and see what task you need to do or complete. That way, you can get a good amount of resources as rewards for completing the tasks. Moreover, take advantage of the assistant while they're still there. Once you've completed all tasks, the assistant will eventually be gone.
2. Constantly Get Customers to Come to Your Spa
Even though it is only a business management game, Cat Spa is not like most business management games out there. Customers won't automatically go to your parlor, and you just have to service them as quickly as possible. Part of the things you need to do here is promoting your massage parlor to get customers to visit the place. There's a promote button at the bottom right, where you need to tap on it 10 times to get one customer to come in.
Now, promoting is something you'll have to do constantly to make sure you have a steady flow of customers coming in. Just make sure you don't overpromote. You don't want to have customers waiting too long because you can't accommodate them yet. On the other hand, it's also important to upgrade the massage services you are offering. Customers will have different massage preferences, so you need to make sure you have what they want. Another way is to just have enough resources to quickly purchase the training available so your cat can do the massage.
3. Increasing Your Ratings is Important
Attracting customers to earn resources for expansion and decoration is not the only thing you need to do. Your massage parlor will have a rating, and you'll need to make sure to increase it. That is because some pieces of furniture and decorations are unlocked after you reach a certain rating. In other words, they're like your store's level, so increasing your ratings is also important.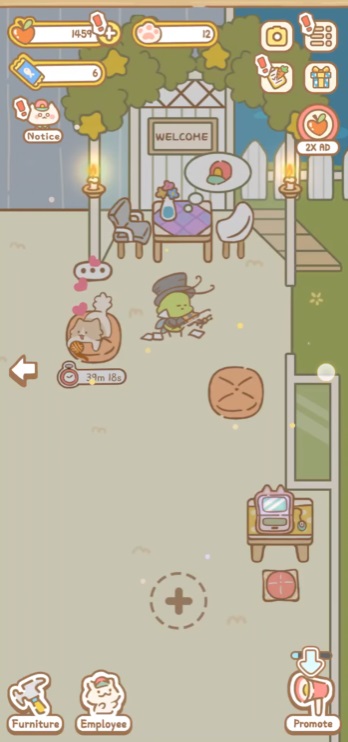 There are many ways to increase your rating. One of which is by completing all your daily goals. Not only do you get resources in this way, but you also get rating points. Getting your cat fairies to talk while they're in the break room will also earn you rating points. Lastly, unlocking achievements can also get you rating points to increase your rating. Make sure you do these things that will increase your rating so you'll get access to better furniture, items, or decorations.
4. Don't Overwork Your Cats
As mentioned earlier, you're still dealing with cats here, so you can't just work them non-stop. Just like humans, they also need breaks and relaxation. That is why you will have a break room in your spa that you can also decorate and expand.
To check if your cat fairy needs a break, just tap on them and see their energy or happiness level. Moreover, when a cat is on break, you can't use them to do the massage. So, don't make all your cats have breaks at the same time. Make sure you will have at least 1-2 cats available to do the massage. You can always hire more cats so you'll have more therapists to use.
5. Don't Forget to Install the Counter Early
Having a counter early is important since it will allow you to accumulate more apples (the primary resource) from customer's tips. Without a counter, they won't be able to leave a tip. You can start with the wooden counter first, which can store up to 5,000 apples. But make sure to upgrade the counter so it can store more apples. That will help you quickly decorate and expand your spa. And as you expand your spa, you also start to offer more services. That way, you can earn more.
Ultimately, Cat Spa is an entertaining casual game that you won't regret downloading and playing on PC. Make to remember all these tips so you can have a good start in the game.