When talking about the best farming games, there is no doubt that one of them is the iconic Hay Day by Supercell. In this game, you're tasked to manage your uncle's farm as he cannot work on it anymore. As the new farm manager, you'll be planting crops, raising animals, and decorating the farm. However, there are many games like Hay Day that can give you the same experience!
With its very straightforward gameplay and unending content updates, many players worldwide, probably including you, have been hooked on this game for years. But, there are times that you want to change the pace for a while and look for something more exciting. So, to help you find the best alternative to Hay Day, let this list help you out.
What are the Best Games Like Hay Day?
If you're looking for fun alternative games that share the same perspective as your favorite Hay Day game, let this list of Games Like Hay Day help you. Here are the games you must check out now;
1. Township
Landing on the top spot of our list of best Games Like Hay Day is Playrix's Township. In this farming simulation game, your job is to unleash your most promising skills in building and managing a farm and city. To ensure you're on the right track, the Townspeople must be happy and get all the supplies they need.
In playing Township, your focus is on managing your farm as it will be the main source of food and supplies for your town. Like Hay day, you'll plant many crops, feed cows, and more. On the other hand, your town will be the one that will handle the income, which will help you establish more structures to make it thrive more.

2. Farmville 2 Country Escape
Next to the best Games Like Hay Day is Farmville 2 Country Escape by Zynga. In this casual game, you'll go away from the busy city and relocate to the relaxing countryside. You'll be situated on a farm and live in a simple farmhouse. Like in Hay Day, you'll be in charge of planting vegetables and crops and raising animals. Also, you must develop some recipes and customize your farm to make it more beautiful.
Aside from related Hay Day tasks, you'll get a chance to track an exciting storyline with Marie. She's an old friend of your grandparents and will teach you the basics of the game. In Farmville 2, you won't solely build and manage your farm. But you must also restore the farmhouse and make it beautiful again.

3. Westbound:Perils Ranch
If you're looking for a farming game that will take you into a fun wild west adventure, then you must check out Westbound:Perils Ranch. In this game, you'll build your own western town with charming ranches and more. You'll also be exploring some canyons and fulfilling some quests to progress in the game.
In Westbound, you'll build many structures to establish your town. Also, it would help if you plant some crops and trees to generate food. You will also need to craft some items to decorate your town. Take note that building your western town is not easy as everything takes time. So the bigger structure you build, the longer it will take.

4. Family Island
Another title that's included in our best Games Like Hay Day list is Family Island by Melsoft Games Ltd. In this farming game, you'll play with your family and create your new life on the island. Everything will be built from scratch. You need to get the necessary materials, eliminate obstructions, and build some structures.
In Family Island, you'll also build and manage your own farm to sustain your family's survival. You can also cook various meals, but you must first create your cooking area by acquiring the necessary materials. As your game progresses, you need to unlock more functions by upgrading your buildings and making your island a thriving one.

5. Family Farm Adventure
Joining the roster of the best Games Like Hay Day is Family Farm Adventure. Created by Century Games, this game is more than just about farming. You'll also experience fun exploration and adventures. In this game, you'll assist Felicia as she restores her flower farm to push through the Flower Festival.
Unlike the usual farming games you've once known, you'll focus more on managing flowers and acquiring new ones instead of crops. It would help if you also cleared such areas with debris affected by the earthquake. In addition, you must plant some new flowers to generate income, which you'll use to restore your flower farm and upgrade it as well.

6. Zombie Castaways
If you think zombies are only for survival games, you better think again, as they can also work out for farming games like in Zombie Castaways. In this game, the undead will not be eating your brains. Instead, you'll help them with their quest to become human for the sake of love.
You'll be controlling a zombie and helping him fulfill multiple goals to progress. You'll be working with him on a vast map and helping him unlock various areas. Take note that your zombie will not be alone, as some charming zombie helpers will assist him. Together with your aids, you'll be exploring Love Island and working with different quests.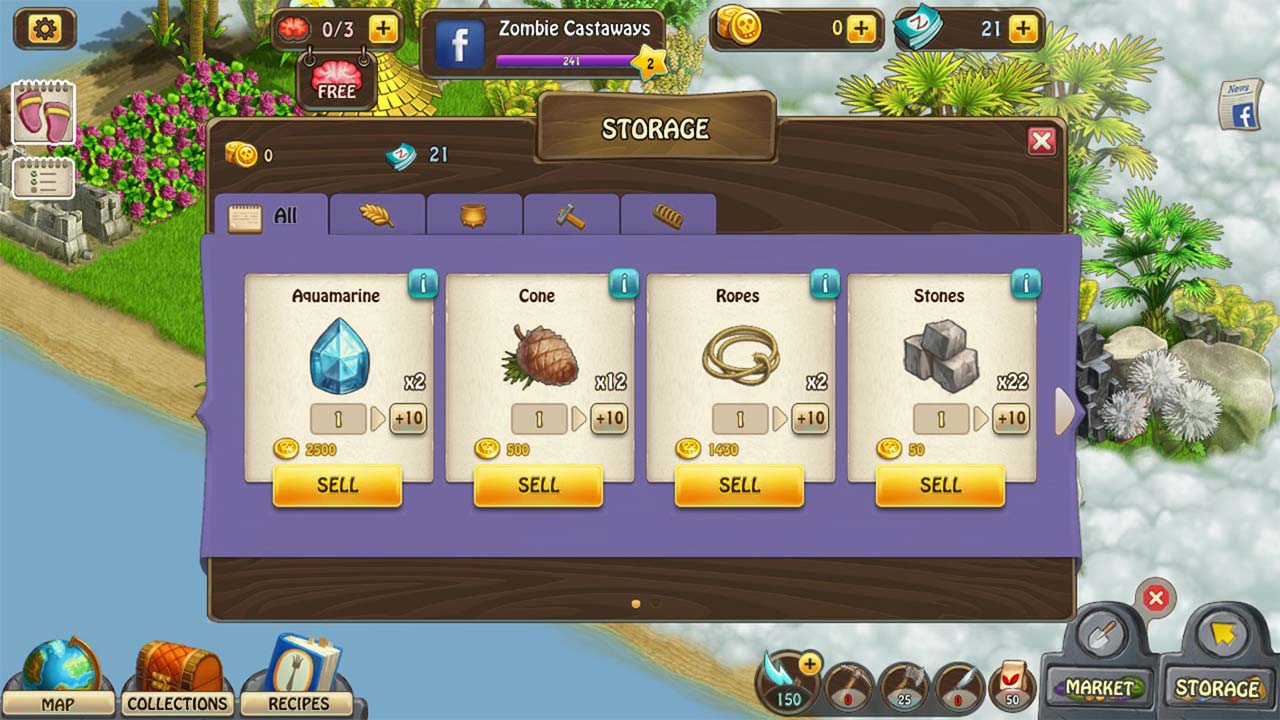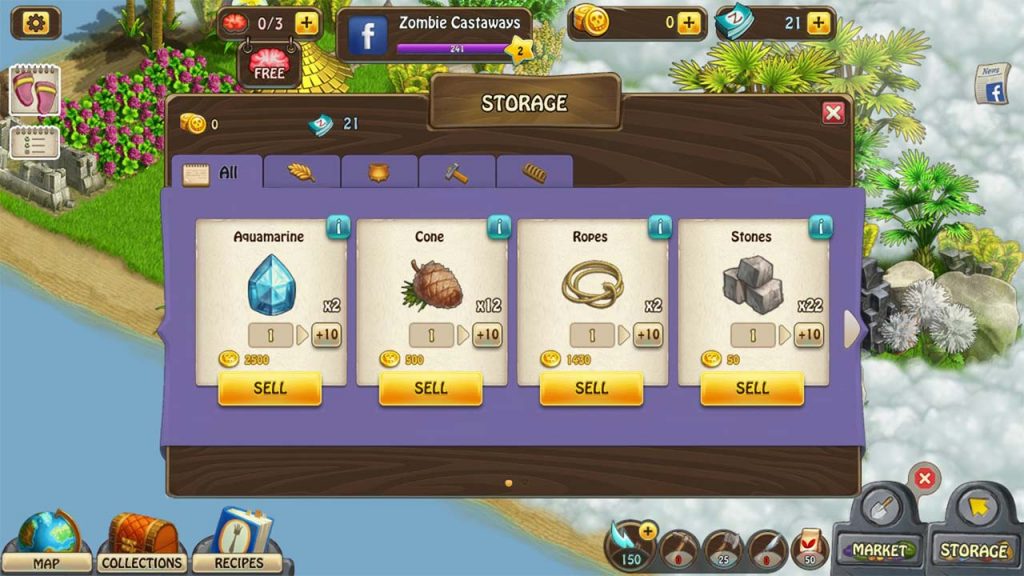 7. Town Village: Farm Build Trade Harvest City
Another amazing title that deserves a spot on the Games Like Hay Day list is Town Village by Sparking Society. This casual game combines farming and city-building elements. You need to plant and harvest various crops to earn profit that you can use to decorate and develop your city.
Once your city earns more profit, you can start expanding your farm to generate more money and unlock more buildings like factories and immense structures. You can use the factories to produce more goods that will help your city expand its trading feature and achieve more income as well.

8. Rilakkuma Farm
Last, but definitely not least of the best games like Hay Day is Rilakkuma Farm by Imagineer Co. You'll surely love this game if you're familiar with the adorable bear called Rilakkuma. In this game, you'll play with the charming bear and his friends. You'll be helping them in managing the crops and transform them into delicious meals and sell them.
What's more exciting about Rilakkuma Farm is that you can unleash your imagination and creativity by decorating the garden using various ornaments. Aside from farming, your goal is also to make the farm a beautiful place to stay.

Download the Best Games Like Hay Day Now!
So, that ends our list of best games like Hay Day! This list will help you find the best alternative games that share the same perspective as Hay Day. The good news is you can play the listed games for free. Yes, it's possible here in Games.lol. Feel free to download all these titles and add more related ones if you want!