Last 2016, the famous Clash of Clans' developer Supercell made another legendary strategy game, Clash Royale. This card-based strategy game was inspired by its sister, COC, as you will encounter enigmatic COC characters in this highly competitive card-based multiplayer game that mainly focuses on tower defense. In this exhilarating action card-based game, you will be tasked to create a deck and place the cards on the battlegrounds to effectively attack your opponent's towers and defend your towers as well. If you want to have a smooth sailing battle, you need to unleash your best tactics in creating your winning deck.
Remember, your cards play a significant impact on your winning, and you need to be clever in choosing which cards to deploy. So, to make it easier for you to create your winning deck, we've come up with the best decks that can help you win tournaments.
What are the Best Decks in Clash Royale?
The decks enlisted below are proven effective during your battles in Clash Royale. But, victory still depends on your hands, how you use the cards and how you execute your strategy. To fully maximize the use of these prominent decks, it is best to know how these decks work in-game. Here are the best battle decks for Clash Royale;
1. LumberLoon Double Dragon Deck
If you are looking for a competitive deck right now, you should opt for balloon-based decks. In this deck, Lumberjack is your best team player, followed by the other cards like Balloon, Bowler, Barbarian Barrel, Electro Dragon, Tornado, Inferno Dragon, and of course, Lumberjack. If your Electro Dragon is not yet leveled up, you can try replacing this card with the Baby Dragon, the nearest common card applicable to this list. When talking about strategically made decks, you can count on this deck.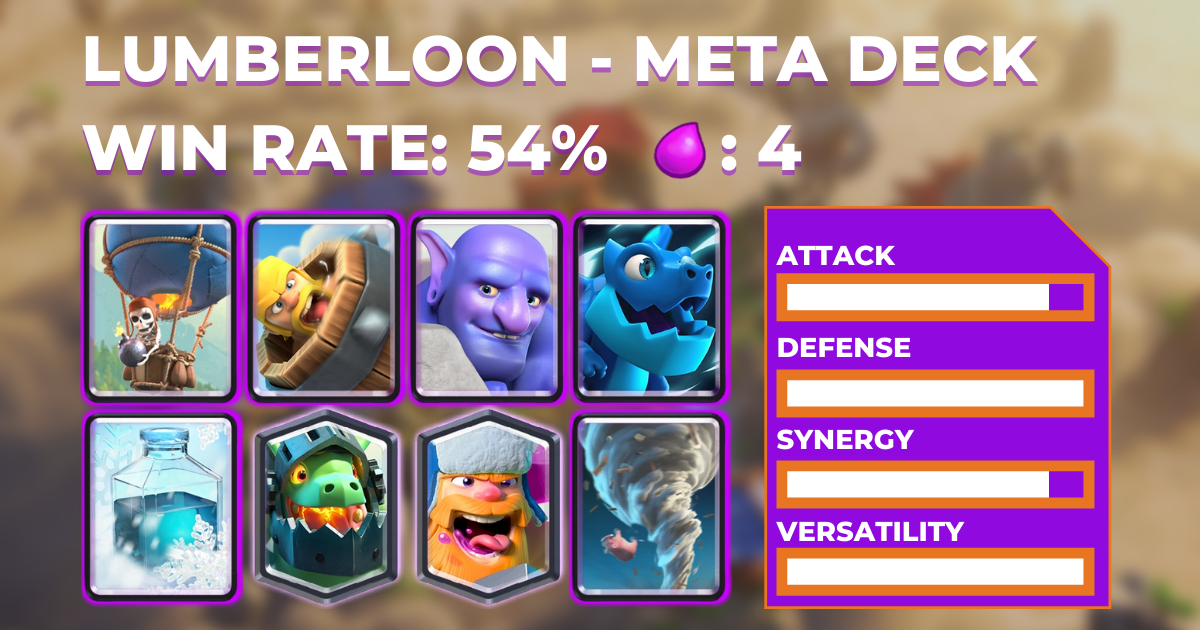 2. LavaLoon Deck
If you are looking for an alternative winning deck or lacking cards in the deck mentioned above, you can use the LavaLoon deck. This deck comprises Mega Minion, Lava Hound, Guards, Balloon, Fireball, Skeleton Dragons, Zap, and Tombstone. This deck is effective because it features the beast, Lava Hound. He is known for his ability to tank damage and beat opponents. Also, take note of the Ballon; it can hit your opponent's tower tremendously. To protect you from surges, Fireball and Lighting are ready to rescue you.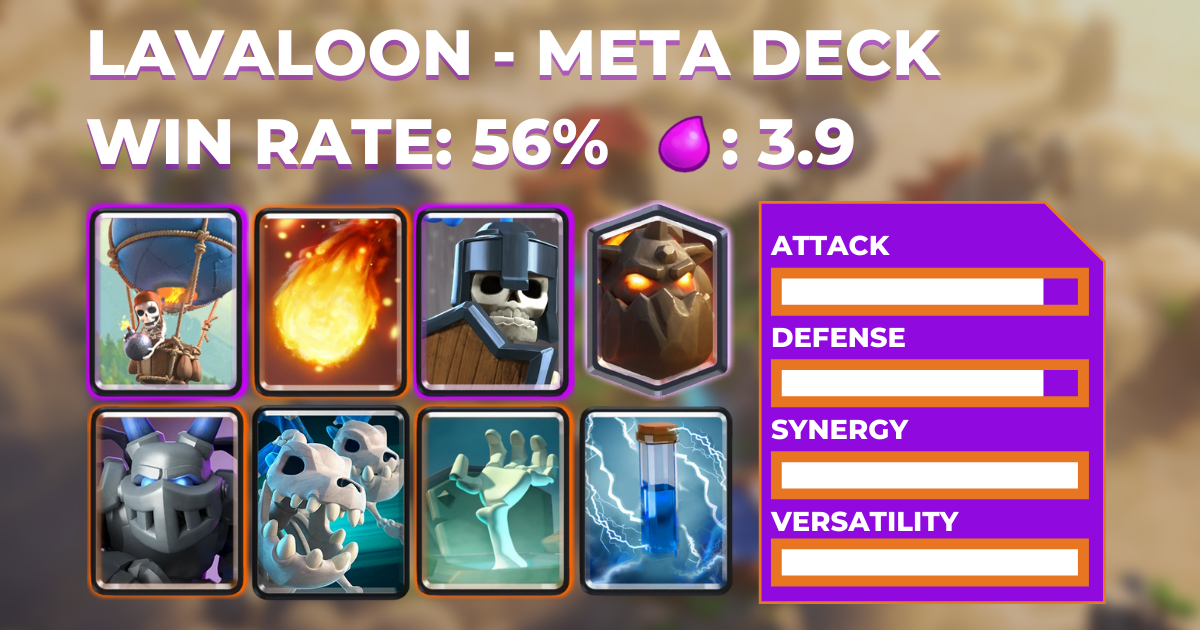 3. Pekka Bandit Bridge Spam Deck
Another proven incredible deck worth using is the Pekka Bandit Bridge Spam Deck. This deck mainly focuses on deploying attacks on the opponent's towers. Once Bandit successfully dashes forward in-game, you can simultaneously deploy Battle Ram to achieve more damage. You can find cards like Electro Wizard, Magic Archer, Bandit, Battle Ram, PEKKA, Zap, Poison, and Royal Ghost in this list. If you think your cards are insufficient, you can try removing Poison and use Fireball instead.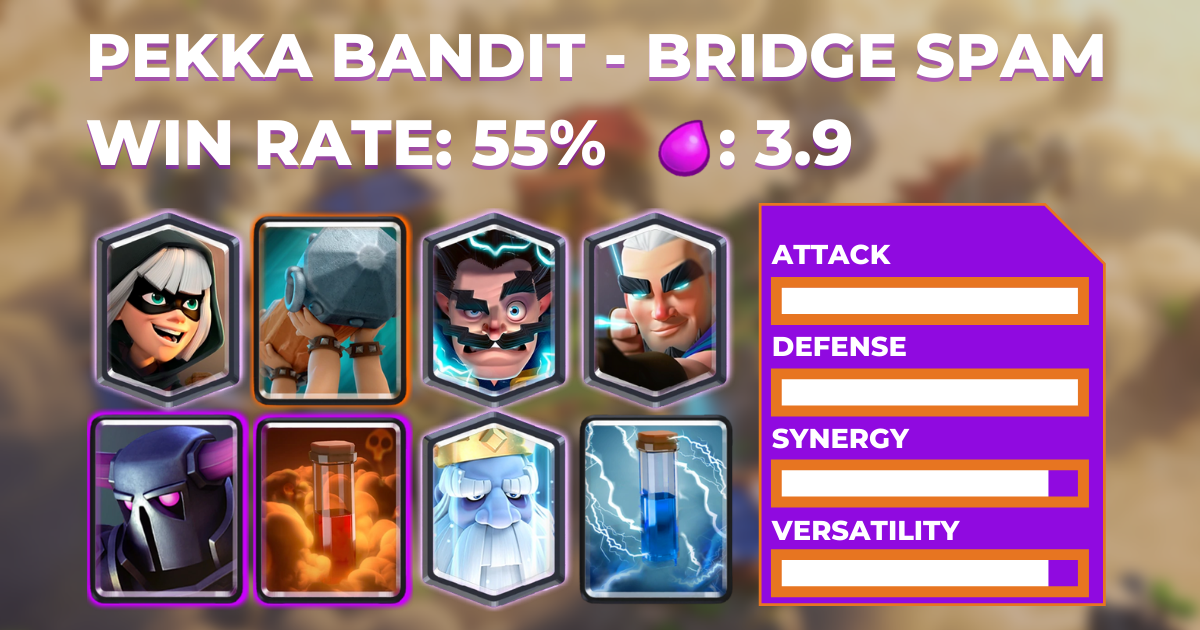 4. Mega Knight & Miner Deck
If you have an excessively committed opponent, you could whip them with this merciless deck. It's best to use cards like Inferno Dragon, Mega Knight, and Miner. You can also decoy them using Zap. To support the mentioned cards, you can deploy other cards like Bats, Goblin Gang, Spear Goblins, and Skeleton Barrel.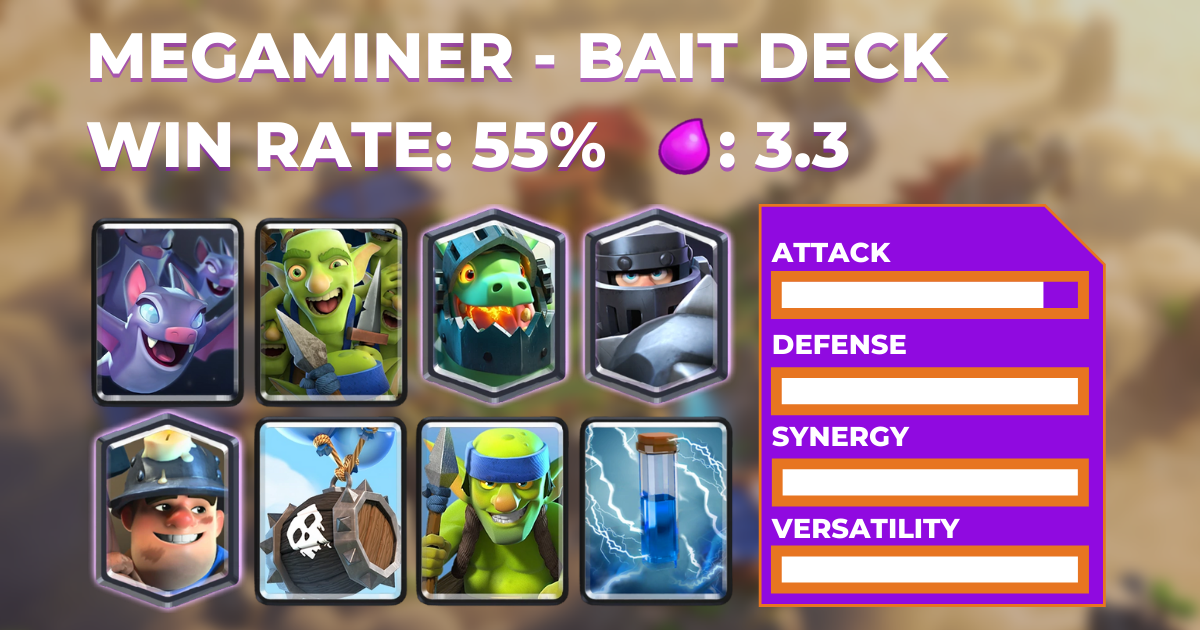 5. Baby Dragon & Graveyard Deck
Another best deck you must not miss trying is the Graveyard-based deck. This deck is composed of Baby Dragon, Graveyard, Barbarian Barrel, Tombstone, Tornado, Valkyrie, and Ice Wizard. But, in case you already have Archer Queen on your available cards, you can use it and replace Ice Wizard. Or whichever you feel is ideal to your playstyle.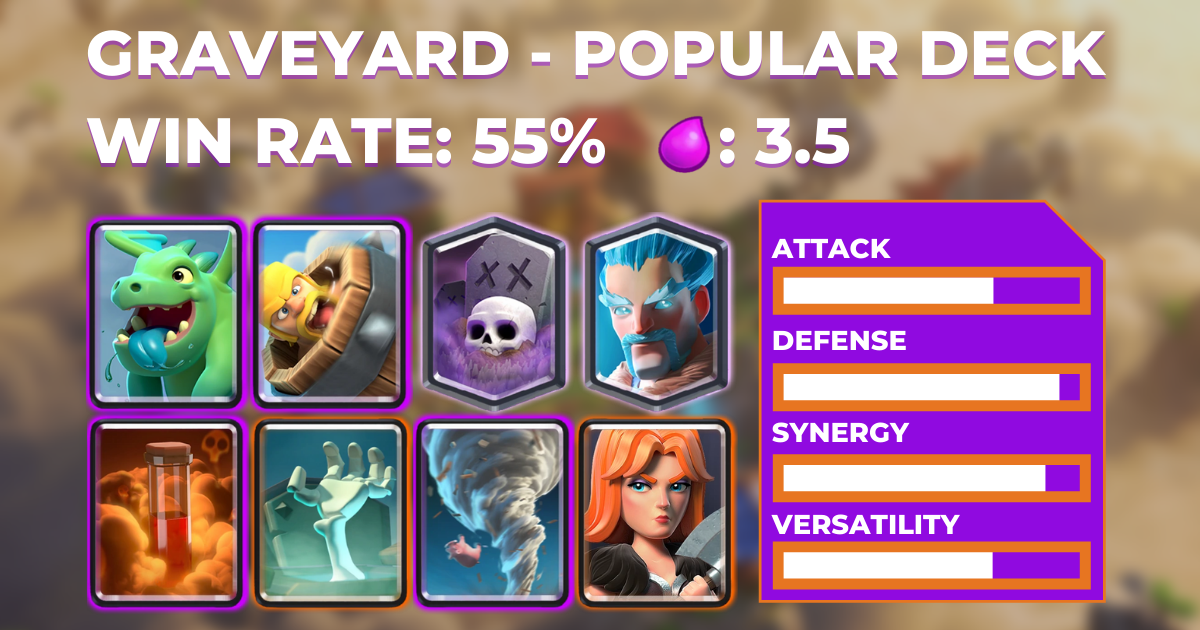 There you have it! The 5 best Clash Royale decks! Are you currently using one of these decks? Have you gotten a good experience while using them? For more updates about this card-based strategy game, stay tuned here at Games.lol.