One of the exciting and scary games that people can play on PC right now is Five Nights At Freddy's. It's an action game where you play as a night-time employee at Freddy Fazbear's Pizza. Sounds simple, but crazy things happen at the pizza shop during the night. The restaurant's life-sized animatronic characters, which were designed to perform at children's parties, wander at night. And it's your job to watch over them and also protect yourself from them.
That's right, these animatronics will not only wander the restaurant at night but also try to kill you. You will have various tools at your disposal to prevent this from happening. But you have to rely on the security cameras on the whereabouts of the animatronics. Before they reach you, you need to either use your flashlight or close a door. But be warned, your power supply is limited and you tend to use more whenever you activate a tool.
It's a scary and exciting game that will keep you on the edge of your seat as you play. But did you know that Five Nights At Freddy's was likely inspired by real-life attractions? That's right, the inspiration for these scary games was probably taken from actual locations. Let's discuss what these locations are.
The Infamous Chuck E. Cheese's Restaurant
This is likely very obvious for many people, especially since Chuck E. Cheese's restaurant chains are well-known. This is likely what many players of Five Nights at Freddy's are reminded of when they first played the game. And it's very understandable. Chuck E Cheese's is a family-oriented pizza restaurant that also features musical animatronics. It's used frequently for children's parties with animatronics usually playing the main role.


And like with the restaurant, animatronics play an important role in the game. Looking closely, you might see that the animatronics at Freddy Fazbear's Pizza is similar to Chuck E. Cheese's. It just so happens that this well-known restaurant also has a tragic backstory in 1993. A former employee took revenge for being fired and murdered four employees and seriously injured the fifth one. So, this restaurant might be the biggest influence for the Five Nights at Freddy's game series.
The Iconic Showbiz Pizza Place
Chuck E. Cheese's might be the most well-known pizza party place, but it was Showbiz Pizza Place that started it all. They're the first ones to provide that pizza restaurant party destination for families to eat and enjoy. They're also the ones that introduced the animatronics entertainment being used in pizza parties. Chuck E. Cheese was even an animatronic mascot at one point, so you know this is where the popular restaurant got its idea from.
As for the Showbiz Pizza Place's influence on the horror game series, it will have to be the Billy Bob Brockali mascot. The mascot is an oversized bear, which is one of the main animatronics in the scary action game. So when you see the bear, just know that the likely inspiration for that is Billy Bob Brockali.
The Halloween of Bullwinkle's Pizza Parlor
Another likely inspiration for Freddy Fazbear's Pizza is the Bullwinkle's Pizza Parlor. This pizza restaurant uses the popular characters from The Rocky and Bullwinkle Show as animatronics to entertain guests. The restaurant was a typical pizza party place where there's animatronics and an arcade for families to enjoy. Its similarity with the Five Nights At Freddy's game, though, likely comes from its Halloween celebration.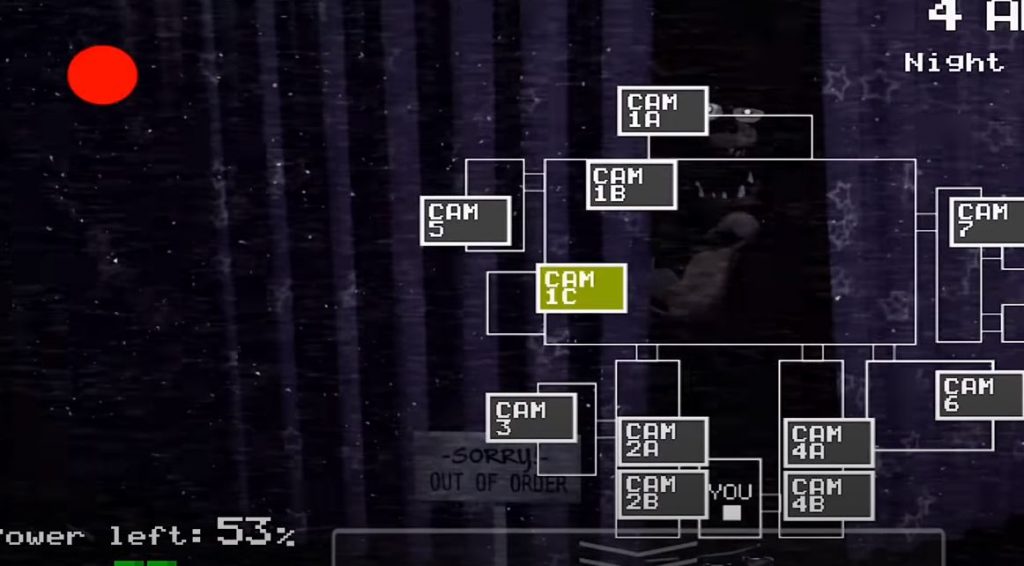 The Five Nights at Freddy's game turned children's entertainment into something scary and terrifying. Well, this is something that Bullwinkle's Pizza Parlor used to do a lot during Halloween in the mid-80s. They would turn their fun and happy animatronics into a scary and terrifying place during Halloween. It's part of their entertainment to celebrate the haunted holiday by turning their restaurant into a walk-in haunted house.
When you play Five Nights at Freddy's for the first time, you will likely see many familiar things in the game. The Freddy Fazbear's Pizza in the first game of the series, for example, is likely very familiar to you. That's because the pizza restaurant is inspired by the popular Chuck E. Cheese's restaurant. It's got a similar layout and attractions, especially the animatronics.
It's not far-fetched to think that the scary action game is based on many things. And as you can see from this article, Chuck E. Cheese might not be the only inspiration for the game. The developer probably took certain things from other pizza places to come up with this awesome and scary game. Despite speculations, it isn't hard to see the resemblance to the popular real-life establishments. So experience the scariest animatronic bear for yourself. Try this scary horror game now on PC by downloading our optimized Games.lol client. Enjoy the ultimate PC gaming experience.