PONOS Corporation, an independent video game company from Kyoto, Japan, created and released the free-to-play tower defense game The Battle Cats. The game was first made available in Japan under the name Nyanko Great War. Under the title Battle Nekos, The Battle Cats made its debut in iOS Appstore in 2012. The Android version of the game followed next late in the same year and was extremely well-received by Korean and Japanese gamers.
With that said, if you are a fan of the epic tower defense game and are looking for other games similar to it, then, you are in luck. This topic will be about the 10 best games like The Battle Cats. If you want to try out a specific game, simply click on the title and follow the download instructions provided on each page.

Plants vs. Zombies
In Plants vs. Zombies, players in the game will assume the role of a homeowner who has zombies trying to invade his garden. It will be a struggle for survival since they will do anything to be capable of eating your brain. You must use strong plants to erect your fortifications against the approaching zombies.
The goal is to select from a variety of unique plants, each with its capabilities and talents to aid in fending off the attacks of the attackers. You must purchase plants that can generate solar energy so that you can buy other plants. Choose plants with guns that can shoot strong peas at zombies. Cut off their heads before they eat your garden and you. It's that simple.

Grow Castle
Defending the castle from invading forces is the goal of Grow Castle. The hero must be positioned on each floor of the castle tower. With each advancement, the town's archer gains significantly more strength. The game features around 120 heroes who have unique skills that the player can employ. Other heroes are created to provide powerful archers for the village, while another hero is a cursed adversary.
Players can increase their gold income by establishing colonies and hiring laborers. They can go up a level and then climb the global ranks. They can also join or create an online guild. This will allow them to interact and have fun with individuals playing the game from all around the world.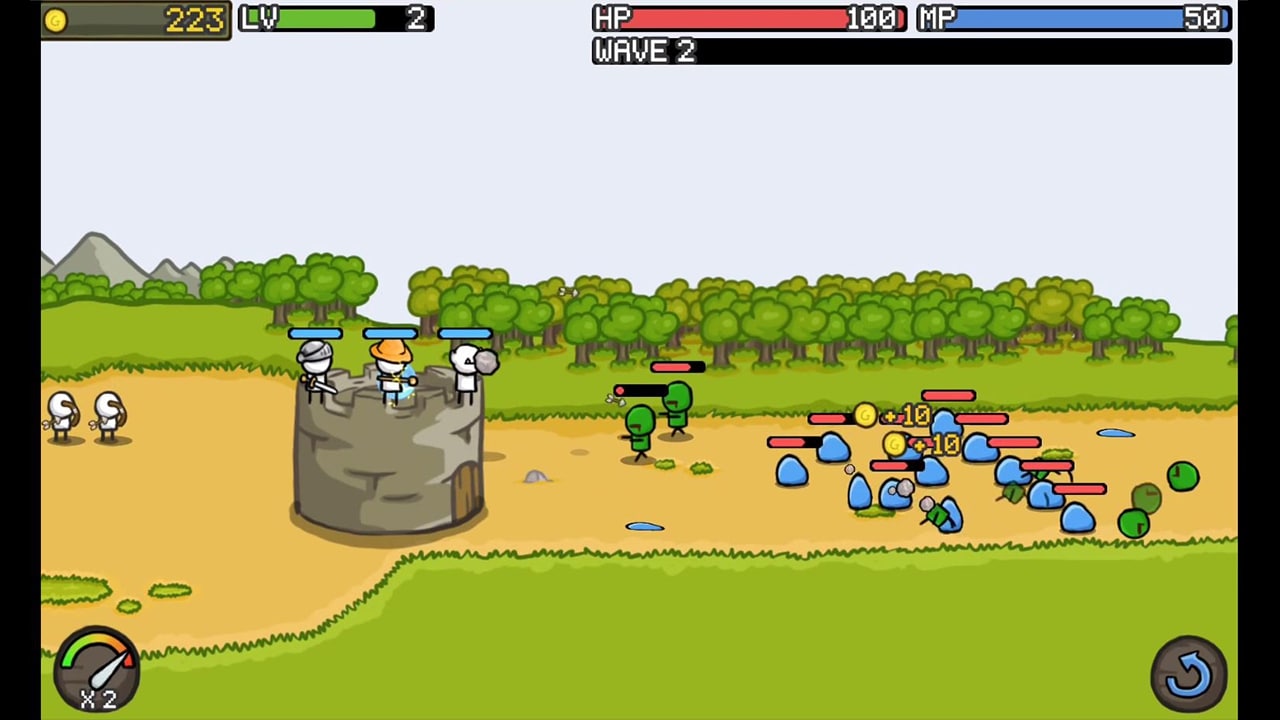 Swamp Attack
It is time to defend your swamp in Swamp Attack! Take a weapon and protect your house from the advancing creatures, which include crocodiles, aliens, and crazy zombie-looking monsters. You must design a plan of action and fire your weapons to conquer the beasts. Withstand the assault and protect your home. No matter how callous the bad monsters are, you can defeat them all since you are readily equipped for the challenge.
For you to survive against the zombie-like creatures, you will have access to Molotov cocktails, dynamite, flamethrowers, crossbows, and more. Just be ready to shoot, then, be ready to assault. Play the most action-packed shooting game available while protecting your house in the swamp!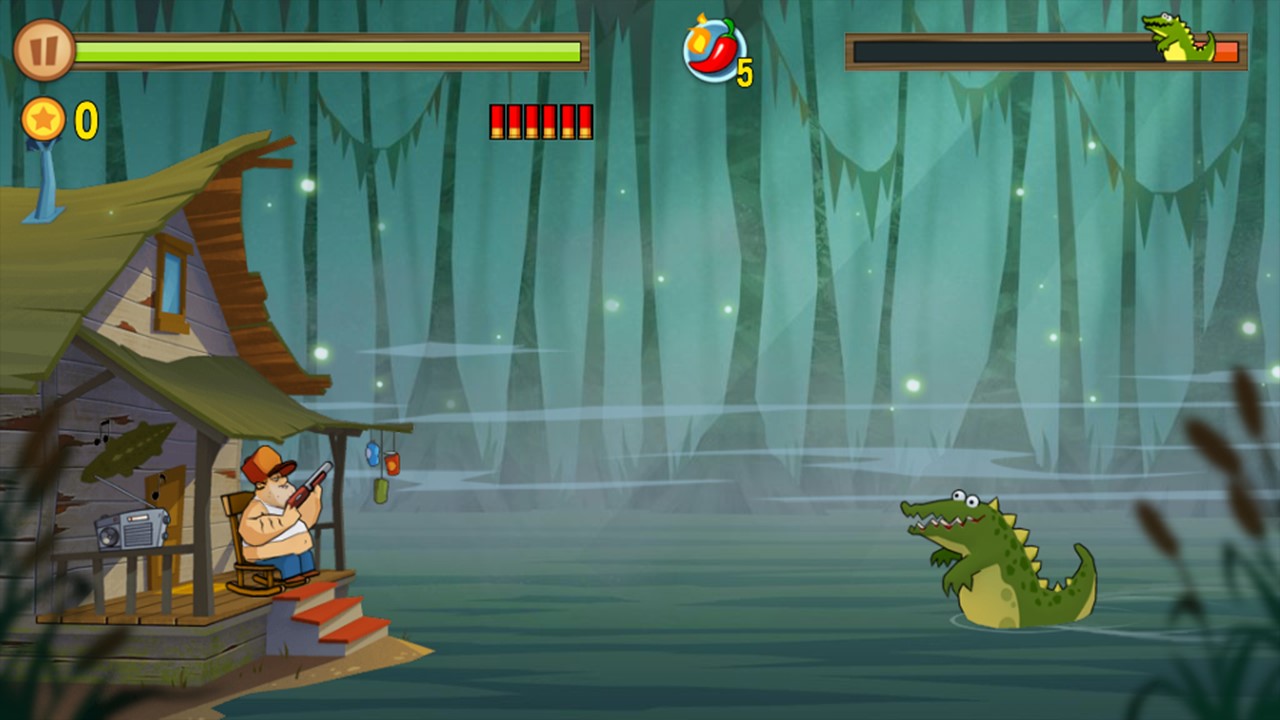 Kingdom Wars
Kingdom Wars is a fun game where you decide on the most effective attack plan for the Orc tower. There are two outcomes in each run, you beat them or you get beaten. It may seem simple, but this real-time strategy game involves a lot of mental effort. Do you want to put your quick-thinking and strategic abilities to the test?
You have the option to traverse 400 stages while developing new characters or heroes. Meet 100 distinct allies and vanquish 100 distinct adversary troops. Take down the opposing castles by using the heroes and legendary characters you have. Whatever the challenge, there is a method to overcome it. Just remember to never give up.

Grow Empire: Rome
In Grow Empire: Rome, you need to turn your modest village into the greatest and most formidable empire in history. You must strategically upgrade your walls, towers, and warriors to defend your city from invasion. There will be elephant attacks, siege weaponry, and hordes of hostile soldiers filling the skies with arrows and fire.
Expand your empire across Europe and Africa by facing off against dreadful armies of warriors from the Gaul, Iberian, and Carthaginian tribes. Protect your colonies and use their tribute payments to fill your bank accounts with gold. Become the leader Rome claims you to be. Become the most dreaded Caesar in history by building an unstoppable army of champions, legionaries, mercenaries, and siege weapons.

Cartoon Wars 2
In this sequel, King K and his troops were driven from the Cartoon Kingdom after centuries of conflict when Captain J rose to power. The populace hailed Captain J and installed him as the new monarch. When they set out to locate the King of Monsters, the exiled tribe vowed their retaliation. While the fight to protect the realm rages on, the second chronicle opens.
This version comes with a Hero Mode that allows you to create a superhero from a selection of six upgradeable characters and complete a variety of quests. There are also 80 distinct units available for you to play with, and you can give them a wide range of talents and accessories. Cartoon Wars 2 comes with 10–20 levels of castle upgrades for defense. You can play in Quick, Hell, or Special Mode to experience three seamless game modes.

Tower Crush
Impossible Apps produced the tower defense game Tower Crush where you must construct a fortress with as many as 6 stories and stockpile weapons on them. You can also evolve and enhance them, then take out your enemies in thrilling combat. Create your own battle plan using 8 distinct classes and 10 ridiculously powerful weapon types. Every match will seem unique thanks to the campaign mode's roughly 280 stages. Not to mention the multiplayer mode's never-ending missions.
To pick a floor of your tower, click or touch on it. To attack a floor of an opposing tower, tap or click on it. When the power-up symbols emerge close to your tower, pay attention to them so you can use power-ups like Ice, Thunderstorm, Shield, and more. Do you have what it takes to topple your adversary's tower?

Tower Conquest
Join the Tower Conquest universe in your quest for glory for all eternity. To enter combat and topple rival towers, you must gather and develop the ideal army. In this thrilling strategy game, you have the option to explore limitless worlds and eliminate foes to gather gold, bolster your power, and rule the Player Leagues.
There are 5 distinct factions, each with its own set of heroes, towers, and characters. It is an objective-based tactical combat that tests your tower defense and reaction time. Experience custom animation in over 50 faction-specific arenas complete with a vibrant 2D graphic style. Gather cards to unlock, merge, and enhance your units, granting them strong and one-of-a-kind abilities.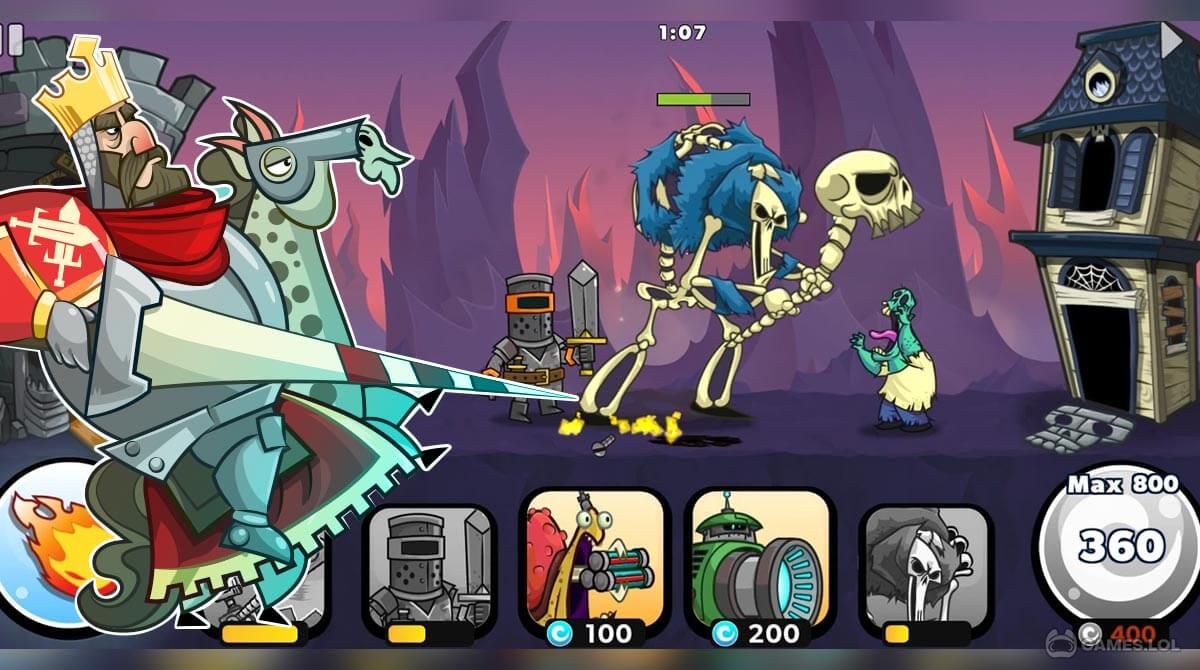 Dream Defense
In Dream Defense, you play as a fearless teddy bear with a pistol. Your mission is to protect Robin from spooky and evil creatures that lurk in the shadows and wait for the right moment to attack when she is fast asleep. Use easy-click commands to blast, shell, bombard, and stun enemy swarms. You will have access to a ton of fantastic weaponry, upgrades, and power-ups. Build toy defenses, take on different levels of difficulty, and vanquish the terrible bosses.
Do everything in your power to avert the nightmares from materializing, as you get ready for unending waves of ominous creatures and spooky monsters.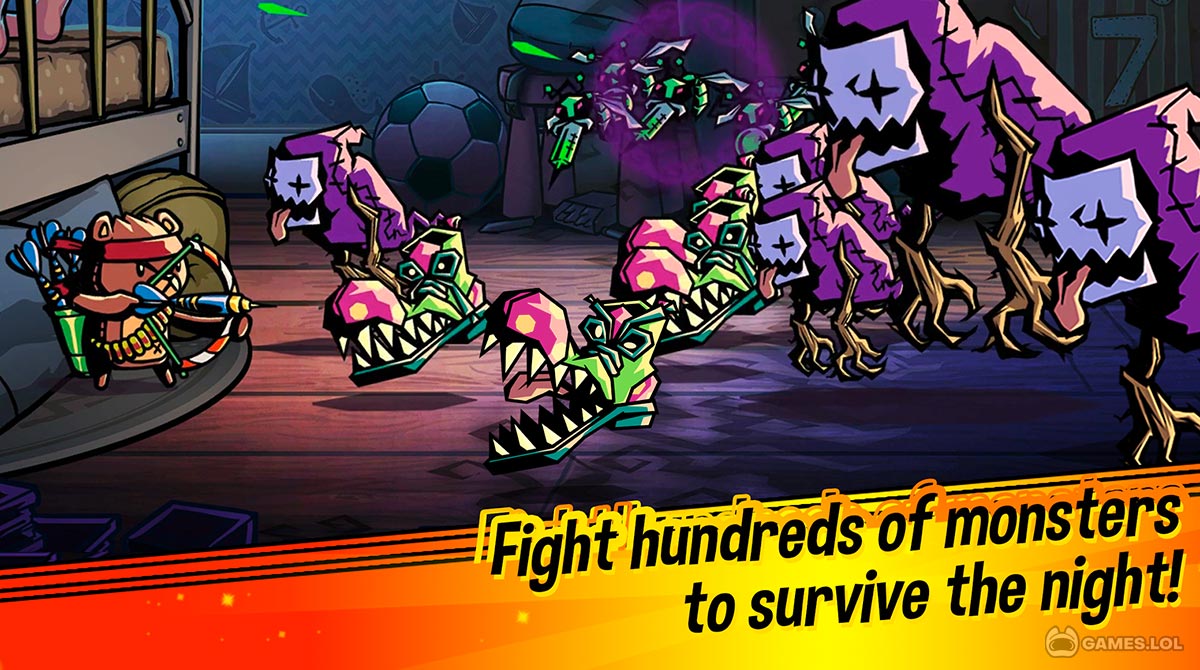 Catnrobot Idle TD
In the epic idle strategy defense game CatnRobot, the creatures have encroached upon your kingdom. To battle the enemy from the border, strengthen your cat warriors and increase the size of your robot. You can handle this exciting tower defense game with only one tap, and the epic battles will have you hooked in no time.
There are many different gadgets, and each one has its own special powers like the ability to summon, toss explosives, or shoot lasers. Employ these as guns to protect against attackers by installing them on the robot. Every combination represents a distinct strategy.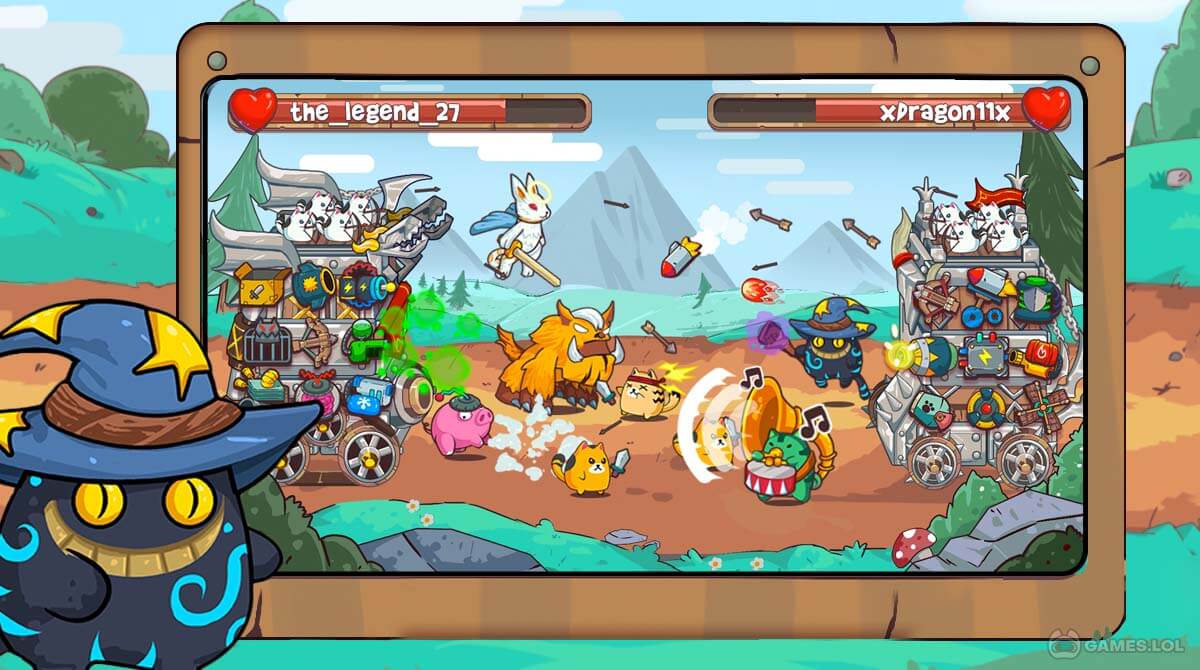 Try Games like The Battle Cats Today!
For more than a decade, The Battle Cats has evolved into a staple in the tower defense genre, boasting over 70 million downloads across all devices by 2022. This list of the 10 best games like The Battle Cats is your additional guide to experience similar entertaining gameplay that you can also play free on your PC. Just click the link title of the game you wish to try and have a great time. Enjoy!