The Animal Crossing series has always been a popular simulation game ever since it was released to the public. Developed by Nintendo and created by Katsuya Eguchi and Hisashi Nogami, this game has released several franchises that became a huge hit worldwide. In this game, you play as a human character living in a village inhabited by friendly anthropomorphic animals who also carry out different tasks like a real person. The first part of the franchise was released in 2001 and then became available worldwide. With over 400 million units sold, it's safe to say that Animal Crossing is one for the books.
Animal Crossing: Pocket Camp is a spin-off game and is made for mobile players. It's all about exploring the great outdoors by camping with your friends. Plus, you can also design your ideal campsite and more. Let's find out how you can play Animal Crossing: Pocket Camp on PC.
What is Animal Crossing: Pocket Camp All About?
Pocket Camp is the latest spin-off of Animal Crossing, where the setting is in a camping ground. In this game, you have your animal friends to give you more tasks to fulfill and different events you can join like the Garden Event. Moreover, you can design your campsite to your heart's desire. You can mix and match different types of furniture to complete your campsite's look. You can choose from a trendy tent, a simple hammock, fireplaces, or a cute sofa that will suit your style. Apart from that, you can also organize an outdoor music festival or an outside cafe that your quirky animal friends can visit.
You can do almost everything that you want when you're outdoors. Camping is one fun thing that you can do. Hence, start building your camp and set up a theme park in Animal Crossing for your enjoyment. So many surprises await you in this interactive game.
Using Emulators to Play on PC
Currently, Animal Crossing: Pocket Camp is the only game available on mobile in the franchise. However, some people would agree that Pocket Camp is best played on PC because it has so much potential. It's a fantastic game that is better off played on a wider screen because touchscreens can be uncomfortable for some individuals. The only problem is that the game has no PC version. But fret not as there is an efficient way to make the game playable on PC.
One common way to play this game on PC is to look for an emulator. An emulator is a hardware or software that enables the computer to run programs specifically for other platforms. Sadly, there are disadvantages to using this system as players will experience low graphic and gameplay quality, FPS dropping, glitches, etc. What's more, it takes up a lot of space in your computer, making it unable for low-spec PCs to run smoothly. Apart from that, some websites would allow you to play Pocket Camp on your browser, but it can slow down your PC, too. Therefore, playing mobile games on your PC is not as easy as you think it is.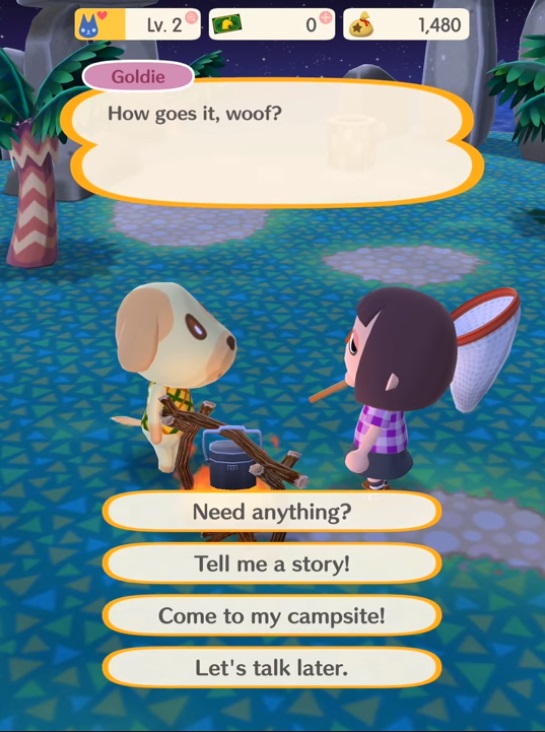 The Best Solution to Play Pocket Camp on PC
Out of the many emulators and solutions tested, the best solution is to play Pocket Camp through Games.lol. It's not an emulator, nor do you have to play the game on the website itself. All you need to do is download the game on the Games.lol browser, which works as a hub for you to search and download your favorite games. What's more, Games.lol is optimized to run and work perfectly well on low-spec PCs. With this game client, no more third-party emulators will take up all of your PC's storage space.
Here's how you can download Animal Crossing: Pocket Camp with Games.lol:
Search for Animal Crossing: Pocket Camp at Games.lol.
Click on the "Play Now" button to download the Game Launcher on your PC.
Open the Games.lol Game Launcher desktop shortcut on your PC.
You can now access Pocket Camp in one click. You can also access other free games in the Game Launcher.
Playing on your PC has never been this easy before. No more waiting for long hours when you can easily do it in one click and wait for a few minutes for the download and installation to finish. Play Animal Crossing: Pocket Camp now through Games.lol!