Playing video games is one of the best ways for people to relax and unwind. This is especially true after a long and tiring day. People would usually unwind with their favorite game, not thinking about all the stress and fatigue they experienced and just let loose inside their favorite virtual world. The continued rise of mobile gaming popularity made playing video games more accessible. Nowadays, more people are inclined to play mobile games, which is also forcing game companies to focus more on developing games for smartphone devices.
One of the main reasons why mobile games are popular is that most of the titles in the market are free-to-play. People usually tend to shy away from pay-to-play games especially when they don't plan to fully commit to the title. On the other hand, playing games on a smartphone can be quite tedious as small screens aren't that immersive, and touch controls tend to be unresponsive.
This is where PC gaming comes in. Playing on a PC allows gamers to fully dive into the virtual world. The PC monitor is always at eye level and it's big enough to see everything. On top of that, the trusty keyboard and mouse are always taken into consideration when games are developed for the PC. So how do Games.lol and Agame.com fit into all this? Games.lol can help you play mobile games on your PC without paying for anything at all. Agame.com on the other hand also offers free-to-play games with one differing factor.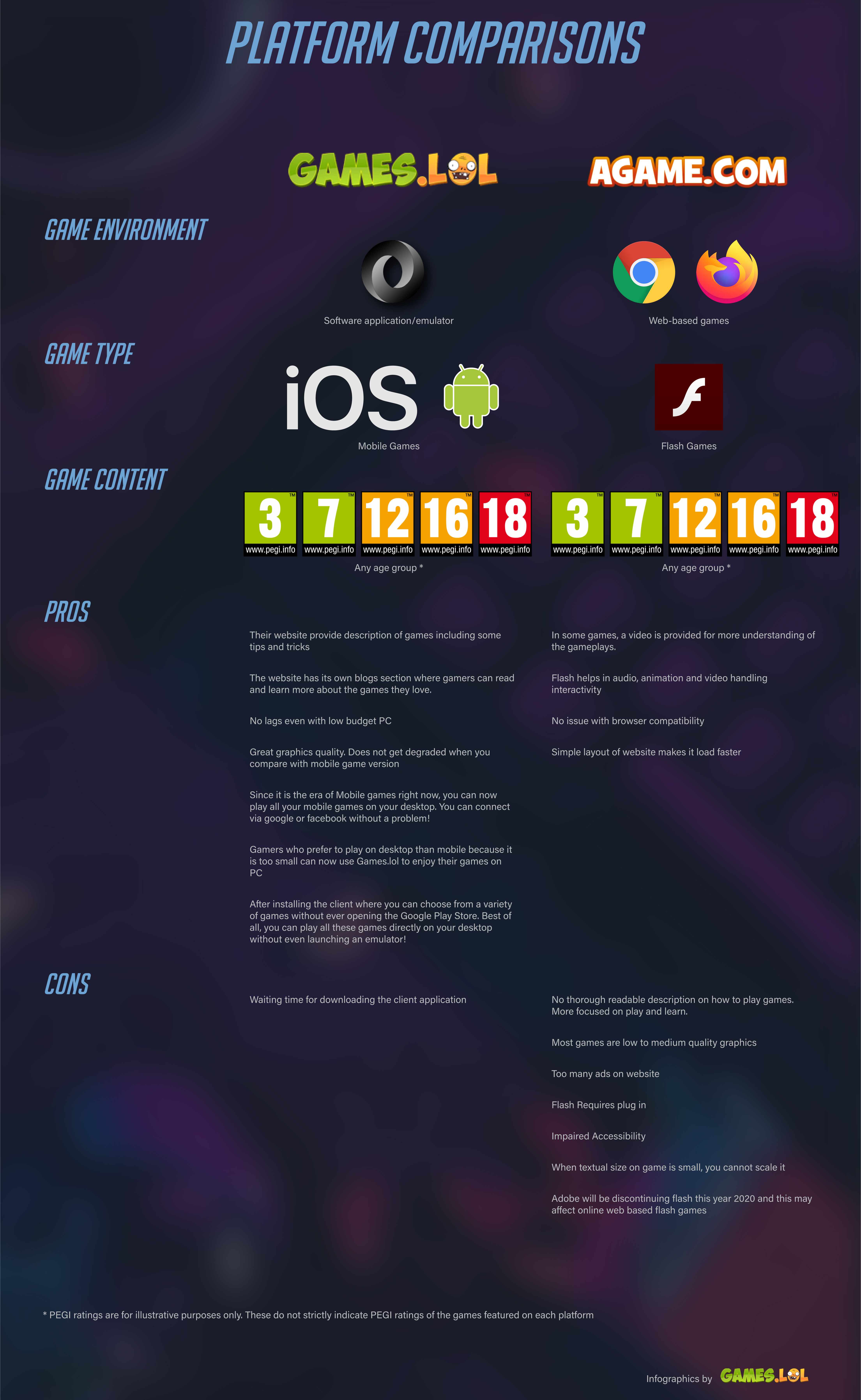 Agame.com doesn't let you play mobile games on PC. Instead, it provides you with actual free PC flash games to play. The two websites function as a gaming hub where gamers can go to with the hopes of playing free games. But the question remains– which of the two sites are better?
The Iconic Games.lol Client
Games.lol is an application that allows you to download and play mobile games on your PC for free. To do this, you just need to download and install the app on your PC. Once you've done that, you can start downloading and installing mobile games using the client and play them without any problems. The website contains a wide selection of mobile games from different categories for you to enjoy. There are shooting games, racing games, casual games, role-playing games, and more!
And the great thing about it is that you don't have to pay for anything. This will give you a lot of choices when deciding what mobile game you want to play on your PC. You also don't have to worry too much about having a powerful rig since the software will function properly even on computers with mid to low-end specs. Games.lol is the appropriate app when it comes to playing mobile games on PC.
The Flashy Agame.com Game Hub
Agame.com is also a website that will allow you to play video games on your PC for free. But unlike Games.lol, this site doesn't offer mobile games for you to play. What you'll be playing is what we call Flash Games. These are browser games or titles made using Adobe Flash. They can range from short arcade games to indie titles.
Navigating Agame.com is quite easy. You just select the game that you want and the site will load it up, then you can start playing. But since this is a flash game, you will need to have a flash player installed in your browser to play the majority of the games available. The site does have a few titles that don't require the aforementioned player but they are only limited to a few.
Now that we have a more detailed idea on what the two sites offer– you'll notice that they are only similar in terms of offering free-to-play games. The titles they offer, however, differ in every means. There might be some games that are available on both sites, but you might need to do a little digging. Now that we know what both sites are and the services they offer, it's time to discuss their Pros and Cons.
Weighing The Advantages and Disadvantages
In this section, we'll look at the pros and cons of Games.lol and Agame.com. This will help us further understand the advantages and disadvantages of both websites. This topic will also help us narrow down which of the two are better as a source of free-to-play games. Let's first kick off with Games.lol.
The Pros and Cons of Games.lol
Pros
Playing Mobile Games on PC – Mobile games are more popular now than ever, but playing on a smartphone device still doesn't compare to a PC. Games.lol bridges the gap between two devices by allowing you to play smartphone titles on your computer rig.
Game Description, Tips, and Tricks – Games.lol provides a description of the games they're offering, including some tips and tricks to assist players in-game. This is a great feature as it smoothens the user experience– especially beginners.
Blog Section – Games.lol also has a blog section, which contains articles, reviews, and guides about certain games. This shows that the site is not just a games site, but also a hub where you can get information about the gaming industry and its community.
Optimized To Work On Low-Specs PC – You won't have to worry about installing Games.lol on your computer even if it has low specs since the software application is designed to work properly on almost any kind of computer, regardless of specifications.
Graphic Quality Doesn't Decrease – Many mobile games feature beautiful graphics and Games.lol made sure that those graphics would remain great, even if you play them on a PC.
Enhanced Gaming Experience – One of the reasons why playing on the PC is always better is because of the controls and its bigger monitor. Games.lol lets you enjoy that advantage while playing your favorite mobile games.
No Need to Access Google Play Store – Another advantage that Games.lol offers is that you don't need to enter the Google Play Store to install mobile games. You can download the games from the application itself, making it your primary mobile game hub on your computer.
Play Mobile Games Directly on PC – Another great thing about Games.lol is that you don't even need to open the application if you want to play the mobile games you downloaded. The software installs the game directly on your PC, which means you can also play the game by clicking its icon instead of opening the Games.lol client.
Cons
Downloading Games Can Take a While – The only downside you'll experience with Games.lol is the waiting time when downloading games. The installation process might take some time depending on your specs and internet connectivity. But once that's done, it's smooth sailing from there.
The Pros and Cons of Agame.com
Pros
Gameplay Video Available – Agame.com provides a gameplay video for some of the games that they're offering. This is a great feature since it will allow you to better understand how the game works and how to properly play it.
Accessible on Any Browser – You also don't have to worry about what browser you'll use when you want to play games from Agame.com. The site is compatible with any web browser.
Faster Loading Times– Agame.com also loads faster due to the simple layout of its website. There aren't many complicated features that will take time to load, thus slowing it down.
Flash Player functionality – Flash can also help in providing good audio, animation, and video handling interactivity.
Cons
Too Many Ads – One of the cons of playing in Agame.com is that their games have too many ads. Although it keeps the site up through sponsorship, it can be quite intrusive as it can pop up in the middle of the game– interrupting your experience.
Not All Games Have Readable Description – Agame.com lacks game descriptions and proper 'how-to-play' instructions. You might have to deal with user experience in figuring out the ropes.
Low to Medium Quality Graphics – If you're into games with good graphics, you won't find a lot of them in Agame.com. Flash games often have 2D animations and don't use immersive game engines. If you want games with high-quality graphics, then you might need to look elsewhere.
Games Aren't Scalable – It's not uncommon to encounter games with small HUDs. To deal with that, you can scale them up for better readability. Unfortunately, you can't do that on Agame.com.
Flash Player Plug-In is Needed – To play most of the games that are available in Agame.com, you'll need to install a flash player plug-in on your web browser first. Google Chrome already has it pre-installed, but you might need to download it on other browsers.
Flash to Be Discontinued – Adobe already decided that it will stop distributing and providing updates to the Flash Player after December 31, 2020. Flash games primarily rely on that player to function, and without support, it's bound to cause problems sooner than later.
Concluding The Debate Between Games.lol and Agame.com
Now that we have a full idea of what Games.lol and Agame.com brings to the table, we can now answer the question– which of them is better? After careful consideration, it's safe to say that playing free-to-play games on Games.lol are leagues better than Agame.com.
Games.lol offers more than being a source for free-to-play mobile games. It's also an information hub for everything related to the gaming community. You can get news, guides, reviews, and the juicy scoops about video games.. Agame.com is a formidable contender, and there are fun flash games to sink your time in.. But Games.lol is just better overall. You also have to contend with the fact that Flash Player will stop getting support after 2020, so flash games might face the music soon.
Mobile games, however, are increasing in popularity and improving. It's safe to say that you'll likely see more great mobile games in the next few years. So if you're looking for a site that offers free quality games, Games.lol is the site for you.