Your search for the Grimlight Tier List and Reroll guide ends here, as we provide you with everything you need to know about this newly released RPG. Published by EIGHT STUDIO, Grimlight – A Tale of Dreams will take you on the role of a Dreamer whose main mission is to eradicate Dreamless and other ominous creatures.
Like other RPGs, Grimlight boasts a vast selection of characters, and selecting the best is crucial to conquering the game's most formidable foes. However, the ability to predict how each character will behave in combat might be difficult for beginners. We have prepared an impressive Grimlight tier list and an extensive reroll guide.
Grimlight Tier List – Form Your Perfect Team With the Best Characters
With 46 unique characters in the game, each with its advantages and disadvantages. These heroes are grouped into factions such as warrior, mage, guardian, ranger, sage, and assassin. Determining which ones are best suited for your playstyle can be challenging. To make things easier, let the Grimlight tier list and reroll guide can help you simplify the decision-making process. Remember that the list may evolve and change as new characters are introduced.
Like the usual tier list, the characters are ranked according to four tiers; S, A, B, and C, which means S Tier characters represent the cream of the crop of the game while C Tier heroes are the least ones.
So, without further ado, here are the Grimlight Characters ranked:
Grimlight Tier List – S-Tier
Undoubtedly, these characters are in a class of their own, with unparalleled abilities and skills that outshine all others. With impressive base statistics and powerful talents, they are the cream of the crop, leaving their competitors in the dust. It's highly recommended that you select one of these top-tier characters as your main character, as they offer a clear advantage and can significantly enhance your gameplay experience. Here are the best Grimlight characters;
Dorothy
Cinderella
Queen of Hearts
Kang Rim
March Hare
Evil QUEEN
Ozma
Tamamo no Mai
Winter Queen
Red Knight
Alice
Romeo
Saffi
Dracula
Dr. Frankenstein
Rothbart
Aurora
Black Rabbit
Thumbelina
Juliet
Jeon Woo-Chi
Grimlight Tier List – A Tier
The heroes in the A tier are a force to be reckoned with, possessing a formidable set of skills and abilities that make them highly competitive in the game. With solid base statistics and impressive talents, they excel in various scenarios and are well-equipped to handle even the toughest challenges. While not quite on the same level as their S-Tier counterparts, A Tier heroes are still an excellent choice for players looking to optimize their gameplay. Here are the Grimlight characters under the A-Tier:
Esme
Santa Claus
Marie
Briar Rose
Red Queen
Bathory
Krampus
Headless Horseman
Tinker Bell
Little Match Girl
Little Mermaid
Jack Frost
Red
Van Helsing
Goldilocks
Morgana
Geppeto
White Rabbit
White Knight
Rat King
Peter Pan
Glinda
Pied Piper
Three Little Pigs
Tsuru Nyobo
Siegfried
Grimlight Tier List – B Tier
While not the most optimal choice in every scenario, the characters on this list still have their uses and can be valuable assets in certain situations. While they may not be at the top of the rankings, they are worth considering when building your team. That's why we've included them on this list, to provide you with a comprehensive overview of all the characters in the game and their respective strengths and weaknesses. Here are the B-Tier heroes;
Yuki-onna
Hook
Ginger
Red King
Vita
Odette
Kaguya
Lily
White Queen
The Beast
White King
Snow White
Robin Hood
Mad Hatter
Grimlight Tier List – C Tier
Unfortunately, the characters at the bottom of the list could perform better in most areas of the game. Their base statistics are comparatively lower, and their talents need more potency to excel in battles. It is best to steer clear of these characters until they receive significant future improvements. As the game continues to evolve and updates are rolled out, there is always the possibility that these characters will receive buffs and become more viable options. Here are the least Grimlight characters:
Big Bad Wolf
Belle
Sugar Plum Fairy
Gretel
Nutcracker
Hina
Cowardly Lion
Cheshire Cat
Caterpillar
Odile
Hansel
Scarecrow
Otohime
Puss in Boots
The Huntsman
Rapunzel
Tin Knight
That concludes our comprehensive Grimlight tier list, ranking the characters from the most potent to the least based on their usefulness, strengths, and talents. It's important to remember that each character performs best when used in conjunction with others, so take the time to select your team members carefully.
Building a well-rounded team is essential to achieving success and efficiently completing missions. Form a team where everyone contributes to the effort and their individual abilities are complemented. Check out the comprehensive Grimlight Reroll guide to reroll your characters.
Grimlight Reroll Guide – Learn How to Do It Effectively
Rerolling is a process where players create a new account to obtain the most powerful characters or weapons right from the start of the game. This practice is a common strategy among players of gacha games.
However, it's important to note that the process can be time-consuming, taking at least 30 to 40 minutes to complete. Despite the effort required, many players find that rerolling is a worthwhile investment of time, as it can provide a significant advantage in the game's early stages.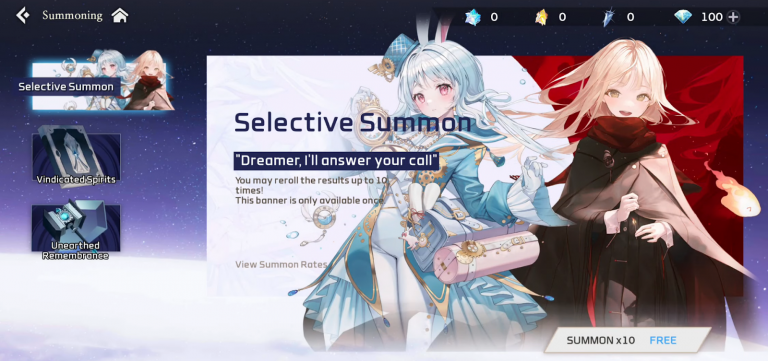 Image Source: Grimlight Gameplay
How to Reroll in Grimlight?
At the beginning of the game, players must sign in with their Google or Apple account and complete the tutorial. To unlock the selective summon function, continue playing until it becomes available. It's also a good idea to check the in-game mailbox for pre-registration rewards that may have been sent.
Try to get at least two 5-star-rated characters in a single pull when rerolling. If the desired characters are not obtained, log out of the current account and sign in with an unlinked account to try again. While rerolling can be time-consuming, it's a worthwhile strategy for players looking to obtain a strong start in the game.
So, there you have it! We hope this Grimlight Tier List and reroll guide helped you immensely in your journey in playing Grimlight. For more information, tips, and tricks, tier lists about this role-playing game, stay tuned here in Games.lol.