Card games have always been the best pastime during idle times. Well, who would ever deny the fun it entails for every participating player? Thankfully, there is a card game that will elevate the experience as it will give you interactive gameplay. Brought to you by the creators of Warcraft and Overwatch, Hearthstone is a unique game published by Blizzard Entertainment. If you are a newcomer to the game created by this well-known game publisher, we got your back.
Hearthstone is a card battler game with some borrowed elements from its sibling games. This is exciting as it is not just some card game that bores you with analytical details. The game's central concept revolves around a certain story that you will know by playing it. If you are a new player, this game will serve as a gateway to learning other card battler games. It would be a more pleasurable experience if you are already familiar with some of the elements. It would be an immersive card battle experience with analytical twists.


To advance in Hearthstone, you need to learn about what the game is all about. As mentioned, it is a card battle game with some stories to tell. To help you advance in the game, we provided an overview of the best Hearthstone duel decks here. You only need to explore them and get familiarized to grasp the gameplay. They are all the best in their own right, each with unique features that you should be aware of. Because you are lucky enough to find this instructional gem, here are the game's best duel decks.
Neutral Dreck'Thar Rising
Considered one of the best Hearthstone duel decks it rises above in power of its kind. However, not all the time Neutral class can rise above all duel decks. Meanwhile, Drek'Thrar proves to be a worthy companion when it comes to devastating decks. In Neutral Drek'Thrar Rising build, players can easily secure the advantages. By having the Hero Power (2) and Harness the Elements alone, it lessens the drawn spell cost. This is advantageous to players who have to recover back. Hence, making it one of the preferred decks in the game.


Neutral Dreck'Thrar Rising is known to be a powerful control deck you can have. It uses considerable aggression to destroy any enemy's defenses. Its damaging spells consist of First Flame, Flame Geyser, Flame Cannon, and Combustion. They are the most useful weapons to use as spells that affect how the enemy defends itself. Similarly, other features make this duel deck a good choice. Playing this game here can give you in-depth knowledge about them.
Vanndar Stormpike Warrior
An alternate hero from Warrior Class, Vandar Stormpike is not a popular choice for all players. It is not even considered the first choice for experienced players. However, having these Hearthstone duel decks in your preference will give you a competitive advantage. It is proven to have t powerful features when it is deployed. The Hero Power (2) Battle Tactics can lessen the cost of expensive Neutral Minions. This makes the combat to be more accessible to players.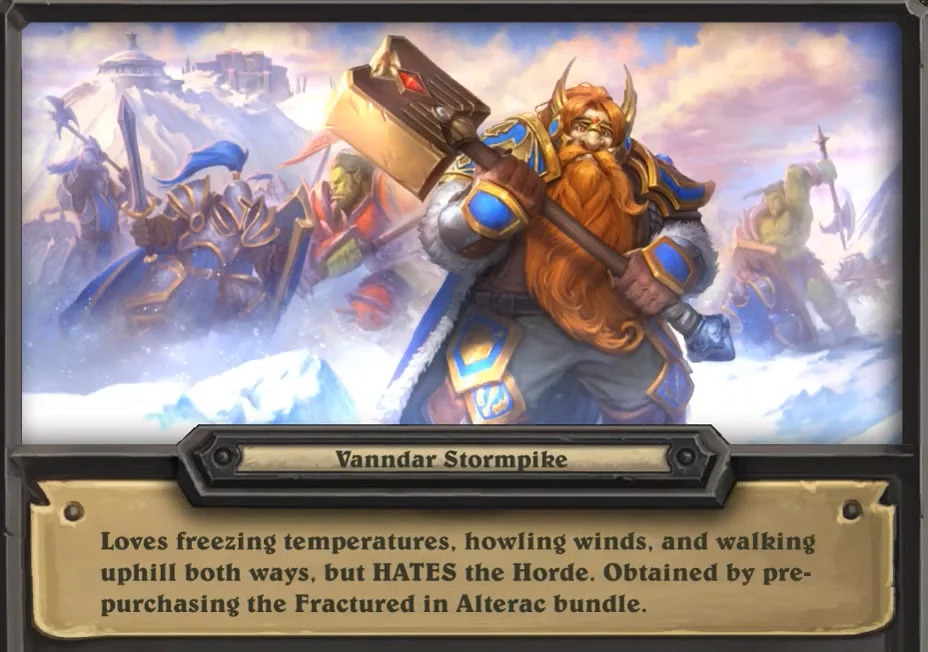 By having Vanndar Stormpike Warrior, you can tap into the realms of power from the creature version. Known by the same name, it lessens the cost of the minions in your deck. For that reason, this card gains a powerful devastating attack on enemy decks. Thus, it is one of the favorite Hearthstone duel decks among experienced players in eliminating minions.
Fireheart Shaman
As a flexible duel deck, Fireheart Shaman quickly becomes an asset for the players. This is because of its free-for-all nature in duels which makes it like an attack specialist. It has an ability like Hero Power (2) Ferocious Fury, where it can gain attack boosts. It also has other worth mentioning abilities, like Signature Treasure (3) Tempest Fury. This card unleashes a lightning bolt on any of the enemy characters after its Hero Attack. This ensures constant aggression against enemies throughout the match.
Fireheart Shaman's Deck allows players to enjoy pestering a lot of control cards in the enemy's defenses. It can also summon many Elementals securing an advantage when it comes to numbers. There are more intriguing features that you will know by playing this card battling game.
Master Duelist Mozaki
Master Duelist Mozaki is one of the most unpredictable Hearthstone duel decks to have. It overwhelms the enemy with its attack power and creature numbers. This deck has a useful ability by Hero Power (1) Frost Shards. With Hero Power (1) Frost Shards, the deck can inflict considerable damage to the enemy. Not just that, it can give you the Freezing minions, and Signature Treasure (3) Elemental Learning. This adds random Elementals and lessens its cost if it is summoned in turn.


The abilities mentioned already synergized with the rest of the deck. This makes Master Duelist Mozaki a more flexible advantage over other duel decks. It includes damaging (1) First Flame, (1) Wildfire, (2) Flame Geyser, (2) Flame Cannon, and (3) Combustion.
Bottom Line
There are more duel decks to choose from in Hearthstone, which can be best for you. The duel decks we provided above are just a fraction of the best decks. They are, however, surely the bests duel decks you can have even if you're still a new player.
Now that you know about the best duel decks in Hearthstone, it is time to test them. Play Hearthstone on your PC today. For more updates regarding this card-battling game, stay tuned here on Games.lol!