Card games have already evolved from the usual playing cards to more complex card battles. This is why they continue to be popular, especially if it's a card game where you get to play with another player. It's also the reason why there are many 2 player card games out there to play.
But which among these 2 player card games should you play? Which games will you have more fun playing and can provide that competitiveness you crave for? That's what we'll discuss in this blog post. We'll provide a list of the best 2 player card games available.
1. Pokemon TCG Online
One of the best 2 player card games that you can start with is Pokemon TCG Online. It's a game where you get to experience the gameplay of Pokemon games, but instead of trying to capture Pokemon and use them for battle, you collect cards instead. You then build a deck and use it in battle. Feel free to choose to battle against the game's AI or other players around the world. You can also trade cards, which can help you to build the powerful deck that you're aiming for. A good starter card game to play.
2. WWE SuperCard – Battle Cards
Another good card game that you can play is WWE SuperCard – Battle Cards. It's a game where you get to collect cards from the different wrestlers in the WWE franchise, including legends like The Rock, Stone Cold Steve Austin, and many more.
From the cards you have, you then assemble a deck and use them in battle. Winning here won't just depend on the WWE Superstar wrestlers you have on your deck, but also on the strategy that you'll use. It's a fun game where you get to use your favorite wrestlers in a different kind of battle.
3. Yu-Gi-Oh! Master Duel
Of course, no best card game list is complete without one of the best card games out there, Yu-Gi-Oh! For this list, we went with Yu-Gi-Oh! Master Duel, is the latest card game in the franchise. Konami is calling it the definitive edition, which means it's the game that closely mimics the Yu-Gi-Oh! anime.
And when you try playing it, you'll see that it is way better than the previous iterations of Yu-Gi-Oh! Card games. Whether you're a fan of the anime series or card games, you'll enjoy playing this game.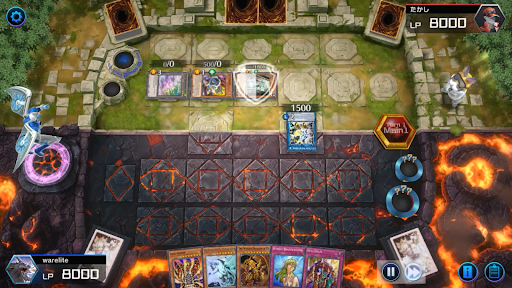 4. Animation Throwdown: Your Favorite Card Game
If you're a big fan of cartoons like Family Guy, Futurama, American Dad, and many similar cartoons, then you'll enjoy Animation Throwdown: Your Favorite Card Game. It's a card game where you get to collect characters from some of your favorite cartoon shows and then use them in battle.
You get to assemble a deck that can feature Peter Griffin, Stan Smith, Stewart Griffin, and many more. Also, you can battle against people from all over the world, as well as join guilds. You can interact with other players, as well as share tips. An entertaining card game worth playing.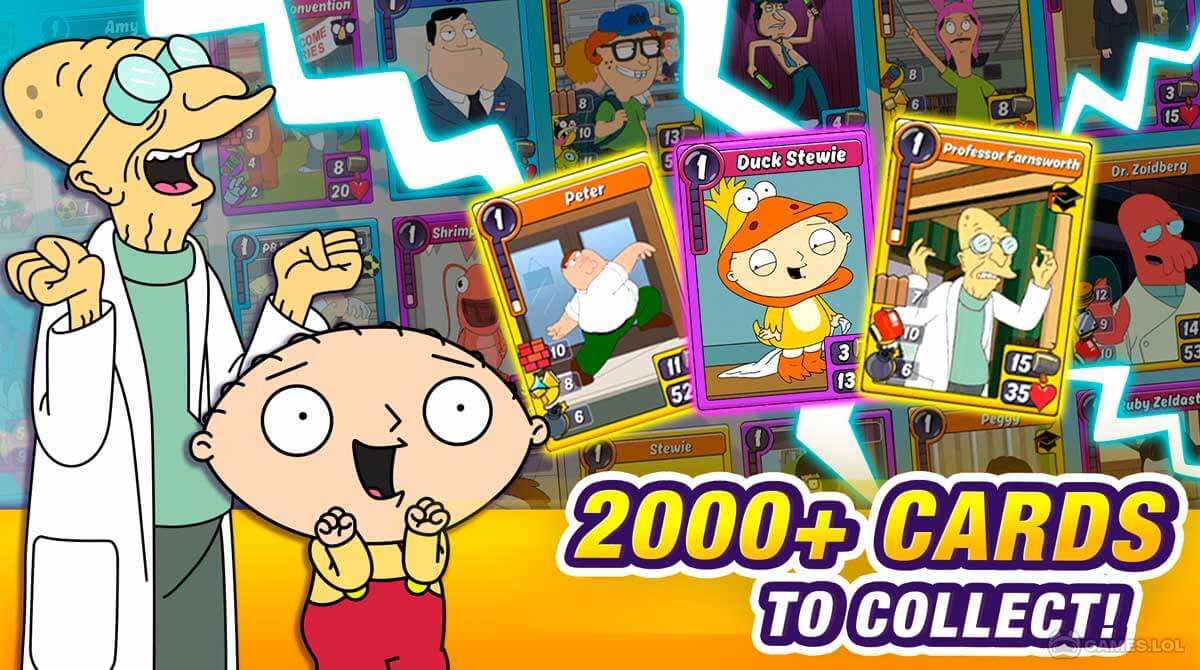 5. Vanguard Zero
Are you a big fan of the card fame Cardfight!!! Vanguard? Then you should play Vanguard Zero. It's an RPG card game that is based on a popular franchise. What's great about this game is that the story mode of the card RPG was able to replicate the world of the franchise's anime series.
If you've watched that series, then this game will bring back lots of great memories. You can relieve certain scenarios in the series as you play the story mode. Or just participate in the PVP in a battle of who's the best Vanguard in the game.
6. Marvel Duel
If you are a big marvel fan, then Marvel Duel is the 2-player card game you should play. It's a fast-paced strategy game where you'll need to assemble a powerful deck consisting of marvel characters.
This includes both superheroes and supervillains. What you'll enjoy about this game is its 3D graphics, as well as cinematic effects when your cards use their ultimate power. You get to battle against other players in real-time or play the campaign mode and save the Marvel Universe.
7. Card Thief
A unique card game on this list is Card Thief, a casual card game with different gameplay from other games on this list. In this game, you get to move around a thief through a deck. You get to extinguish torches, pickpocket guards, and steal gold, while not being detected.
You'll have stealth points to use to avoid getting detected. But they run out, so try to acquire more as you go through each card on the deck. It's a unique game and a bit complicated at first. But once you get the hang of it, you'll see how fun it is to play.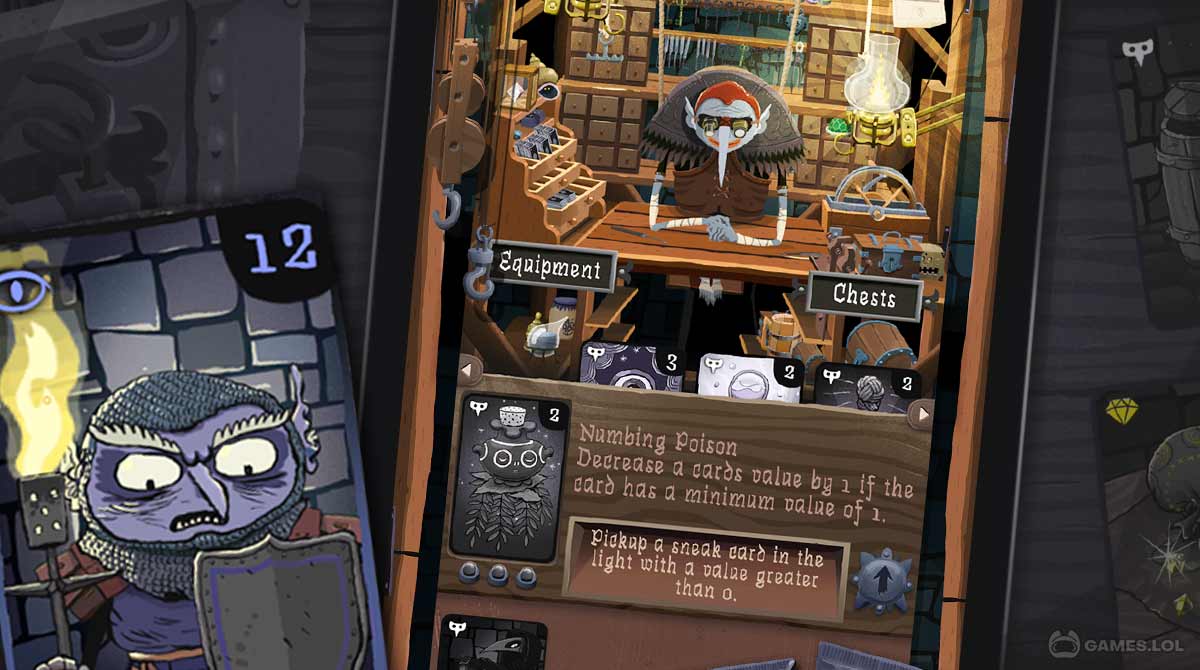 8. Card Wars Kingdom
If you've watched season 4 of the Adventure Time cartoon, then you will be familiar with this card game. It's titled Card Wars Kingdom, a strategy card game where you get to experience playing the popular card game used in the cartoon. Even if you haven't seen the episode, it's a card game that you'll still enjoy playing because of its awesome animation and interesting gameplay. A card game that's surely worth trying out.
9. Warhammer Combat Cards
One of the most popular miniature wargames in the world, Warhammer 40,000, is now in card battles as well. The game is titled Warhammer Combat Cards – 40k Edition and it lets you participate in the eternal conflict in Warhammer 40,000.
You get to choose from the many different factions available and wage battle using iconic warlords. You get to collect many different cards and build a powerful deck to use in the tactical card battle. Once you're ready, it's time to showcase your war prowess and dominate opponents using your powerful deck.
10. Shadowverse CCG
Last, but certainly not least in this list is Shadowverse CCG, a role-playing card game. It's a game where you don't only get to participate in epic and awesome card battles, but you also get to explore the amazing world of Rivayle.
It's a game where you get to collect different types of cards and form a deck that you can use in a turn-based battle. You can play the game's story mode or showcase your deck and compete against other players in a PVP battle. It's a great card game that you'll enjoy playing.
There are many more good card games out there that you can play. But the ones listed here are a good start if you want to play fun and competitive 2 player card games. Check out and play them now!