Pets are some of the most loving creatures on Earth. They will love you more than anyone else and they consider you their world. That's why adopting any animal, especially dogs, can help you understand that they are all you need if you need love. They can become your greatest companion since they are very loyal and loving, even if they went through abuse before. If you haven't adopted a dog before, then you will experience it here in Hellopet House.
Hellopet House is a casual pet game where you get to help Jane rescue pets, play with them, and transform a rundown mansion into a new and beautiful home for them. There are so many tasks you need to complete. Some of these tasks include gardening, cooking, crafting, etc. You can only level up once you complete these quests, so make sure to finish them all.
Moreover, renovate and decorate the mansion to create the perfect shelter for all the pets you're about to rescue. Restore every corner and start adopting all kinds of pets, such as cats and dogs. What's more, decorate it to your heart's content, and meet new friends, neighbors, and your very first pet.
Generally, Hellopet House is an easy and fun game, but there are some challenges that you might find hard to pass. So, make sure to master your skills by following these game tips and tricks to successfully help Jane on her epic journey to take care of all pets.

Tips & Tricks to Level Up in Hellopet House
Hellopet House is unlike other casual and adventure games where they mostly have match-three puzzle games to complete a task. Here, it's a combination of different mini-games, an immersive storyline, and a super impressive restaurant sim-style management game. What's more, you get to serve your pets delicious and lip-smacking food that will keep them full. Once you complete a level, you will earn a start which you can use to renovate and design the pet house. The best part is that you can interact with all the cute and cuddly animals.
Play with them, feed them, and cuddle with them—that's what Hellopet House is all about. So here are some of those tips and tricks that can help you successfully create the best home for all the pets you're about to adopt.
1. Memorize the Game Rules, Goals, & Mechanics
The mini-game that you get to play in Hellopet House is a restaurant-type time management game. To play the game, you need to follow the orders of the pets, which you can find displayed on top of their heads. Bear in mind that you have to be quick when it comes to preparing and cooking the food. Once you complete the goals on time, you will receive stars which you can use to repair grandma's old mansion and pet house. You will also receive gold and gems.
To prepare and cook the food, you need to tap on the ingredients. Once you've prepared it, you'll then serve it to them. Ensure to follow the goals, which are the objectives and conditions you need to follow to complete a level.
2. Serve Water & Fast Foods First
There are times when a pet demands more than one dish. So, if one of those dishes takes a bit more time to prepare, serve the instant foods first to pacify them. You can serve them water if it's part of their orders. Once you serve it to them, it increases the green bar, which will give you more time to cook the dishes they ordered.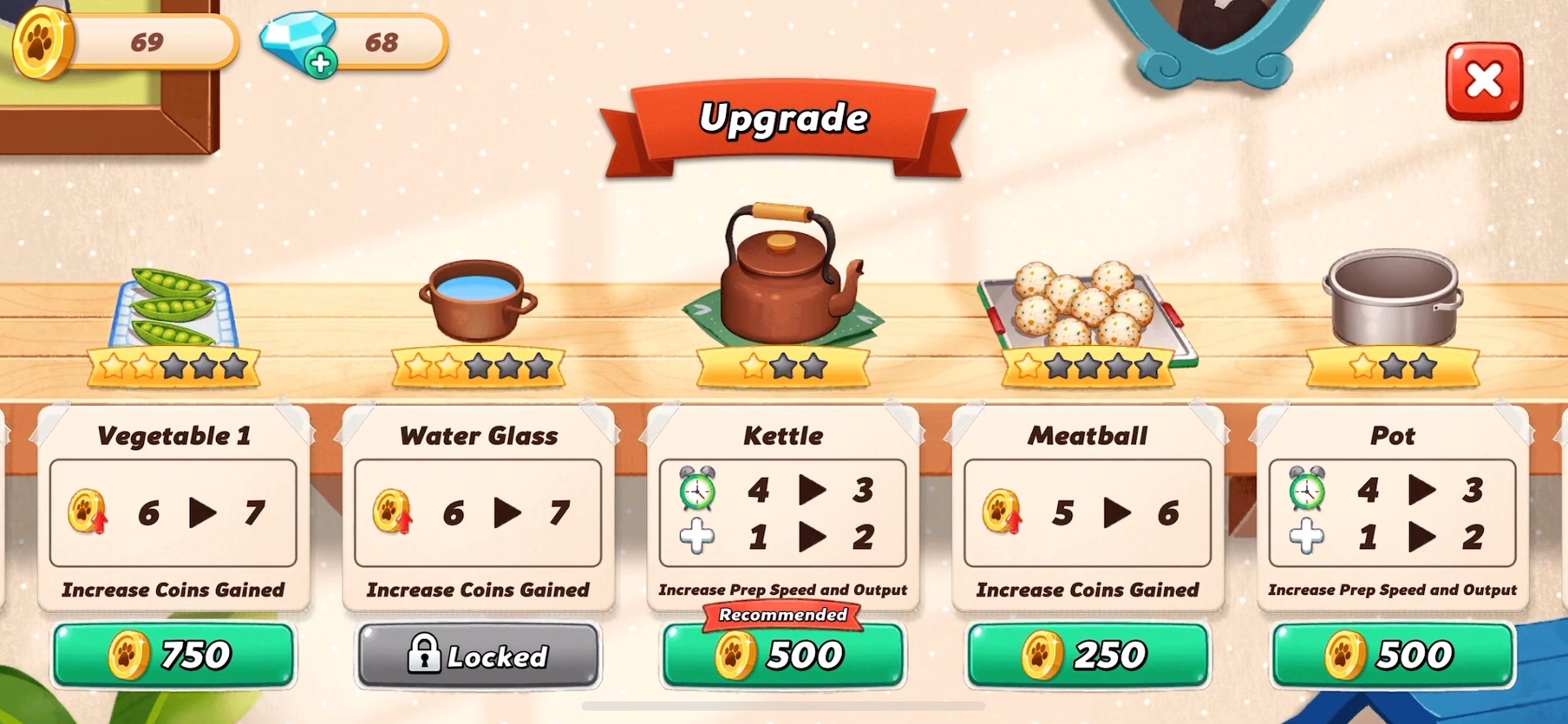 3. Upgrade Ingredients & Kitchen Appliances
If you're looking for a faster way to serve food to your pets, you must upgrade the kitchen appliances and ingredients. You can do that by tapping the "Play" button then "Upgrade." Some of these kitchenware, appliances, and ingredients you can upgrade are meat, vegetable 1 and vegetable 2, meatball, water bowl, water pot, frying pan, placement mats, meat dish and meatball dish, and pot.
4. Mingle With Pets to Earn More Candies
Hellopet House lets you interact with pets. In return, they give you candies, which you can use to purchase furniture or adopt new pets. If a pet is ready for more interaction, an exclamation mark will appear on the pet icon. Tap on the icon and the portrait of your pet, then select the actions you want. You can bathe them, feed them, pet them, or play with them. Once done, you will receive candy.
5. Use Boosters to Complete a Level
Unlock boosters to complete a level faster and more comfortably. The three types of boosters are instant complete, double coins, and protection. You can unlock them once you reach certain levels of the game.
Now that you know all these tips, make sure to remember all these and apply them every time you play Hellopet House. That way, you can help Jane on her journey towards rescuing as many pets as possible.