Puzzles are a polarizing category of games for as long as humanity can remember. Some people like it, some people don't. Some players love to use their brains to play, while others just want something to kill time.
If you do happen to be the former, you're in luck because we're about to show you our picks of the best puzzle games to play on PC this 2021. All of these games are found within the Games.lol library, which you can download and play for free. Whether it's simply swapping tiles, matching three blocks, popping bubbles, or exploring mysterious dungeons, we have the best picks right here. Also, take note that these puzzle games are not in a particular order.
1. Among Us
Among Us has always been a fan favorite on our site, and it's no surprise. Hailed as the most popular online game of 2020, Among Us is a mix of cooperation and puzzle. The mini-games in the form of tasks may not be as hard as you imagine. But, it's the analysis of who's the real crew member and who's the impostor that makes it tough.
In Among Us, you can play casually with your friend or you can even try to ruin someone's day as an impostor. Either way, this puzzle game is fun. It may take some time to get into it. But once everything sinks in, you start to realize why many people love it. Get your sus face on!
2. Plants vs Zombies
You could say Plants vs Zombies is a puzzle game because it technically is. The game uses a tower defense system but in a more streamlined way. However, it takes some brainpower to solve the various levels with the right deployable plants. Furthermore, the later levels require good timing and a skillful mindset to clear them perfectly.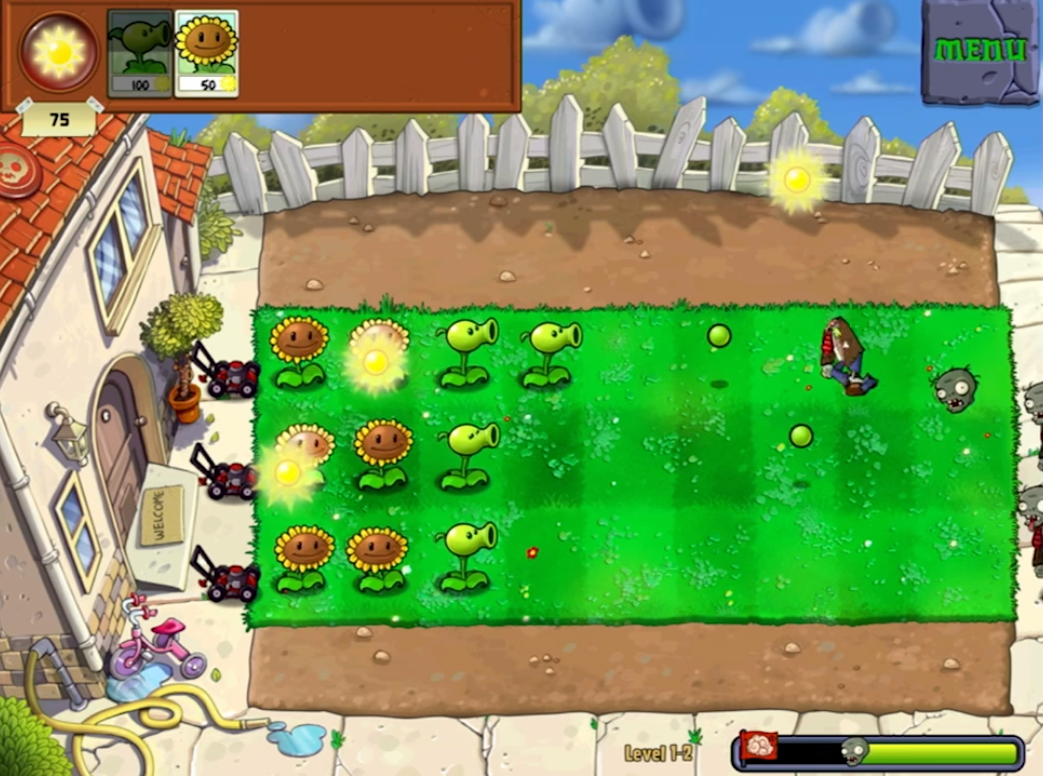 While the sequels may be controversial for their pay-to-win tactics, the first PvZ kept to its roots. Solid gameplay, lots of great and challenging levels, and overall good puzzle experience. You just won't be considered an avid puzzle player without playing this one.
3. Tetris
Tetris is what made puzzle games mainstream. After the name was bought by EA GAMES, the game was redesigned for the new generation of players. Tetris still bears the name of "King of Puzzles" thanks to its very simple rule of clear rows of tetrominoes. Finding out which tetromino pattern to place inside the space requires strategic thinking. Also, the longer you play, the faster the blocks fall. You play to the point where the whole screen gets filled up with tetrominoes.
However, the modern version includes a Hold System, a mechanic where you save a specific tetromino that you can use for later. Despite the bad reputation of EA, Tetris is still playing pretty well without any pay-to-win purchases. After all, what are you supposed to pay to win for a puzzle game, right?
4. Arknights
Puzzles, tower defense, a deep story, and a truckload of waifus. What can possibly go wrong? Arknights is one of the most popular tower defense games today thanks to its atmospheric presentation and active gameplay. While it may look like a generic anime game from a non-gamer perspective, it is more than a J-RPG. In fact, you can call this Plants vs Zombies Anime if you want to.
Don't underestimate the game though. At many times, the puzzles become very challenging but highly rewarding. Despite its gacha mechanics, the game strays away from pay-to-win tactics. In fact, you can finish the entire game using proper 3-star operators, if you have the brains to do so.
5. Candy Crush Saga
Of course, Candy Crush Saga is on our list. Despite many people calling it an "overrated mom's game for casuals," this match-3 puzzle game hosts plenty of tough challenges. In fact, Candy Crush Saga has a lot of brain-teasing levels that will have you repeating multiple times.

Even if it does present itself as a colorful eye candy puzzle game, it covers up the difficulty. They say that when you finish all 7000+ levels, you get the title of "Mom Player God."
6. Cube Escape: The Mill
Cube Escape has plenty of puzzle games already but nothing is as unique as The Mill. While you might argue that Cube Escape may feel repetitive, it is The Mill that made the series known to puzzle game fans. After all, it is arguably the scariest game in the series and has the darkest story. No, seriously, it goes from a normal puzzle game to something deep, dark, and oftentimes bizarre.
7. Gardenscapes
Last but not least on our list is Gardenscapes. It may have three gameplay portions, but its match-3 segments are one of the smartest we've seen in casual puzzle games for a while.
Open Your Mind
All these games are fun to play. And the best part is, they're all free to download and play when you get it here at Games.lol. Therefore, you may choose whichever puzzle game you want on the list.