Idle Life Sim is a game that makes life worth living, or in this case, playing. Taking heavy inspiration from the likes of BitLife and The Sims, Idle Life has a much more subtle and lighter tone compared to the two games. Furthermore, it is a clicker game with an emphasis on growing your character without doing much. It's a game that suits well with players who don't have much time playing life simulator games in a day. Also, many players consider Idle Life Sim as one of the best AFK life sim games ever made.
So, if you are one of those that think it's worth your time, stick around with our strategy guide. Let us show you how to get rich quickly in the game with minimal consequences. Don't forget to try out Idle Life Sim for free on PC!
Select a Career
Unlike BitLife, you start off immediately as an adult. After customizing your avatar, you can start the game of responsibility and self-improvement. Of course, just like any responsible adult, you need to get a job. You have four career choices: Art, Gastronomy, Sports, and Technology. Any of the four will do as long as your in-game grandma will approve it.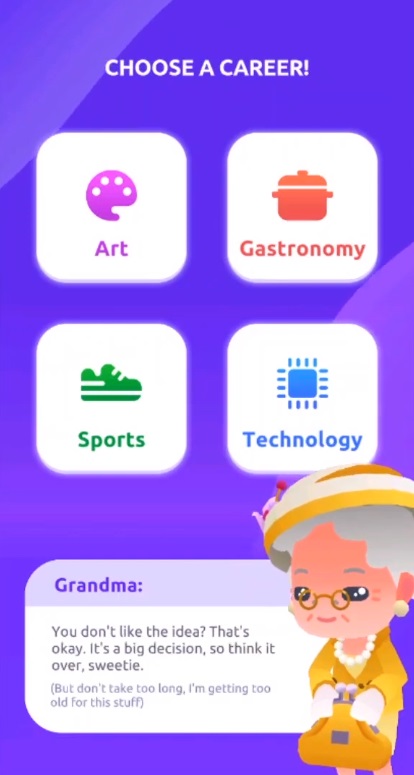 Let's break down the summary of each career:
Art
You draw, you sculpt, and you see creativity in things that other people do not see. The art career is for those that seek happiness through cultural creativity. Your goal is to become a global icon in the art department. You may choose to become an artistic celebrity or open up your own art school.
Gastronomy
He who chooses Gastronomy chooses to conquer the world through people's taste buds. Become a culinary champion as you cook up amazing dishes and wow your audience with your plating designs and delicious servings. If you make it to the end, you will eventually earn the title of Master Chef. On another note, it is considered the most picked career in the Idle Life community.
Also, it has the lowest income, on par with Arts, but it does have one of the easiest promotions in the game.
Sports
If you have what it takes to become a mega-sports celebrity, then the Sports career is suitable for you. In this section, you may choose any sports genre you like. If you're good enough as an athlete, you may become an all-star for the number one basketball team or the captain of Europe's most powerful football team.
Technology
While there are no Science careers in this game, there is one that feels as relevant as real life: a place in the Technology department. In this job, you can become a programmer, a coder, or a game developer. It's arguably one of the hardest careers to play since promotions may be too rare at times. At the highest point of your career here, you may become a cloud developer or even an ethical hacker.
How to Get Promoted Fast in Idle Life Sim?
So, if you seek to earn money fast and buy all the coolest stuff in the store, you need promotions quickly. However, how do you get promoted? Fortunately, it's not as taxing as The Sims when it comes to ranking up your job. You just need to follow certain steps: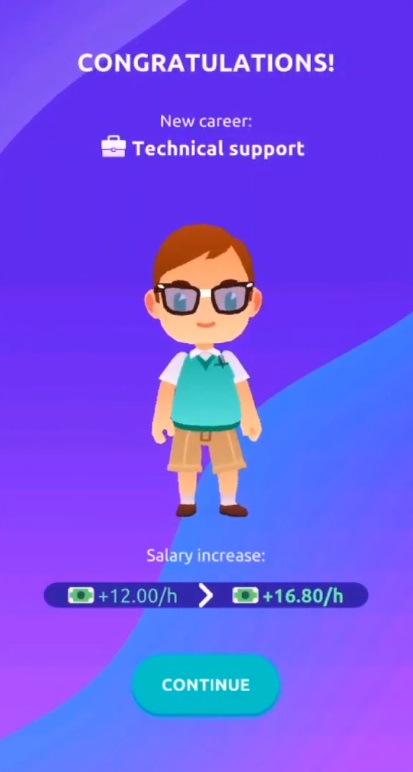 On the lower right corner of the screen, you should find a briefcase icon. Tap to open it. Here, you will find modules that you can click to learn more about them. Click the "Learn button" to upgrade the module. Take note that every module includes perks that will give you purchase discounts, payroll raises, and improved stats.
When you click enough, you should find a locked job as you scroll down to your career. Once you meet the prerequisites, your character is ready for a promotion. Click the "Get Promoted" icon to find a new position in your job. Remember, the more you get promoted, the more requirements you need to reach.
Eventually, you will upgrade your level as you get promoted. To level up, you need a "Status," which includes a golden crown icon. You may achieve it when you buy certain furniture from the store. However, make sure the furniture you buy matches your career choice.
Once you finish purchasing brand-new furniture, you should find a couch icon on the upper left of the screen. Click on it to place the item you bought anywhere in the room. Every time you place a piece of furniture, your level increases. The more you buy and place, the faster you level up.
Income Multipliers Bring More Money
This technique is for free-to-play users. To double your hourly rate, you need to click on ads. You can find the ads at the bottom of the screen with a green video icon. Every time you complete a 30-second ad, you get an x2 multiplier for 10 minutes. You can do this as much as you like.
Fast Promotion Means Fast Moolah
Basically, you just have to be lowkey active in this clicker game if you want your character to get promoted quickly. Idle Life Sim is a very easy casual game that shouldn't give you headaches.
For more free life simulator games, don't forget to try out The Sims Mobile and Hay Day on PC!