One of the most distinctive PC games is Idle Miner Tycoon. In this simulation game, participants manage what would be the virtual equivalent of a gold mine in real life, with all the issues that entail. Furthermore, the managers and workers in the gold mine keep working even after you have gone to sleep. Thus, there is a significant amount of strategy involved in the gameplay. To succeed as a mining tycoon, you must devote sufficient effort to Idle Miners Tycoon within the early game stages. Once you have built a sizable system for your priceless gold mine, you can easily rely on your staff.
You'll see a significant boost in your mine's output as you advance to the game's higher stages and invest more time in its operations. To plan and make decisions that can highly impact the future of your gold mine, you need to put in more effort.
If you are looking for some tips and tricks that will help you in this game, you are on the right page. So without further ado, let's dive into the underground riches of Idle Miner Tycoon. Also, we do not promote Idle Miner Tycoon cheats However, the tips below are better than the illegal cheats that you can apply in the game.
First things First in Idle Miner Tycoon
After completing Idle Miner Tycoon's tutorial and earning a sizable sum of money, it's time to hire your first manager. Within a mine, the managers you acquire for your tunnels, elevator, and warehouse assist you in controlling the workers' workflow. Once you set a few managers next to or on top of your workers, you never have to bother about tapping on them to get them active. If you have the money, you can use all of your managers' booster powers at once. These abilities will hasten your work process and increase your earnings.
Manage Your Mine
One of the few real-life simulation games that are playable on PC is Idle Miner Tycoon, which offers new players a very quick tutorial. The in-game beginner's tutorial's purpose is to acquaint you with the ideas behind effective management and planning, and its fundamental game features. The game's designers have taken care to give you a realistic taste of how real-world management functions and how challenging it can be at times.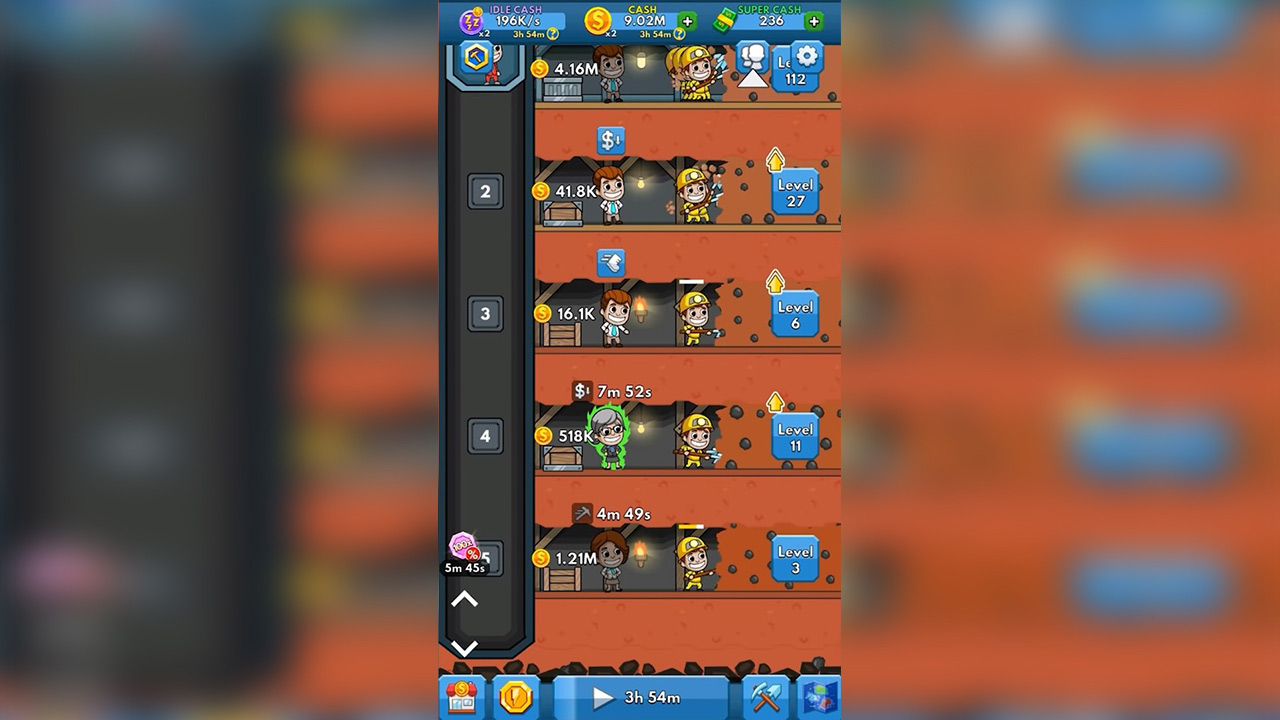 In Idle Miner Tycoon, you have the chance to select from a variety of managers who can oversee various elements of your gold mine. They can also help in boosting your present output potential. Additionally, you will be able to create a comprehensive business plan for your employees and staff. You also need to assure that they are being paid appropriately and on time. If you do not take care of this, your miners, just like in real life, may begin to go against the policies. This could result in the loss of all the profitable earnings that you had worked so hard to establish.
Upgrade & Achieve
To upgrade a mine's shafts, elevator, and warehouse, you'll need money. You will receive additional Super Cash after you reach specific enhanced levels on each of those mine component's aspects. You must also reach the upgraded level limitations of 10, 25, 50, 100, and 200 for each item to receive that Super Cash.
As mentioned before in the previous paragraph, the game comes with updated level limits. Milestones are the names given to those figures. For each active area of your mine, reaching those milestone amounts will result in significant stat increases. Put a manager in a mining section you wish to concentrate on upgrading if their skill lowers the upgrade expense of any activity, they are responsible for.
Assemble Your Team
You start with just one miner, one elevator operator, and one person who brings the purified gold to your storehouse to be stored. Your net value increases as a result of this chain of events that starts in the mine shaft and ends in the warehouse, as seen in the top left side of the screen. The amount of overall cash you have access to will increase once the gold has properly arrived in your warehouse. This is indicated in the upper right corner of your PC screen.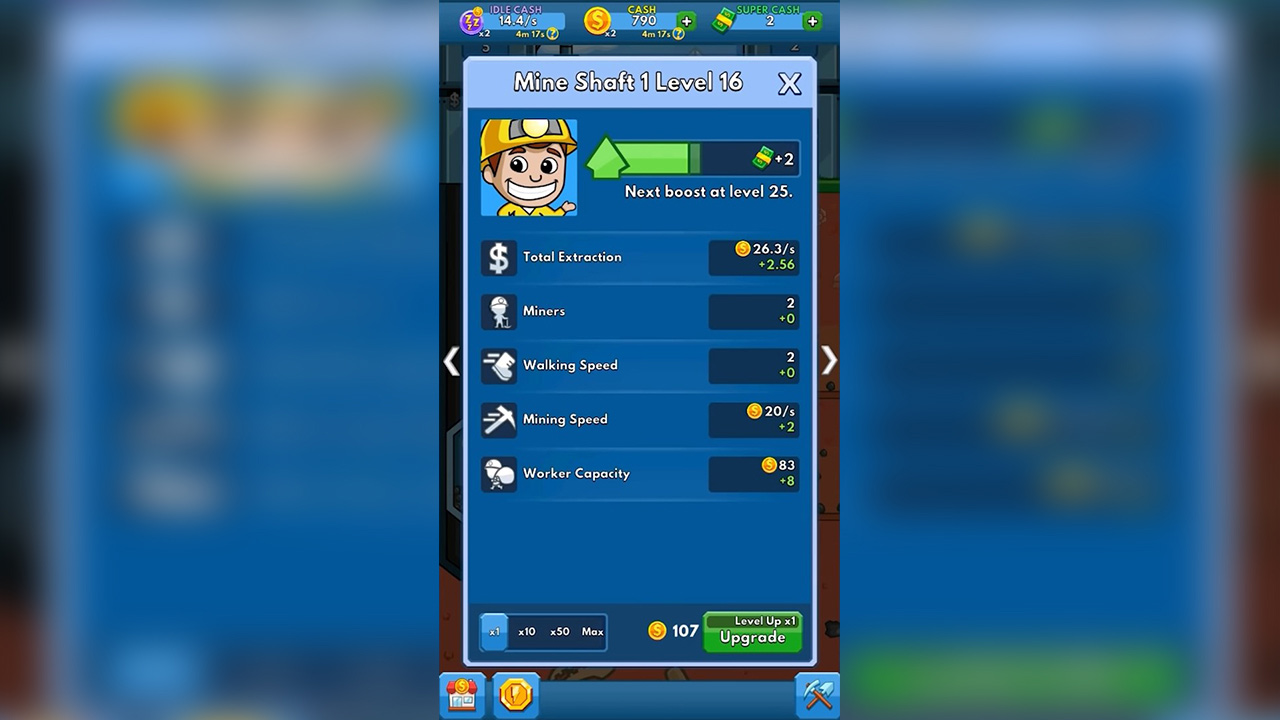 You don't have access to any extra bonuses or perks at the beginning of Idle Miner Tycoon. But as you advance to higher levels, a growing number of workers, upgrades, and managers will become available to you. Remember that you have selected the Industrialist's path. Thus, it is preferable to put your money earned from upgrades and rewards into hiring new managers to run your gold mine more effectively.
The type of team you have and the amount of work they pour in are the two most crucial variables that determine your performance as an industrial mining tycoon. If everyone is operating at peak performance levels the higher the performance of your mining operations.
Get Some Managers
At first, you only have access to Junior Managers but as you advance through the stages, you will unlock the Senior Executives and finally Executive Supervisors. They are very helpful in your mining schemes. Each manager possesses a special talent. It's either they will increase your gold mine's output or the general effectiveness of the employees working on-site.
You can also use the extra money from the gold mine to improve the reward or percent bonuses that these Managers have. This will result in the efficient use of the extra money you are earning and also produce more passive income. You can use that passive income in generating your returns even more compared to the sum you invested in implementing these improvements.
Modernize Your Facilities
Idle Miner Tycoon players must possess exceptional intelligence and a deep understanding of how to maximize the profitability of their gold mines. For the initial levels, money will be tight because much of it will be used to upgrade your gold mine. Not only that, but you will also hire all levels of management to ramp up the collecting and transporting processes.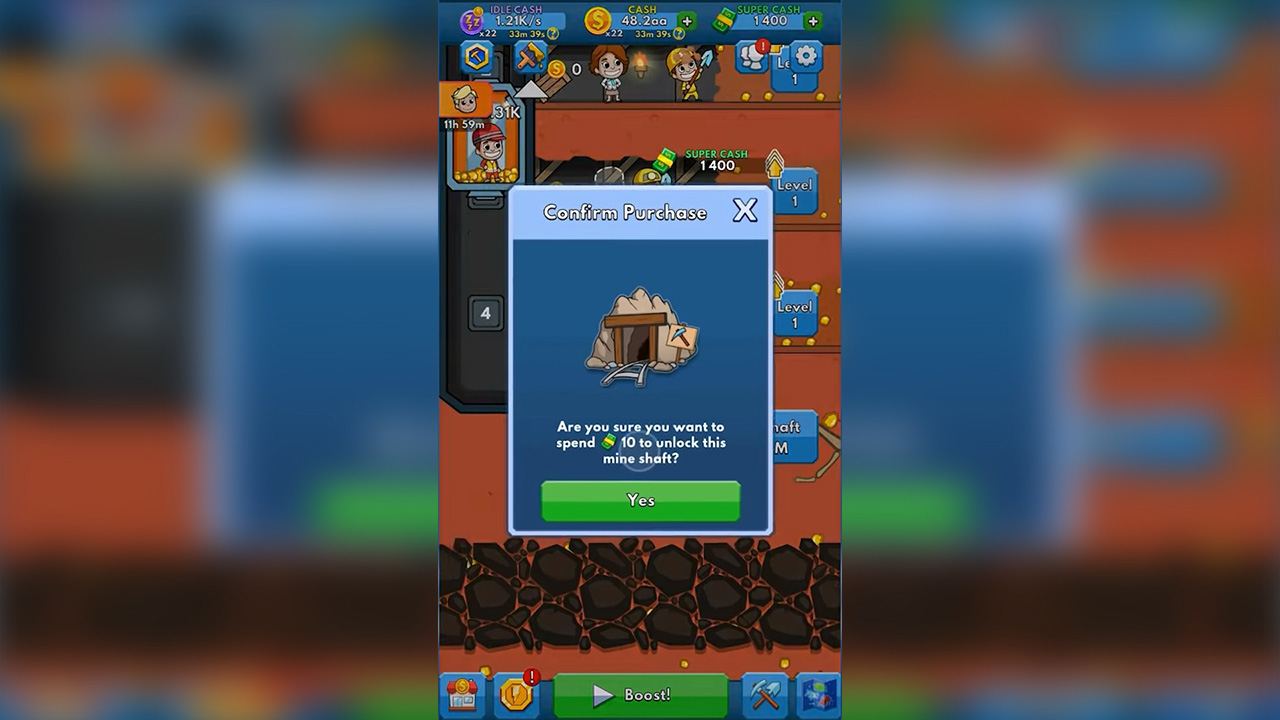 But as you advance and generate a consistent flow of passive income, you'll have more than enough time and money. You can also use your money to boost the profitability of your company. Without a doubt, wanting more money outweighs all other desires, and you will quickly realize having tens of millions in your bank account is not sufficient for you. Instead, you will want to aim for the billion-dollar threshold and even more after that.
For more simulation game title reviews, guides and tips, always stay tuned here on Games.lol. We have plenty of game-related news, info, and updates here!