Mythic Heroes is an idle RPG published and developed by IGG.com, the same devs that work behind famous games Rage of Destiny and Lords Mobile. In this game, you will lead your team of heroes into various action-packed battles. Though it's an idle game, you can still choose to play actively and aim for victory.
Upon winning fights, you will receive in-game currencies as rewards. These allow you to buy additional heroes or opt for rare equipment and weapons. It will help make your characters more powerful that can take your game to the next level. Luckily, grinding for valuable currency is made easier through Mythic Heroes Gift Codes. If you want to know more about these fantastic codes, stay tuned to this blog.

Get Amazing Rewards By Redeeming Mythic Heroes Gift Codes
Mythic Heroes Gift Codes are phrases or words that enable you to get relevant rewards such as in-game currency that you can use to purchase heroes' equipment and upgrade them. It's the same as other RPGs, such as Mobile Legends Codes. By redeeming these codes, you can obtain in-game items for free. Some examples are diamonds, stardust, and even summon scrolls to get new heroes.
So, are you excited to know these Mythic Heroes Gift Codes? Here is the full list of active codes you can redeem in Mythic Heroes along with their rewards;
LUNATIGER – 10x Standard Summon Scrolls
FFDG8Copy – 400x Diamonds
7TGDV – 400x Diamonds
MH7777 – 3000x Diamonds
MH8888 – 20x Standard Summon Scrolls
NOCODE – 100x Diamonds
XMASCODE – 100x Diamonds
MHCODE – 100x Diamonds
1CODES – 100x Diamonds
CODES1 – 100x Diamonds
CODES2 – 100x Diamonds
Expired Codes
We've also enlisted a list of expired codes to inform you that these codes are not valid to use. Here are the expired codes, along with their rewards;
7ZDWM
VTSMV – 400 Diamonds
YZ5XM – 11 Hero Chest Fragments
9DDBE – 12 Prestige Badges
LAEZM – 10 Gears of Time
B35L4 – 9 Adventurer Chest Fragments
YQ44F – 8 Lv.1 Divinity Gems
FLY4D – 20 Diamonds, 2 Standard Summon Scrolls, 6 10 Gold Reward
WBA2M – 7 Ankaa Soulseal I
DQTWP – 6 Draco Soulseal I
XCYXM – 5 Chimaera Soulseal I
JP3EX – 4 10x Gold Reward
XT34S – 3 SSR Hero Shards
ZJAL8 – 2 Baihu Soulseal II
JMVFU – 1 Diamond Chest
4NHPS – 100 Diamonds, 1 Standard Summoning Scrolls
XMAS – 1200 Diamonds
THANKYOU – 10 Standard Summoning Scrolls
8LMVS – 100 Diamonds, 30 SR Hero Shards, and 20 Gears of Time
MYTH1 – 1600 Diamonds
KVCQ9 – 400 Diamonds
DBKW6 – 100 Diamonds, 30 SR Hero Shard, 20 Gear of Time
WZG7V – 400 Diamonds
76HLV – 800 Diamonds
E5OVG – 100 Diamonds, 100 Faith, Lv.1 Divinity Gems
WMRZG – 100 Diamonds, 30 SR Hero Shards, and 20 Gears of Time
O8FYX – 500 Diamonds
WL5UP – 200 Diamonds, 2 Standard Summoning Scrolls, 6 10x Gold Reward
ISVQ6 – 100 Diamonds, 2 SSR Hero Shards, 3 10x Star Dust Reward
LU93I – 100 Diamonds, 30 SR Hero Shards, 20 Gears of Time
B5KCC – 400 Diamonds
LIBAS – 400 Diamonds
K7LWE – 400 Diamonds
How to Redeem the Mythic Heroes Gift Codes?
Redeeming Mythic Heroes codes is simple, especially once you know the process. To start your exciting process of redeeming codes, you need first to log in to the game. You need to navigate your in-game avatar located at the top left corner of your screen from your game screen. Once you've clicked your avatar, find the code button. From there, you will see a popup box where you need to enter the gift code.
Make sure that you've entered the correct format of the code and ensure that you are using the active ones. Upon entering the code, click confirm, and your rewards will accurately show up on your screen and will be stored in your inventory.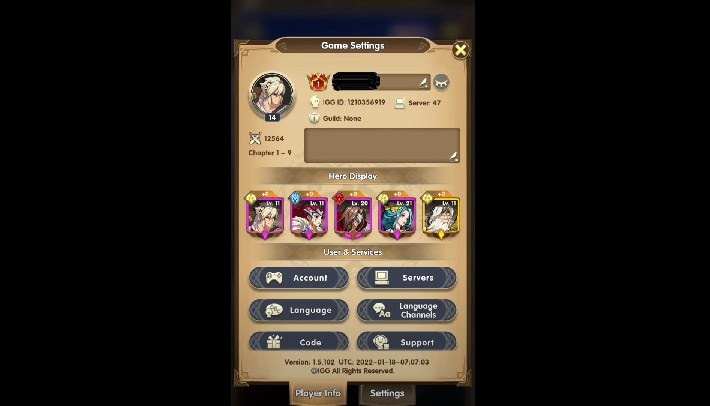 Where to find these Mythic Heroes Gift Codes?
The most accurate way to access these Mythic Heroes Gift Codes is through the official Facebook Page of the developers or through its Discord Server. So, if you want to make use of these codes, make sure that you follow them on these platforms and see to it that you're updated to their new codes released. These codes are usually generated monthly, most of the time during special events, game anniversaries, launch dates, or seasonal affairs. Take note that these codes are not hacks or cheats; these are legit and came from the devs team.
So, there you have it! Are you ready to redeem Mythic Heroes Gift Codes? Get your free in-game items, currencies, and summon scrolls now! For more information and updates about Mythic Heroes, stay on the loop here with Games.lol.