Roblox and Avakin Life fans are genuinely happy with the release of the casual adventure game, Play Together. This game extensively captured the attention of all gamers not only with its superb gameplay but also because the game offers loads of options to keep you engaged and spend more hours or even the whole day.
In this cartoon adventure game, you can customize your character using a variety of clothes and accessories that matches your fashion preferences. Also, you can make your adventure more exciting by mingling with friends, playing mini-games, facing fun challenges in school or house, taking care of pets, and more.
If you want to extend the thrilling customization options in Play Together and see more of what this game has to offer, it will be better to earn more stars which are known as the in-game currency, and acquire more items to upgrade your characters. But did you know that Play Together offers free rewards? Yes! In the form of Play Together Coupon Codes. By redeeming these coupon codes, you can excel in your game and, at the same time, get the newest gifts and rewards. Get more game guide and tips for all the codes here!

What are the Available Codes as of January 2022?
Usually, the developers genuinely carry out the Play Together Coupon Codes through the game's main official social media profile. There are times that these coupon codes are sent in the form of gifts straight to the player's in-game mail. Most of the time, these codes are distributed out to celebrate a particular event or holiday.
Most of the time, these coupon codes entitle you to get unique rewards such as in-game currency, clothes, accessories, and additional character customization freebies that can boost your gameplay. Currently, there are no active coupon codes you can use for Play Together. The latest coupon code is the following:
List of Expired Play Together Codes
GOODBYE2021
YouAreTheBest2021
KEP20HAT21DE
KURUMIWARI2021
2021NUTCRACKER
XMASCOINYUM21
WINTERISLAND
HODUKKAGI2021
FORYOU2KSTARS
FORYOU20GEMS
LFTOGETHER2021
HALLOWEENTOGETHER
HOTTODOGU
SARANGHAE
HAPPYCHUSEOK
VIETOPTOGETHER
THANKS20KVIEW
ENJOYDANCEPEACE
ForForestFairy
TEWTIY
LANKYBOX
together2021
lunarnewyear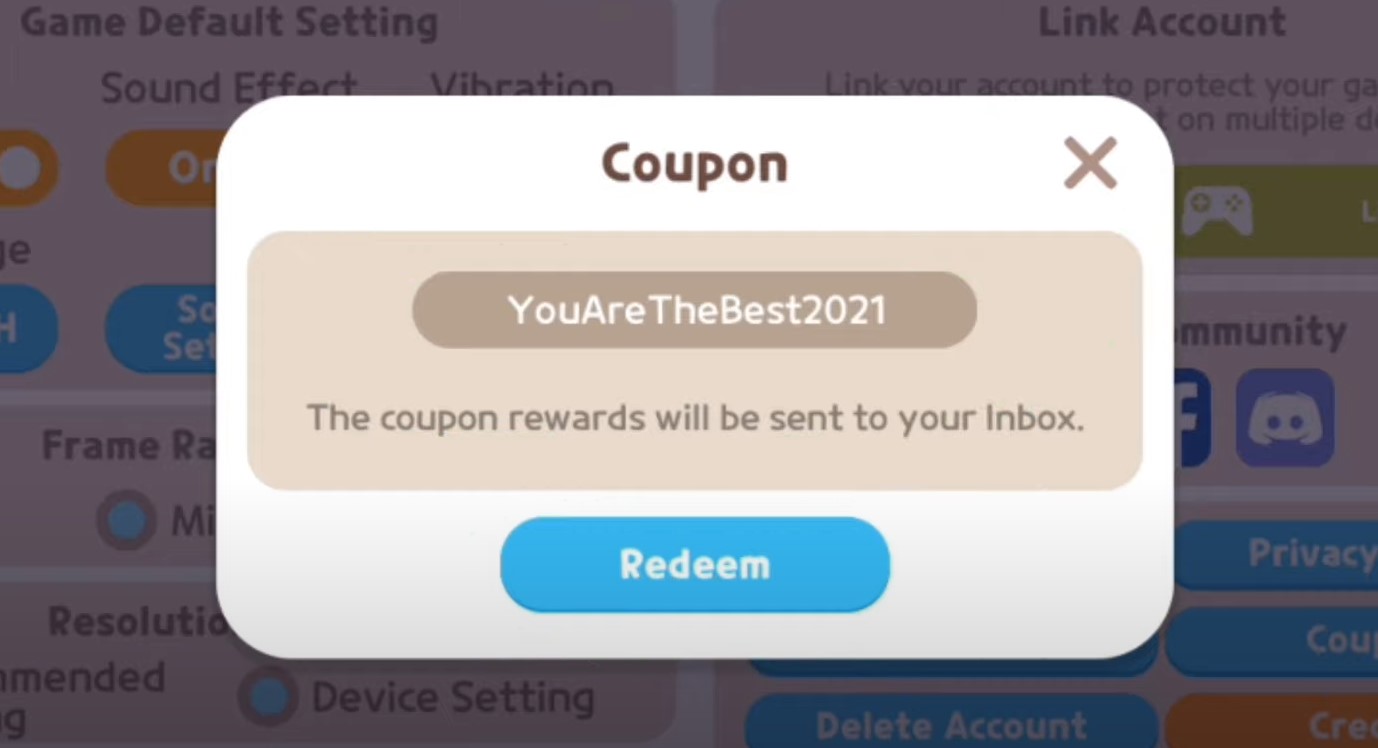 Keep in mind that these Play Together Coupon Codes are only short term offers. Meaning, these gift codes will expire soon after a couple of days. So, upon reaching this article, it is best to redeem them immediately and enjoy the game rewards received.
Additionally, be keen on the spelling and format as you might experience gift code errors. Let the special characters and letter case detain how the code is written from the list above. As for the expired codes, again, it is still at your discretion, but there's no harm in trying; you might not know that one of the expired codes will work for you.
How to Redeem The Codes?
Now that you've already known the available coupon codes for December 2021, it's time to learn how to redeem them. Generally, there are two ways on how to redeem the Play Together Codes. You can do it either on the website of the game's developer or in-game. But, most of the players prefer redeeming codes through in-game options.
When redeeming a code via the developer's website, you need to visit a certain link. If you choose this as a mode of redeeming, you need to ensure that the game is installed on your PC. Upon navigating the link, enter the coupon code to the rightful place and redeem it by clicking the OK key.


Another method of redeeming Play Together codes is inside the game. First, you need to open the game and start searching for the game settings. Once you land in the game's setting corner, you need to navigate the coupon code option. From there, you can enter the coupon code and viola and receive your rewards.
Be mindful that you need to get or use these coupon codes right away upon redeeming these coupon codes. As these coupon codes work only on a span of time frame, they will expire or be deleted if not used or stuck to your in-game mailbox.
Do You Want To Get More Play Together Coupon Codes?
As mentioned above, developers released new sets of codes through official social media channels such as Reddit, Facebook, Instagram, and Discord. Most of the time, these coupon codes are in line with special events such as holidays, collaborations, special events, and milestones of the game.


These Play Together coupon codes are all updated from time to time. So, it will be better to stay tuned to the official social media affiliations of the game, your in-game mail, or much better here! So, that's it! We've got you the updated list of coupon codes you can use in playing Play Together. Are you ready to redeem the coupon codes now? Well, what are you waiting for? Redeem them now, or else they will expire!
For more updates and information about this casual adventure game, check out here!