Those who play Pokémon UNITE avidly know that together with its Quick and Standard modes, it also has a Ranked system. This, similar to other massive online battle arena games (MOBA), is the competitive side of the game. It depends on a matchmaking rating (MMR) system to match actual players from each other. Simply put, winning and losing your fights will affect how you gain or lose points in Pokémon UNITE ranks.
Take note that the individual performance will not affect your matchmaking rating. Your personal performance will only affect your standing based on the Pokémon that you use in a fight. Your MMR will only be affected by whether your team wins or loses the match.
Pokémon UNITE Ranks System in Detail
As mentioned previously, whether you win or lose in ranked games is the only thing that affects your matchmaking rating. Becoming the game's MVP or scoring the least in terms of individual performance will only give you extra points or medals. It will not grant you extra MMR points.
In line with this, great teamwork and solid team composition are essential to position high in the Pokémon UNITE ranks. Ideally, a good team should comprise of attackers, defenders, supporters, or an all-rounder type of Pokémon.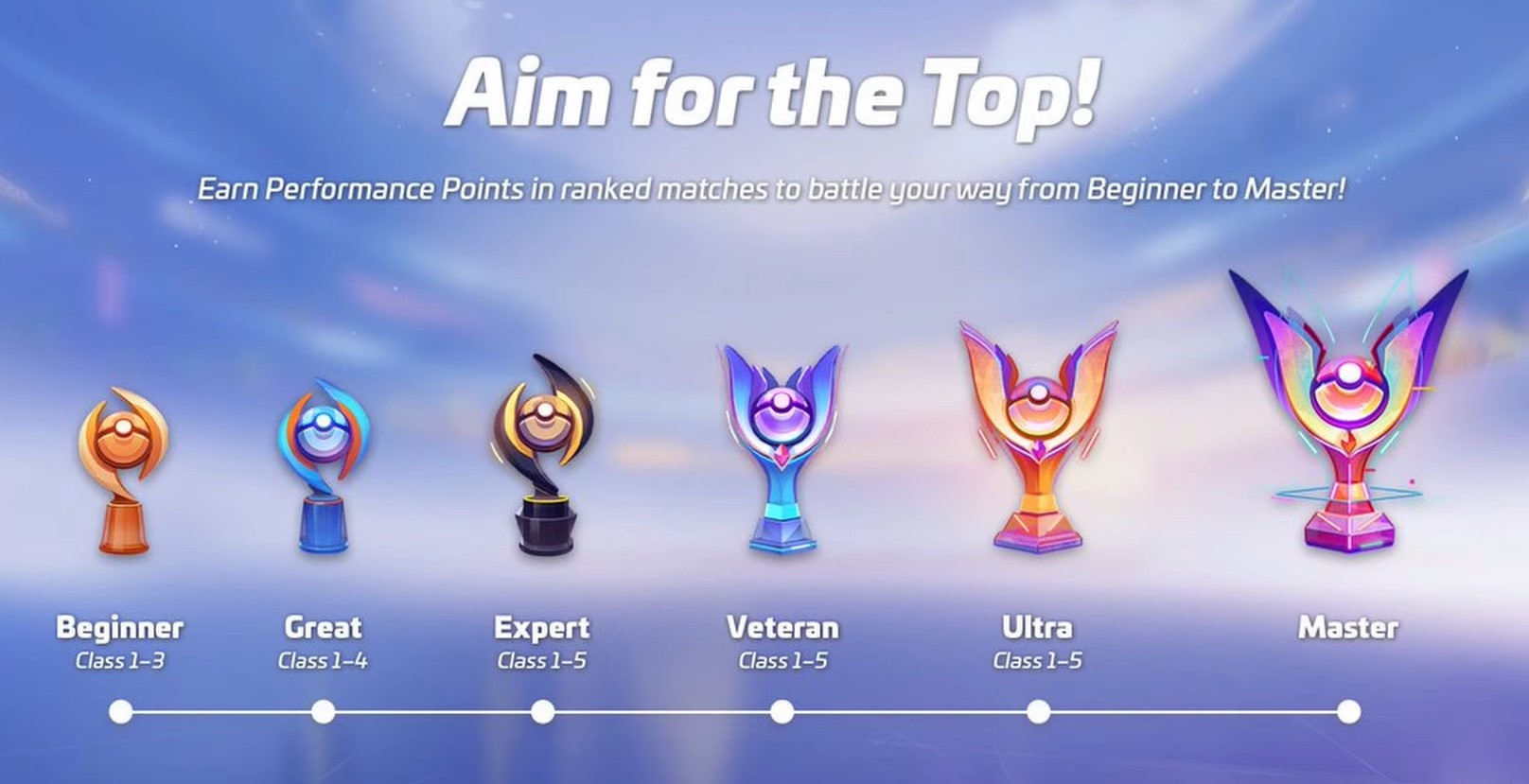 How to Unlock Pokémon UNITE Rank Mode
A player should reach Trainer Level 6 before it can unlock and play in the Pokémon UNITE Rank Mode. Approximately, it could only take one hour's worth of gaming to reach this level; (you can practice different Pokémon during this time.) Additionally, you can try to familiarize yourself with the game's mechanics first before starting ranked matches.
Moreover, getting 5 UNITE licenses is also a requisite to join ranked games. On this note, you can obtain 6 Pokémon after playing the game for at least a week. Then, you can begin ranked matches on the 8th day of playing the game, to say the least. Remember that there are licenses that you can unlock for free through in-game rewards. Some, on the contrary, are only available for purchase from the in-game shop.
Last but not least, to ensure a good gaming sports environment, players should have a Fair-Play score of at least 80 to play. All players will start their journey with 100 Fair-Play points and this will decrease if you negatively impacted the match. For example, going away from the keyboard (AFK), belittling other players, or quitting the match halfway.
Pokémon UNITE Ranks & Classes Explained
At the time of this writing, there are 6 Pokémon UNITE ranks called Cups. Furthermore, each Cup is divided into its respective Classes. Your ranking will only be active for a specific timeframe called Seasons. Hence, your Fair-Play score and Cup progress will only be valid for the duration of that current Season you have been playing. Seasonal rewards will become unobtainable once the Season ends.
The icing on the cake of this mode is its Cup tier system. Players from the winning team will be promoted, while those of the losing team will be demoted. With MMR in mind, players from the same Cups will be pitted against each other. This serves as the game's skill assurance process to ensure that players with similar skill levels will be drafted to compete together.
The following are the current 6 Pokémon UNITE ranks and their respective number of Classes in the game:
Beginner Cup – 3 Classes
Great Cup – 4 Classes
Expert Cup – 5 Classes
Veteran Cup – 5 Classes
Ultra Cup – 5 Classes
Master Cup – 5 Classes
Moving Up to Higher Pokémon UNITE Ranks
Each player starts at the Beginner Cup and should work together with their team to move up the ladder. You will be battling bots for the first time you enter the Rank Mode. Thus, making it an easy victory for most people. When playing in this tier, you need not worry too much about losing since you will not get demoted. Of course, this does not mean that you should abandon the matches or affect them negatively, or suffer losing Fair-Play points.
To ascend to the higher Cup tier, players must advance into Classes within their current Cup tier. So if you are at the Beginner Cup, you need to work your way through 3 different Cup Classes to move to the Great Cup. Furthermore, you will need 4 Cup Classes to progress from Great to Expert. Lastly, you need 5 Cup Classes to advance from Expert to Veteran, to Ultra, and the Master Cup, respectively.
What Goes Beyond the Master Cup Tier
Master Cup is the pinnacle of all Pokémon UNITE ranks. There are no Cup Classes in this tier; however, there is a Rating Number ranging from 0 to 99999. This system, furthermore, ranks players according to their victory points while on this Cup tier.
Rank-Based Pokémon UNITE Rewards
As with any competitive battle arena game, rewards are given to players depending on their personal best at the end of each Season. Technically, players will receive more Aeos tickets and better rewards the higher they are on the leaderboards.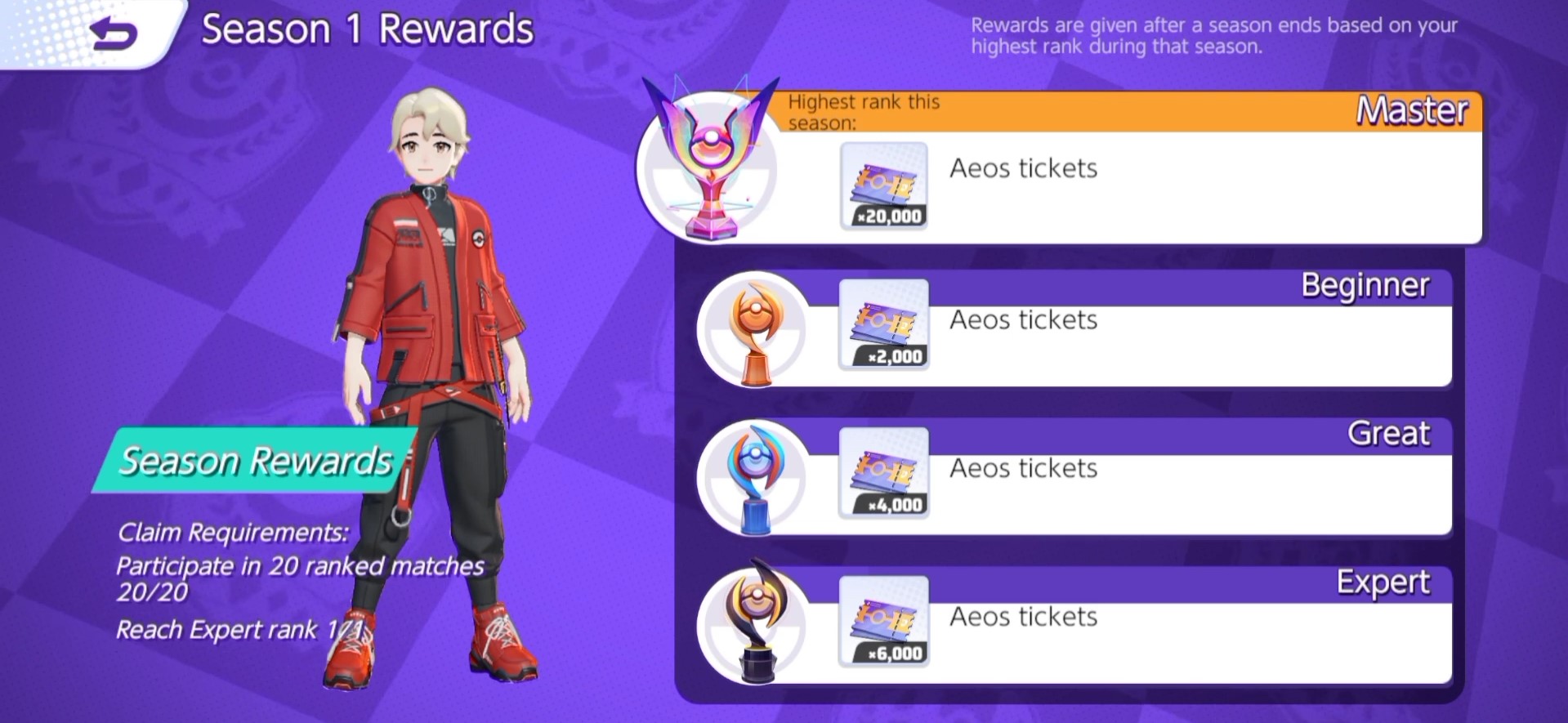 Note that it will not matter if you got demoted to a lower tier by the end of the Season. The highest tier you reach during the Season will affect the rarity of your obtainable rewards. As long as that Cup's Class has been reached once, players will get any of the following Aeos tickets:
Beginner Class – 2000 Aeos Tickets
Great Class – 4000 Aeos Tickets
Expert Class – 6000 Aeos Tickets
Veteran Class – 10000 Aeos Tickets
Ultra Class – 15000 Aeos Tickets
Master Class – 20000 Aeos Tickets
Easily advance from one Cup to the next by continuously honing your performance and skill level. You can attain the know-how on playing Pokémon UNITE Slowbro or how to build items for Pokémon UNITE Tsareena – two of the commonly used characters in the upper tiers. Of course, always show good sportsmanship when playing to enjoy the game to the fullest!