RollerCoaster Tycoon Touch is a fun simulation game published by Atari Inc. last 2017. In this game, you're the owner of a vacant lot and you need to transform it into a thriving yet vibrant theme park. It must be filled with fun games and tasty treats, and you create your very own roller coasters as well.
Though the dynamics of this amusement park simulator are very familiar, there are some instances that you still need some RollerCoaster Tycoon Touch Cheats, tips, and tricks. You need them to ensure you're on the right path in your adventure to create the best theme park as a tycoon. Use these RollerCoaster Tycoon Touch cheats, tips, and tricks to progress effectively in the game!
Some RollerCoaster Tycoon Touch Cheats & Tips to Follow
Here are some RollerCoaster Tycoon Touch cheats, tips, and tricks you need to consider when running your dream amusement park.
1. Understanding the Use of the Cards
When playing RollerCoaster Tycoon Touch, your first primary goal should be to meet the needs of the "Peeps." You should take advantage of the tutorial phase to understand the basics better and the essential bits of the game. During the tutorial, you'll be able to know the ride and shop placement and how to satisfy the Peeps and the cards. If you want to develop a successful theme park, you must know the importance of buying and upgrading cards.
When playing RollerCoaster Tycoon Touch, everything you put up in your theme park is from the cards. You can usually get these cards by unlocking free card packs, which are rewarded between hours or twice daily. Another way to get these cards is by accomplishing missions.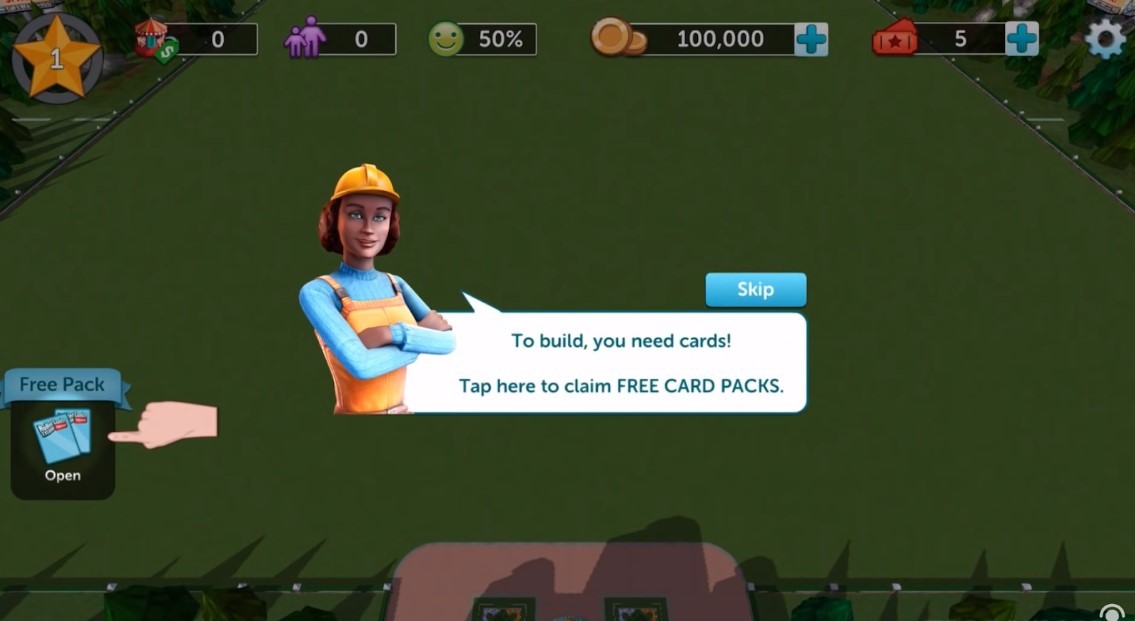 2. Concentrate First on Building the Activities
Another thing that you should keep in your mind in the first phase of the game is to focus first on putting up new buildings instead of upgrading the recent ones. Once you start fulfilling tutorial missions, you'll be able to get various card packs.
There is a huge possibility that you'll get duplicate cards, which can trigger your temptation to upgrade your buildings. Don't do this, or else you'll end up broke. Upgrading buildings or activities can cost you coins, and if you insist on upgrading immediately, your progression might halt. By focusing on building facilities or buildings, your theme park can get a chance to generate more profits. Though upgrading is necessary for the game, it is optional if you just started playing RollerCoaster Tycoon Touch.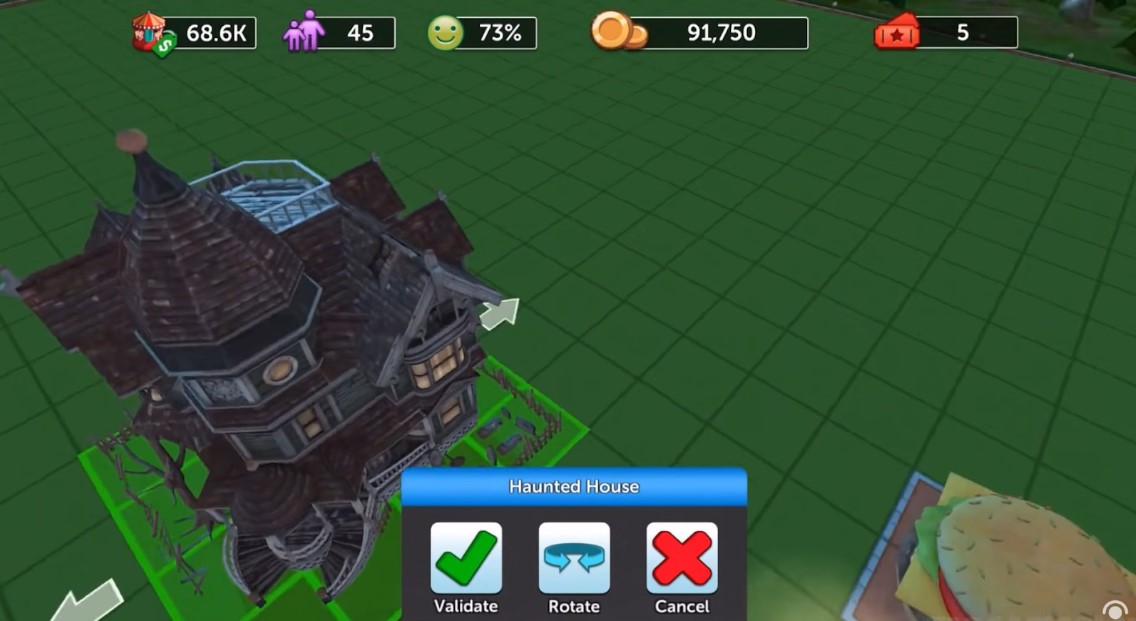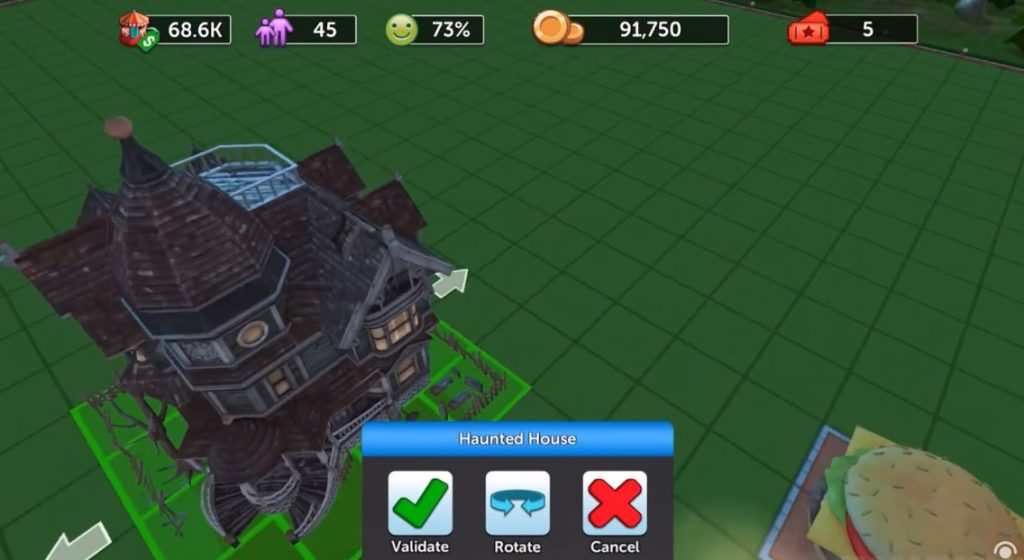 3. Satisfy the Peeps!
One of the critical RollerCoaster Tycoon Touch cheats, tips, and tricks that you need to focus on in this game is to strive to meet the needs and satisfaction of the peeps. As you play the game, you'll access the overall park customer satisfaction at the top of the screen. And you must opt for 100% satisfaction. By earning 100% satisfaction, you can reap more cash that you can use to progress. To reach the satisfaction level of your peeps, you need to work on the three categories that affect their moods; Food, Fun, and Hygiene.
To boost the Food aspect, you can start establishing more restaurants in your park. For Fun, it focuses on putting up budget-friendly rides, while Hygiene is the bathroom scope of the whole park.
Apart from working out the three categories, you can also consider paying attention to the thoughts of the Peeps and determine what to work out in the game. These thoughts are in bubble form, either in blue or red color. You click them and figure out what to change or develop in your theme park. When the bubble is blue, it means that the peeps are happy. On the other hand, red means that they are angry or upset about something.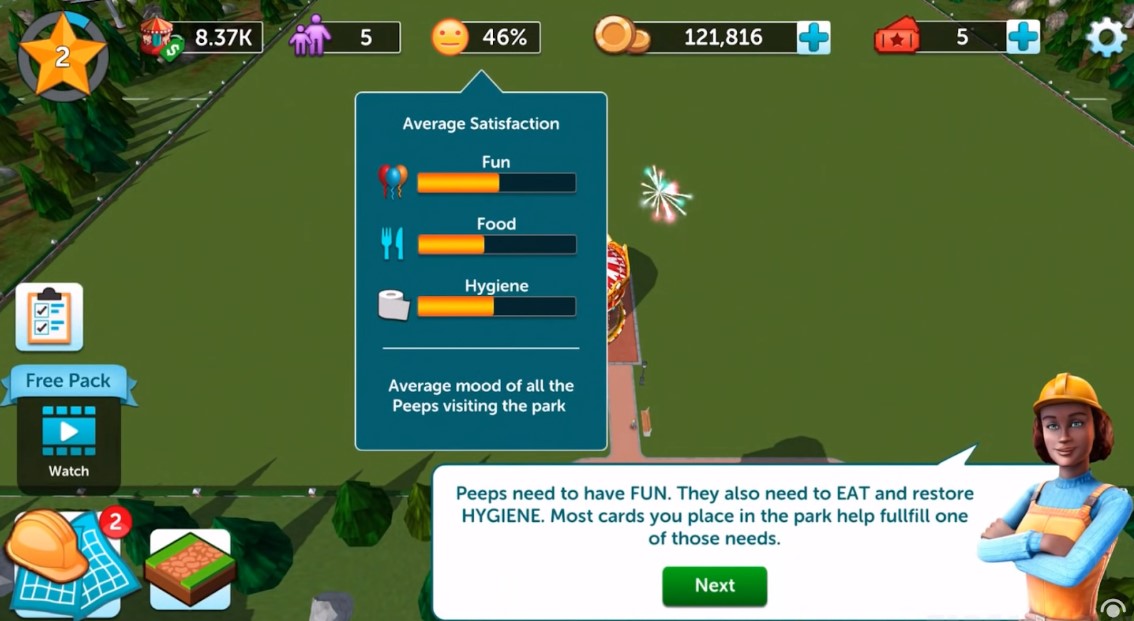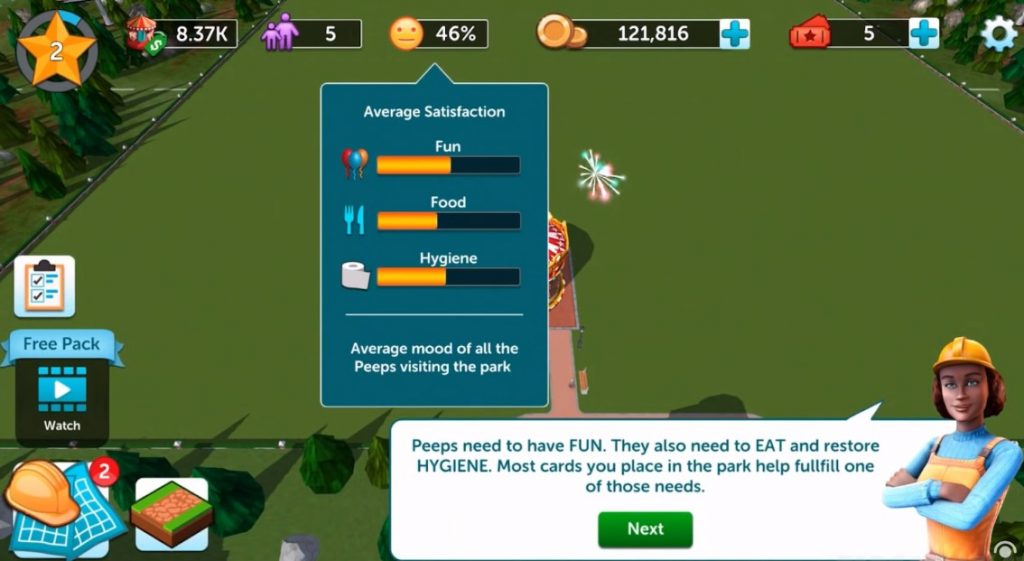 4. Fulfill All Your Missions
If you want to level up and earn more experience, then you must also focus on surpassing all your timed missions. Most of the time, there are three missions available in RollerCoaster Tycoon Touch, and each works with an individual timer. Usually, these missions take more than five hours to complete. Also, in RollerCoaster Tycoon Touch, the missions vary, and it will help if you complete them right away if you wish to level up and unlock newer activities.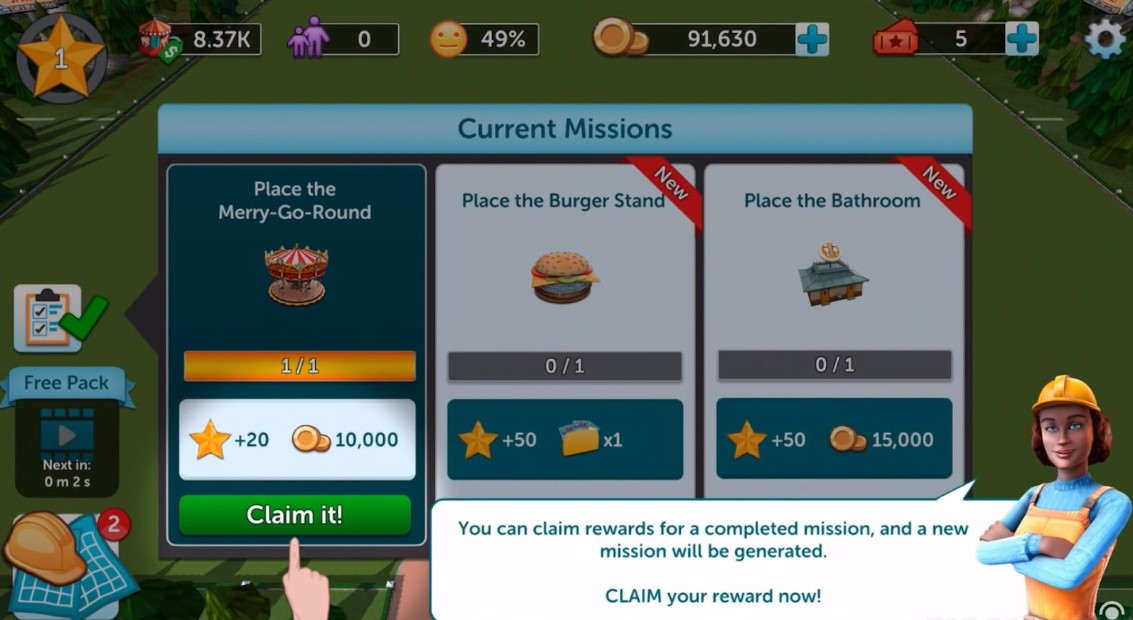 5. Increase Your Prices
Once your theme park is established and you've satisfied your peeps, you can increase your prices. To do this, click the activity, then the red tag with the cash symbol, and strive to earn "Good Value." Don't do overpricing as it may be tagged as "Expensive," and you might disappoint the peeps.
On the other hand, if you notice that one activity or ride makes peeps leave quickly, consider lowering the prices to generate more crowds for the said activity or ride. On the contrary, you can start increasing the costs, especially for overcrowded activities or rides.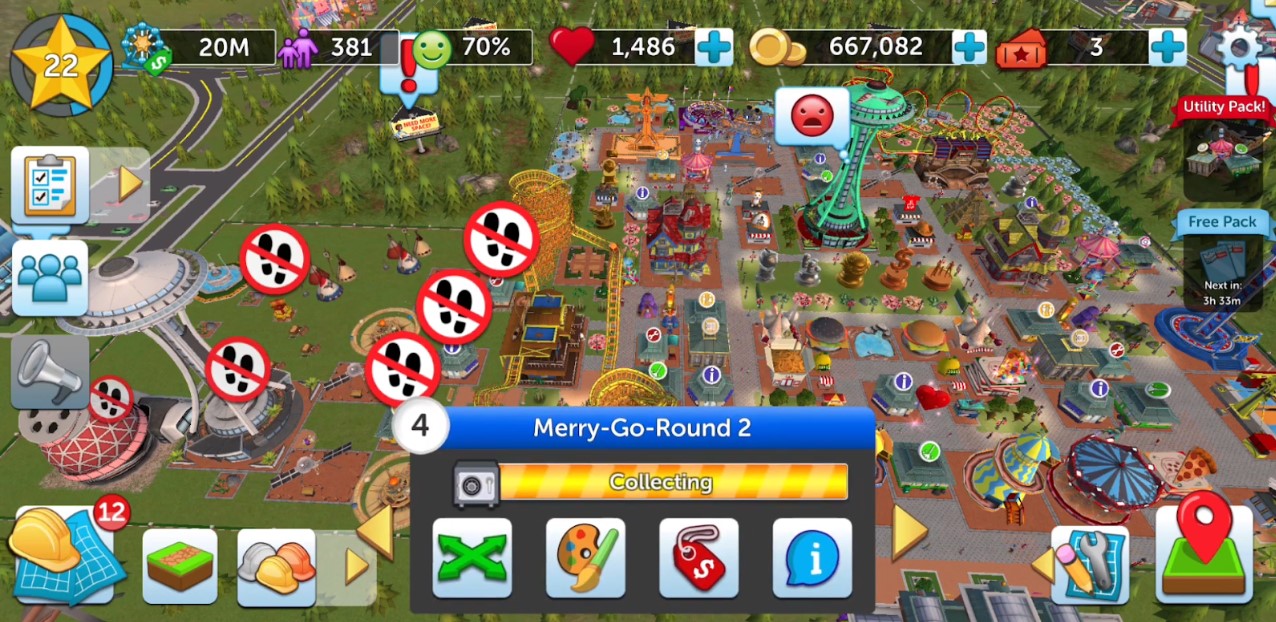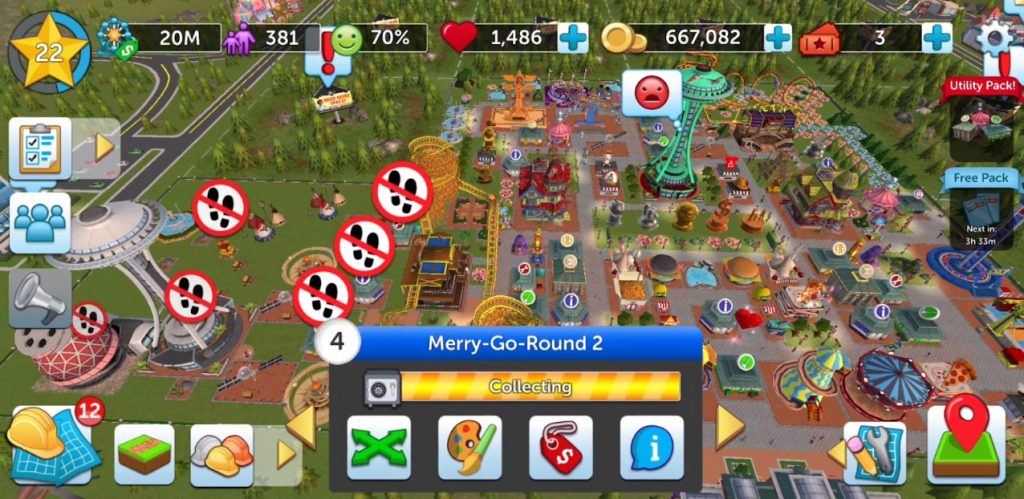 6. Put Decorations Near the Rides
Decorations play a significant role in RollerCoaster Tycoon Touch, especially for rides. By putting up these decorations near the rides, you can increase the generation of coins. It is best to put up most of your decorations in your rides, especially the higher rarity ones. Don't place them in restaurants as you'll not get any benefit from it.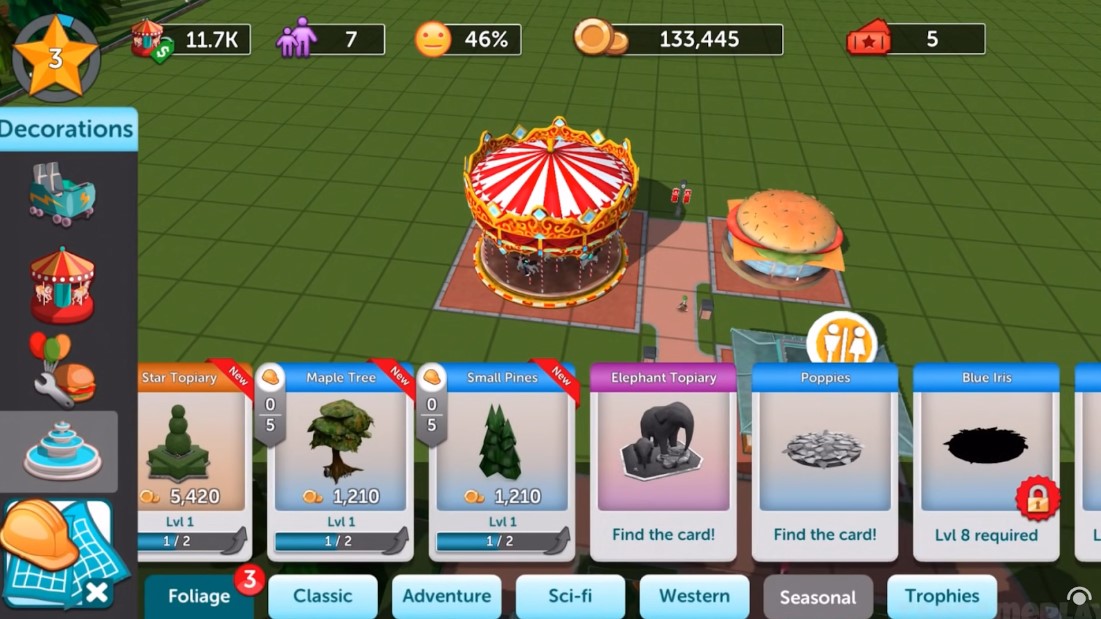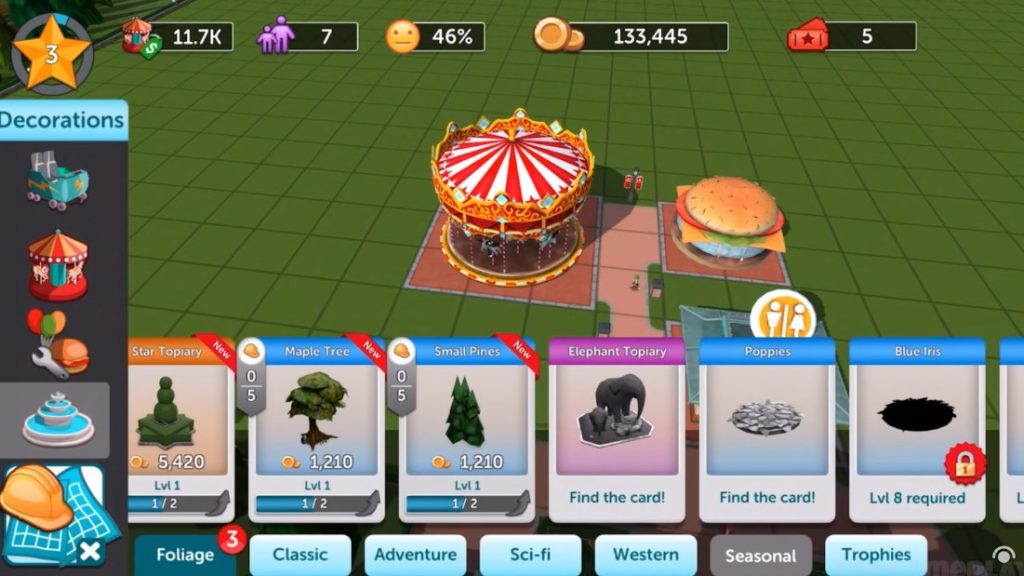 Additional RollerCoaster Tycoon Touch Tips
Aside from the RollerCoaster Tycoon Touch tips provided above, you can also use these additional pointers to help you make your theme park thrive.
Whenever you build a particular activity or ride, you can unlock a mini-game that will help you gain more coins.
Start establishing a compact park that is more accessible for your peeps. Avoid too many paths.
Vary the selection of your restaurants and ensure that you cover the entire park with a reasonable range.
Play the tickets when you unlock the Scenario Parks.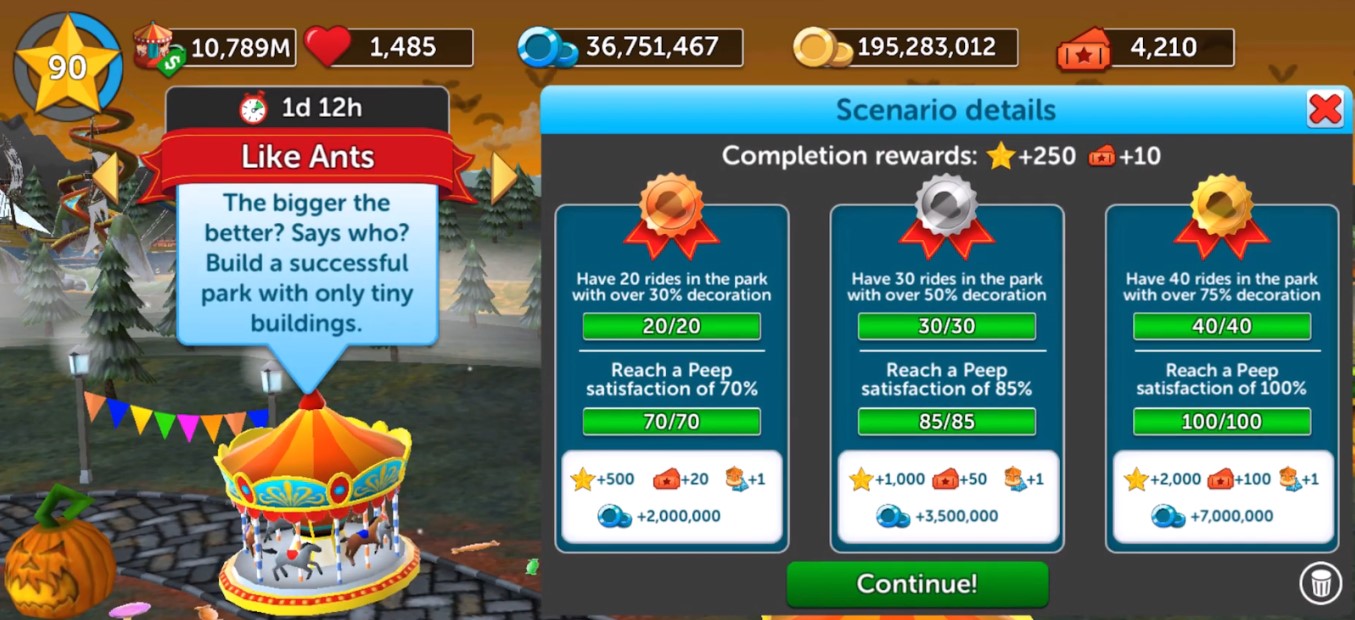 Don't Miss the RollerCoaster Tycoon Touch Cheats, Tips & Tricks
So, there you have it! We hope these RollerCoaster Tycoon Touch cheats, tips & tricks can help you make the most flourishing theme park you dream of. For more cheats, tips, and tricks, stay in the loop here in Games.lol.