Are you ready to build your own army of slugs as you defeat slingers to become king of the arena? Play Slugterra Slug it Out 2 and meet its inhabitants, Slugs! It's an incredible slug shooter fighting game, where you need to complete puzzles, collect and raise slugs, and engage in igniting wars across different caverns. There are tons of challenging missions and intensive missions that will truly test your skills. When you visit Slugterra, which is a hi-tech and luminous city underground, you will have the chance to explore every corner of the 99 caverns to see what awaits you.
In this slugterra review, you will learn almost everything about the game. You will know if it's worth the download, and if it provides endless fun and excitement. Just remember to befriend every slug that comes your way because they all have different skills, such as transforming into a powerful beast! Let's find out more about this fantastic adventure, puzzle, and fighting game here.
Best Gameplay Slugterra Slug it Out 2
Are you ready to defeat the forces of evil with the help of your slug friends? If so, play Slugterra Slug it Out 2. Go on an amazing adventure with Eli Shane, and the rest of the crew. The gameplay is simple but very unique. You will be going on a head-to-head battle against slingers and other slug masters. But you need to solve puzzles to charge them. Taking on challenges has never been this fun! After charging them, you can start shooting at your opponents to defeat them. But mind your health and don't let it get to zero, or else you lose the battle.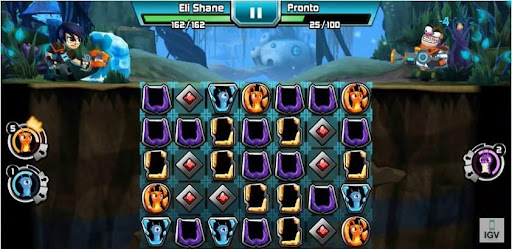 Matching the puzzles is the only way for you to beat your enemies. And you need to think fast too. So charge up your slug gun and match those tiles as fast as you can. Once it's all charged up, tap on it to start shooting at your opponents. Drain their HP first, before they can do yours!
Unlocking & Recruiting Slugs
Once you explore the underworld called Slugterra, you will have the chance to meet some wonderful slugs. Befriend, unlock, and recruit them into your team. They will be your allies during battle, so make sure to pick the strongest ones. Some of the slugs you'll get to recruit are Aquabeek, Dirt Urchin, Fandango, and so much more. Each of the slugs you'll get have powers and unique skills that they bring to the table. Their attacking attributes will give you an attacking edge against your enemies.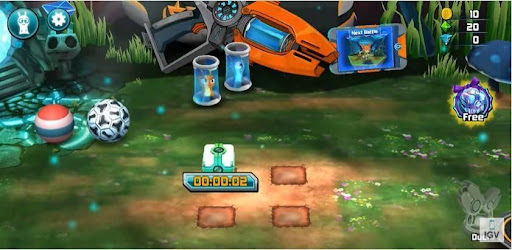 Level up your slug's attributes, such as their health, speed, critical hit chances, damage capabilities, and effect duration. Just make sure to earn enough experience points and resources during battle. Plus, you need to win battles and get special chests as rewards to unlock slugs. These chests don't only contain slugs, but unique prizes and in-game currencies as well. The chests may take time to open but you can use coins to speed up the process.
Amazing Visuals & Graphics
One of the best things about Slugterra Slug it Out 2 is that it has intense visuals and graphics, which elevates the gameplay. With the awesome graphical features, it becomes a real treat while playing on a bigger screen. Apart from that, the game takes you to scenic locations with beautiful backgrounds to really create the perfect mood. But the intensity and epicness of the battle stay the same. Plus, there are cool sound effects you will enjoy while you make your way to victory!
Get those Coins & Gems
Coins and gems are essential in the game as these are the in-game currencies. So if you find yourself running out of coins and gems, you can always visit the store to purchase them using real money. Don't worry because there will be awesome deals and discounts for you. Most of the time, you don't need to purchase coins and gems if you don't like spending real money. That's okay because you can still earn them through battles. So start leveling up your slugs to unleash their true potential on the battlefield as you engage in an unforgettable fight.
Final Thoughts
Overall, playing Slugterra Slug it Out 2 is an exceptional adventure game that's truly epic. It has good points that most players can enjoy. It has very unique gameplay, making it one of the best puzzle and fighting games out there. So if you want to enjoy an intense game that's filled with challenging missions and quests, download the game with your friends.
Become the ultimate slug master and get your slug friends to fight with you against other slingers! The content Slugterra age rating is 10+ with a bit of violence, but nothing too damaging for the kids. So it's safe for kids, teens, and adults to enjoy!