If you haven't heard of Stumble Guys, then you must heard its original gameplay inspiration called Fall Guys Ultimate Knockout which become a viral hit game in the mid year of 2020. It was initially released on August 4, 2020, for Microsoft Windows and Playstation 4, and soon you will see this game on Xbox One, Xbox Series, and Switch. The game itself blew up with the help of Youtube streamers and Social media, which resulted in over millions of players in the first 24 hours. It also gained over 23 million hours of watch time on Twitch, so it's no wonder that players all over the world are enjoying it.
But what about the Stumble Guys? This new and alternative game for Fall Guys is another multiplayer battle royale racing game with the same elements and gameplay as the latter. But of course, there are differences between the two that makes them unique. Besides, there are many other games that you think are also the mobile version of Fall Guys, such as Fall Dudes, but these are not within the same version. All of those games mentioned are mobile-friendly alternatives, which you can also play on your PC.
You can read more of it here if you want to know what makes Stumble Guys different from Fall Guys. Indeed, you won't mistake the two in the future because most players think Stumble Guys is the same thing as Fall Guys because of the graphics and the obstacles.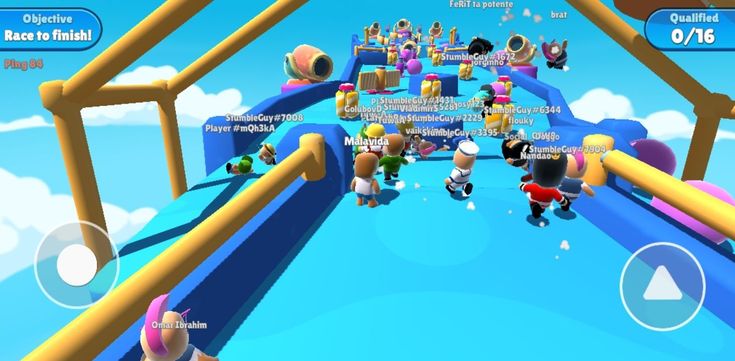 Stumble Guys vs. Fall Guys Differences
Out of the many games that resemble Fall Guys, Stumble Guys comes very close. Some players even think that it's the perfect clone or alternative for Fall Guys. It resembles Fall Guys closely because the graphics, visuals, characters, and maps look like the Fall Guys game. However, the most obvious difference is that you can only play Stumble Guys on Android and iOS. Another significant difference is that the player count of Fall Guys can support up to 60 players. On the other hand, Stumble Guys only have 32.
The characters in Stumble Guys are also different because they closely resemble humans, where Fall Guys have funnier characters. But they look the same if the Stumble Guys' avatar has costumes on. Finally, Stumble Guys were created by Kitka Games, while Mediatonic created fall Guys.
Visuals & Graphics of The Game
The best part about Stumble Guys is its visually appealing graphics. It looks crystal clear and fantastic, which people love even though it's only available as a mobile game. Overall, it seems like a high-quality game that you will enjoy. The graphics of a game positively impact a match for many reasons. For one, you will significantly appreciate the whole gameplay, such as the obstacles, which are perfectly designed. Aside from that, the game's color scheme is bright and cheerful, which makes it stand out among other games. That's what makes it fun and unique compared to other multiplayer, battle royale, and racing games.
When it comes to gaming avatars, they all look like cartoon characters. You can customize your feelings and make them wear fun costumes so they stand out among the players. All in all, Stumble Guys has eye-catching graphics that make it the best alternative for Fall Guys. The best part is it's for free, and you can download it on your PC.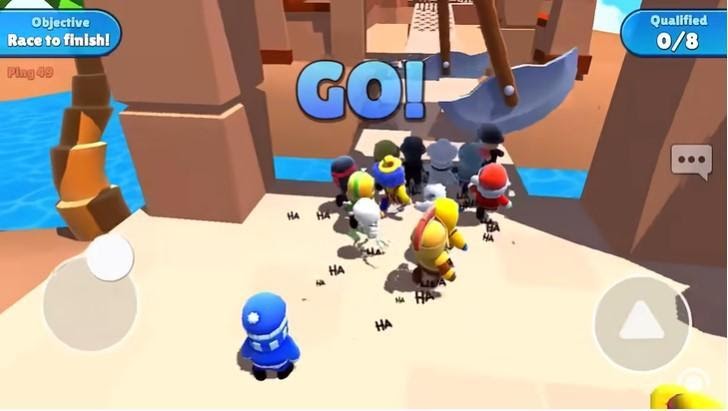 Stumble Guys Fun Gameplay
What makes Stumble Guys enjoyable is that it's not a very addicting game, and it has great gameplay that's enough to get you hooked. It's more of a stress buster game, perfect for times where you want to get a rest from your job. Plus, the game is not that long either. So you can play multiple rounds without wasting your whole day playing it. Finally, for those who love skins, you can get them each time you watch ads. Aside from new skins, you can also get gems from post-game ads.
You can use the gems to purchase the Stumble Pass, which allows you to use the Punch emote. It's more than just an emote, though, because you can use it to knock your opponents back. There are also different arenas and maps, but sometimes it can be repetitive. Hopefully, they add new maps and arenas soon, especially since the game is gaining traction as the days go by.
Final Thoughts
Fall Guys is not available for mobile gamers, and some players understandably can't afford to purchase the game. So the perfect alternative that everybody can enjoy is Stumble Guys. It currently has huge star ratings, which is good enough if you are looking for a great Fall Guys clone.
Plus, it has excellent potential to grow and add more maps or arenas to make the game even more enjoyable. Since it's relatively new, the game developers hopefully have more plans to make it even better. Overall, Stumble Guys are the total champ if you're searching for a competitive yet fun battle royale game.