Subway Surfers is a game that has been around since 2012 and is still one of the highest-rated casual free to play games of all time. While other games have come to pass during its time, age has not slowed down Subway Surfers one bit. Among its simple yet addictive gameplay are the Subway Surfers' primary personas..The main protagonist Jake, may be everyone's beloved free-spirited kid, but the other characters are just as fun as he is.
We will be taking a closer look at every character in the game and their flashy outfits. In a game like Subway Surfers, you might think the whole endless runner gimmick has died down, yet it remains the topmost played runner game, beating the likes of Temple Run 2 and Minion Rush: Despicable Me Official Game.
You can earn more characters by finishing side quests and collecting specific items located throughout every run. Each character has at least one alternate outfit which you can unlock using Keys.
How to Earn Free Coins
Coins are scattered throughout the game. It doesn't matter whether you are surfing in the default city in Zurich or Bangkok because coins are always found in random parts of the game. Don't worry about not collecting all of them at once because they are unlimited. You may collect them easier through the magnet power-up or by paying with real money (which we don't recommend).
Most characters are unlocked with coins, but some have specific collections for you to do to get the role that you want.
If you want to collect new outfits for any of the characters in the game, you will need to earn Keys.
How to Earn Keys
Keys are rarer than coins and will only show up once in a while per game session. They only pop up in very seldom instances and are a  waste if you miss collecting one in a single run. In order for the keys to spawn more, you will have to run for longer periods. The farther you get into the game, the more chances a key will show up.
Sometimes, Keys will pop up as early as less than 100 meters of travel distance. You can also buy the Keys instead of using real money (which we also don't recommend unless you are tired from grinding and want the easy way out).
Some are Unlocked Through Specific Collectible Items
Core characters such as Tricky, Fresh, Spike, and Yutani can only be unlocked by collecting specific items. For example, Tricky can be unlocked by collecting random Tricky hats located throughout the city.
Other Subway Surfer Characters and Outfits Have Specific Tasks
This thing is one of the easier ways to get new characters. For example, all you need to earn Dino is to connect your game with your Facebook account. For Jake's Dark Outfit, you only need to log-in with your Google account. As for Boombot, you will need to buy whatever item in the Subway Surfers in-game store. It does not matter whether it costs 0.99 or the most expensive Key and Coin bundle in the store.
Jake
Of course, we have our main kid on the block, Jake. He's everybody's favorite and the most popular character in the game since he's the poster boy of Subway Surfers. He is considered a juvenile but to us, he's just really rad. Besides painting sick graffiti art, Jake can also use a skateboard on a Tony Hawk level and has a heart of gold when it comes to his friends.
Dark Outfit
The Dark Outfit is nothing different except that it is his other gray palette of his default outfit. It's a very common costume and is considered the easiest outfit to unlock in the entire game since it is given to you as a free gift when you sign in using your Facebook account.
Star Outfit
This flashy bling type outfit shows off Jake's stardom. Not only do the colors look matching but the golden chain and watch – along with his golden headphones, cap, and shoelaces – proves that he is the king of Subway Surfers.
Tricky
Unlocked with 3 Tricky's Hat
Tricky is one of the main sidekicks in Subway Surfers. She hails from a rich family under the strict guidance of her parents. While she may be born with a silver spoon in her mouth, she prefers tagging along with her friends from the ghetto. Her best friends Jake, Fresh, Yutani, and King are always there for her.
Camo Outfit
Who says a girl can't be too rebellious. Go ten-hut with this camo outfit when you see her freerunning through the subway trails.
Heart Outfit
Show your love for Tricky with this casually hot funky outfit.
Fresh
Unlocked with 50 Fresh's Stereos
Fresh has to be one of the coolest endless running characters ever created. Not only is he a basketball player and breakdancer, he's quite fast on his feet too when it comes to parkour. He's also an old soul who loves everything about the 80s especially with its hip-hop culture. He never lets his friends down especially with his brother from another mother, Jake. Oh, and when it comes to good music, you should ask Fresh  for the best recommendations.
Funk Outfit
This Fresh Prince of Bel-Air-inspired is definitely a keeper. Just look at that hair-do though.
Sport Outfit
It shouldn't come as a surprise if he happens to be a huge basketball fan. His hidden talent is spinning the ball while skateboarding.
Spike
Unlocked with 200 Spike's Guitars
This teenage punk rocker is one of the first Subway Surfers World Tour characters to come out. He debuted in 2013 and sports a classic punk fashion of high boots, a black vest and an unforgettable Mohawk.
Rock Outfit
Rock out the roads and trail tracks with this Kiss-inspired outfit.
Punk Outfit
Nothing says British Invasion like the 80s-esque Punk outfit. It is also one of the most bought character outfits in the game according to the number of purchases online.
Yutani
Unlocked with 500 Yutani's UFOs
The techie girl Yutani has an obsession with Science and her outfit shows it. She may be quite bizarre for some people (especially the adults) but her friends know she's just being her nerdy self. When it comes to technology, Yutani is there to help. Although, she has yet to create a device where Jake and the rest of their friends can freely paint the suburbs with graffiti without getting caught by the police.
Gadget Outfit
Unlocked with 250 Yutani's UFOs
Currently, there is still no new outfit for Yutani but her alternative casual outfit rocks with a pair of high-tech claws. Too bad they can't be used to scale up buildings though.
Dino
Just log in with Facebook
Dino may be too immersed into his character as a dinosaur to the point where he doesn't think he's a guy in a mascot outfit but rather a real dinosaur. He debuted in Subway Surfers World Tour Bangkok and is one of the first unlockable characters.
Boombot
Purchase anything from the Subway Surfers store
Boombot: a golden robot with a boombox for a head. Some say he is the embodiment of Fresh's passion for hip-hop but hey, that's just a theory… a Subway Surfers theory.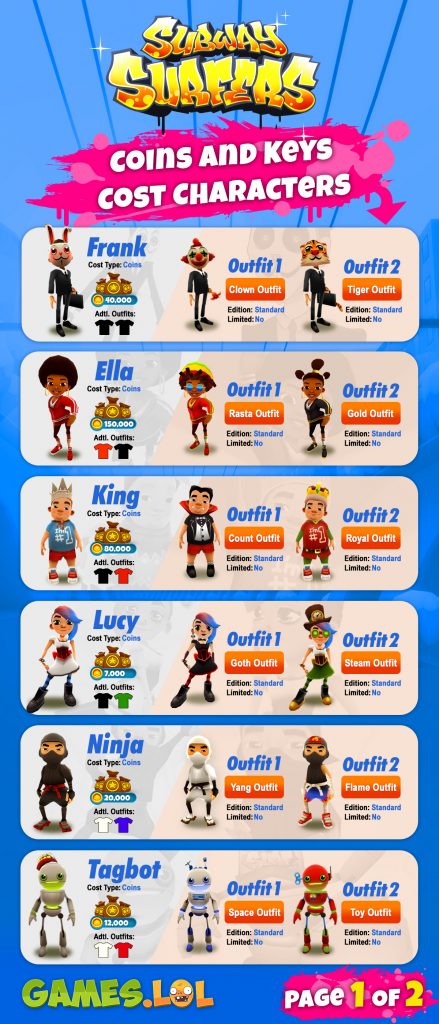 Frank
Unlocked with 30,000 coins
A mysterious guy with a much more mysterious collection of outfits. Nobody knows who or what Frank is. Maybe he's a mysterious murderer from Miami. Or, could he be a furry perhaps? But, maybe he's just living in a society.
Clown Outfit
Tiger Outfit
Ella
Unlocked with 150,000 coins
She's a rasta type gyal that loves to funk up everybody's life. She was released in 2012, formerly named Frizzy (as a reference to her afro hair), but nobody knows precisely why the developers changed her name.
Rasta Outfit
Gold Outfit
King
Unlocked with 80,000 coins
King is one of Jake's circle of buddies that does what he does best: eating. When it comes to whichever eating contest, King is truly the king of the feast. Surprisingly, he can run fast too, so fast that he can outrun the subway stations' security.
Count Outfit
Royal Outfit
Lucy
Unlocked with 7,000 coins
Lucy is a goth chick and is one of the easiest characters to grind since she only needs 7k coins to be unlocked. She may be on the emo side of things, but she can be girly at times.
Goth Outfit
Steam Outfit
Ninja
Unlocked with 120,000 coins
Nobody in the city knows who he is or where he comes from other than being a professional in ninjitsu and tagging walls (for some reason)
Yang Outfit
Flame Outfit
Tagbot
Unlocked with 12,000 coins
Many players assume Tagbot is a creation of Yutani, while others consider it a stranger from outer space. Tagbot's goal is just one thing: tag cool graffiti art in subway stations (apparently).
Space Outfit
Toy Outfit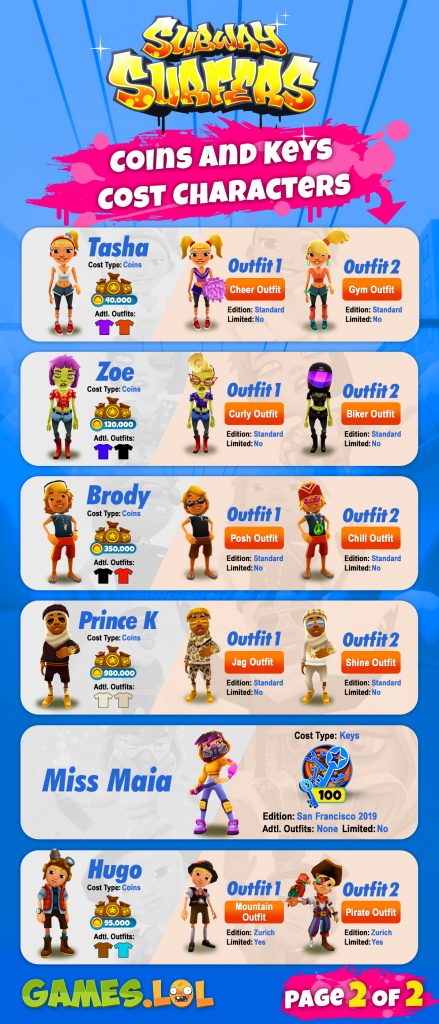 Tasha
Unlocked with 30,000 coins
Tasha is a blonde cheerleader that you can unlock using 30,000 coins. She got her Cheer outfit in the Mumbai update and a Gym outfit after the Miami update.
Cheer Outfit
Gym Outfit
Zoe
Unlocked with 120,000 coins
Nobody knows the origin of Zoe other than the fact that she is a gentle zombie. She may be undead, but she prefers running across subway stations from the security rather than eating brains.
Curly Outfit
Biker Outfit
Brody
Unlocked with 350,000 Coins
Brody is a lifeguard that loves to surf during his free time. Of course, by surfing, we mean subway surfing.
Posh Outfit
Chill Outfit
Prince K
Unlocked with 980,000 Coins
Prince K lives a high life, which is why he is the most expensive character in the game. He hails from North Africa and seems to love the juvie life of Jake and his buddies.
Jag Outfit
Shine Outfit
Unlocked with 280 Keys
Miss Maia
Miss Maia is the very first character that can only get unlocked with Keys (specifically 100 of them). She's quite a daredevil that lives life dangerously. She used to have a redeem code wherein you can type MissMaiaGP to claim her instantly, so good luck grinding for 100 keys just for her.
Hugo
Unlocked with 95,000 Coins
Much like Yutani, Hugo has a knack for inventing things and delving into the world of Science. He is also one of the newest characters in the game with his Zurich-based Mountain outfit and a suitable Pirate outfit.
How to Play Subway Surfers on PC
Click on the Download Now button or the Install button from our fan site or through our playstore launcher. Just wait for the game to finish its installation, and you'll get to play the game in no time. All you need to use while playing the game is a keyboard. Just remember to sign-in with your Google or Facebook account to transfer your progress.
Download the game here.