When it comes to solid game structure, the famous developer of Honkai Impact and Genshin Impact, miHoyo, will not let you down. Now, they will take you to a unique turn in a new game called Tears of Themis. It is a romance-detective simulation game that enables players to work in the field of law, defend the truth, and build romantic relationships. The game falls under the puzzle and dating sim genre, where players take on the role of a promising lawyer.
Play as a Young Lawyer
As mentioned above, you will take the role of a rising young attorney in the town of Stellis. Here, you will take loads of cases as the peaceful city of Stellis becomes vicious and tense. Along with your undertakings in handling cases, you will also need to address challenges while dating any of the four leading men: Artem Wing, Luke Pearce, Marius Von Hagen, and Vyn Richter. The game's core is to steer the main character in creating a relationship with one of the four men. Like in real life, you need to work on it and build bonds through time and effort.
As you begin the game, you need to understand that it works with an energy system that recharges slowly. To progress, you must ensure that your energy is enough to solve cases and perform other activities. Here, you need to follow the immersive story through reading text and voice dialogues presented at each level.


The Tears of Themis gameplay revolves around switching between people who talk about important matters relevant to the case you're handling. Also, you need to investigate crime scenes and collect relevant evidence that you can use in court. Once you are ready and everything is set, you must present the case to the judge and hope for a favorable decision.
Tears of Themis is not entirely about defending a client and winning a case. Being the main character, you should also work on the romantic side since you'll have four love interests, with each man trying to win your heart and attention. As of now, there are five episodes, and each of them has approximately 10 to 15 levels to complete. However, the fun and romantic journey do not stop there as you can maximize character interactions and finish side quests every day.
Graphics, Combat & Gacha
Aside from being the best lawyer in town, it would help if you oriented yourself in taking various stuff in-game which are relevant to your journey. Through limited-time events, you can collect items that can help you create a charming picture puzzle. Also, there are pixelated quests that enable you to travel in Ancient Greece and get compensated with rewards.
The game also runs with a gacha system where you need to pull cards from a random pool. Each card shows a nuanced portrait of any of the love interests. Static images are known to be SR cards, while SSR cards are seen to be animated with voice stories. Once you get a card, you can aim to unlock more chapters because its stories are very luscious, making you hooked on them.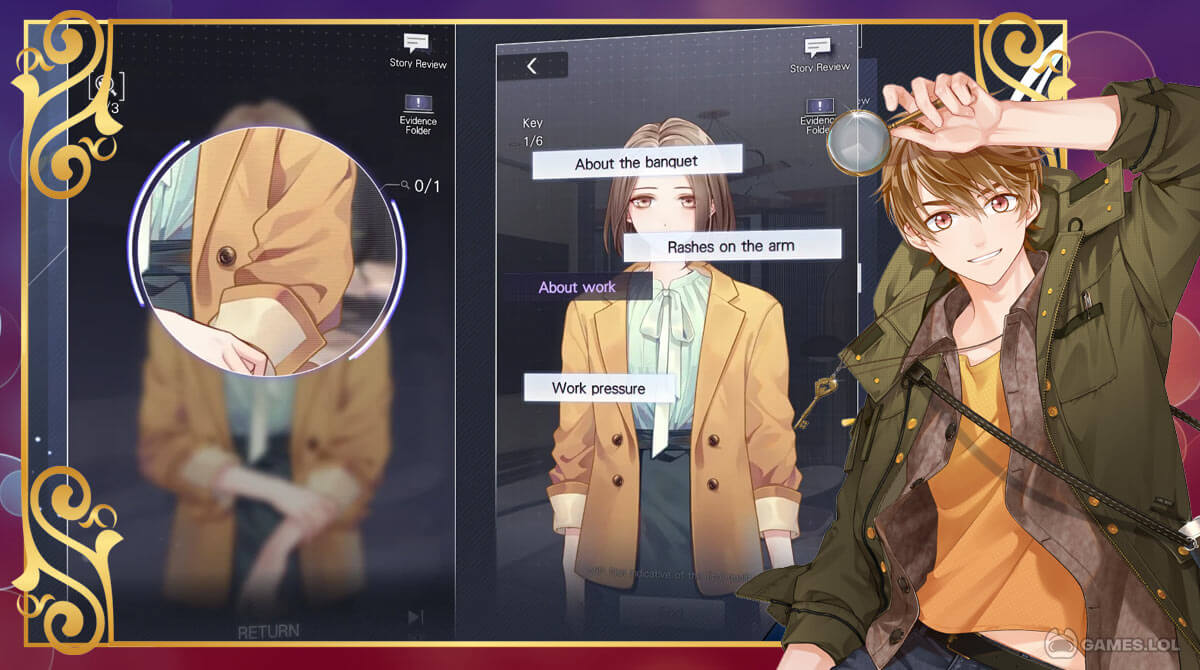 Keep in mind that once you level up your cards, you are also evolving them. Meaning, you can unlock variations of the image in a particular card. Once you've got the final evolution, you will see a picture of you with a guy, making romantic poses.
If you are not up to romantic things, you still need to level up your cards to strengthen your power in your battles. Combat in Tears of Themis takes place whenever you have debates. Here, it would be best if you aimed for the combined power of the boys in your set to defeat someone in a debate.
Is Tears of Themis Worth Playing?
Overall, Tears of Themis gameplay focuses on four perspectives and four men. The four key aspects of the game are debates, investigation and analysis, raising cards, and winning court trials. Along with your journey, you will undertake saucy love affairs with one of the four love interests, making you anticipate and hooked on the game, especially if you are a romantic person.
Apart from Tears of Themis being developed by the popular makers of Genshin Impact, the game depicts an excellent structure for its impressive cast and story flow. Also, you will surely appreciate the entire game for its fantastic tone, ambiance, and visuals that can engage players for a longer time.
If you want to try playing Tears of Themis on PC, then you can download it here for free. Experience the thrill, excitement, and glamorous life of a young and rising lawyer! Make your own choices and make the most out of the game's storyline as you progress along.