Fast Food joints are restaurants where you can get your food as soon as possible. Almost all ingredients are pre-made, and the staff only need to assemble the food before serving them to you. These places can be stressful, and tensions are high, but it's a fulfilling job to serve delicious food to customers.
So if you ever dream of working in a fast-food, then you will enjoy Burger Shop 2! It's a sequel to Burger Shop, where you achieved fame and fortune while opening fast-food chains. Sadly, you found your fast food places all boarded up, and you with a bump on your head.
In Burger Shop 2, your job is to rebuild your empire and add twists to your menu to entice customers. While doing so, you will uncover the truth about what happened to your original hamburger chain. Like the first sequel, you will have to put your time management skills to the test. Serve food to your hungry customers and make sure not to mess their orders up. BurgerTron 2000 is here to help you by spitting out all kinds of ingredients. Upgrade your kitchen to better provide your customers with dishes such as hamburgers, waffles, pizza, and more!
Getting To Know BurgerTron 2000
BurgerTron 2000 is going to be your ally in Burger Shop 2. He was with you in the first installment, so it's only fitting that he will be there for you again. This machine shoves out different ingredients that you will need to assemble before serving them to your customers. But be careful; you have to make sure that you plate them correctly before serving them to your customers. It also includes a recycling area for when you need to recycle food and not throw them away.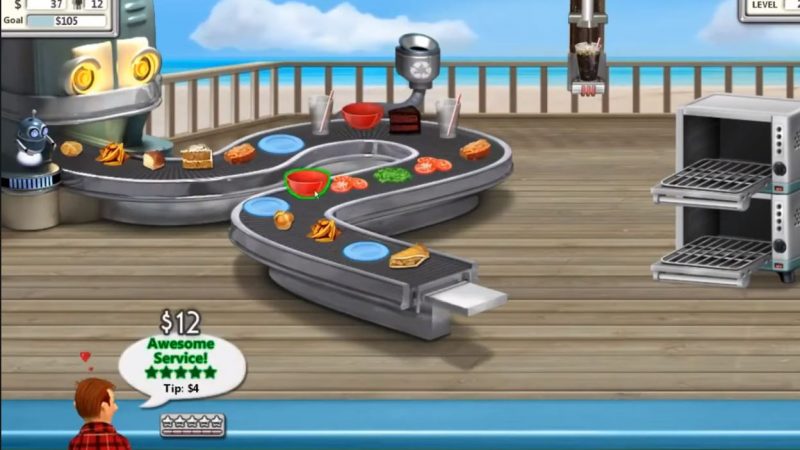 BurgerTron 2000 has a conveyor belt attached to it too, and this is where the food items come from. While the customers give their orders, you have to get food items from the conveyor belt, assemble what they want, and serve it.
The faster you serve them their food, the bigger the tip you will receive. To serve food, tap on a plate, assemble the food, and give it to your customer. It's that simple! But there are certain food items that you can't just tap on. Fries need to be fried, toast toasted, and drinks need to be filled. The challenge increases as you progress, so expect more intense gameplay.
Think Fast Then Serve Food Faster
In Burger Shop 2, you have no time to think except to assemble food and serve your customers. With all the money you earned, you need to upgrade your kitchen to serve more food items. Eventually, you will be opening more fast-food chains. It will become more demanding for you, which is why Burger Shop 2 is an incredibly fast-paced game. And if you mess up an order, you need to recycle it again. You can't just backtrack because you need to start all over again. It can be tiring for those who don't know how to manage their time.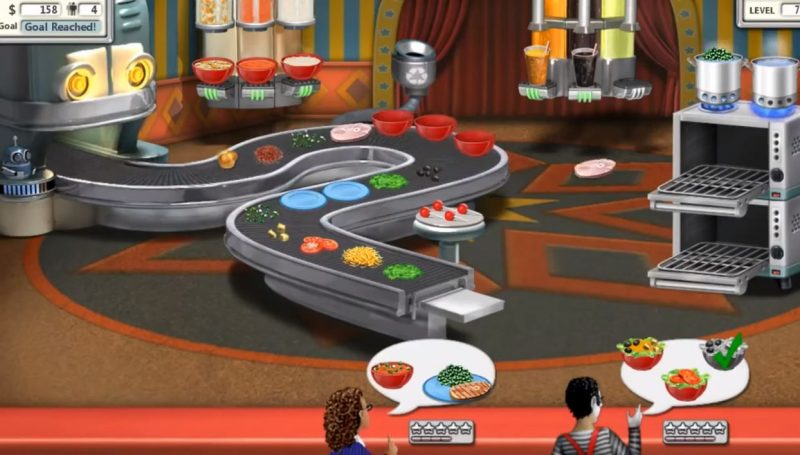 You need to become a pro at time management because your customers can quickly grow impatient. Their speech bubbles turn red with anger, they won't leave you a tip, or worse – they will walk out. You don't want that to happen, as it can affect your scores. The best way to keep them happy and content are to give them their food in stages. For example, you can serve them their drinks first if the food items aren't ready yet. It can buy you more time while you're waiting for the ingredients from BurgerTron 2000.
Burger Shop 2 isn't always unforgiving. They also provide boosters to help you get out of tricky situations. There is the BurgerBot, which can prepare and serve food quickly. The Freeze Patience is a power-up you can use to put your customers in a trance-like state.
Become an Expert People-Pleaser
There are so many challenges in Burger Shop 2. It's not just the many food items you need to prepare and serve. The customers can be a bit of a headache, especially if you don't know how to appease them. As you progress through the game and open new fast food places, you will get to know more customers. Some of them can be impatient from the get-go. Some want to see the menu first, while others need to be given lollipops to keep them satisfied. It's like the real world!
The gameplay is fun, and the storyline very immersive. The only downside is the graphics, which looks pretty outdated. But overall, it's a fun time management game that will keep you on your toes! If you're good at time management, then this game will give you more excitement than the first Burger Shop game!