Who would have thought rockets and bombs could be in the same concept as being cute and cuddly. But that is exactly what Toon Blast is all about!
Toon Blast is brought to you by Peak, the same game developer that made Toy Blast. It is a casual puzzle arcade game that is both fun and challenging at the same time.
Toon Blast Explosive Gameplay
Toon Blast gameplay is a simple and fun. At the start of each level, you are presented with a cluster of boxes bearing different colors. Along with it are other objects and obstacles, such as balloons, crates, and more. Your goal is to destroy these obstacles. But, how do you do this? Just tap on the boxes with the same color that is adjacent to each other. This will also blast off the obstacles near it. Simple, right? But you will be amazed how this becomes challenging really fast.
Help your cute furry friends Cooper Cat, Wally Wolf, and Bruno Bear as you blast through the levels. It will not be that easy. But we are here to guide you through.
Toon Blast Cheats – Tips & Tricks
Toon Blast may seem simple at first. However, if you have played the game, you know too well how challenging it is once you start to go through the levels. For this reason, we are giving you our Toon Blast cheats and hints to make things easier.
Well, if you think cheating is bad, especially for such a cuddly game like this, then let's think of this as hints instead of Toon Blast cheats.
Know your Boosters & Combos
Toon Blast features Boosters which are useful for clearing a lot of blocks and objectives. These are the Rockets, Bombs, and Disco Balls.
Boosters & How to Get Them
Rocket: This booster can be obtained once you clear a cluster of five blocks with the same color. As you tap that cluster, one of the blocks will change to a Rocket. This can either be oriented horizontally or vertically depending on how they were formed. Horizontal rockets will clear a row, while vertical rockets will clear a column.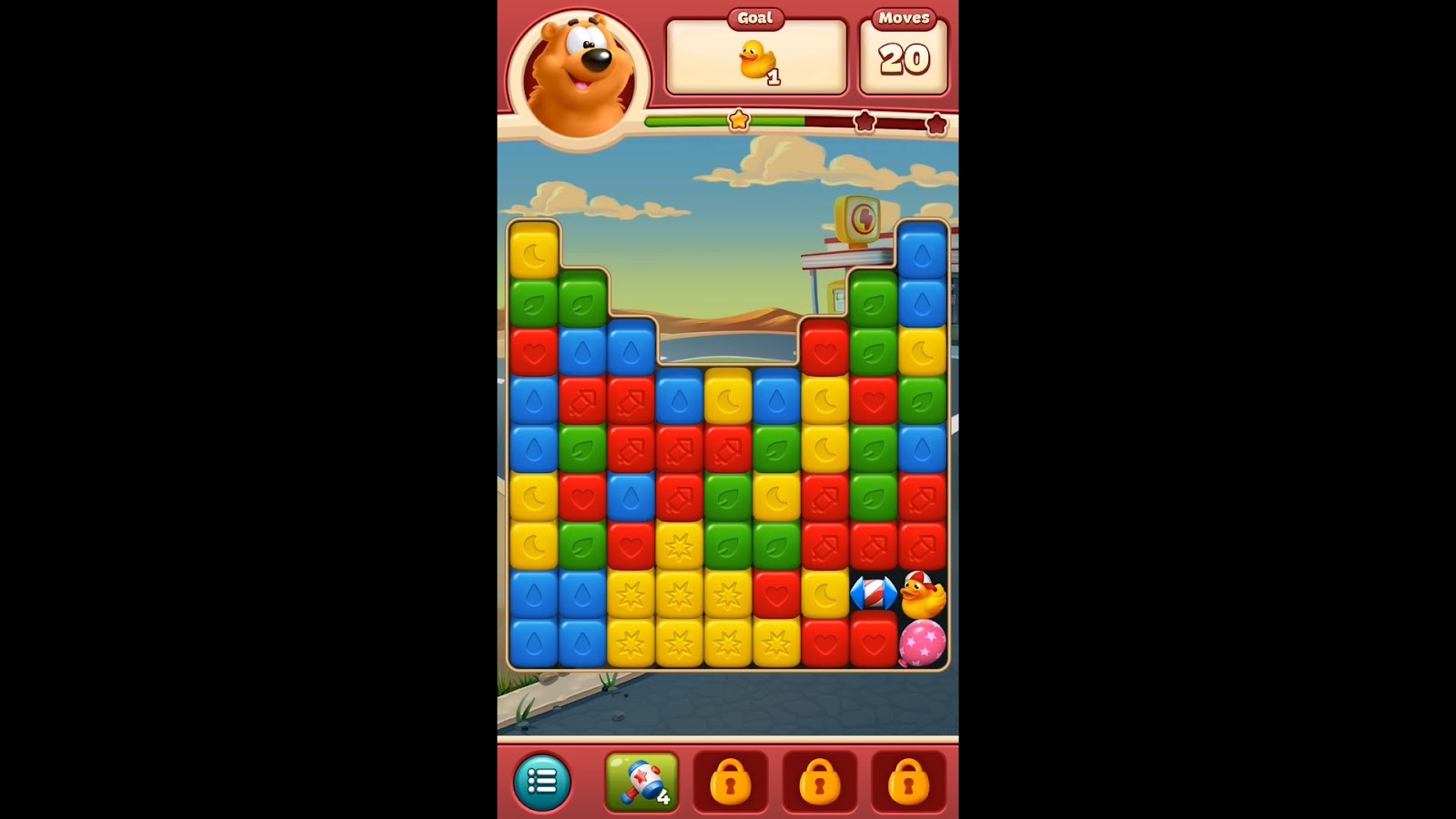 Bomb: Bombs are made whenever you tap a 7-block cluster with the same color. Bombs are more powerful as they can clear the surrounding blocks once tapped. Specifically, an 8 block radius around it.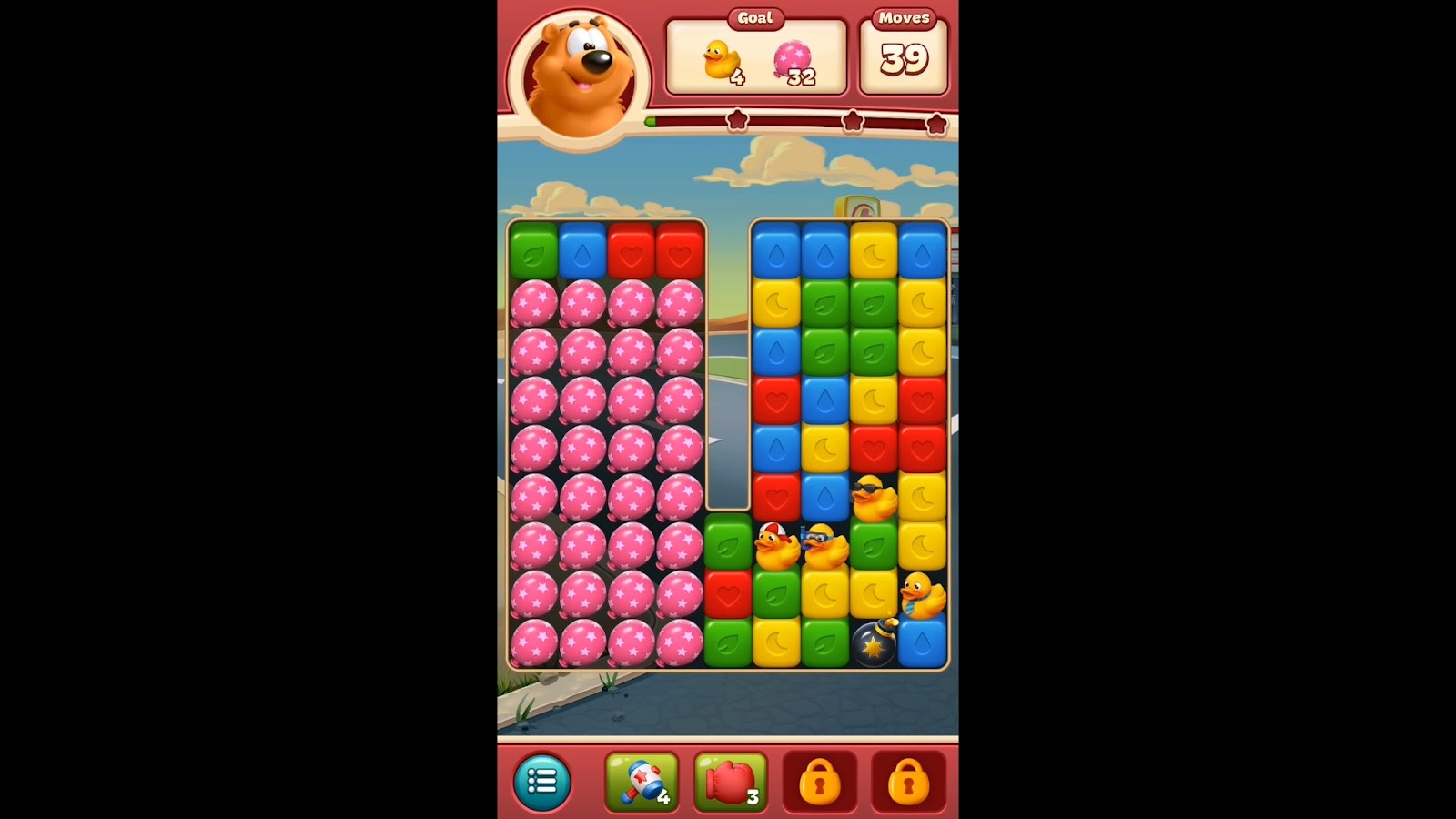 Disco Ball: The Disco Ball is a bit harder to get since you will need to blast a 9-block cluster to create one. However, it is worth it since it is the most powerful of all the boosters. It can clear all the blocks of the same color from across the board.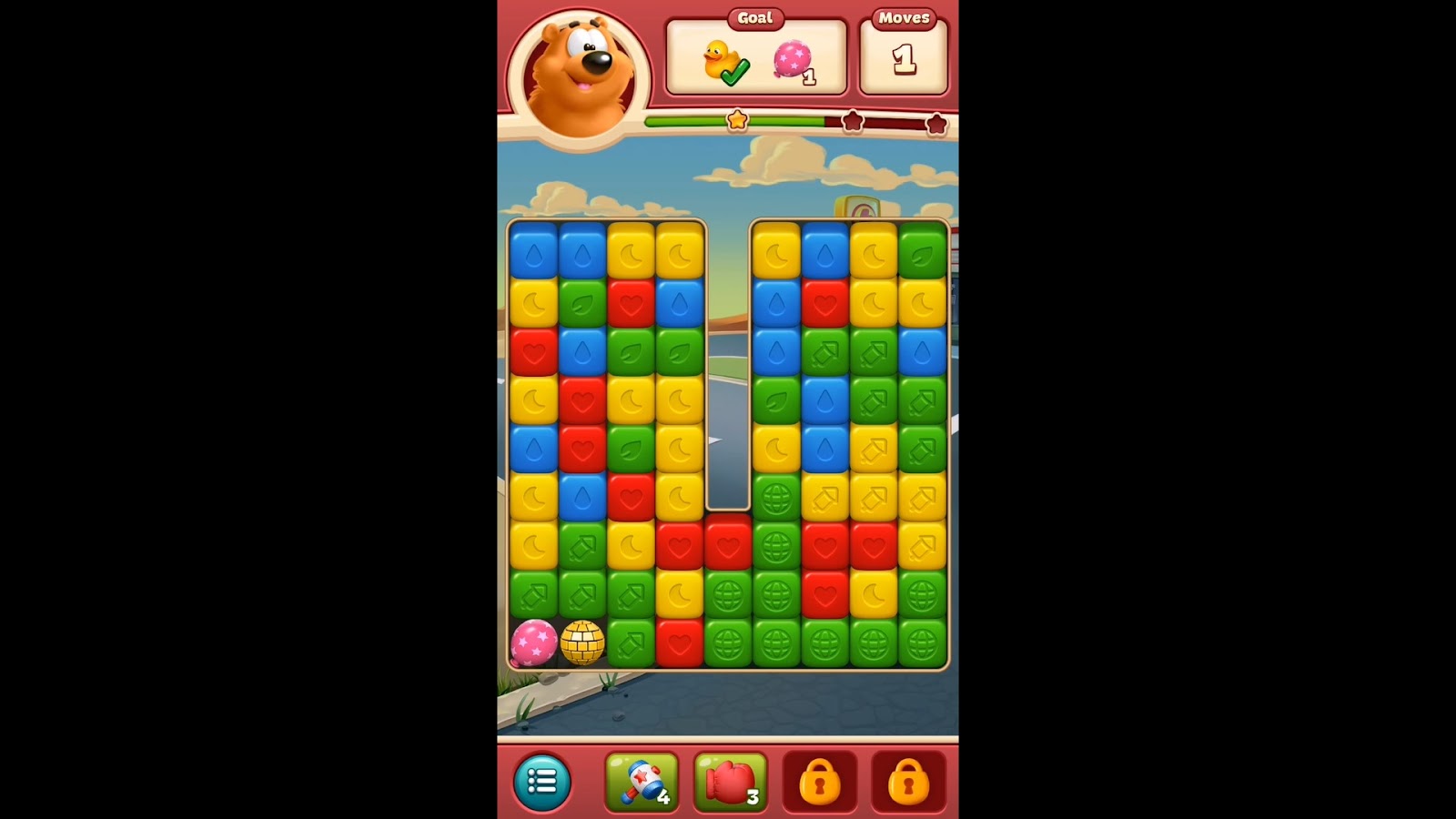 Booster Combos
Do you know that you can make your rockets and bombs even more powerful? How? By blasting them all together. You can do this by simply tapping on boosters that are adjacent to each other. Here are the combos that you can use to clear more blocks in a single tap.
Rocket & Rocket – A two Rocket combo clears a column and a row at the same time. This creates a cross-like pattern that clears all the blocks and objects along its path.
Rocket & Bomb – The Rocket and Bomb combo is almost the same as the Rocket and Rocket combo, but on steroids. It clears three (3) rows and three (3) columns in just one blast.
Bomb & Bomb – Bomb and Bomb is another powerful combo that clears a lot of blocks. Just like a regular Bomb, it clears the area around it. However, instead of clearing just an 8-block radius, it annihilates twice the area as a regular bomb does.
Rocket & Disco Ball – This combo is probably one of the most powerful combos in the game. Tapping this combo will transform all the blocks with the same color as the Disco Ball into a Rocket. Then, these Rockets will blast off in any direction that it is oriented to. This clears most of the rows and columns in one go.
Bomb & Disco Ball – The Disco Ball and Bomb combo are even more powerful. This combo transforms the blocks with the same color as the Disco Ball into a Bomb. This creates a cluster of explosions that clears a lot of blocks and obstacles.
Disco Ball & Disco Ball – The most powerful combo in Toon Blast is the Disco Ball 2x. This combo clears all the tiles in just one blast. As such, it will help you clear the level in an instant. You can think of it as a nuclear explosion, but in a cute way.
Plan Ahead Before You Blast Away
It is often tempting to randomly tap on any block that is adjacent to each other, given that Toon Blast has simple gameplay. However, as you go through the levels, you will quickly discover that this is not the way to go. Players should think two or even three steps ahead when playing this game, just as any strategy game should be played. No matter how irresistible it is.
Furthermore, Boosters are formed whenever a cluster of boxes is blasted together. As such, it is better to try to get the blocks to cluster up before you blast them. You may need to blast a few tiles here and there just to get the blocks to cluster up.
It also does not mean that you should blast the Booster right away as soon as you acquire them. Try to bring a couple of Boosters together for a bigger combo blast.
Lastly, it is also recommended to try bringing the explosion nearer to the objects and obstacles. This is because your usual goal is to clear the level by blasting them on the board.
Reserve Your Big Guns
One other feature of Toon Blast is that it allows you to bring in pre-level Boosters. This means that you will start a level with a few Boosters in your cluster of blocks. These can come in handy whenever you are stuck at a difficult level.
As mentioned in the Toon Blast cheats above, avoid using these pre-level boosters right away. Doing so will quickly drain the Booster reserves that you may greatly need on higher levels. Instead, try to clear the levels first without the help of the pre-level Boosters. If you find yourself stuck on a certain level, then that is the right time to use them.
Join a Team – Help & Be Helped
Joining a team in Toon Blast is not a requirement, but can be advantageous if you do so. This is because joining a team gives you access to different rewards such as boosters, gold, and lives.
While all these rewards are essential, perhaps the most important commodity within the game is Life. Lives drain pretty fast as you play the game. The free life that you get every 30 minutes might not be enough. You may find yourself purchasing lives using gold. But, isn't it better to get it for free?
To get free lives, you can request them from your teammates after joining a team. As soon as you are in a team, you can ask for five (5) free lives from whoever is active in the game.
Another tip is to join an active team with a lot of members. Having active members in a team increases your chance to get free lives when you need them.
As a good teammate, be sure to return the favor when your teammates ask to send lives as well. It's always good to help to be helped.
Chests & Rewards
Lastly, try to exploit every opportunity to get boosters and other rewards. Boosters are very useful tools especially when you reach higher levels. You might find yourself using them more often as the objectives become more difficult. Then, you will realize that you are quickly burning through your stash of Boosters.
So, remember to stock up on Boosters every time you can. You can do this by grabbing Daily Bonuses and opening chests.
Also, you will need stars to open chests. These can be accumulated every game. More often than not, you will receive 3 stars whenever you finish a level. That is, as long as you were able to finish the level with the minimum number of moves. However, the more moves you use, the lesser the number of stars you can earn. Once you have accumulated enough, you can then open chests to obtain gold, boosters, and lives.
Let's Game On!
It is easy to quickly discount Toon Blast due to its cartoonish gameplay. But once you start playing the game, you will be surprised at how addictive it can be. This might be because of its cute and cuddly feel, or perhaps due to the challenge that it presents. Either way, you will find yourself hooked.
So, if you are looking for a casual game that is both fun and challenging, then this puzzle adventure game is for you. Go on and blast your way through Toon Blast using these tips and tricks today!