Valor Legends is one of the few games in the idle RPG genre that has recently been gaining ground. With over 1 million downloads and counting, its fan base is surely growing every season. So if you're one of the millions of players who have grown to love the game and would like to become more competitive in it, then you will surely want to refer to our Valor Legends tier list. This will definitely give you an edge as it will save you the hassle of making wrong decisions early in the game.
By referring to our tier list, you will know who the best heroes are for each class. It ensures that you get to upgrade only heroes that you know you will be using for a long time and avoid wasting resources on heroes that are not worth it. It'll also help you realize what makes this action game better than others.
Rundown of Valor Legends Tier List
First, we will show you the best heroes overall. Then, we will also show you individual tier lists per class. That way, you will know which heroes you can use in the meantime while waiting for higher tier heroes, and which heroes you can invest heavily on. Generally, you will want to aim for the best heroes included in the S-tier rank. However, A-tier heroes are also viable options even for the long run, which is especially true if you have a good balance of heroes within your team.
On the other hand, B-tier heroes are considered average. They are not the strongest, but they are not the weakest either. Therefore, you can opt to use these heroes temporarily while you wait for higher-tier heroes. Moreover, C-tier heroes on the other hand are the weakest in the game. So you might want to avoid spending upgrade resources on them and try to replace them as soon as you can.
Best Heroes Per Class
Before we delve deeper into the tier list per class, it's important for you to know who the best heroes are in each character class. These heroes are considered the strongest in each class. So if you are lucky enough to get your hands on any of them, feel free to invest your upgrades on them. You will be best served using them more often compared to lower-tier heroes.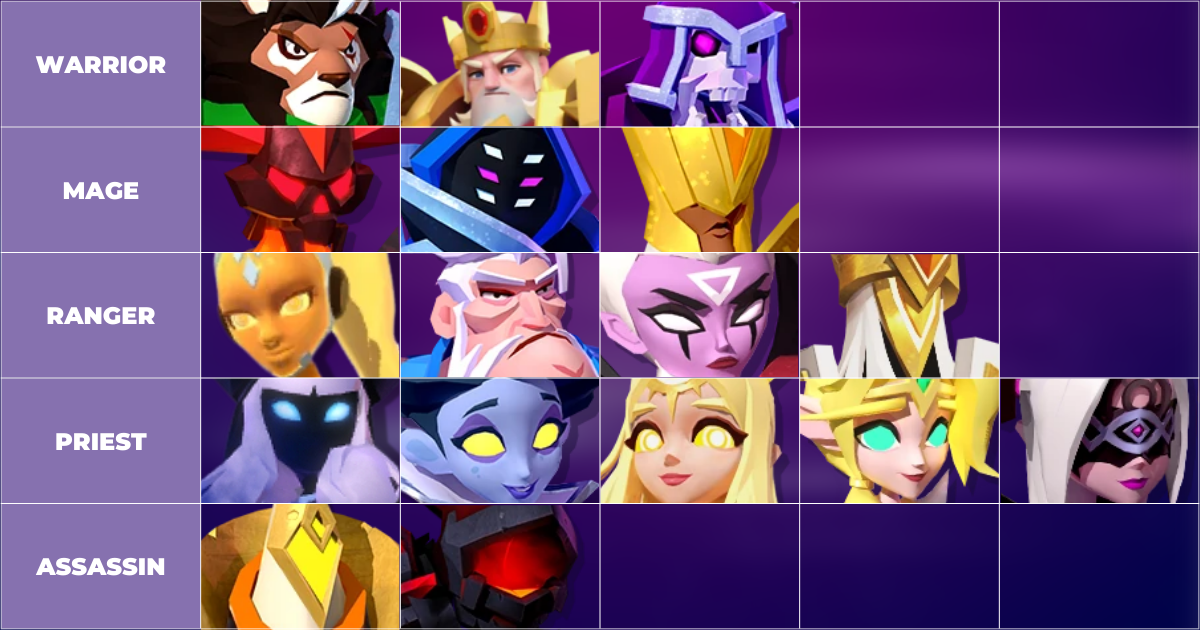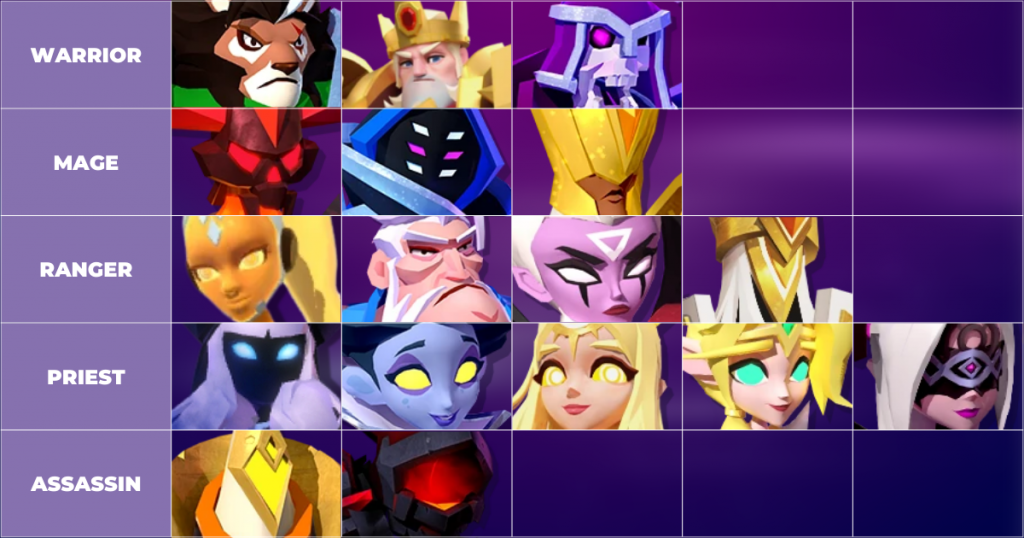 Warrior
Mage
Ranger
Ixlott
Telwihr
Sellier
Felix
Priest
Lucia
Margaret
Olivia
Flora
Suvere
Assassin
Valor Legends Warrior Tier List
You're not wrong if you assume that the best Warrior class heroes in Valor Legends are simple tanks. That's because Warriors typically have enough vitality to endure a barrage of attacks before dropping dead. However, there are also other heroes in this class that are designed to inflict some burst damage while fighting on the frontlines. Moreover, the best heroes in this class tend to have a good balance between sustain and burst damage. So here's our tier list of Warrior class heroes in Valor Legends considering both damage and sustainability.

S-Tier Warriors
A-Tier Warriors
Catarina
Yesacco
Cardelin
Norton
B-Tier Warriors
C-Tier Heroes
Valor Legends Mage Tier List
Mages are one of the strongest damage dealers in Valor Legends. You can use them to inflict damage on the enemy's backline using skills with a wide area of attack. Furthermore, they deal huge damage on the opposing team's front brawlers using attacks that some frontline heroes are most weak to. However, mages are not solely damaged dealers. Some also excel in crowd control. Others also have special skills that make them excellent secondary support. In addition, the best Mage class hero that you can choose is the one that fits your playstyle the most. But to simplify how you will choose your Mage for a start, here is our rundown of how we rank them per tier.

S-Tier Mages
A-Tier Mages
B-Tier Mages
C-Tier Mages
Valor Legends Ranger Tier List
Just as with mages, Rangers are also considered excellent area damage dealers. But this is not the only strength that they rely on. They can also control the enemy using silence, petrification, and other debuffs. Inversely, some of them can also buff their teammates. However, one quirk that you should note when using Rangers is that many of their skills are highly dependent on luck. If you think you can deal with the nuance of basing your strategy on probabilities, then here is how we rank the Rangers in Valor Legends.

S-Tier Rangers
A-Tier Rangers
B-Tier Rangers
C-Tier Rangers
Valor Legends Priest Tier List
Although Priests typically are not excellent damage dealers, they definitely play a vital role in your team. That's because they're considered your medics. Therefore, they can replenish large amounts of HP to single units or sprinkle some HP on each member of the team. Plus, they can remove other debilitating effects placed on your other heroes and provide some buff. As such, they are the best support characters in the game. So here's how we rank the best Priests in Valor Legends.

S-Tier Priests
A-Tier Priests
B-Tier Priests
C-Tier Priests
Valor Legends Assassin Tier List
As the name suggests, Assassins are who you should call on if you want to strike down an important unit in the opposing team's backline. They can easily infiltrate through enemy lines and go directly to the weaker armed units sitting at the back. Moreover, they target vital squishy heroes such as Priests, Mages, and Rangers. Having them on your team might just secure a win even before it started.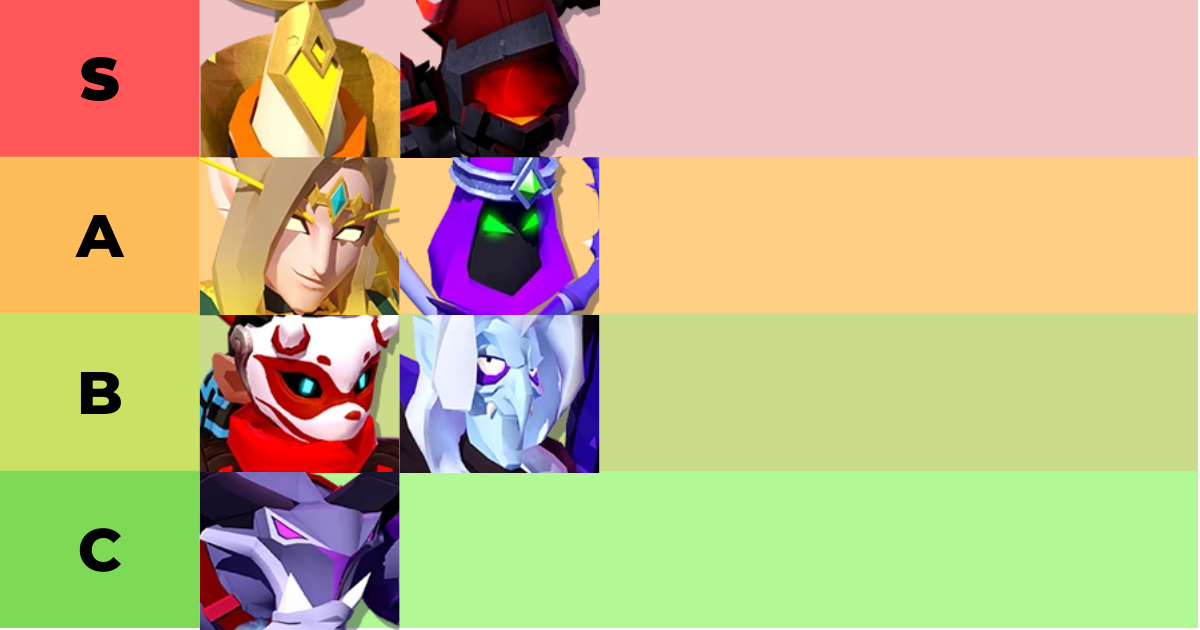 S-Tier Assassins
A-Tier Assassins
B-Tier Assassins
C-Tier Assassins
So, there you have it, our complete rundown of the best heroes in Valor Legends. We have presented the best heroes in each class, as well as the tier lists for each type of hero. Whether you are just starting out in the game or have been playing for quite some time, you can always refer back to this Valor Legends tier list to make the best in-game decisions. For more game guides, reviews, and tier lists, visit our blog page here at Games.lol.