Among Us is one of the most popular action multiplayer games that you can play right now. Even though it's not as popular as it used to be, it's a game that thousands of people from all over the world still play daily. And that's not at all surprising since the game is still fun and exciting to play. Matches usually involve 4 and up to 15 players.
To tell players apart, there are several different colors that players can use to identify themselves in the game. But one of the best ways for players to differentiate themselves from other players is by donning a hat. There are many different and unique hats available for you to acquire and equip on your avatar. But what are the available hats in the game right now and how do you acquire them? Let's discuss more in this Among Us Hats guide.
What Are Hats in Among Us Anyway?
If you think hats will play an important role in Among Us, well, we are sorry to say but they don't. Hats are basically just cosmetic decorations that you can equip for your character. Well, it can make your character look cooler, so that's an added bonus. Hats will also allow your character to stand out, which can be a blessing and curse in this game. Depending on how you take advantage of your uniqueness. You can become an easy target for impostors or be an easy scapegoat during discussions.
However, standing out can also easily take away the suspicions from you if you position yourself right. It will greatly depend on how you will play your role properly on whether standing out will be a good thing or a bad thing.
How Many Among Us Character Hats Are Available?
There are currently 164 hats available in Among Us right now and each one of them is unique. The number of hats available right now can still change since the developer, InnerSloth, constantly provides updates. The number of hats can increase with new designs available, or it can decrease if there are designs removed. In terms of which hats are the best ones to use, that will depend greatly on your preference.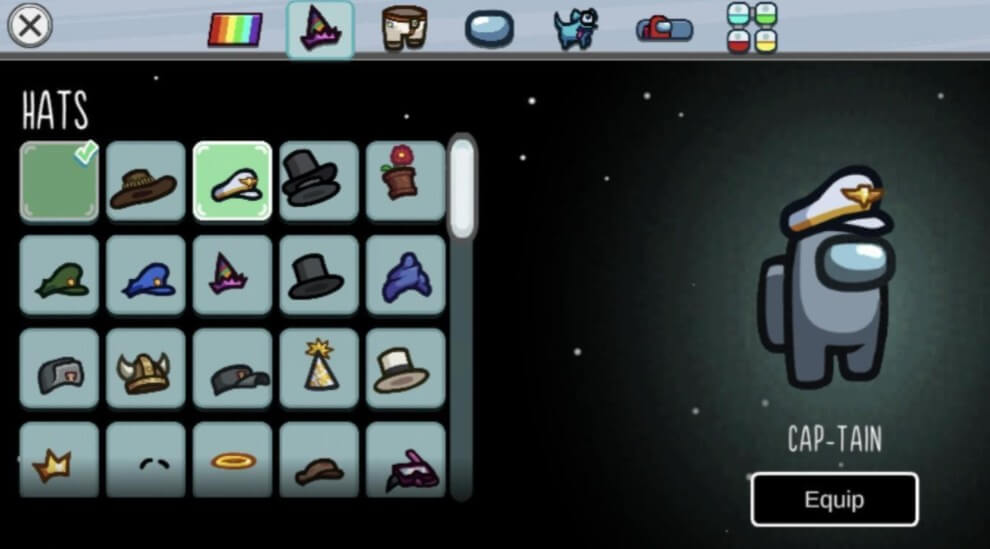 However, there are certain hats that you can say will stand out and can make you look suspicious or more trustworthy. Some examples of hats that make you look more suspicious are Chop-Chop (knife hat), Chocolate Scoop (looks like poop), Clown Town (clowns are generally scary for people), Imp-ressive (or any hats that give you horns), and many more. These are hats that usually look scary, thus making you look more suspicious than usual.
Though not everyone will likely think so, these hats will generally make you look sus in the eyes of a lot of players. Try to avoid them if you don't want to be accused, or you can try wearing them to add more excitement to the game. As for the trustworthy hats, some examples are Enforcer Helmet (makes you look part of the law), Fedorable (they look cute), Evergreen (looks like a Christmas Tree), Gift Wrapped (hey it's a gift), and many more.
These are fun and cute-looking hats that can put people at ease when they see them. So, if you want to look less suspicious, go for the cute, pleasant-looking, and fun hats.
How Do You Acquire Hats in Among Us?
Unfortunately, the hats in Among Us are not all free. You will have small selections of free hats that you can use and equip for your character. But the rest of the hats can be acquired by purchasing them. There are two types of currencies available in Among Us, the Stars and Beans. Stars can be acquired by purchasing them with money. Beans are earned as rewards for playing the game. So the more you play, the more Beans you will earn.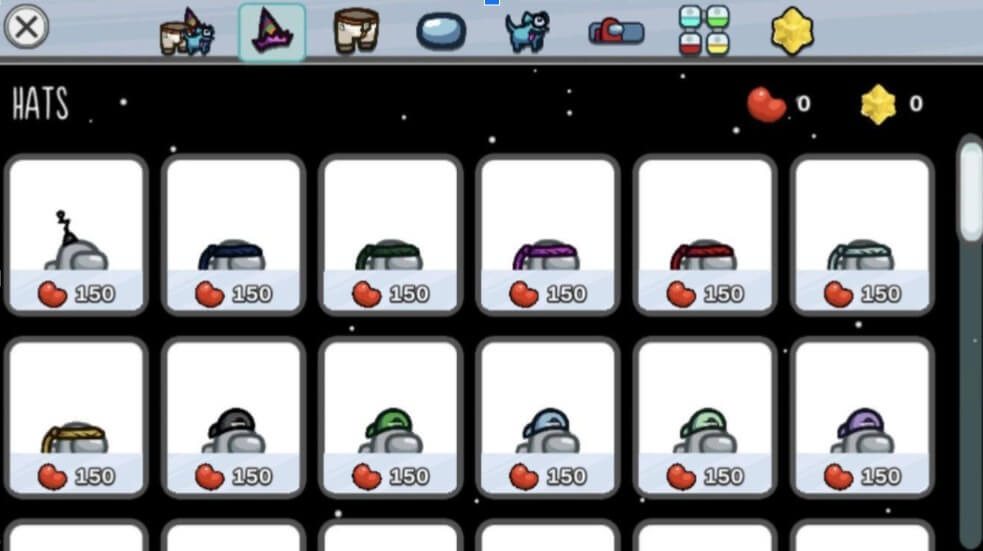 Hats cost 150 to 200 Beans, depending on the style of the hat. Some hats can be acquired only via the bundle that the game is offering. But to get the bundles, you'll need stars for that. The bundles available cost 20 to 30 stars and this will cost you $1.99 to $2.99 in real money. Once you have acquired a hat, you can start using them in the game.
Final Thoughts
Among Us Hats doesn't really play any significant role in the game. They're available only for cosmetic purposes. But they're a great way to make you stand out or just make your character look cooler. And they're something that many people like, which is why InnerSloth has a lot of different hats available. They're definitely worth getting and using in the game. This is especially true if you want your character to be unique and special when you're playing in matches.