Animal Crossing Pocket Camp is one of the most played F2P games from Nintendo. Pocket Camp serves as a much different game from other Animal Crossing titles, letting you build and craft buildings and items in real-time. However, one of the major problems in ACPC is acquiring bells. Bells are the life source to help you craft furniture, purchase from friends, buy stuff in the Marketplace, and avatar customization. We have a small guide for you to refer to in case you are struggling with earning Bells.
1. Sell or Gift Items From Your Inventory
One of the most natural actions you will do as soon as you start up the game is to keep on collecting various items that you find within the forests and beaches. Most of these are quite common. At an early game, it's always good to sell several items of up to 10 to get your bell count rolling. Once you meet with new people, you may want to gift them these items instead of selling because they offer more bells than just selling. If the friendship levels increase, you will get even more bells than usual. However, the only time you may want to sell items is if you want a fast bell exchange or if you are running out of inventory space.
2. Accept Item Requests
If you do want a more efficient way to earn bells from items, you may want to accept item requests from the other villagers. This does not only just give you bells, but it has a better payout than simply selling them. For example, a Horse Mackerel sells for 10 bells. But, if one of the villagers asks for this specific mackerel, you can earn up to 100 bells.
There are quite a lot of item requests in the village. Thus, if you need to earn fast on bells, you may want to roam around and talk to the people. Just don't overdo it, or else you will not have enough resources for crafting.
3. Market Box Selling
The Market Box is used for other players. If you happen to have enough produce, why not sell it in the marketplace? In here, you just place the items you want to sell and just wait until a friend or random player claims it. You can even adjust the price to your liking but remember to adjust the price. There's nothing like economics in a game, huh?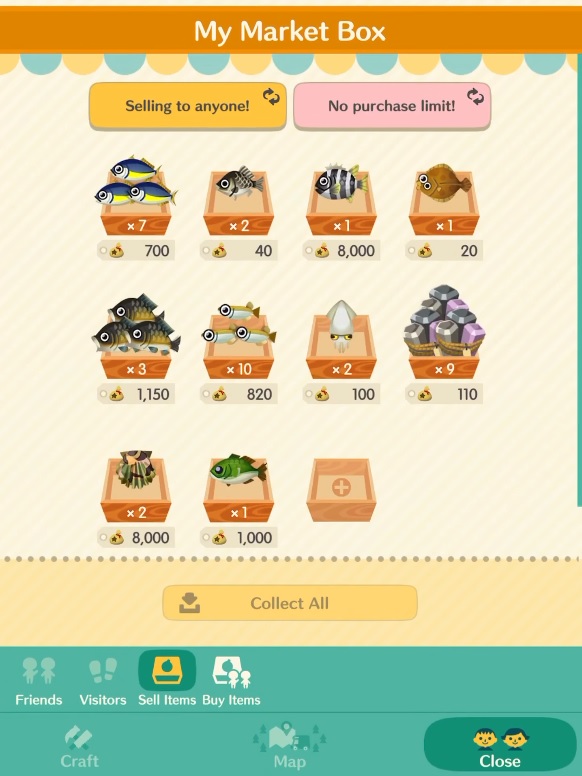 We recommend you to sell fruits since their regrowth is quite a hassle and takes too long until they finally blossom. IF you are willing to sell them, that is.
4. Furniture Selling
The campsite may look much better with furniture. However, there will come to a time when not every piece of furniture is relevant to your scenery. If such a case happens, just go to the marketplace, talk to any vendor, and sell the furniture to them.
One of the most efficient exploits is displaying the furniture in the campsite to attract the visitors. Once they move in, you can then sell the furniture. That way, you can use the bells you get from furniture selling to buy new furniture for a better price.
5. Raise Friendship
Animal Crossing is all about making friends. If you have lots of friends in the village, they have plenty of tasks for you. Do their tasks, and they will handsomely reward you with bells with additional crafting items. They even bring in more bells if you invite them over to your campsite and they stay there.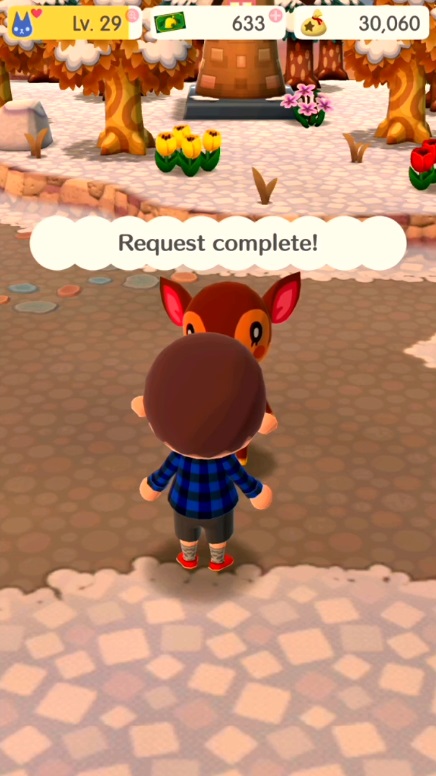 6. Shovelstrike Quarry
This is where the real grind happens. While you may find yourself digging through metals and various nuggets, you also get the chance to earn bells and other rare crafting items. Although, you will need to have five other friends join you in mining or spend 20 Leaf Tickets (which are super rare in the game). Meanwhile, you'll need five rocks to randomly drop a mineral.
7. Nintendo Rewards
And then, of course, there's your My Nintendo account. Linking your account to Animal Crossing Pocket Camp will give you daily missions that can offer you up to 5000 bells if you can complete 100 points. This one is the most optional yet is also the easiest way to rake up a good number of bells. After all, you're already playing Pocket Camp, so there is just little to no reason why you would not link your Nintendo account with it or register for a new account.
Remember Not To Trust 3rd Party Tools
Anything from hacks, mods, and tools that can easily increase the number of your bells is highly illegal in Animal Crossing. Nintendo has an advanced program that can quickly detect if your account is using a plugin. If they do discover one in your account, you will be permanently banned.
Also, getting these tools from suspicious websites may make your online account exposed to malicious attackers such as hackers and phishers.