Recently, in the latest episode of Brawl Talk for October 2021, Supercell announced the release of the newest season of Brawl Pass called "Brawlywood." In the upcoming season update, Brawl Stars action game will have another new chromatic brawler, a new in-game modifier, the Brawl-o-ween, and some new skins.
Season 9 – Brawl Stars Talks About the Brawlywood
In the upcoming season update, the developers titled it Brawlywood, and players must expect a new environment. The said update talks depict a theme of a Brawlified version of the film industry and cinema. The main star of the update is the new chromatic player – Lola. Also, some new skins are from the new Brawlywood theme update of the game. So, do you want to know more about the superstar Lola? Let this article take you there!
Brawl Stars New Brawler – Lola
As mentioned above, the new chromatic brawler is Lola. She is a selfish movie star with a high damaging ranged attack. As a self-proclaimed star, Lola will do anything to remain in fame and get the public eye. Lola has a fake fox scarf with diamond eyes and fires tantalizing stars that shine more than her. The said fox scarf is used in executing her main attack.


Just like Max, Lola's attack pattern seems too challenging to land in all projectiles at the max scope. However, if you see her closer, you will know that she can effortlessly land successfully with all projectiles. As you check her super, you will surely notice its conceited nature. Her Super is spawning her imitation, copying her attacks and movement patterns, making her maximize the damage and creating a unique super. The superstar Lola will be part of the Brawl Pass and unlockable at Tier 30 in Brawl Stars.
How to Use the Superstar Lola
If you are thrilled and excited with the newly released brawler, then here are some points you need to consider in using Lola.
Poking Perspective
To poke your enemies and prevent committing to a battle to charge Lola's Super right away, without compromising your life. Lola's attacks are broad-spectrum, making her hit opponents even from afar.
The Megalomaniac Super Ability
There are various ways to utilize the Super of Lola in a fight. To achieve more damage and an efficient crowd control ability, you can protect the front by putting the Super in front, close to you. Also, you can use Lola's Super by supporting allies by placing the clone near them. However, ensure not to focus more on the Super just to get rid of sticky circumstances.
Another way to use the Super is to move walls. By simply placing the Super behind the wall, you can move away far from it or get closer. You can use this trick to alter the changing situations right away.
The Freeze-Frame Gadget
You can reposition the Super without moving it by means of the Freeze Frame Gadget. This stuff can stop the Super from moving and offers protection from getting damaged while being frozen. The said gadget can also be your short-term wall to block attacks once you place Lola's Super in front of her.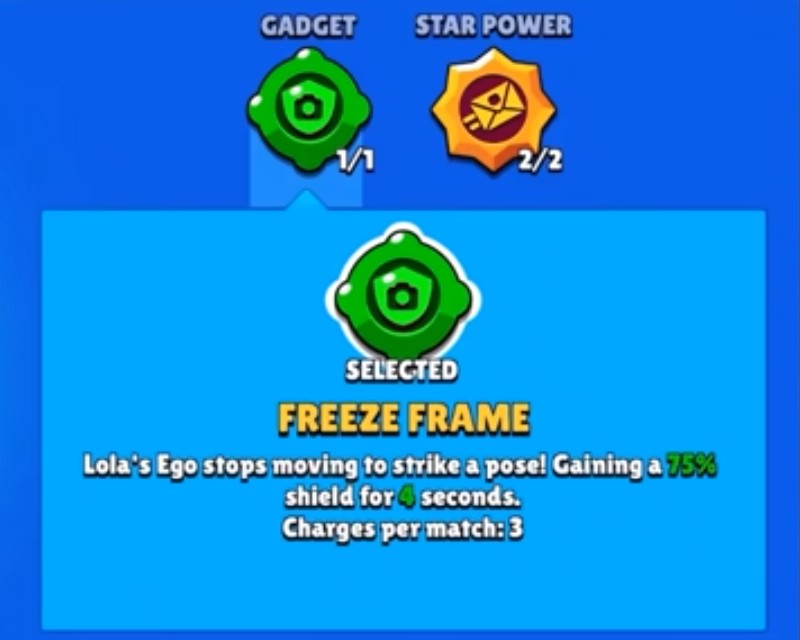 Get Additional Damage from An Improvise Equip
If you want to get more damage, you can boost Lola by equipping her with improvised star power. With that said, the last charge of her attack will be extremely damaging. To attain this, you need to drain the attack charges to obtain the bonus damage from the improvised equipment.

The Star Power Healer – Sealed with a Kiss
With her Star Power, Lola is a balanced Brawler in a way that she can give damage to the team, and at the same time, heal for each attack the Super executes. If you want to maximize Lola, it is best to ally with a Tank as it can portray as an attack blocker while getting healed by Lola.

About Brawl-O-Ween Theme, New Skins & More
In addition to the new brawler Lola, Brawl Stars players can also enjoy the new modifier theme derived from Halloween. The said new modifier would let the brawlers invisible for 7 seconds, every 7 seconds. This modifier is available on all game modes in Brawl Stars. Besides, the said season will introduce 11 new skins, and the fairy theme inspires seven; the other four are based on the new modifier. Also, Jessie will get modified and achieve a better facial appearance and attack enthusiasm.
Also, there will be new true silver and gold skins for Amber, Collet, Bibi, Dynamike, and Carl. There are also reruns for old Brawl-O-Ween skins like Witch Shelly, Werewolf Leon, and Piper Calavera. So, that's it! Are you excited to use Lola and experience the new Brawl-O-Ween modifier? Share your thoughts here! If you want to know more about the action game Brawl Stars, stay tuned here!