Cookie Run Ovenbreak is one of the most famous arcade games nowadays. Together with its older kin, Cookie Run Kingdom, both games share fantastic art, music and gameplay. Ovenbreak is a sweet gacha runner game where you need to collect as many jellies as possible to get a high score in the end.
Additionally, Cookie Run Ovenbreak enables you to see and collect delightful cookies that will help you accomplish your run. Following the storyline, these cookies are someone you will meet as you escape from the Witch's oven.
As you progress through the game, you will meet Angel Cookie, Skater Cookie, DJ Cookie, Ninja Cookie and more. Are they good enough to help you? Well, it depends on how you run the game. Now, we've developed a list of Cookie Run Ovenbreak tips that will surely help you speed up your sugar rush adventure.
Get to Know the Cookie Run Ovenbreak Tips
Here are some tips & tricks you can use to fasten your victory in playing this endless gacha runner game;
1. Run! Run! Dash Until You Can!
If you are new to Cookie Run Ovenbreak, you have to know that running is one of the game's main core. While dashing the level, it is also essential that you aim for more jellies and points. Though sometimes there are more challenging levels, so it will be better to focus on your running skill and, in time, get jellies and points along the way.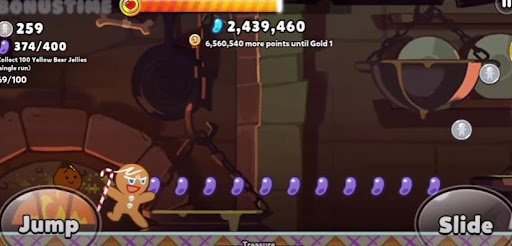 Following this tip, let's be more specific on how you should run in the game. So, here are some points you need to consider when running at the ovenbreak level.
Don't touch the ground
There are instances that you will run out of energy while running in the game. From there, you will notice that your Cookie will not topple over until it hits the ground or touches an obstacle. In this circumstance, it will be great if you'll maximize the advantage of cookies with flying skills like DJ Cookie and Pancake Cookie for gliding.
By taking advantage of those skills, you will get enough time to catch a Heart Portion which you will achieve while running. However, there are also cases that you will be caught dead, especially when the Last Blast effects and Miraculous Aurora Elixir interfere with you in getting Heart potions.
Also, in running a level, you must focus on collecting the jellies instead of the obstacles. If you saw some jellies on the floor, you can slide a bit and avoid touching the ground.
Learn from other players
When playing Cookie Run Ovenbreak, there's a leaderboard button where you can access the scores of the best players of the game. If you are curious about their tactic why they reach on top, you can simply take a glance at them by playing Trophy Race.
At the end of the Trophy Race, if there is still time, you can effortlessly click on the score of your competitors and boom! You will access their Cookie and Treasures compositions. By knowing their compositions, you will have an idea of what to use or what to collect on your dashing journey.
Consider joining quests
There are some instances that you do not opt to collect a bunch of points. Sometimes, you also aim to survive, get points per second, or get your favorite cookie to help you pass a certain level.
If you are opting for points per second, you better dash into the Story Mode. Hence, it is not entirely advisable due to insufficient energy, and your cookie might faint in the middle of the game. In that case, you better go with small maps that can let you collect points. Also, you can join some quests that enable you to get points as much as you can in just a single run.
On the other hand, if you'll focus on survival and getting points, you can try the Trophy Race, where you can deploy two of your favorite cookies on an endless map. Here, you will get high-level treasures and, at the same time, get more points as long as you run in the game. Meaning, the more you run, the more you will earn points.
Know who are relay & front Cookies
There are times that you can't avoid your cookie from falling over, but it doesn't mean that you can't continue the game. Why? You need to know which cookie can pass the end without heart potions or surpass the level with help.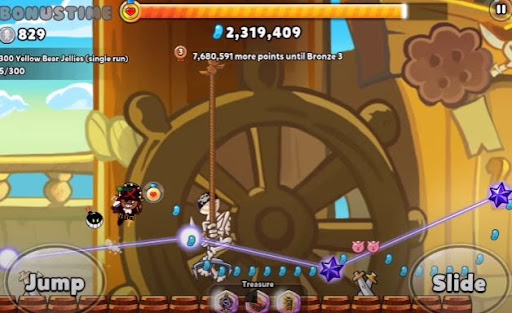 A good example is Pirate Cookie. This cookie can die and revive as a ghost. With this strength, this cookie can avoid obstacles without using heart potions. Also, Lemon Cookie has a pet that can boost him and run in a blast. With that said, you need to consider playing with front cookies that are relays.
2. Upgrade Your Cookies
In playing Cookie Run Ovenbreak, you have to understand that it is not entirely about running. It will help if you run, for you to upgrade your cookies and make them stronger. There are many ways to boost your cookies, and you can either join events, finish levels, take them into the laboratory and test your luck in the gacha. So, here are some points you need to take to have a strong team of cookies.
Aim for Magic Candies!
Whenever you get a chance to obtain a Cookie past level 3, you need to earn for them Magic Candy as soon as possible and dash as fast you can get in level 5. These candies upgrade your cookies, making them more powerful. You can say that a cookie is complete once they get a magic candy, regardless of whether it is a common or rare cookie.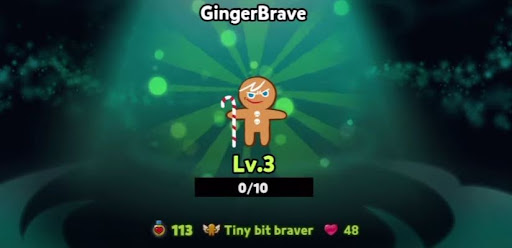 Opt for maximum power
If you are new in Ovenbreak, obtaining maximum power is when you get your epic cookie in max level, while for dedicated one, it is a significant way to earn money. If you want to boost up your power, you need to take cookie events. These events promise tons of rewards, such as maximum powers to older cookies.
Take Cookie Trials
If max up is intended for old cookies, you also need to check the new cookies by taking Cookie Trials. These trials are limited but awesome! Cookie Trials provide amazing rewards, which are extremely important in boosting a newly released cookie.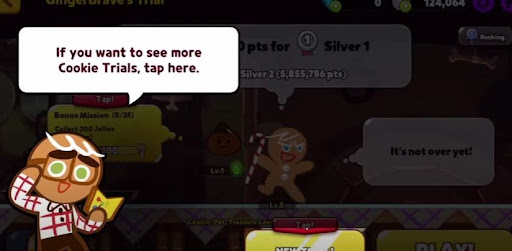 Though the old trials are somehow still worth it to grind even though they provide fewer rewards, still, these trials can enable you to get some valuable items such as spirit potions, currency and sometimes things in creating magic candy.
Know the worth of the spirit potions
Generally, there are two ways to upgrade your cookies and pets. First, test your luck and hope that you will get the best cookie into the Gacha. And the second way is to achieve spirit potions. A single spirit potion corresponds to one epic cookie.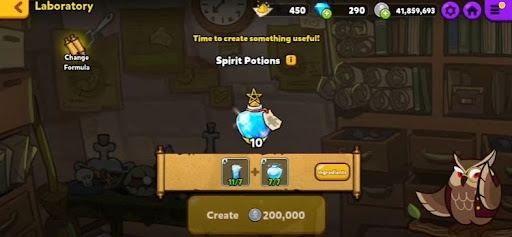 You can either get them through participating in events, chest allowance in the daily Trophy Race or craft them in the laboratory. Or, grind for magic powder. The magic powder is a crucial ingredient in preparing a spirit potion. Usually, you can create as many as ten potions out of magic powder.
3. Sugary Reminders
Aside from running and upgrading your cookies and pets, you need to understand better how to spend your currency in this game. Here are some points you need to consider;
Cards will be your last priority
Remember that cards are not that necessary in the game, though they can somehow boost your cookies. However, if there is a chance to grab a card, don't lose it; get it. But, it's not advisable to get them in priority because of their cost.
Aim for bigger rolls
Whenever possible, try to save more for a considerable gacha chest. Or anything that tackles crystal and random rewards., By saving up to gacha, you get a guarantee for bigger rolls. Also, consider the Special Cookie Chest, Special Pet Egg, Special Treasure Draw and the 1900 Coin Invocation Card roll.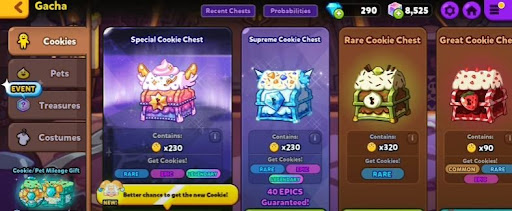 Do Breakouts three times a week
One of the primary sources of crystals and coins is dashing into the breakout mode. From there, you will achieve points as long as you run. The higher points you will gain, you will get a higher rank and more crystals as the weekends.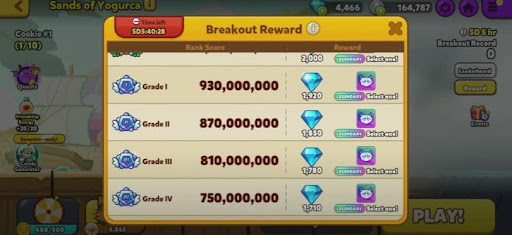 Be part of a guild
Like other games, Cookie Run Ovenbreak also enables players to join a guild. By joining a guild, you will also have a chance to earn crystals and other important stuff. Also, you will have access to the guild shop and get an opportunity to obtain Ananas and Pitaya Dragon Cookies.
So, that's it! If you want to top every Ovenbreak level, you must consider these Cookie Run Ovenbreak tips in playing this arcade game. If you have any tips & tricks, feel free to share them here!