If you are very active on social media or watch a lot of YouTube videos, you've likely seen an ad for this game before. Homescapes is a casual match-3 puzzle game that also involves a bit of building and decorating. It's a game that's published by Playrix and usually requires that you first complete match-3 puzzles before you can renovate and decorate. The goal in the game is to help Austin renovate their house by swapping old and broken-down furniture with new and matching ones.
Match-3 puzzles are usually simple and easy, as you just need to match at least 3 similar items either horizontally or vertically on the puzzle board to eliminate them. But they can be a bit challenging, especially as you progress further. The number of items you need to eliminate increases, while your available moves tend to decrease, which can add pressure to the game.
Fortunately, there are some tips and tricks that you can use to help you win more games here in Homescapes. In this article, let's discuss several tips that you can use to win more puzzle games and quickly renovate or redecorate Austin's old and broken-down home.
Don't Be Too Quick To Instantly Move Items
One of the most important tips that you can learn in playing match-3 puzzle games is that you should not be too quick to move the first matching items you see together. You should first assess the board before you switch, as you might find available combo moves. You must take advantage of these firsts, even if the available combo is not the item you need to eliminate.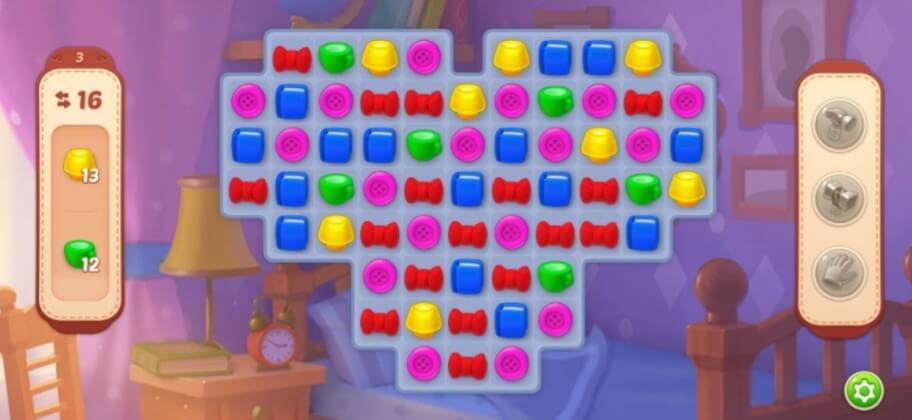 This is because doing a combo will result in a power item or boosters, which can further help you eliminate more items. So, assess the puzzle board first before making your first move and take advantage of available combos to get boosters. Not making a move instantly will also prompt the game to notify you of good matching opportunities, so you might want to take advantage of that as well.
Rocket Booster is The Best
Boosters are one of the best ways to help you clear out the puzzle board as quickly as possible. This is why you need to try and go for them as often as possible. Boosters are acquired if you combine more than 3 items, either horizontally or vertically. For example, combining 4 items in a line will result in the Rocket Booster.
If you match 5 similar puzzle pieces in an L shape, then you get the Bomb Booster. Matching 4 pieces in a square will create a Paper Plane Booster. The last Booster is the Rainbow Ball, which can be acquired if you match 5 similar items either horizontally or vertically. Bombs would clear out pieces within its blast radius while the Paper Plane will target similar pieces that need to be cleared the most and take them all out. The Rainbow Ball would eliminate all the similar puzzle pieces that switch it with.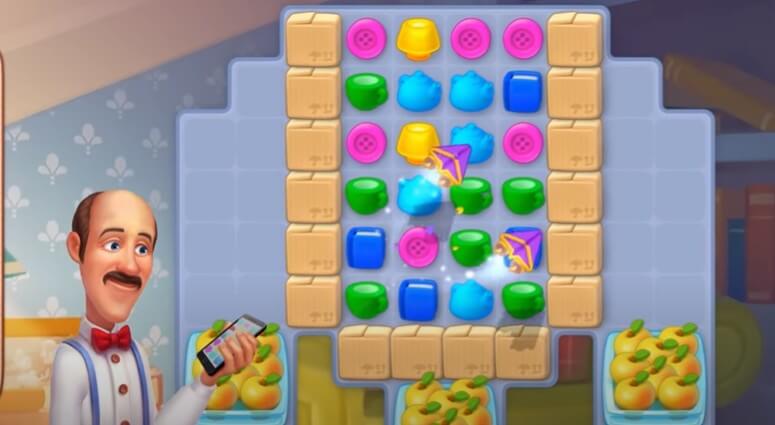 All these Boosters are useful and can help you clear out more pieces faster. But the best one among them would be the Rocket Booster. There are 2 types of Rocket Boosters, one that can clear a horizontal lane and one that can clear a vertical lane. They are the best because it clears an entire lane, which means the entire lane will be replaced with new pieces. This can result in more combos for you. So always try to combine 4 similar puzzle pieces vertically for the Rocket Booster to eliminate lanes of items.
You Can Match Boosters Together
Did you know that you can also match Boosters together? Doing this will create a Super Booster that will allow you to clear more puzzle items on the board. This is not an easy thing to do, as you will need these Boosters to be beside each other to properly match them. But this can happen, and when you do, you will be able to eliminate more pieces at a faster rate. Below are the different Super Booster combinations:
The best would be combining 2 Rainbow Balls together. This would result in the entire puzzle board being cleared and giving a new set of puzzle pieces to work with.
A Rainbow Ball combined with any booster would result in multiple copies of the Booster that would automatically activate.
2 Rockets will result in the Multiple Rocket Super Booster, which will eliminate both vertical and horizontal lanes.
Combining a Rocket or a Bomb with a Paper Plane would result in the Paper Plane transporting the Booster to its chosen puzzle piece.
Always Complete Daily Goals & Fill Up the Mission Meter
Homescapes would have daily goals for you to complete, as well as a mission meter to fill. Completing these things would usually result in great rewards for you to use in the game. The rewards are mainly Boosters, which can be a big help when you're already at the higher levels, and the puzzles are tougher to complete.
But aside from Booster, another important item would be the Infinite Retry. When you activate this, it will give you unlimited level completion chances for 30-minutes. This is a great item to acquire because you can use it to complete as many levels as you can within the time limit. This will allow you to complete difficult stages without any risks on your part.
We hope that you find the tips above useful and informative. They won't guarantee that you will always win, but it will help you complete puzzle levels quicker if you use them.