Clicker games are usually fun and very addictive to play. As the name suggests, it's a game where you'll click, click, click, and click. These games are also usually idle, so you don't always have to click to perform or progress. One good idle game you can play is Idle Streamer! by Moonee Publishing. It's a casual simulation game where you simulate being a video game streamer.
And as a streamer, your goal is to earn cash from your streams. And you do that by becoming popular and attracting more viewers to your content. Upgrading your equipment, playing popular games, and so on are some of the things that you can do to catch more attention. You use your earnings to upgrade equipment, the games you're playing, and reply to viewers.
It's a fun game that you'll enjoy playing. But it can be a bit complex and overwhelming for beginners to play. This blog post will be an Idle Streamer! guide. We'll provide tips and information that will help beginners get started with this game.

Start with the Cheapest Upgrades
In Idle Streamer!, you earn coins from donations from your viewers. You will automatically earn, but you can also tap to speed up the earnings. To increase your profits, you can upgrade certain things in the game, like your equipment, the game you're playing, and the overall background of your setup. When you're selecting what to upgrade, always start with the cheapest one available. They're the ones that you can quickly upgrade once you have enough money.
It's also worth noting that when you upgrade, the cost of upgrade increases. For example, the initial upgrade for the mouse is 400 coins. But after that, the next upgrade will cost 1300 coins. This means that you'll need to save more coins to get the next upgrade. You just move to the next cheapest upgrade when this happens until all of them have been used up.
Go For The Best Answer To Comments or Questions
There will be moments in Idle Streamer! where you'll answer questions or comments from viewers. This is your moment that can help increase your friendliness and charisma. You'll be given three different answers to provide. Make sure to always go for the best answers available among the choices. The best solution would always be the one that makes you sound more friendly and charismatic.
So when these instances arrive, always choose the best answer. Remember, you also need to be friendly and charismatic if you want to succeed as a streamer.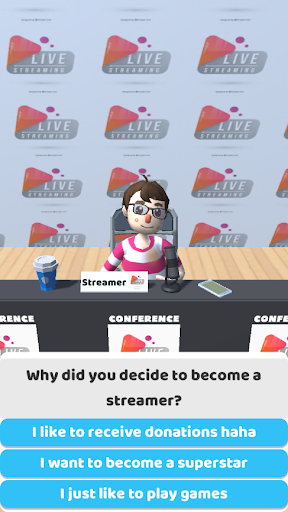 Always Upgrade
It's also important that you always upgrade whenever you have money available. When you upgrade, you increase your earnings in Idle Streamer!. So, whenever an upgrade is open, you need to spend coins on it. There's no benefit really in saving since you're depriving yourself of the potential earning available when you upgrade. Don't save; upgrade instead.
Travel to New Locations When Possible
When you first start playing Idle Streamer!, your streaming location is not that ideal. But once you reach a certain level, you can transfer to a different location. Always take advantage of this whenever it becomes available since it will increase your potential income. A new location will also open up new upgrades for you to pay for. This will allow you to earn more income from your clicks or streams.
Don't Forget About the Level Up Button
You also level up as a streamer in this game, and you usually do that whenever you earn income. Leveling up won't increase your income in Idle Streamer!. But you want to level up whenever it becomes available because you can earn tons of cash whenever you achieve a certain level. The amount of cash you'll earn is vast, which makes leveling up very rewarding.
It's easy to forget about the leveling up because it won't happen automatically. You'll need to press it whenever it becomes available. There's going to be a light green level-up button that will flash at the upper right. You need to press it to level up in the game.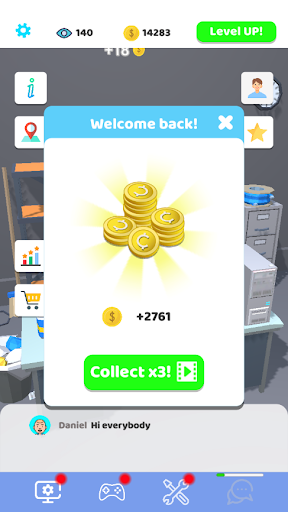 Take Advantage of Advertisement
Ads can be annoying in any game that you're playing, but they can also be beneficial. In Idle Streamer!, ads can be beneficial. Ads can double or triple the earnings you can get. This can be very helpful in quickly getting you to the amount that you need for the upgrades. This is something that you'll appreciate more when you progress further and upgrades become more expensive.
The times two or times 3 of your earnings will be a big boost in getting you the needed coins you need. So, whenever bonus ads are given to increase your profits, please take advantage of them.
Idle Streamer! is a fun and awesome game to play. But it can get a bit overwhelming, especially for beginners. But with the tips provided here, you'll have an easier time progressing in this game and becoming a great streamer.