Incremental games, commonly known as idle & clicker games, is one of the fastest-growing genres in the free-to-play gaming market. This game genre does not require the player to memorize button combinations or tactical prowess as the game only requires one thing—clicking.
One of the main features of this genre that made it as popular as it is today comes from the instant gratification from the near-endless achievements that instantly unlocks after each milestone. In addition, idle & clicker games are easy to master and can be put in Auto Mode as you progress further into the game. If you are into this type of game, check out our top 8 idle and clicker games that you can download and play for free on your PC.
1. Cookie Clicker
The first game on our list is the improved version of the very first idle & clicker game ever developed. Cookie Clicker began as an online browser game that provides players with one mission—click the cookie for rewards and achievements. To some, the game was a joke. However, more and more players were eventually dragged into the game's highly addicting gameplay. Download this highly immersive on your PC today if you have what it "clicks."
2. Tap Titans
Tap Titans is a mix of RPG and idle elements rolled into one immersive title. This uber-popular incremental game allows you to participate in epic battles against colossal bosses. On top of that is the RPG mechanics that allows you to level-up your character and upgrade your equipment seamlessly throughout the game.
3. Tap Titans 2
Tap Titans 2 is the sequel to the highly acclaimed Tap Titans. The game comes from Game Hive which is also the developer of the original game. Tap Titans 2 introduces new elements into the game like a skill tree, crafting, pets, and clan battles. If you love the concept of Tap Titans, then, you will surely enjoy the brilliant gameplay of Tap Titans 2.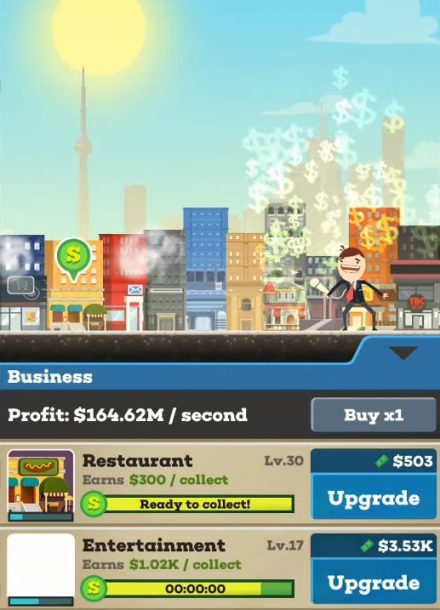 4. Tap Tycoon
Tap Tycoon is the idle game equivalent of Monopoly. This business-themed game employs the use of business management elements infused in the structure of the idle game. Moreover, Tap Tycoon allows you to grow your business empire up to the point that you can influence the entire system of a country. Like the first three titles on our list, Tap Tycoon also has an Auto-Mode that will unlock as you progress further into the game.
5. Idle Miner Tycoon
Idle Miner Tycoon hails from the indie video game development studios of Kolibri Games. Similar to the other games on this list, Idle Miner Tycoon requires nothing but your ability to click. Mainly, the game comes with a mining-themed gameplay structure that involves digging for precious stones and minerals. Plus, it offers various upgrades that will eventually lead to the auto-mode of the game.
6. Idle Crafting Empire
Idle Crafting Empire is another RPG/idle game combination that resembles Tap Titans. Part of what makes this title unique is that your main mission is to collect precious materials and craft them into useful items. You will also have the opportunity to test out your equipment through intense battles with the game's AI. Download this game on your PC if you like the concept of crafting infused into the gameplay mechanics of an idle game.
7. Shop Titans
Shop Titans another combination of idle and RPG elements. In this game, your mission is to forge weapons, armors, and other items a hero might need. The exciting part of this game is that you will not only get to test the items you forged, but you will also be the one to negotiate with its price as well. Forge, battle, and trade your way to success by downloading this highly immersive idle game today.
8. Make More!
Make More! Is an idle management game from Fingersoft. This game allows you to play as a production manager of a factory. Your mission is to expand your production capabilities by encouraging your workers to make more items. Moreover, Make More! takes you to various production facilities and allows you to build multiple items depending on the demand. Download this game if you have what it takes to become the ultimate manager.
Conclusion
Idle & clicker games are fun and rewarding to play. It's more like a stress-reliever rather than a challenge-inducing activity. This collection is only the tip of the iceberg as there are hundreds of idle games available here at Games.lol. Feel free to download any of the games on our list or discover more in our various categories of free-to-play games.