Marvel Contest of Champions is hands down, one of the most played action games in the freemium market. Since its inception in 2014, the game has managed to build a large following. One of the main attractions of the game is it converts players into summoners tasked with creating a team of superheroes and supervillains from the Marvel Universe. Using their team, players can take on various quests, team up with other players, participate in events, etc. That's why it's imperative to know the Marvel Contest of Champions tier list to know which characters to add to your team.
To help you sort out the best characters in the game, we made a tier list for each class. It allows you to focus on which character suits your style of gameplay. So without further ado, check out our tier list below.
The Marvel Contest of Champions Tier List
Below is a tier list for each class in Marvel Contest of Champions.
Skill Class List
Characters that fall under the skill class rely on strength, fighting style, and weapon mastery. The list below is the best characters of the skill class.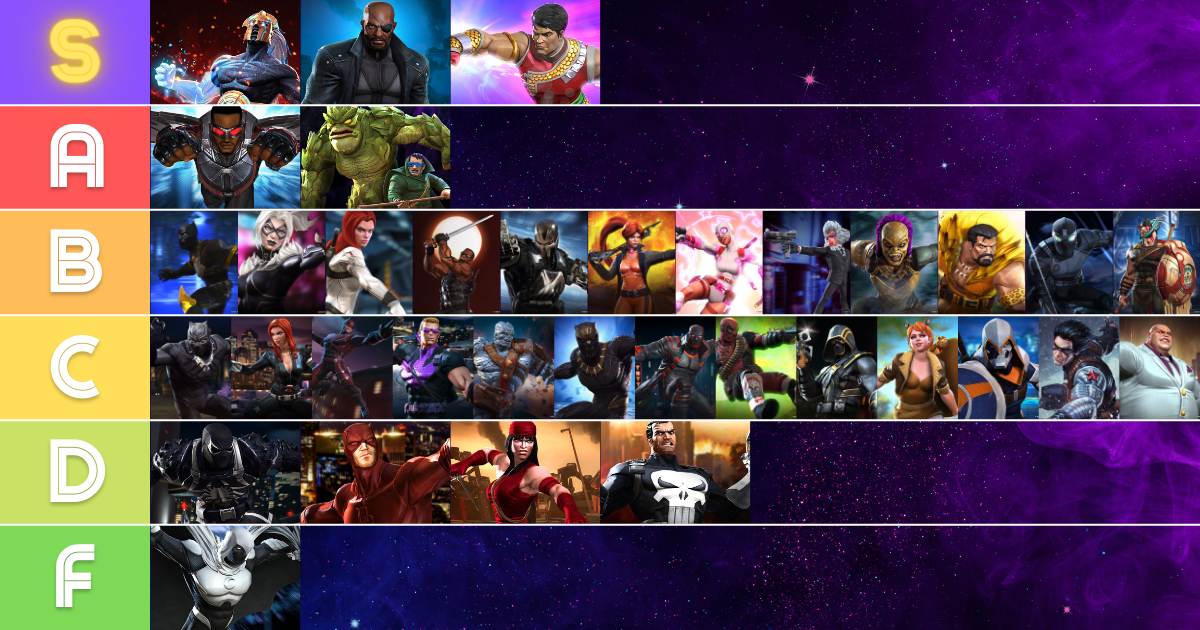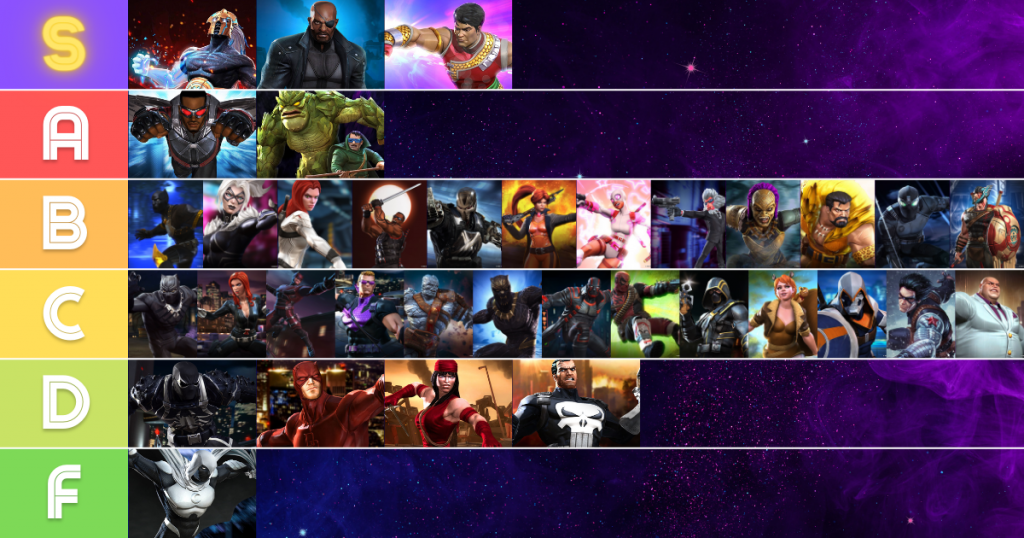 Tier S
Aegon
Black Widow in Claire V Form
Nick Fury
Shang-Chi
Tier A
Tier B
The Black Panther in Classic Form
Black Cat
Black Widow in Deadly Origin Form
Blade
Crossbones
Elsa Bloodstone
Gwenpool
Hit Monkey
Jabari Panther
Kraven
Spider-Man in Stealth Suit
Thor from Ragnarok
Tier C
Black Panther in Civil War Form
Black Widow in OG Form
Daredevil in HK Form
Hawkeye
Korg
Killmonger
Night Thrasher
Masacre
Ronin
Squirrel Girl
Taskmaster
Winter Soldier
Kingpin
Tier D
Agent Venom
Daredevil in Classic From
Elektra
Punisher
Tier E
Tech Character List
As the name of the class suggests, characters that fall under this category rely on advanced tech or gadgets to enhance their combat skills.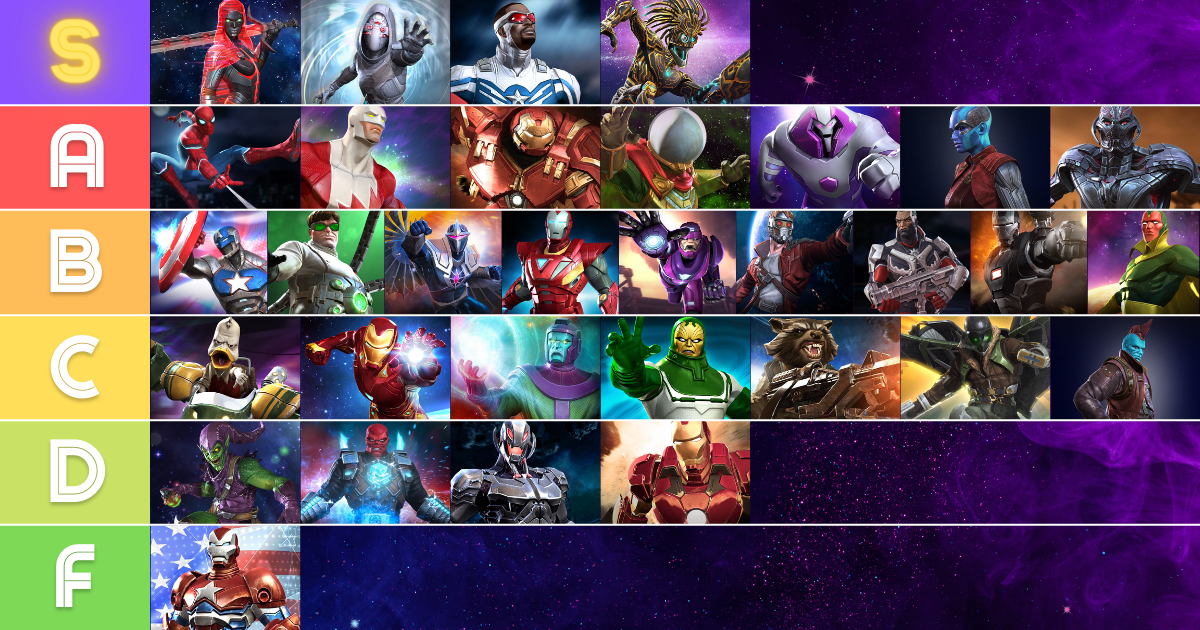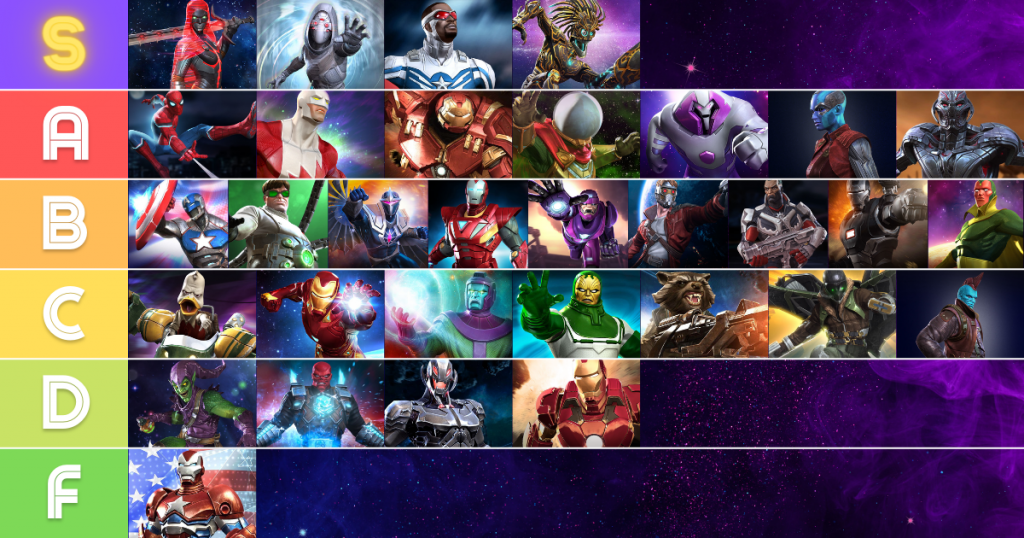 Tier S
Guillotine 2099
Ghost
Captain America as Sam Wilson
Warlock
Tier A
Spider-Man in Stark Enhanced Form
Guardian
Hulkbuster
Mysterio
Nimrod
Nebula
Ultron in Prime Form
Tier B
Civil Warrior
Doc Oc
Darkhawk
Silver Centurion
Sentinel
Star Lord
Punisher 2099
War Machine
Vision
Tier C
Howard the Duck
Iron Man from IW
Kang
Psycho-Man
Rocket Racoon
Vulture
Yondu
Tier D
Green Goblin
Red Skull
Ultron in Classic Form
Iron Man
Tier E
Mystic Character List
Characters that fall under the mystic class possess extra-dimensional magic or energy. Furthermore, these characters are known to practice the Mystic Arts.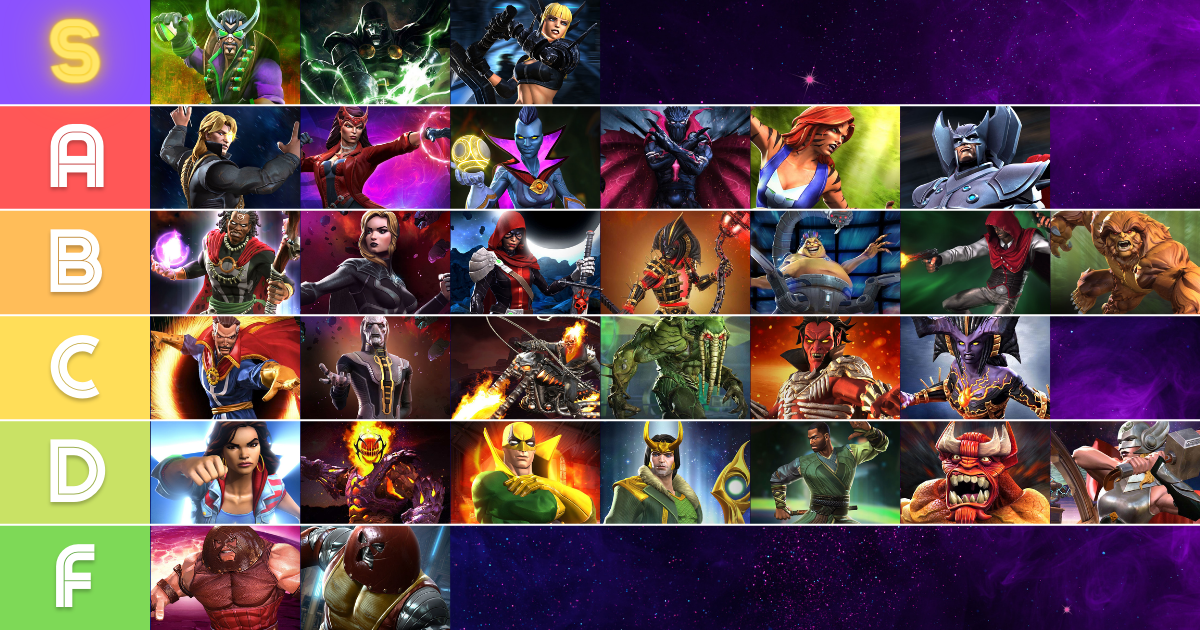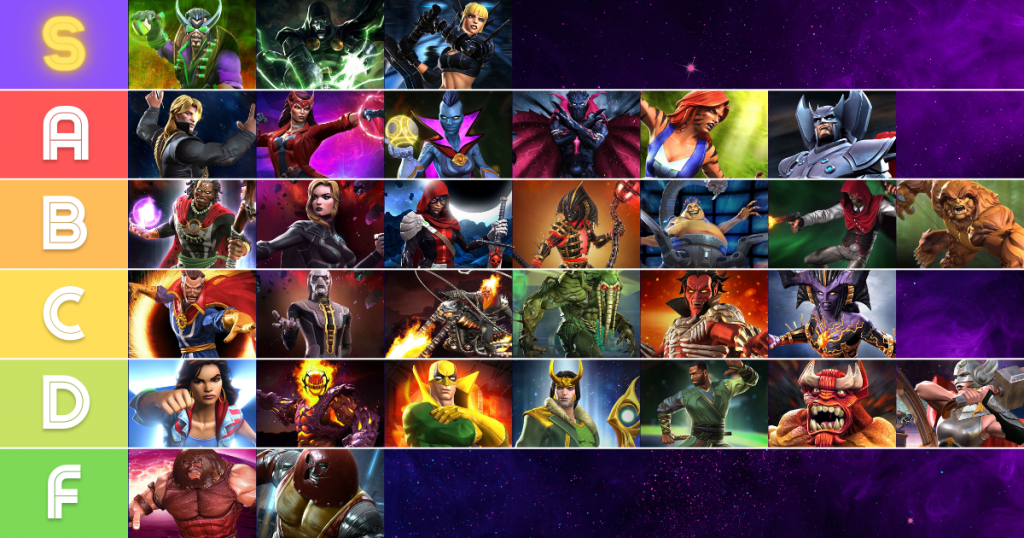 Tier S
Tier A
Longshot
Scarlet Witch
Sorcerer Supreme
Symbiote Supreme
Tigra
Tier B
Doctor Voodoo
Black Widow as Claire Voyant
Guillotine
Morningstar
Mojo
The Hood
Sasquatch
Tier C
Doctor Strange
Ebony Maw
Ghost Rider
Man-Thing
Mephisto
Purgatory
Tier D
America Chavez
Dormammu
Iron Fist
Loki
Mordo
Mangog
Thor as Jane Foster
Tier E
Juggernaut
Unstoppable Colossus
Science Character List
Characters in the science class acquired their abilities through science experiments and laboratory accidents.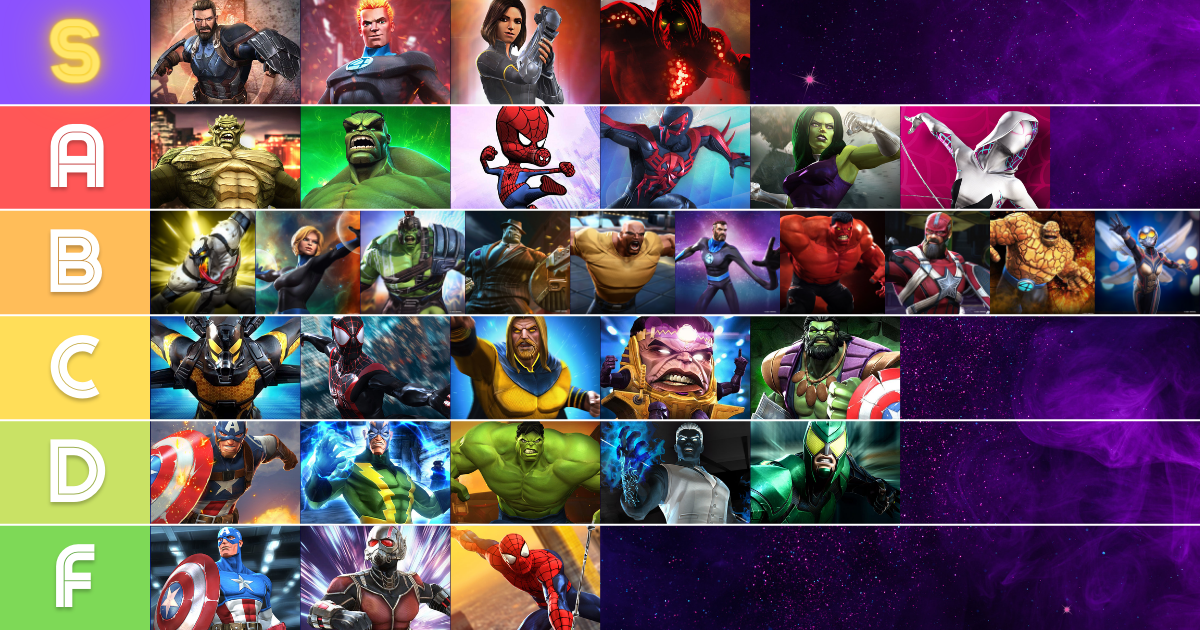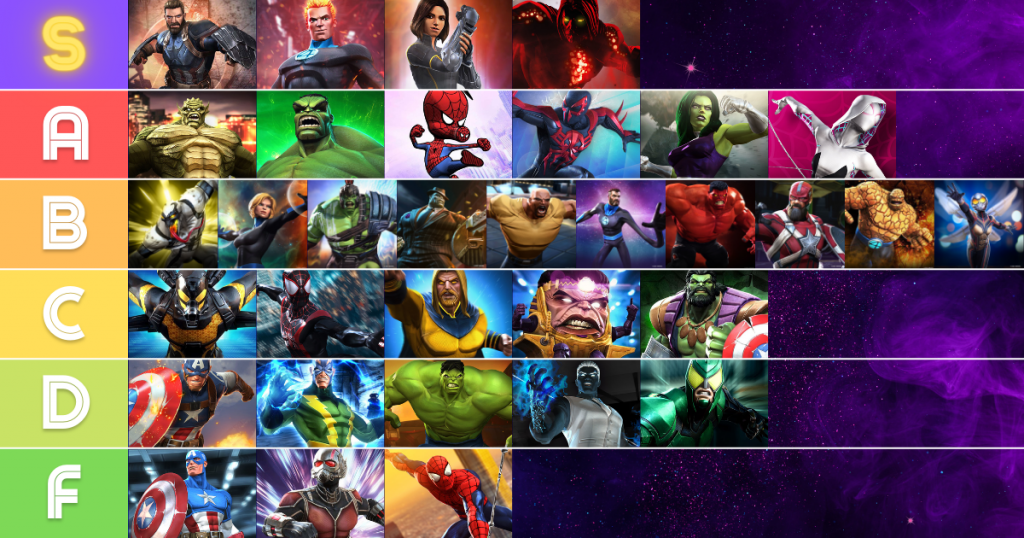 Tier S
Captain America from IW
Human Torch
Quake
Void
Tier A
Abomination
Hulk in Immortal Form
Spider-Ham
Spider-Man 2099
She-Hulk
Spider-Gwen
Tier B
Anti-Venom
Invisible Woman
Hulk from Ragnarok
Joe Fixit
Luke Cage
Mr. Fantastic
Red Hulk
Red Guardian
Thing
Wasp
Tier C
Captain America from Infinity War
Yellowjacket
Spider-Man as Miles Morales
Sentry
M.O.D.O.K
The Overseer
Tier D
Captain America from WW2
Electro
Hulk
Mr. Negative
Scorpion
Tier E
Captain America in Classic Form
Ant-Man
Spider-Man in Classic Form
Marvel Contest of Champions Cosmic Character List
The Cosmic class is made up of characters of alien origins. Moreover, some of the characters on this list are even considered gods due to their immense power.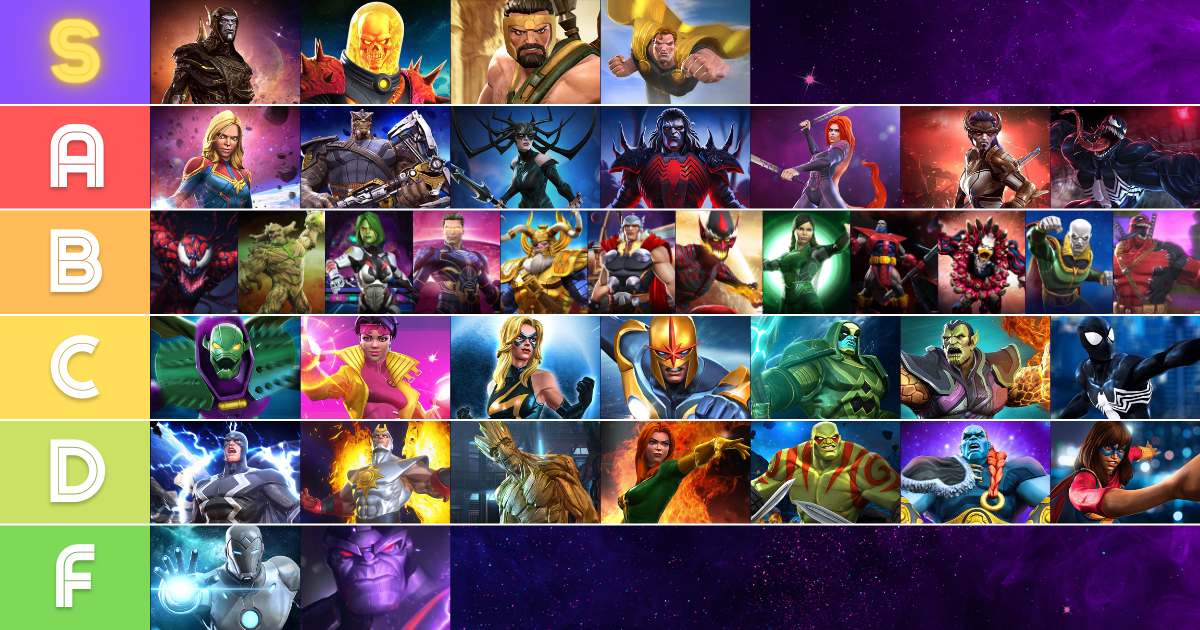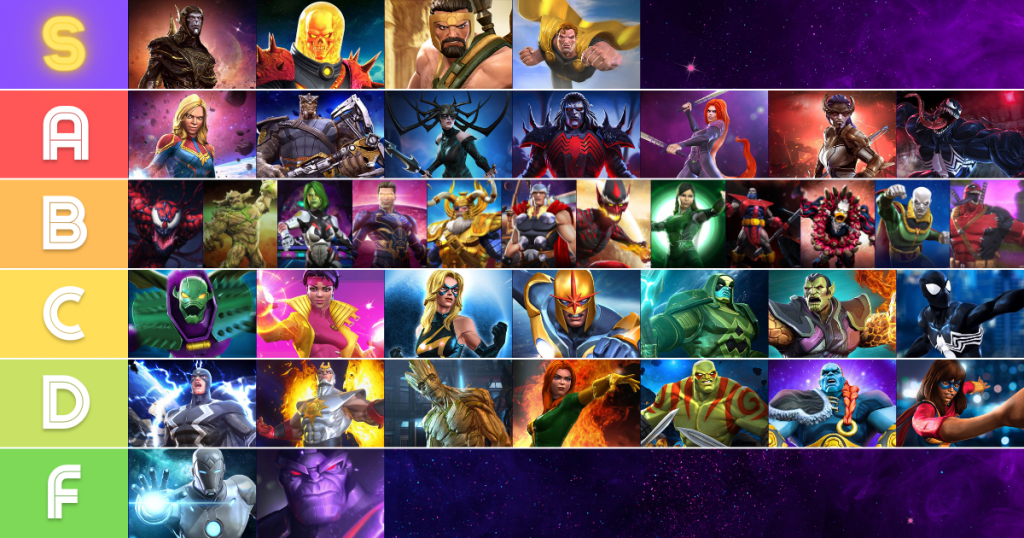 Tier S
Corvus Glaive
Cosmic Ghost Rider
Hercules
Hyperion
Tier A
Captain Marvel
Cull Obsidian
Hela
Knull
Medusa
Proxima
Midnight
Venom
Tier B
Carnage
King Groot
Gamora
Ikaris
Odin
Thor
Red Goblin
Sersei
Terrax
Venom the Duck
Vision as Aarkus
Venompool
Tier C
Annihilus
Jubilee
Ms. Marvel
Nova
Ronan
Super-Skrull
Spider-Man as Symbiote
Tier D
Black Bolt
Air Walker
Groot
Phoenix
Drax
The Champion
Ms. Marvel as Kamala Khan
Tier E
Mutant Character List
Mutant Characters are born with the X-Gene which provides them with superpowers. For instance, the X-Men characters.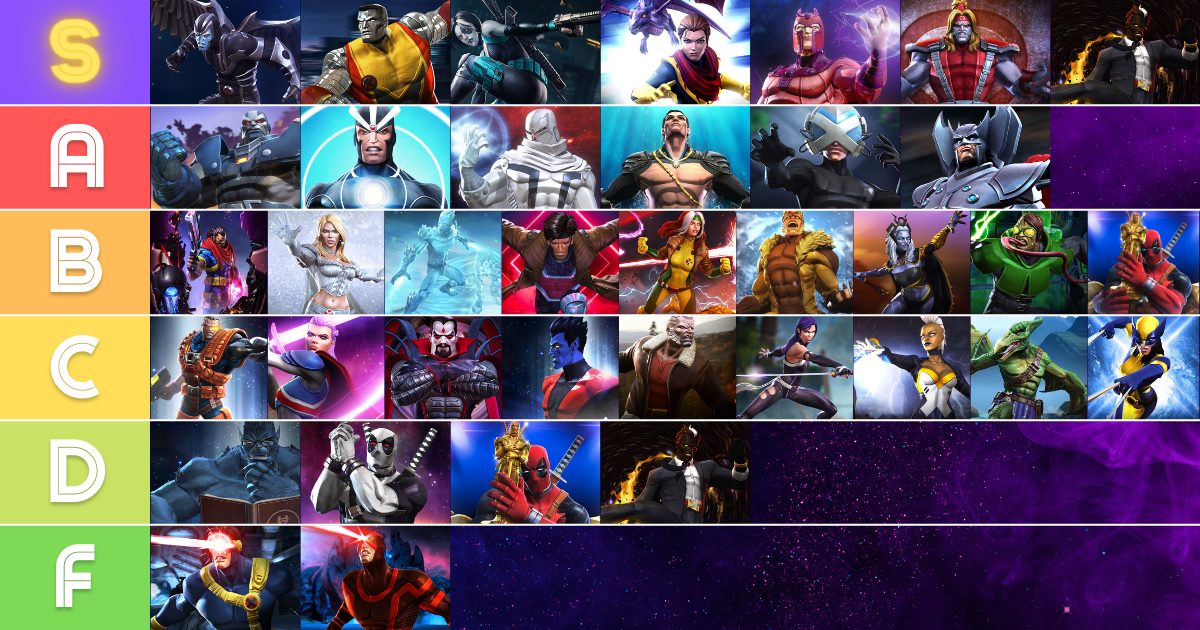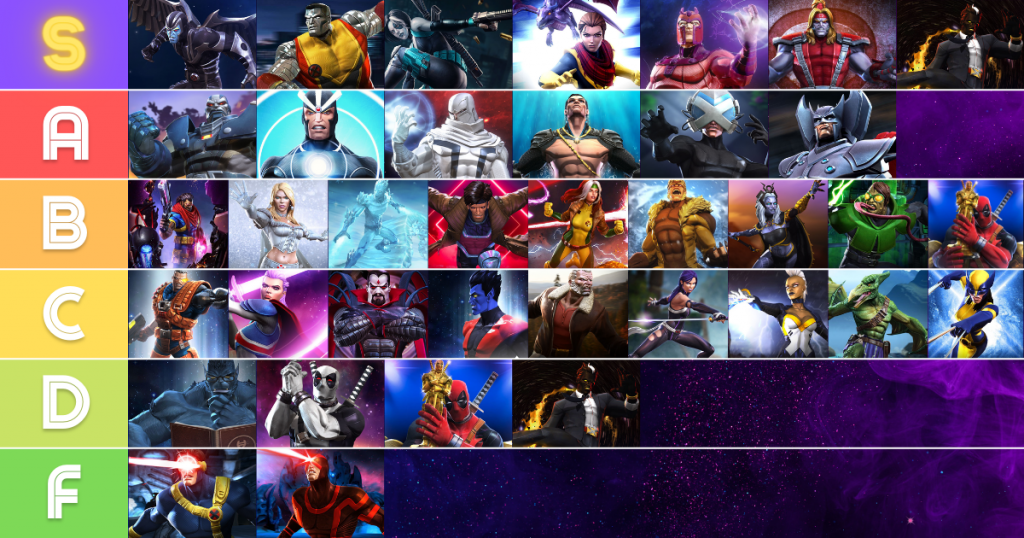 Tier S
Archangel
Colossus
Domino
Kitty Pryde
Magento in Red Suit
Omega Red
Sunspot
Tier A
Apocalypse
Havoc
Magneto from Marvel Now
Namor
Professor X
Stryfe
Tier B
Bishop
Emma Frost
Iceman
Gambit
Rogue
Sabretooth
Storm in Pyramid X Form
Toad
Goldpool
Tier C
Cable
Captain Britain
Mr. Sinister
Nightcrawler
Old Man Logan
Psylocke
Storm
Sauron
Wolverine in X-23 Form
Tier D
Beast
Deadpool X-Force
Goldpool
Sunspot
Tier E
Cyclops from Blue Team
Cyclops from New Xavier School
Explore Marvel Contest of Champions on PC
Players can also upgrade or level up their characters for attribute improvements. In a nutshell, characters are the most important components in this game. Therefore, a strong team will always dominate the weak. Like most fighting games, not all of them are created equal. Thus, each comes with its own unique skills, fighting style, and weaknesses.
Now that you have an idea of the best characters in each class, your next mission is to jump back into the game. Speaking of playing, nothing could be better than playing Marvel Contest of Champions on your PC. Just download this game only here in Games.lol!