Before the global pandemic locked everyone up in 2020, Cut the Rope developer Zeptolab launched a spin-off of their iconic franchise called Om Nom Run. As the title suggests, the game falls under the casual endless running genre of freemium games. Zeptolab made a huge leap from the puzzle genre to the saturated genre dominated by titles like Subway Surfers, Super Mario Run, and Temple Run 2.
Nevertheless, despite being late, or shall we say a freshman in the genre, Om Nom Run became a success boasting over millions of downloads in just four months since its January 2020 launch. And before we jump into the main topic, let us do a quick overview of the features and elements that made Om Nom Run a hit in the endless running community.
Om Nom & Om Nelle from Cutting the Rope
Om Nom Run showcases the active sides of Cut the Rope protagonists, Om Nom and Om Nelle. After all, a hearty run is just what the characters need after gorging on all those sweets. Puns and jokes aside, Om Nom Run employs the same basic principles seen in iconic endless running games like coin collection, random booster pop-up, and dynamic obstacles. What makes the game unique is the wide variety of activities or missions embedded into its levels. Speaking of levels, Om Nom Run features a free-run mode and a level-based campaign.
Om Nom Run also features an ever-growing roster of diverse characters. Players can unlock and upgrade each character using coins collected during each run. Some characters are secretly concealed in the roster. Players can take advantage of these characters in a couple of runs only, after which, the characters disappear from the line-up.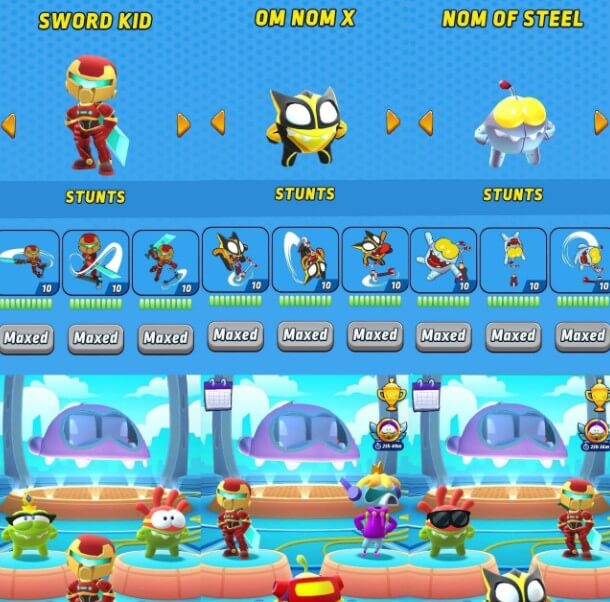 In terms of challenges, the game employs a star-based completion system implemented in real-time. The game provides a specific goal for players at the beginning of each run. To pass each level, players must have at least one of the three stars in each level. In simple terms, a single star is equivalent to easy, two stars for medium, and three stars for hard.
There are still multiple features concealed within the core structure of the game, as to what those features are? Is for you to find out. For now, however, let us proceed to the basic tips and secrets of this highly immersive game.
Om Nom Run: Secrets to Staying Ahead in the Game
There are three goals in Om Nom Run. First is unlocking all the locations, the second is collecting coins, and the third is unlocking and upgrading each character. With that said, we will sort our secret tips based on the primary goals mentioned. You can then decide which goal you want to prioritize.
Unlocking Each Location
There are seven unlockable locations in Om Nom Run, eight if you count the Tower of Evil. To unlock all locations, players must complete level 40. The first location available in the game is the City. This location comes with basic stationary obstacles that are easy to dodge.
The next location called the Drain will be available after you beat mission #3. Unlike the city, The Drain will introduce you to some of the game's dynamic obstacles. The Forest is the third location available once you complete mission #6. The Forest comes with stacked logs, water sprouts, ghosts, and other types of obstacles. Location #3, called the Lair, will be available after Mission #9 along with the Tower of Evil. This location is flooded with lava and can only be navigated by running through its walls packed with lasers.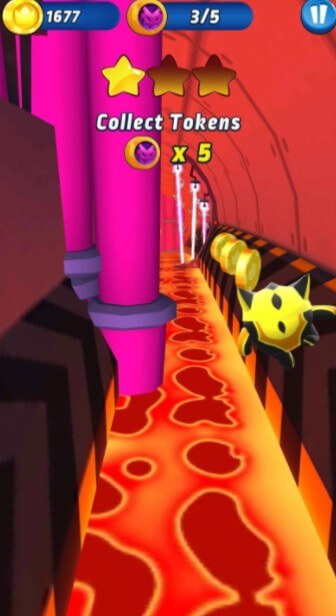 The next location is the Factory, which becomes available after you complete mission #14. The factory comes with both dynamic and stationary obstacles. The fifth location is the Market, which will be available in Mission #20. This location comes with rolling watermelons in addition to other stationery and dynamic obstacles. The last two locations are the Roof and Station, which will become available once you reach mission #30 and mission #40, respectively. Both locations will come with all types of obstacles featured in the game.
If you want to unlock each location as fast as you can, you can ignore your three-star goal and set your sights on getting a single star on each mission. Aiming for three stars will be costly if you aim to unlock all locations in the game.
The Secret to Collecting More Coins
Gold coins or Tokens are the only currency in the game. Having tons of coins will make your progress as easy as possible. However, just like most freemium games, coins require skills to obtain. Although this in-game currency is abundant at each level, the price for upgrades and revivals is anything but cheap. With that said, you need to be wise in collecting and spending your gold coins.
Aside from taking advantage of Free Spins, Golden Chest, and the Daily login rewards, you can increase your coins by doing stunts in the game. Just take advantage of each stunt platform you see in each level and make sure that your character is upgraded. The higher the stunt level upgrade of your character, the higher the stunt score. And the high scores will earn you a decent amount of coins.
Unlocking Characters
Characters in Om Nom Run are unlockable using gold coins. Each character comes with a price. As mentioned before, the choice on which goal you want to prioritize depends entirely on you. If your goal is to unlock the characters, then, you can grind on the easy levels for coins or spend money for the premium subscription.
Premium subscription will unlock all characters, remove ads, and other fees. In a nutshell, Om Nom Run is all about coins. The key to reaching your goal is to spend your coins wisely and make sure to take advantage of all the freebies in the game.