Action shooting games are very fun to play. Its core attraction is that you can shoot guns and play against strangers online! One of the competitive action shooting games that you can play is Pixel Gun 3D: FPS Shooter & Battle Royale.
Published by Pixel Gun 3D, it's a multiplayer FPS title game that offers a variety of game modes=. You can play battle royale, co-op survival, team deathmatch, and many more. All game modes available fall under two main categories, Multiplayer and Single Player mode. Multiplayer, as the name suggests, lets you play with or against other players. Single Player lets you fight against enemy AIs. But is this a great game to play? Is it worth it to download and play Pixel Gun 3D? Let's discuss this further in this article.
Pixel Gun 3D Offers Limitless Possibilities
One of the main reasons why people enjoy playing this game is because it offers many different game modes. The Multiplayer mode alone already offers nine different match types you can play. If you prefer a team competition, then you can play the Team Fight. If you prefer a more free-for-all style, then you can go for Deathmatch instead.
For more strategic gameplay, you can try Battle Royale or Capture the Flag. Whatever type of multiplayer shooting game you are looking for, Pixel Gun 3D likely has it. You can also check out other genres like racing, and parkour challenges. And if you don't feel like playing with other people, you can always play the game in Single Player mode. The game has a campaign where you will complete quests and missions to progress forward.

The Ultimate First-Person Shooter Game Hub
Pixel Gun 3D is a hub that can cater to almost any gamer. Whether you're looking for something competitive or something more casual, this game has it. Pixel Gun 3D won't wow you with its realistic environment. It uses block graphics, which means everything in the game is pixelated. But that doesn't mean that it's not a fun game to play. Despite its looks, it's a fun and exciting title to try out. The controls are easy to learn and work just like any other shooting game.
In terms of overall gameplay, it's very smooth and responsive. The developers made sure that the blocky look would still showcase proper backgrounds and terrains. They used proper colors to distinguish items, furniture, roads, and so on. It's also great that Pixel Gun 3D can still be played offline, particularly the Single Player mode. This will allow you to play even if you are not connected to the internet. The only issue here would be its inability to save or update your progress.
The Shortcomings of Pixel Gun 3D
Of course, not everything about Pixel Gun 3D is great. There are also things that you won't like about this action shooting game. Let's find out the shortcomings of Pixel Gun 3D here.
Probably the main issue with Pixel Gun 3D is that it is a pay-to-win game. In most modes, you will be using weapons, skins, and armor that you already own. These things can be acquired using in-game currencies. However, there are two types of currencies namely gold, and diamonds. Both can be earned, but the diamonds are harder to save up for since it's the premium currency.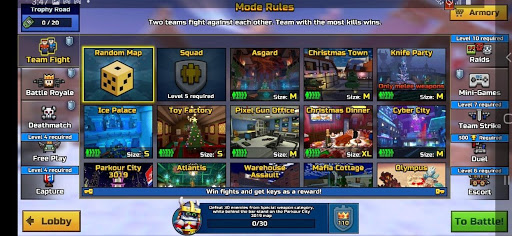 All weapons, gear, and items are purchasable in gold or diamond. But the most powerful equipment will cost a lot, which means acquiring them will require some time and saving up. But you can speed up the process if you are willing to spend some money. You can purchase the needed in-game currency and then buy the most powerful weapon and armor.
This can provide an unfair advantage since spenders will be able to acquire more powerful weapons and items quickly. It widens the gap between F2P gamers and the whalers. If it gets too big, it'll affect the game's competitiveness.
The Verdict on The Pixelated FPS
Pixel Gun 3D is a great title to play. Its gameplay is simple yet super fun despite its pixel graphics. Its numerous modes provide players limitless options to play in. It serves more like a hub for FPS titles than a singular game. You can play competitive games or more casual ones. The only glaring issue is that it's pay-to-win.
If you want to avoid the premium players then it's better to try Pixel Gun 3D's Battle Royale mode. Every competitor starts with the bare minimum while you scout the battlefield for equipment. But if you've got the cash, then duke it out in Deathmatch and Team Battle! Overall it's still an awesome FPS to play. It has enough player-base to keep the multiplayer action alive, and the single-player mode gives you room to practice. You can try playing it on PC for free by downloading it using our Games.lol client.