Who would ever forget the original Plant vs. Zombies FREE on PC? Admit it, you might have not yet played it yet but you definitely heard of its popularity. If you enjoyed playing PVZ, you will also surely end up enjoying the new and improved gameplay of Plant vs. Zombies 2.
Last 2013, Popcap released Plants vs. Zombies 2. Like the first installment, the second version involves collecting sun energy from the plants to help you defend your towers by automatically firing at the zombies. But, in this newer version, you need to deal with more challenging zombies with new demands and challenges.
Generally, Plants vs. Zombies 2 is an absolute hit for many players worldwide who love strategy games. It is also a perfect game for people who just want to have fun for a while and kill boredom. Make sure that you plan your strategies well or else the zombies will eat your BRAINS!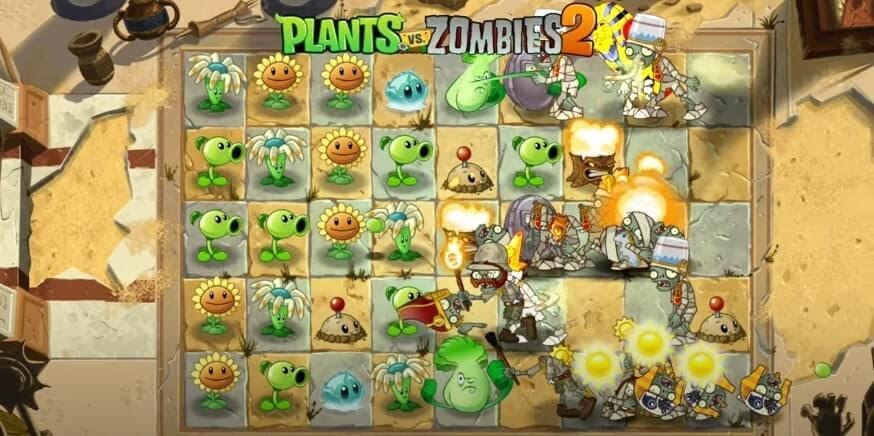 PVZ 2 Gameplay
Upon entering the game, you will be accompanied by the famous Crazy Dave. The story starts when Crazy Dave decides to go back in time to find and once again eat his favorite taco. Penny, the time machine he built by accident, will be his companion throughout the journey. As you play Plants vs. Zombies 2, you can hear the bold lines while going to ancient Egypt.
In order to survive the game, you need to acquire plant rows that fire automatically to combat the zombies. Each level or time period has different challenges. For example, the Ancient Egypt world is filled with tombstones that can possibly block several of your attacks.
As for the Pirate era, you need to strategically defend your ship from vast numbers of zombies before they reach the deck. As usual, you can defend your ship by strategically placing plants in the mine cart. This level is quite tricky and you need to be clever on what plant and spot you will place your plants first.
But the real challenge for all worlds and levels is the upgraded and more vicious zombies. Unlike the first game, PVZ 2's zombies are now equipped with better defense to reach your base quickly.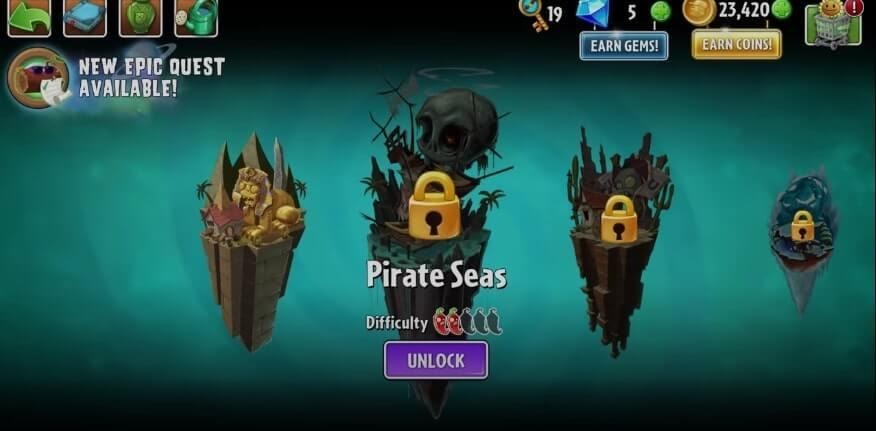 Plant Trio to Watch Out
Luckily, it is not only the zombies that have leveled up in the PVZ 2. While playing Plants Vs. Zombies 2, expect to earn constant rewards and newly improved plant species to help you conquer each quest and challenge as well.
At the early stage, some of the plants that you can take advantage of are the Pea Pods, Plants with Bloomerangs, and Bonk Choy.
Pea Pods, Plant with Bloomerangs & Bonk Choy
Pea Pods is like a plant with the Gatling gun effect. You can plant them on top of other plants to upgrade them to five peashooters plants. On the other hand, Plants with Bloomerangs can help you round out the returning cast by their boomerang pedals. Bonk Choys are good defenders as they give colossal close-range damage and are extremely effective when teamed up with other protecting plants. Surely, these three will be an amazing part of your strategy.
Along the way, you can get a chance to learn about new plants that can help you get through the challenge. Along with these plants, you need to carefully strategize where to put them and what plant should be purchased or upgraded first.
Plants vs. Zombies 2: Additional Innovations
As you play the game, you may think it's all about discovering new plants and zombies. Well, aside from new characters, you can actually collect plant food. as you run the game which can provide you with power-ups to help your plants in various ways. Using this supply while playing the levels is fun and exciting.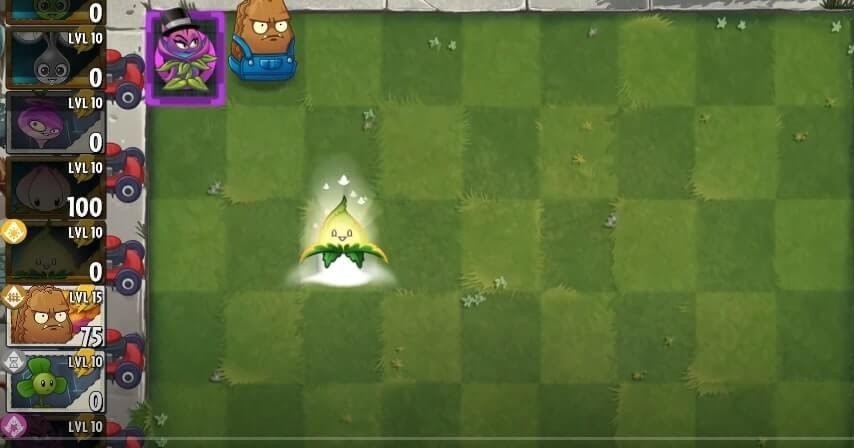 To use the plant food, you can either pour it into your sunflowers or your plant defenders. Pouring it into your sunflowers will enable them to emit more sun energy. If you use it for your plants, they will become stronger in giving attacks.
Moreover, Plants vs. Zombies 2 features an elevated world map. As you pass through to each mission, you can collect keys that authorize you to unlock new worlds, plants, and even upgrades. Apart from the key, you can also get plants and upgrades by spending real money. However, if you believe in your strategies and patience in beating the levels, you can overcome the entire game without spending a single coin.
Download Plants vs. Zombies 2 on PC
If you're fond of action or strategy games, you're in the right place. Download this game now on PC. Plants Vs. Zombies 2 features a full sequel along with new plants, zombies, and power-ups. Any player will surely be amazed at its gameplay. Beyond the exciting adventures and challenges, the game has a wonderful price – it's for free!
If you want to know more, check it out yourself. Download now!