If you are familiar with the popular sci-fi TV series called Rick and Morty, then you will surely get thrilled and excited about having the Pocket Mortys game on your PC! The game is based on the Pokemon video game series.
Like the famous Pokemon game, Pocket Mortys is a Mortys-collecting game where your task is to collect and train bizarre-looking Morty clones and battle others to win badges. It is a free-to-play friendly simulation game where you can unleash your tactics while evolving your Mortys. You will enjoy all wacky adventures not only for its graphics but for the game concept as well.

A Quick Overview of Pocket Mortys Game
If you were an avid fan of the Rick and Morty sitcom, you will find the premise of the game simple yet exciting. The concept of the game comes from episode 10 of the TV series' first season. The game begins when the Mysterious Rick appears from another dimension in the hopes of getting Morty. You will then engage in a battle. This will result in Rick and Morty entering the other dimension to become a trainer and develop Mortys for battle.
In this game, you will collect different wild-looking Mortys equipped with unique strengths and weaknesses for battle. These Mortys are accumulated whenever you defeat alien Ricks from various dimensions. Once collected, you can train these Mortys and come up with the best team of grandsons.
Reception of the Game
The Pocket Mortys on PC gives every player utmost entertainment along with humorous and imaginative yet vile disturbing qualities. This is evident not only on a solo campaign but also on PVP. It validates each player to experience getting into the real world of the celebrated TV show.
The game is developed by the Big Pixel Studios and published by Adult Swim. As for the record, since the simulation game was released, the game has accumulated 10 million downloads. And it's no wonder, with its gameplay quality and charm, many gamers are easily hooked to this game.
Storyline & Atmosphere
Pocket Mortys' story starts with Rick and Morty's misadventures. It started in Rick's secret lab as he explains to Morty about his discovery that there are Mortys from other dimensions separated from Ricks. As they converse, a portal appears and releases another Rick and Morty tandem.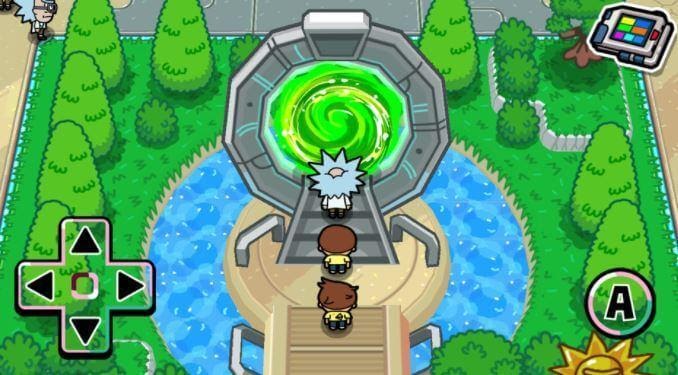 These arrivals are mysterious and have evil intentions. The wicked Rick is an eager Morty collector and plans to get Morty to his dimension. After a battle between the two Mortys, the original Morty emerges victorious, having defeated his opponent, a Morty wielding a vicious-looking stray cat.
After their defeat, evil Rick and Morty escaped back through the portal. This time, our unusual heroes will chase them down and figure out why Morty was being kidnapped in the first place. If you know the series, you will surely recognize the storyline.
Gameplay, Concept & Graphics
Though Pocket Mortys has simple game mechanics, the gameplay is effective on various points. It shares the concept with Pokemon, and the only difference is it has hundreds of Mortys to collect. Once you play the game, you will enjoy the sci-fi stuff, hysterical plotlines, and psychological touch.
Generally, Rick and Morty game stands out among other simulation games because of its simplicity, efficient graphics, and psychedelic quality. Intellectually, Pocket Mortys qualify each player to achieve strange concepts and remarkable strategies to get exactly what each user aims for.
Great Price Tag!
Luckily, everyone can play Pocket Mortys on PC for free. In addition to collecting Mortys, you can also do some microtransactions related to Chitz and Blips, dispensing machines. Plus, you can earn extra cash while watching advertisements.
Although doing microtransactions will indeed speed things up, it doesn't ensure success and still depends on the progress of your Mortys or how you play the game. It will be great if you can reach everything without the help of cash and get into honest grinding.
Is it Worth Playing?
A definite yes! Apart from the interface, gameplay, and storyline, Pocket Mortys is really interesting to play, especially if you know about the famous Rick and Morty show. You'll also have fun reading the dialogues as it's very similar to the sitcom. Everything is well-made, compelling, and entertaining.


Overall, the casual simulation game is easy to play and immersive. At first, you might get discouraged because its concept is similar to Pokemon, but wait 'till you discover the unique story behind it.
Furthermore, for those scientific geeks who don't want to read the whole evaluation and would rather deal with precise figures and numbers (something Rick Sanchez would enthusiastically endorse)– here is our Pocket Mortys' score, download the game now!
So, what are you waiting for? Switch on PC to play Pocket Mortys now! Wubba, lubba, dub, dub!