Nothing beats the mighty force of a tank when it comes to destruction. We all know crushing our enemies with tanks is always fun. If you want to experience playing tank games like no other, then Super Tank Rumble is the best game for you.
Super Tank Rumble is considered one of the best tank games for PC. This game is all about designing your tank for battle and putting it against other players' tanks. Here, you can put any creative idea into action and test the results in battles against other players across the world. To win, you will need to gather hundreds of spare parts to upgrade your sci-fi tanks and vehicles. There's also the option of sharing your creation with your friends online.
How to Play Super Tank Rumble
First, the player needs to construct a Super Tank Rumble best tank and collect the components to create a personalized super tank that is superior to any other you've seen. Your goal is to be the community's strongest member, so no one will be able to put you down. For defense and offense, equip your best tank with hefty armaments and the greatest machine guns, wheels, and cannons. Make the most powerful tank in the Super Tank Rumble!
Super Tank Rumble Game Modes & Controls
Super Tank Rumble has two fantastic game modes. The first is the campaign mode, which follows an incredible tale. Each campaign in the campaign mode includes various stages where you must complete a specific task. To win the campaign, you must complete all phases.
The second mode is the random mode. Here, you can compete against gamers from all over the world.


In terms of Super Tank Rumble controls, they are super simple and easy to learn. To move your tank forward or backward, all you have to do is tap the direction keys on the screen. By touching the on-screen buttons, you can also change the turret angle. A similar attack button is present, allowing you to fire at your opponent's tank.
You can win this game by destroying your opponent first. Although it appears to be simple, it also poses some difficulty. That is because defeating your opponent is not as easy as it looks. This tank game is one of the great examples of a game that is simple to learn but difficult to master.
Choose from a Variety of Weapons
If you want to stay ahead in the competition, you need to equip yourself with the best weapons. Super Tank Rumble includes a wide range of modern weapons that are brand new and of the greatest quality. Everything will be on sale in the shop, including tanks, equipment, and other stuff. To unlock them, players must engage in combat daily to attain the requisite system level.
Most importantly, you must have enough coins. Start purchasing new and great weapons of your preference. Each super tank will have its own set of benefits and drawbacks. So, it is always necessary to choose the best vehicle based on the terrain of the match.
Exciting Maps
If you're sick of games with only one map, then this is the game for you. The map system of the game is quite different and varied. They are a recreation of some of Europe's most renowned battlegrounds like arid deserts, dense woods, heavily crowded cities, and so on.
You will surely enjoy this game due to the continual change of context after each level. So, it's up to you to choose the correct tanks and improve the parts to match the map you're playing. It allows players to be inventive and develop their strategies to win the battle.
Multiplayer Battles
Probably the best mode to play is the multiplayer battles. In this mode, you can challenge any other player to a fight and use your best techniques to defeat him. The multiplayer game option allows players to create a battleground with other players and play online with them. This game option also allows you to record and share the game's replays.
To challenge other players, gather your friends and allies or those who are good on the battlefield, and form a clan. Join a group of tankers to defeat other clans in the game!
Tips on How to Win Battles
Here are some tips on how to successfully win battles in Super Tank Rumble.
Participate in PvP Battles
To fight in PvP battles, you have to battle real players from all over the world. So, after you've finished upgrading your tank, go into battle and crush your opponents to receive rewards. You can also share and brag your designs and replays with your opponents, to let them know which tank is the most lethal.


To prevent a scenario where your opponent surpasses you on the battlefield, it's a good idea to keep altering your strategy. But it's also important to stick to a winning plan. If you're being outperformed by your competitors, it's also a good idea to study their strategies and adopt some of their successful tactics.
Complete Quests
You can complete many quests in Super Tank Rumble to earn rewards. It's best to focus on finishing the daily quests because they offer more benefits, such as components and upgrades. The daily quests last 24 hours and include sub-tasks that must be completed to earn daily rewards.
Simply make sure that you open the game app daily to avoid skipping out on the daily quests. Even if you aren't playing, you can still accomplish the quests by opening the game every day. It's also a good idea to finish as many quests as possible to earn more rewards.
Collect Parts as Many as You Can
In Super Tank Rumble, you can get additional parts by simply defeating more opponents and completing more objectives. It's a good idea to start collecting them early in the game because you'll need them more as you progress further. The pieces for the tank's body, wheels, and weaponry are very necessary so you must acquire them regardless of whether you have them in your store.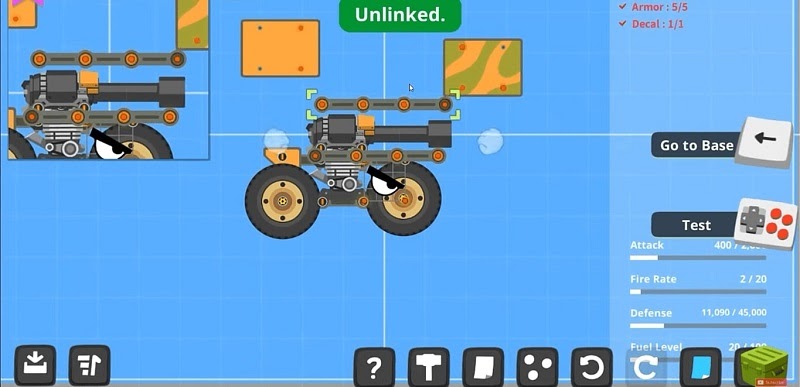 To Sum it Up
Face off against your opponents in your tank and rise through the international rankings to become the best tank fighter on the planet. Super Tank Rumble allows you to have fun playing anywhere. Download the game on your PC and start building your super tanks today!