Facebook is the modern-day's largest social media platform across the entire planet. But before it came to be, Friendster and MySpace were the world's biggest social media platforms. Sadly, all good and bad things eventually come to an end. Now over a decade old, Facebook still boasts almost 3 billion active monthly users in the first quarter of 2022. This is despite its recent negative media attention and the tough competition from Twitter, Instagram, TikTok, and others.
When Facebook first launched in 2010, it took the world by storm with the new elements it set to the table. One of the biggest reasons behind its continued popularity is a large number of Facebook games under its arsenal. Albeit some of the most famous Facebook games cease to exist to date, the top games still have millions of active daily users worldwide. If you are looking for a quick and fun browser game to play, then you came to the right place.
Must-Play Facebook Games in 2022
Facebook games are browser games that anyone with a Facebook account and internet connection can readily play. That means you need not have to download a thing to be able to play. With tons of available titles to play, Facebook games are still enjoyable especially if you are looking for a quick dose of entertainment.
1. Angry Birds 2
The sequel to the famous games by Rovio, Angry Birds 2, offers another era of slingshot gameplay that will hook you. Boasting with even more stunning graphics, more challenging multi-stage levels, more evil boss piggies, and more destruction. Angry Birds 2 is the ultimate slingshot strategy action game where you can choose which bird to fling next. Featuring new multi-stage levels, the evil piggies are now experts at building defensive towers to fend off your attacks.
Another interesting update to Angry Birds 2 is the presence of spectacular spells. Now, your Angry Birds will have extra ways to go against those swindling swine. Take the action to the Arena and battle it out against real players worldwide.
2. Words With Friends
Test your skills and play one of the world's most popular Facebook games — Words With Friends. Get ready to be matched against the best opponents across the world. Or play the new Fast Play mode to challenge friends in a game of quick wits. Prepare to expand your vocabulary, chat with friends in-game, access the game anytime and anywhere, and even track your progress. Words With Friends also features Solo mode so you can play alone and offline.
3. Candy Crush Saga
Start your match 3 puzzle journey and play a legendary game loved by millions across the world. Switch and match yummy-looking candies in Candy Crush Saga to advance to the next level. Unleash your quick-thinking skills as you plan your moves or use boosters to overcome sticky situations while playing Candy Crush Saga. Leisurely pass the time by playing on various game modes currently available namely Clear the Jelly, Order Mode, Collect the Ingredients, and Target Score. With Candy Crush Saga, you will never get bored!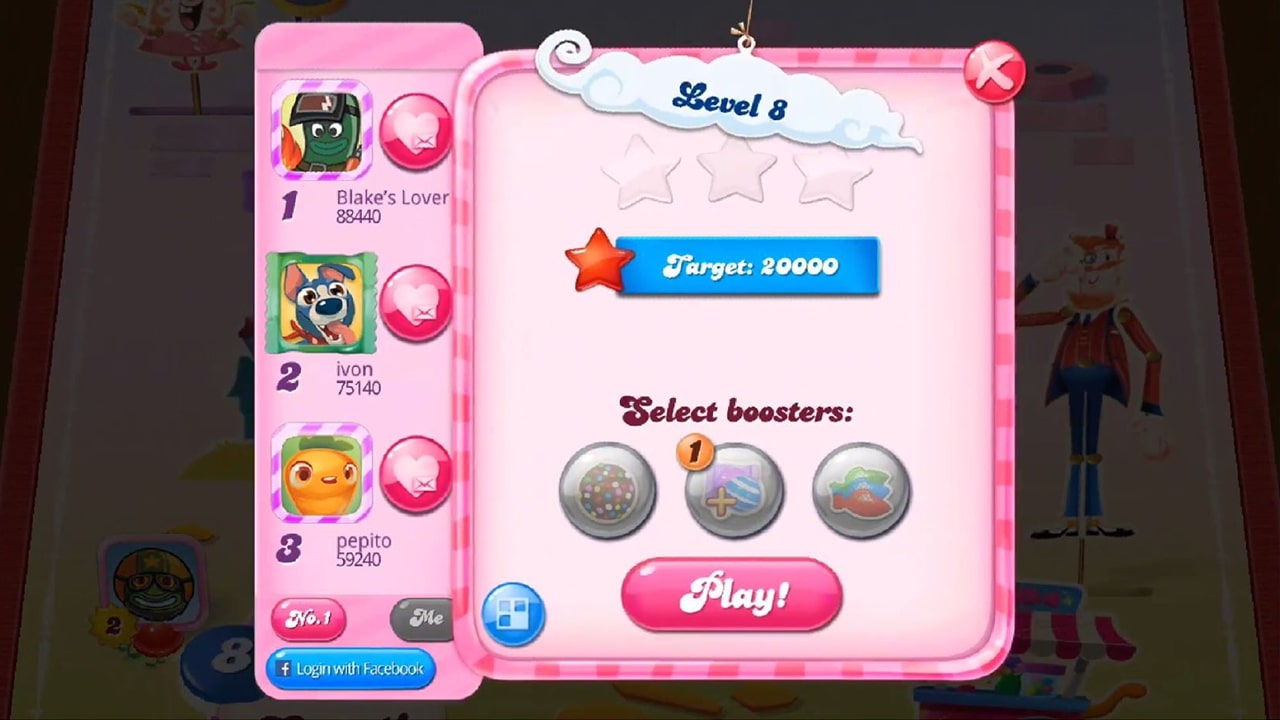 4. Zynga Poker
If you prefer playing casino games, then look nowhere else! Zynga Poker is one of the most advanced poker Facebook games. Whether you are a casual poker player or a high roller, Zynga Poker has lots to offer. So are you ready to test your poker skills or simply vie for extra chips? Zynga Poker is designed with a variety of game modes and tons of poker action.
5. Farmville 2
Another Zynga game on the list is Farmville 2, the sequel to the popular farming game back in the day. Now boasting around 5 million active players monthly, Farmville 2 has more room to explore especially for the dedicated virtual farmer. Aside from harvesting crops, now you can also raise animals, cook delicious meals, sell your byproducts, and more. To top it all off, the improved graphics and quests make Farmville 2 worthy to play daily.
6. Pet Rescue Saga
Another puzzle platformer on the list, Pet Rescue Saga takes you to a magical kingdom where docile and wild animals live harmoniously. Embark on a magical journey as you match 2 or more same-colored blocks to clear levels and rescue the imprisoned pets. Have a great time playing Pet Rescue Saga and prepare to restore a broken kingdom to its original glory.
7. Bejeweled Blitz
Next on our Facebook games list is Bejeweled Blitz, another popular puzzle platformer that is electrifying to play. The gameplay is similar to Candy Crush Saga and Pet Rescue Saga but is much harder because of the aggressive time limits. Bejeweled Blitz is perfect for those looking for a quick time-killer. And if you want, you can also challenge other players and compete on the game's leaderboards.
Playing Facebook games is an awesome way to have fun without taking a toll on your computer's resources. Many of these games also let you challenge your Facebook friends or compete with other Facebook users globally. In the meantime, check out our list of the best offline games and story games you can play here in Games.lol!