Mobile Legends: Bang Bang has never been known as a pay-to-win action game because winning will rely more on your skills and the teamwork of your team. But that doesn't mean there aren't any in-app purchases available, and the ones that you can buy with real money are diamonds. Diamonds are used to unlock heroes, as well as to purchase skins. There are ways to earn them for free, but if you want to get a lot of them, you need to spend money. It's why there are still sites out there that are offering free diamond MLBB.
But are these free diamonds ML hack legitimate? Can you really earn free diamonds from them? Is there no other way to earn more free diamonds in MLBB? Let's find out in this blog post.
The Free Diamond MLBB Hacks are Not True
Though as enticing as these free diamonds are, they are unfortunately not true. That's right, many of the supposed free diamonds ML hacks are fake. Even though some of them turned out to be true, they're mostly because of certain bugs found in the game. But those don't usually last, as Moonton is quick to act on fixing it and removing the bug. But other than those occasional bugs, everything else is just fake.


The sites or ads that say you just need to sign-up and you'll get thousands of diamonds for free? They're not true. How about sites that have a software generator that can give you diamonds regularly? They're not true as well. They will likely just send you spam ware or malware. Therefore, beware of those sites as well. Any other ways or processes that are being advertised where you can get free diamonds are unfortunately not true at all.
Does This Mean You Can't Get Free Diamonds on MLBB?
Just because the hacks aren't true doesn't mean you can't get free diamonds in MLBB, as there are ways to do it. But they're not as enticing as the ones being advertised by a scam and fake sites. One of the most well-known ways to earn diamonds, or at least a chance to get heroes and skins for free, is through Moonton's events. The developer always comes out with regular events that give people a chance to unlock new heroes or new skins.
But like with any event, you'll have to complete tasks to earn points for them. Some events are even a raffle draw, which means there's still no guarantee that you will win and get new skins or diamonds. These are the well-known ways to acquire diamonds for free, which is why many people tend to fall for fake advertisements that promise thousands of free diamonds to players.
However, that doesn't mean there isn't any other way to earn diamonds for free. There are still some options available for you to get free diamonds in MLBB, but these processes won't be easy, and it will likely take time. Let's discuss what you can do to get diamonds for free.
Other Ways To Get Free Diamonds MLBB
As mentioned above, participating in events is not the only way to earn free diamonds in MLBB. There are also other things that you can do to earn them. We'll discuss in this section what you can do to get free diamonds.
Live Stream Your MLBB Gameplay
The first way that you can earn more diamonds for free in MLBB is to live stream your gameplay. It's something that many people are doing, even those who are not content creators themselves. When we say live stream, it doesn't mean posting your gameplay on your Facebook Page or YouTube channel (though they can help). What we mean here is using the live stream feature within the game itself.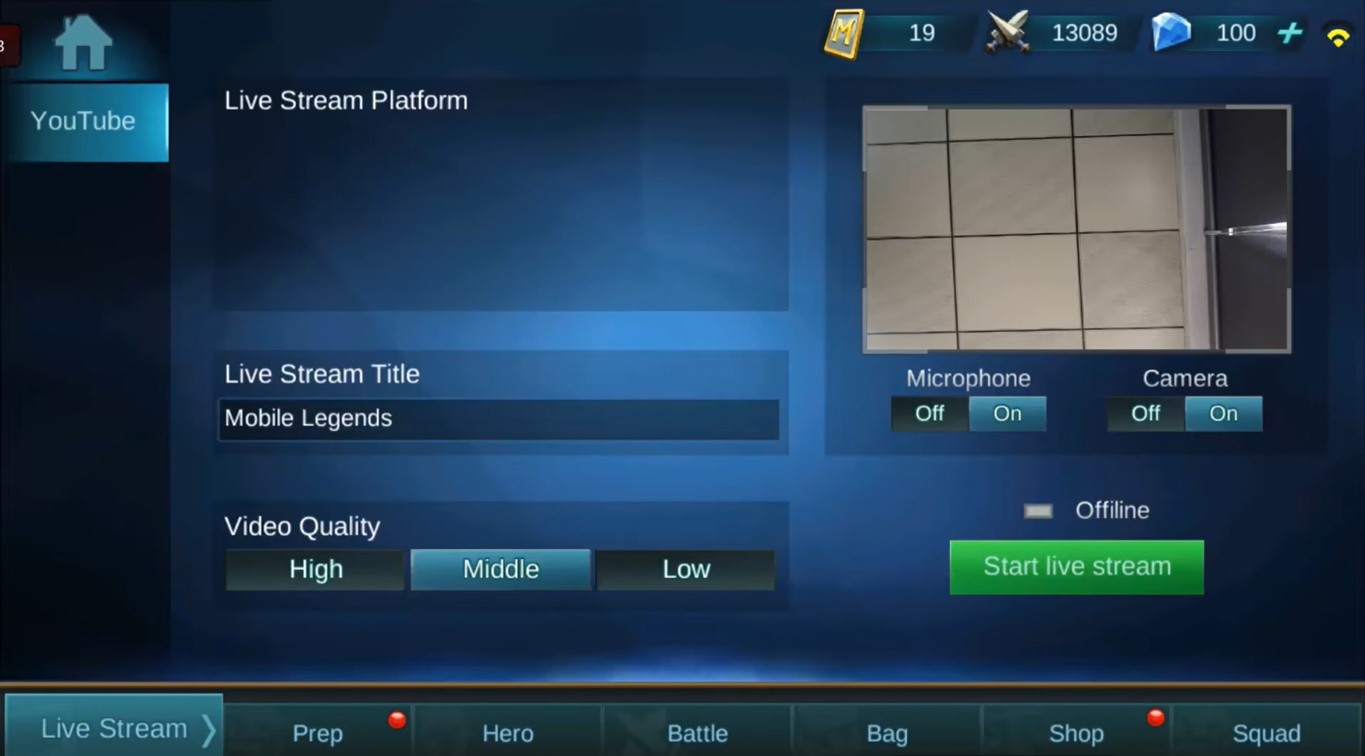 You can earn diamonds based on the gifts that people watching are giving you. There are five gifts available and each one represents a diamond that you'll get. There's the Flower (two diamonds), Jewelry (six diamonds), Roadster (250 diamonds), Yacht (1,000 diamonds), and Airplane (5,000 diamonds). There's no guarantee you'll get diamonds here. But if people like your playing style, they might.
Following the Tournament
Another way to get diamonds for free is to follow the tournament. Moonton always comes up with huge tournaments, and you can win diamonds for following or even winning in these tournaments. Of course, this is going to be easier said than done since many of the top players compete in these tournaments. But it's still worth trying. Who knows? You might get a good ranking for your team.'

From Content Creators
Following content creators on YouTube or Facebook can also win you free diamonds in MLBB. These content creators usually provide promos or content to entice more people to watch their content. These promos usually come in the form of skin giveaways or even diamonds. So, just follow content creators focused on MLBB and follow the mechanics of their contests to win diamonds.
Forget the Free Diamond MLBB Hacks
Though diamonds are not needed to do well in the game, they're great to have, especially for unlocking new characters or purchasing skins. There are free ways to acquire them other than spending money. But be careful of the fake ones that promise thousands of diamonds for free. Remember, if a promo or ad seems too good to be true, then it's likely a fake. In the meantime, experience Mobile Legends: Bang Bang on your PC by getting it here in Games.lol for free!